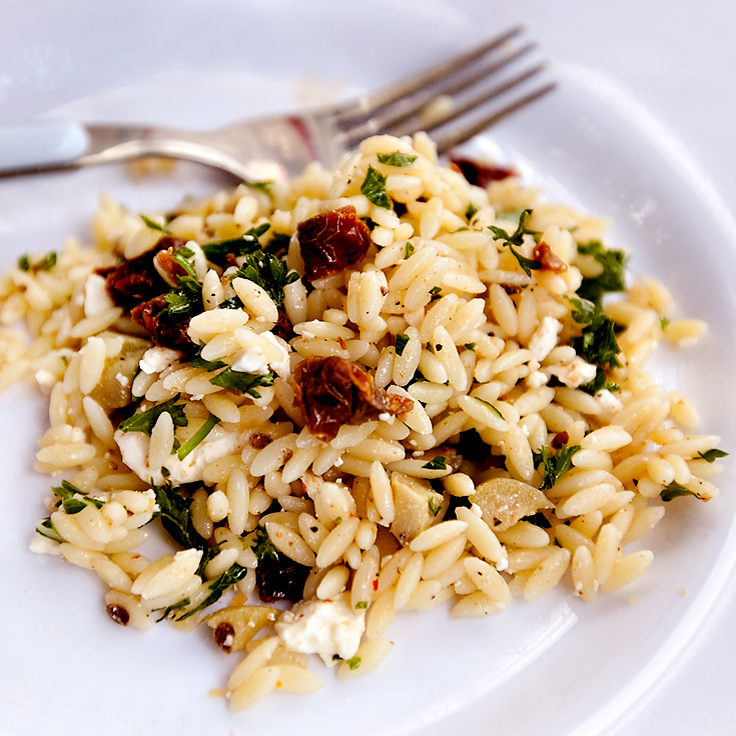 Orzo Pasta Salad
I know that the weather is cool, there's frost in the mornings, and the leaves are hanging on for dear life, but I realized that I never shared this recipe over the summer for a delicious fresh pasta salad.  I figured I could get away with posting it for another week or so.  I'm sure there are some crazy folks out there that are actually mourning the loss of the sweltering weather (I know you're out there - fess up!)
But anyway..  ah, orzo.  Looks like rice, tastes like pasta, and is so versatile!  There's nothing like a cool flavorful pasta salad on a picnic.
What You'll Need:
1 cup orzo pasta, uncooked
¼ cup chopped sun-dried tomatoes
½ cup boiling water
1 tablespoon EVOOOOOOO  (ok, it's just 2 O's.  Extra Virgin Olive Oil)
1 lemon, juiced and zested
½ cup green olives
¼ cup chopped parsley
¼ cup crumbled feta cheese
salt and pepper
What You'll Do:
Bring a pot of lightly-salted water to a boil, and add the orzo pasta.  Cook uncovered for 10-11 minutes or until al dente.   Drain and set aside.  If your sundried tomatoes are dry, set them into the boiling water for 10 minutes to plump up.  Otherwise, go ahead and chop em up.  Toss everything together with the pasta and salt and pepper to taste.
Toss it into some Tupperware and it's ready to take along to a picnic or work for a yummy lunch!