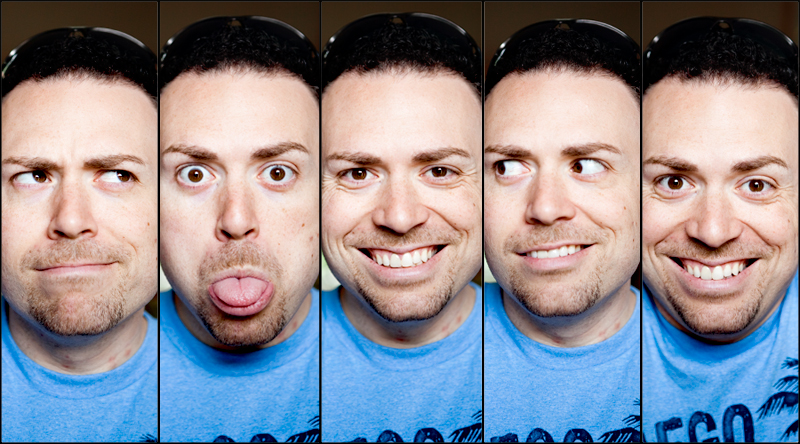 Someone, I won't say who, recently turned the big dirty thirty!  Not only that, but he hit this milestone on Friday the 13th.  I tried to get him to stay in bed out of fear of fire and brimstone, but he insisted on throwing caution to the wind and went about his daily duties as usual.  He's a brave one.
We needed to travel the next day, so we kept the birthday festivities simple.  When he arrived home around noon, I told him to get into the passenger seat of the car, because I was taking him out!  I then asked him to wait a second  before going outside, because I needed to make sure Dexter & Dewey had water and to get my keys.  I noticed a few other quick tasks I needed to do in the process, so about 5 minutes later I finally made it out to the garage, where I found Matt patiently perched on the front seat of the hot car.
Now, usually, I have to ask him at least 3 times to do something for me, and even then it takes him a few minutes to get movin'.  So, understandably, I was a little surprised that HE had been waiting on ME.
"You..you've been out here waiting?" I asked, my mouth agape.
"Yes!  Let's go let's go!" he replied, practically bouncing on the seat.  I guess birthdays have an effect on the male brain when it comes to listening to their wives.  I'll have to remember that so I can use it to my advantage next year.
So anyway, I pulled out of the driveway and headed to the SUPER SECRET LUNCH DESTINATION.. that he figured out within 3 minutes of being in the car.  I can't surprise this man to save my life!  When we were nearing our destination, however, Matt piped up with, "Oooh.. I was wrong!  Now I'm intrigued about this secret lunch!" 
"What are you... OH CRAP!" I smacked my hand to my forehead and realized I'd completely missed the turn.  We were in a busy area during lunchtime traffic, so my screw up added about 10 minutes to our trip by the time we got turned around, waited through 2 redlights, and finally pulled into the parking lot.  I played it off like I meant to do that the whole time to throw him off the scent, since he was a being a meanie by figuring out the surprise.
He pretended to believe me, at least.
So.. the SUPER SECRET LUNCH DESTINATION?  Fuddruckers.   Nothing fancy, but we never eat there and it's one of Matt's favorite places for a good old fashioned plate of burgers and fries.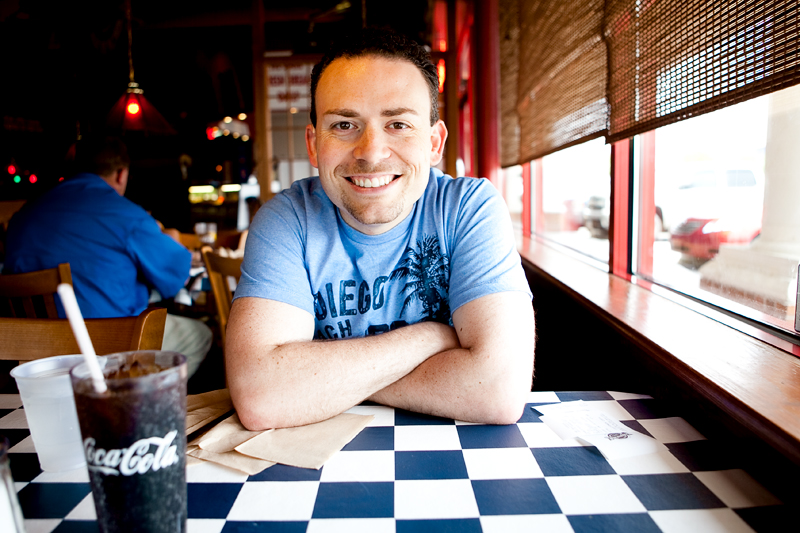 I think he looks a little older.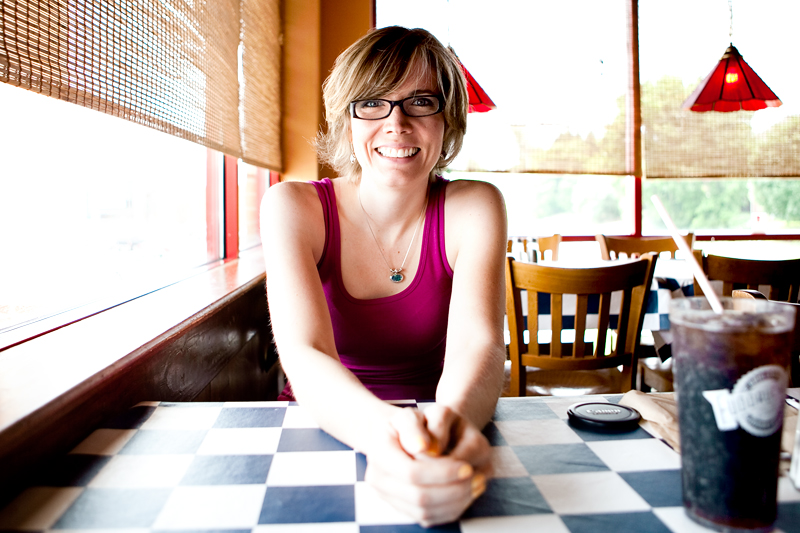 I think I look a little disheveled.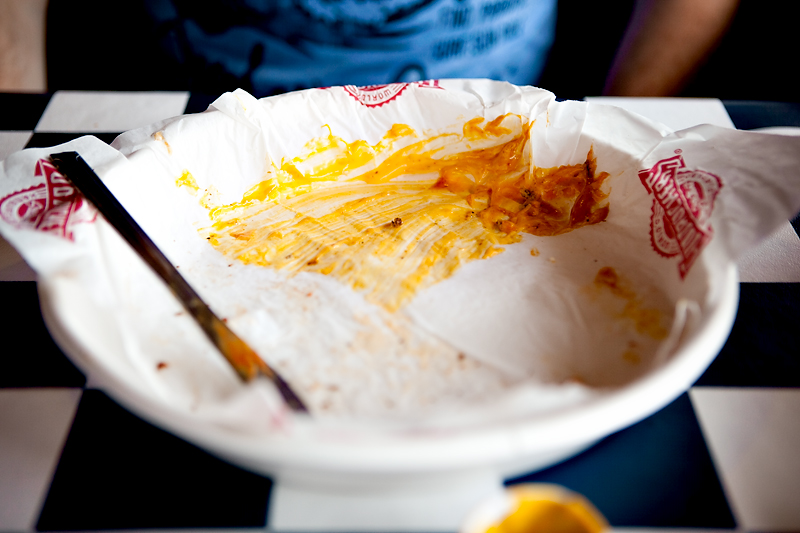 I was going to take a picture of his birthday meal, but by the time I reached into my purse for my camera and turned back to the table, this is what I found.  Oops!  Oh well!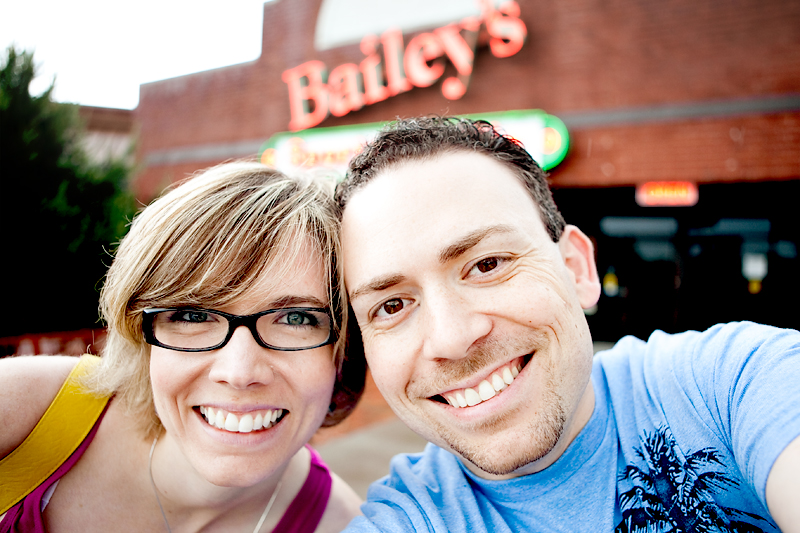 After lunch, I named a list of fun activities that Matt likes to do and asked him to pick one.  He said he would like to go play pool!  Off to Bailey's Sports Grille we went!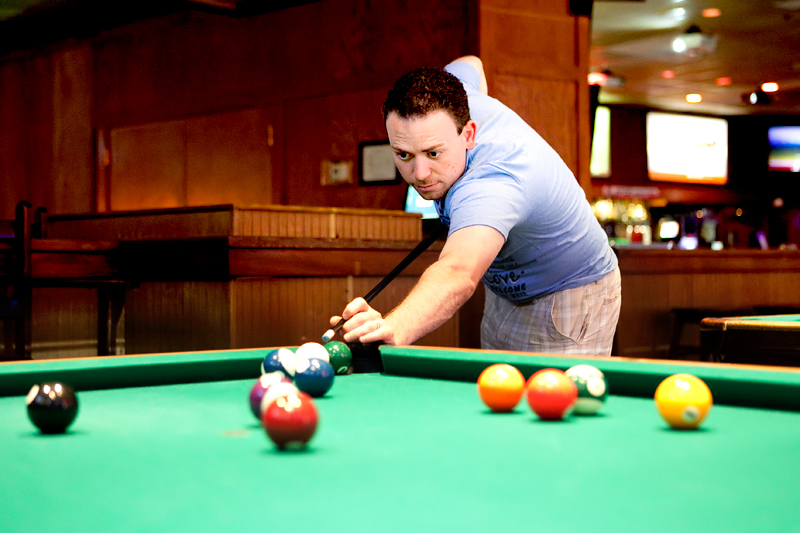 Such form!  Such prowess!  Such focus!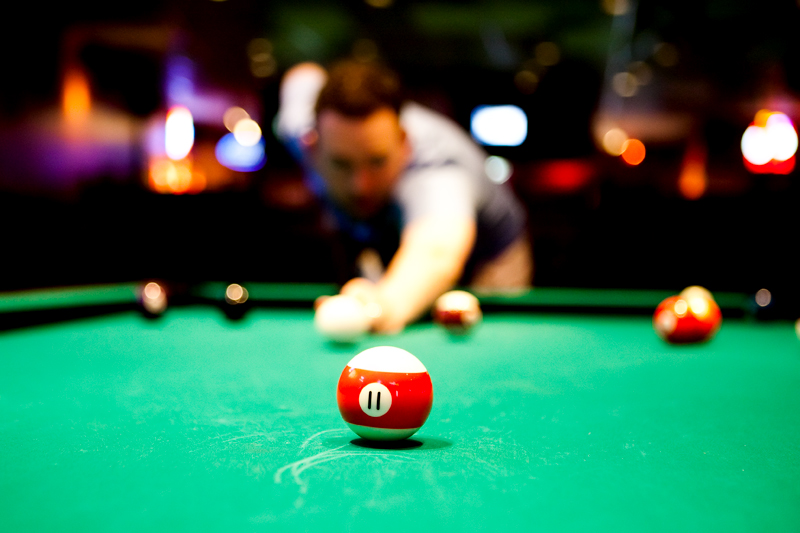 "11-ball in the side pocket!"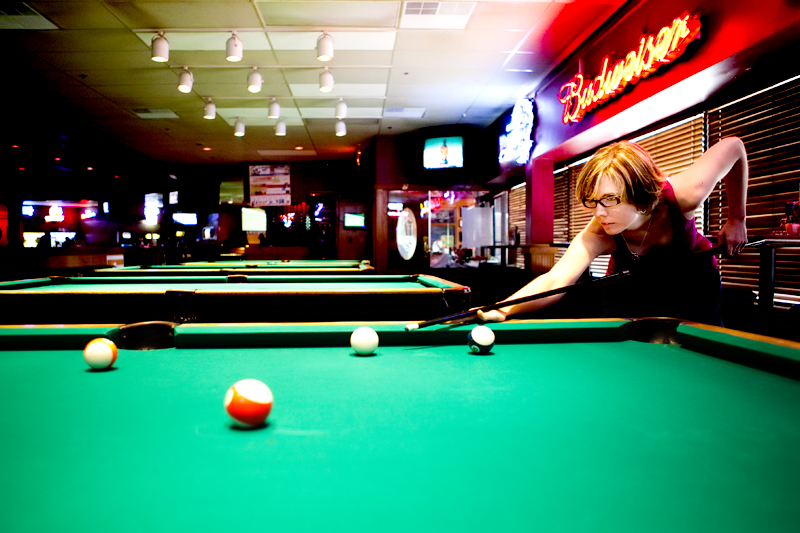 Being left-handed always seems to get in the way, no matter what I'm doing.  This is a world made for the Righties, folks!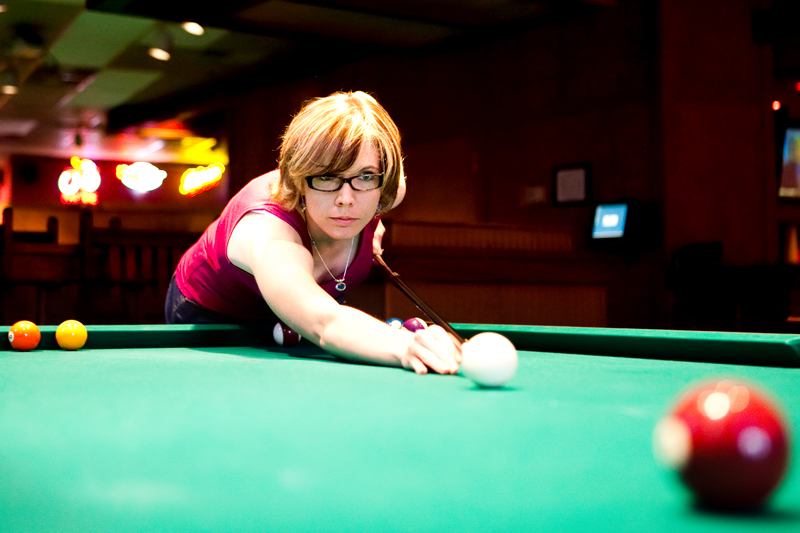 At least I can pretend to look like I know what I'm doing.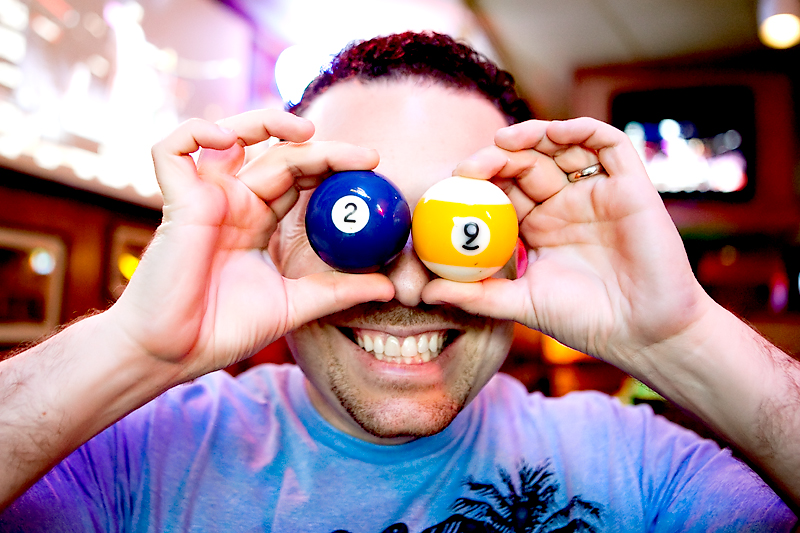 Look, he's only 29 years old!   Twenty-nine...plus tax.  He can get away with that for a few more years.
I plan on staying 27 for the next decade.  Heck, the better part of this year I even convinced myself that I'm still 26.  It's all mental, really.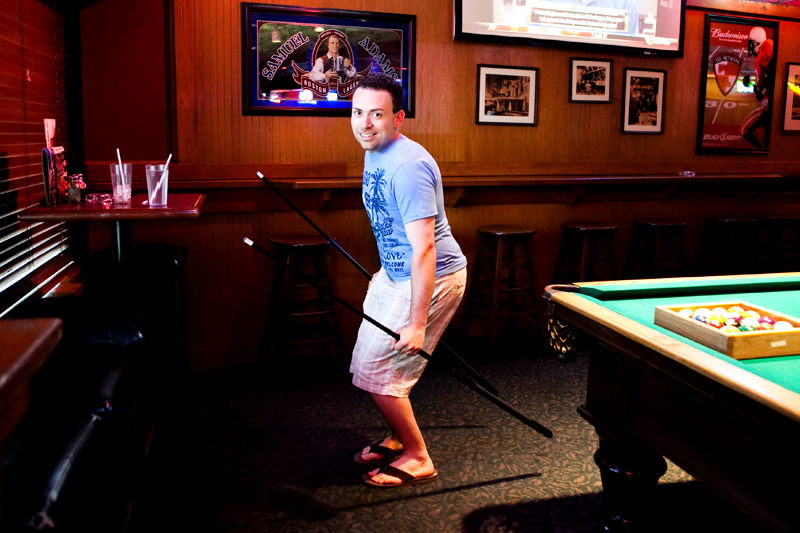 Um.. sweetie?  Wrong sport.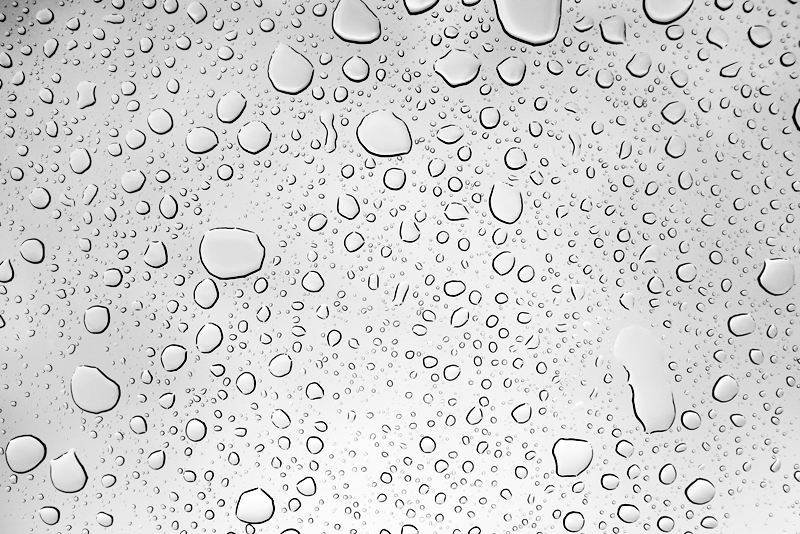 A lovely afternoon storm blew through while we were playing, and this is what the sunroof looked like when we returned to the car.

When we got back home, I had a surprise waiting for him from the ever amazing Magpies Bakery!  A perfectly-sized 5" celebration cake.
Because it's impossible to surprise Matt with anything, I asked him all the way back in FEBRUARY what his favorite kind of cake was (because it changes all the time)  He replied, "Italian cream with vanilla buttercream!"   So that's exactly what I ordered, with plenty of time for him to forget I had ever mentioned a cake.
"Bean" is a universal nickname that we use for each other.   Beanface, Beanflakes, Beanhead, and the most recent one.. Beanpotato.  
Don't ask.  I couldn't even explain it if I tried.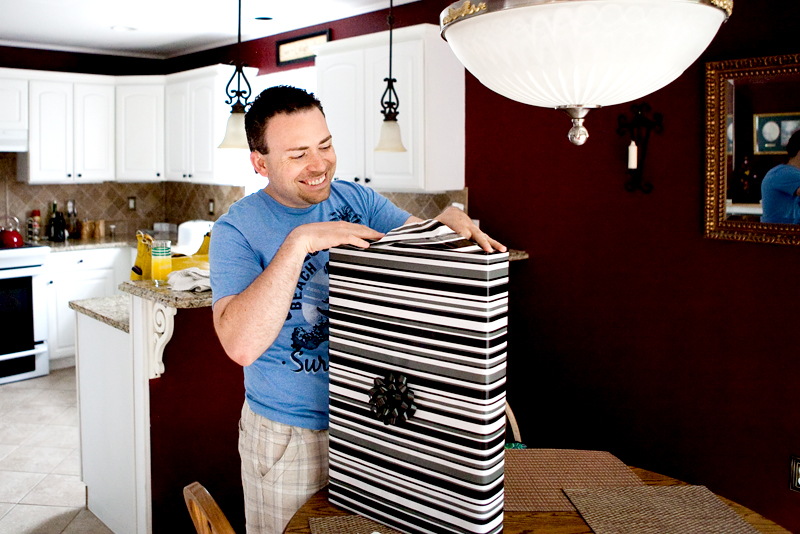 Present time!

I love that I married a big kid.  A Harry Potter LEGO set makes him as giddy as if I'd given him a set of power tools.  Only problem is where we're going to keep the completed sets.. they're taking over our office!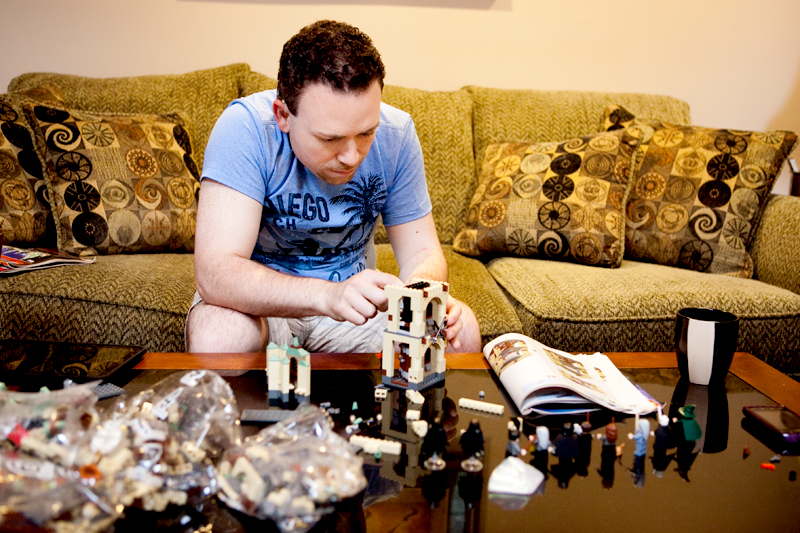 I was dumb and didn't let the cake reach room temperature, so we had to leave it on the counter for a while and wait for it to warm up.  In the meantime, we played!!  Never get between a man and his LEGO.
Did you know that LEGO is never to be spelled with an s, and is always to be capitalized?  
Example:
 "Please hand me all of the red legos in the set."   WRONG!
"Please hand me all of the red LEGO in the set."  CORRECT!
Apparently, die hard LEGO fans get pretty heated about that.. so I just saved you a future headache!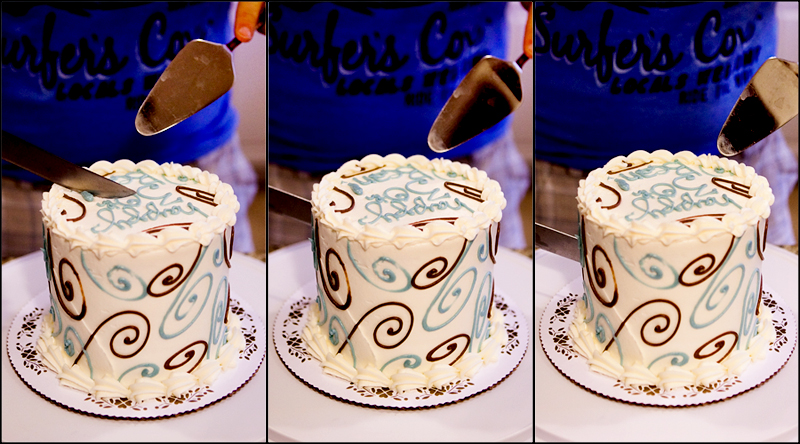 Finally, the time came to slice this puppy up!  It was pure and absolute sin.   But calories don't count on holidays.  Really, they don't.
Really.
I promise.
(I almost have my thighs convinced of that fact)
Until next time!  Carry on!