As the second most-visited tourist attraction in the state of Hawaii, the Dole Plantation attracts scads of people every single day. We set aside a morning to visit this Hawaii staple and enjoyed a day of absolutely gorgeous weather. The plantation is located near Wahiawa in the central part of the island of Oahu. This section of the island is nice and breezy and the air feels cooler than in Honolulu despite it not being directly on the coast.
It took me longer than I care to admit to notice that the flora in front of the main building spelled out "DOLE". Okay fine, full confession, I didn't notice until weeks after our trip when I sat down to cull through the photos. Sometimes I'm hyper-observant of my surroundings and other times I'm totally oblivious. This was one of those times.
There's no charge to explore the gift shop, restaurant, main grounds and patio area of the plantation. If you just want to pop in for a quick visit, it's really simple to park right outside and walk right in!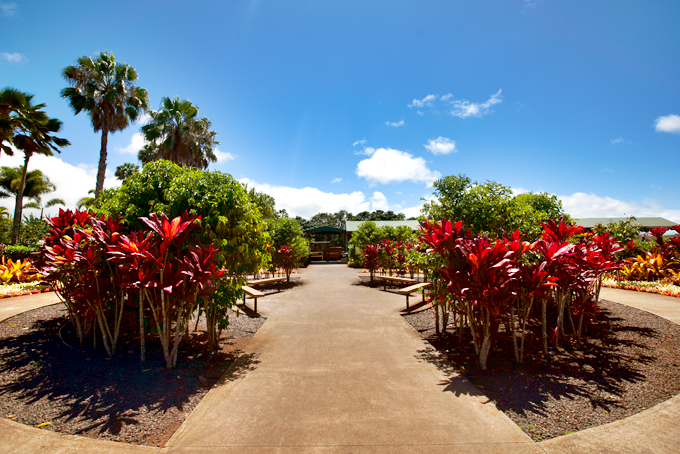 There are lovely gardens in the "free" areas with bench seating. Outside of the gift shop and restaurant there is an abundance of tables with umbrellas or under the porch.
We spotted several peacocks prancing around on the sidewalks.
Baby red pineapples were everywhere. Aren't they cute?
We saw this man demonstrating some woodworking skills in the shade of the gift shop building.
The gift shop itself is impressive. Typically, we don't spend much time in touristy souvenir shops, but this one is huge, this picture doesn't do any justice to its size, and has a little of everything. There's tons of local food products (with lots of pineapple-flavored stuff, of course), jewelry, bath and body products, home decor, accessories, clothing, basic souvenirs, and so much more.
Our baby fell asleep in his Ergo carrier and because we needed him to have a good nap we spent a good bit of time browsing the shop and ended up having a surprising amount of fun. We collect magnets and, sometimes, Christmas ornaments from the places we visit and we were able to find both of those things here. Our ornament was personalized with all three of our names and the date. It will be a treasure in the future.
This is a stock photo of the ornament, since I've already packed away the one we purchased. The company that sells and personalizes these is called Santa's Pen. We had each of our names written on the stockings, 'Our Hawaiian Vacation' written across the bottom, '2015' on the sunshine, and "Mele Kalikimaka" on the surfboard.
Jasper will never remember that he traveled to Hawaii at such a young age, but we can't wait to show him the photos and tell him stories about his first big vacation when he gets older! Make sure you also take a helicopter tour as the view is spectacular from the top.
There was a lady who looks up the Hawaiian version of your name and burns it onto leather bracelets. Maluhia is my Hawaiian name. The bracelet is braided on the other side and it's such a fun souvenir. I love it!
If you're hungry, the Plantation Grille, located in the same building as the gift shop, serves up a full menu as well as desserts. If you come to Dole Plantation you absolutely have to try a Dole Whip. It's likely that you've had this delicious treat at Disney World or Disneyland, but it was really fun to try one right from the source, so to speak. Dole Whip is pineapple-flavored soft serve and it is served many different ways - in a cup, in a cone, with cherry or pineapple topping, or floating in a glass of fresh pineapple juice.
When doing research for our trip I read a tip to order it topped with li hing mui powder, which is a really tart "spice" that is insanely popular in Hawaii. It's made from dried plums and its flavor is strong! It's a mixture of sweet, salty, and sour all mixed in together. It's known as an acquired taste, but we both loved it and thought it paired well with the pineapple. My only gripe is that the folks at the grille were a little heavy-handed with the powder. A little goes a long way!
One of the "pay to play" attractions is the Plantation Garden Tour. Tickets are $5.00 per adult and $4.25 for children ages 4-12. Children under 4 are free.
The tour is self-guided and you are given an "audio wand" that you can use at specified hot spots in the gardens to hear additional information about the plants and how they are used.
Photo dump incoming...
These are some of the largest Koi we have ever seen. They must be used to being hand fed because as I got close enough to take a photo they all gathered around opened their mouths up wide.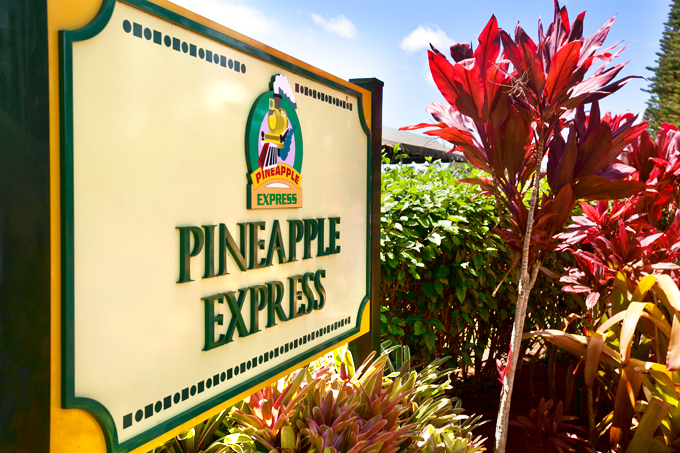 The most popular attraction at the plantation is the 20-minute train ride aboard the Pineapple Express. Tickets are $8.50 per adult and $6.50 for children ages 4-12. Children under 4 are free.
The train ride takes you through two miles of plantation scenery while a recorded voice narrates the history of Dole and provides information about many tropical fruits and plants.
I've been a blogger for a long, long time, even before the first iteration of Brownie Bites back in 2006. In the late 90's and early 2000's Matt and I both blogged at a site called Open Diary and I still correspond with many of the blogger friendships that I made in that community. We met up with one such friend, Kaye, and her three kiddos. It was so great to finally meet them in person!
Jasper experienced so many firsts on this trip... even his first train ride!
I can't even with this goofy kid. His facial expressions crack me up.
The tour provided information about harvesting processes and there was some equipment on display.
Bananas!
We took in some pretty scenery of Central Oahu.
Unfortunately, the fields themselves were relatively barren and so much of the train ride exhibited bare fields full of "Hawaiian red dirt", named because of the presence of iron oxides in the soil.
It's crazy to think that when Kaye and I first started corresponding, none of these kiddos existed!
The Pineapple Garden Maze is the third paid attraction at the plantation - $6.00 for adults and $4.00 for children ages 4-12. It is the world's largest maze created from 14,000 Hawaiian plants.
We skipped actually going inside of the maze since the sun was crawling higher in the sky and it was getting a hot for Jasper to spend too much time in the open sunshine.
Overall, our visit to Dole made for a pleasant half day and if you're planning on trekking to the Central Valley or up to the North Shore, it is at least worth a stop to browse the courtyard, shop at the gift shop, and try a Dole Whip.
Visit their website for more info: www.dole-plantation.com