This post is long overdue, but here it is, the final installment in our Jonesborough series!
Stop by the Historic Jonesborough Visitors Center
The visitors center was our first stop when we entered the town.  There is a small, free museum inside where you can view some interesting exhibits and read up on some history of the area.  The people inside are very welcoming and eager to help with recommendations, directions, or getting you up to date on any special events going on during your stay.
There's also a charming shopping area with books about the history of the region, some locally-produced jams and jellies, and other knick knacks.  The center is a good place to pick up some brochures and pamphlets for local activities.
Visit the Storytelling Center
Jonesborough's biggest claim to fame, the International Storytelling Center.  Founded on the belief that storytelling is a person's most powerful tool for communication and that all people "crave, remember, and honor stories" the storytelling center has become the centerpiece of a world-reknowned storytelling festival held each October.  Outside of the festival, however, the center maintains a rotating schedule of storytelling performances for $12 per seat.  The facility is also available for rent for weddings and other events.  We didn't attend a performance during our trip because our kiddos are still a bit young to sit through such a thing, but we were sad to miss it!
Take a Walk Downtown
I know this one sounds obvious, but I really encourage you to get out of your vehicles and walk the streets of beautiful historic Jonesborough.  You can download a PDF of a wonderful self-guided walking tour right here (you can also pick up a printed version of this brochure at the Visitors Center) and immerse yourself in the area's history while admiring the architecture.
You'll want to go in each and every establishment, as they are all so different!
There are, of course, plenty of vintage and antiques shops to be found.  I could paw through shops like these all day!
Shop at a Local Market
While walking around downtown, you must make a stop at the Boone Street Market.  Located in a re-purposed service station on Boone St. (surprise surprise), this is Tennessee's only non-profit 100% producer only grocery store.  Everything sold inside is produced within 100 miles of Jonesborough!
You can buy everything from fresh produce, baked goods, crunchy snacks, Jobo Joe coffee, and a number of cold cases packed with fresh food and dairy products.
The people inside are friendly and welcoming and wonderful with the kiddos - they offered Jasper a sample of some deliciously plump, ripe blackberries!
Take A Distillery Tour (With Free Tasting!)
The Tennessee Hills Distillery is located downtown at 127 Fox Street.  No reservations are necessary to show up and enjoy a quick, free tour of the inner workings of the distillery in this interesting historic building.
After the tour, enjoy a free tasting of everything Tennessee Hills has to offer.  Bob, who is likely to be the tour guide and bartender for your visit, has passion for his career and products dripping from every word that he says.  He's extremely knowledgeable, funny, and just a great guy to be around.
After you've tasted the delicious spirits available at Tennessee Hills, I dare you to try to walk out of there without making a purchase.  My recommendation?  The Lavender Lemon - it's out of this world!
Visit an Amish Market
If you have a hankering to take a pretty drive through some seriously beautiful Tennessee countryside, I highly recommend taking a sojourn about 15 miles southwest of Jonesborough and stopping at Mountain View Bulk Foods, located at 7730 Erwin Highway, Chuckey, TN 37641.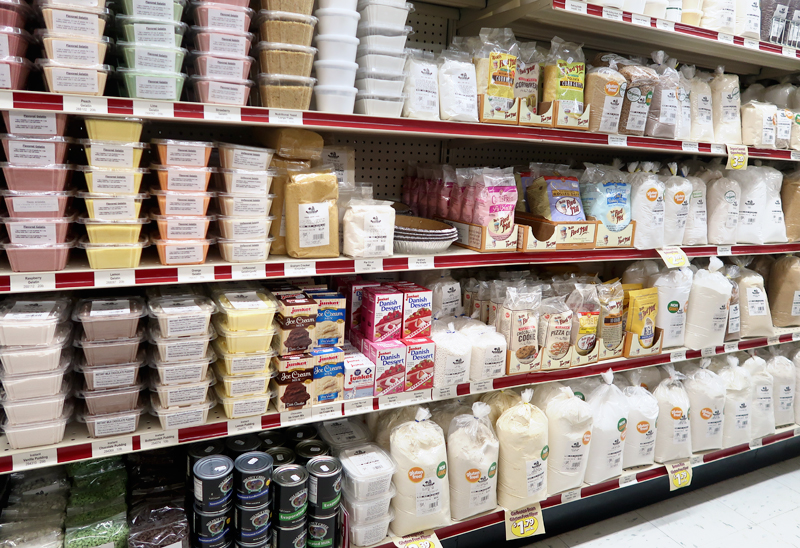 If you're a grocery store junkie like me, you will go nuts over this place.  There's an unbelievable selection of dry goods, spices, baking supplies, fresh jams and jellies, pickled and jarred vegetables, snacks, soup mixes, and so much more!  There's also a huge variety of baked goods made right at the market like breads, cakes, cookies, and other sweet treats.
But arguably the market's most popular offering is its extensive inventory of fresh cheeses and deli meats, sliced to order.  If you have time for lunch, you can try one of their house made sandwiches and soup!
Here's a couple of my favorite goodies from the market - some pumpkin yogurt covered pretzels (that my kids went nuts over) and some fresh ground farina!
Visit A Lovely Zoo
The Brights Zoo is located a short 20-minute drive from Jonesborough in Limestone, TN and ended up being one of the most pleasant parts of our entire stay.  Privately-owned and beautifully maintained, it's worth a visit!  See our post going into detail about our day at the zoo.
Sample The Local Eats
I've put together a guide of all the yummy restaurants we sampled during our stay: view the Jonesborough dining guide!
See All Jonesborough Posts: Click Here