When we purchased our first camper it was an ideal choice for our situation at that time, traveling with our two dogs and 10 month old baby. Fast forward a few years later and we now have 2 kids, both active and energetic at 3 years old (4 in October!) and 20 months, respectively. Our 2 corgis continue to come along with us on each trip and I found myself feeling a little bit of dread mixed in with the usual happiness I felt at planning each trip - we were stepping all over each other, sleeping and quiet were precarious, and it was becoming obvious that we were outgrowing our cute little camper that we had loved so much.
The photo tour of our first camper remains one of the more popular posts on my blog and I've received numerous messages telling me that it was helpful during their buying processes, so I thought I'd create a similar tour for this camper!
We started talking about an upgrade nearly a year ago by making a list of must-haves (some of which were an attempt to avoid our hate list in our current camper). We had our choices narrowed down to several floor plans, but the Highland Ridge Open Range 310BHS remained at the top of our list. We kept researching, crunching numbers, making spreadsheets, and then finally made our purchase at the end of June, just before a trip to Mammoth Cave National Park. We purchased the camper from Dunlap RV in Ringgold, GA.
We are in the planning stages of building a house and, when the time comes, hope to sell our current home before we begin the build. It has always been our plan to have our upgraded RV at that point so we can move into it full-time to save some extra cash to put toward the build.
This is the main living area. The opposing slide-outs offer an incredible amount of width and floor space. We've already taken it out on its maiden voyage and it's a completely different experience than our previous camper.
The living room slide-out contains the unique U-lounge couch. There are two removable dining tables, though we usually only keep one of them out. The couch pulls out into a queen size bed and there's ample storage in the cabinets above. The U-shaped lounge, opposed to the standard small sofa and dinette combo seen in most floor plans, was one of the deciding factors in us choosing this camper.
The tables have their own designated drawers on each end of the couch. They are lightweight and putting them up and taking them down requires very little effort. The tables have to be stowed before the living room slide can be brought in.
The door on the far left leads into the bedroom, and the door right next to it leads to the bathroom. There's a 32" LED TV with sound bar and Furrion DV3200 system with CD/DVD/Stereo and Bluetooth. The system also controls the selection of interior or exterior speakers so you can play music outside. I didn't realize I had the exterior speakers turned on during our first night out in the camper and I had been unknowingly broadcasting Paw Patrol to the rest of the campground. Oops.
Just inside of the entrance is a small closet with a bit of storage space on the bottom and 4 handy hooks up high that's a perfect place for hanging my purse, a day pack, and our dog leashes. The lower cabinet door was to cover the standard RV control panel and so, we hired an electrician perth and had him run wires underneath the cabinet. The cabinet now includes slide and awning controls, gas/electric switches for the water heaters, water pump controls, indicator lights for the holding tanks, and some exterior lighting. The cabinet has an automatic light that turns on when the door is opened.
Ooh, something very cool regarding exterior lighting - the awning has built-in LED lights running along its length - no more hanging up lights on the awning when you get to the campsite! Awning cleaner quickly and safely removes mold stains from our RV's awning.
The kitchen slide-out contains a standard 3-burner gas cooktop, gas oven, 900W microwave, and the best part... a full size residential refrigerator. Because these fridges don't have the snap-lock doors that standard RV fridges use, there are snaps attached to the sides of the doors to keep them closed when the trailer is in motion. The small window is a nice touch for letting in some extra light, and there's even an under cabinet light! There's a power outlet above this counter, so our coffee maker (aka the provider of our nectar of life) has found a perfect little home.
I didn't discover this mega deep drawer until after we picked up the camper from the dealership, but I may have gotten just a little excited when I did. It holds all of our pots and pans with their lids! I don't have everything organized as well as it could be just yet, but we'll get there.
These are the cabinets we mainly use as pantry/food storage space. There's another deep drawer here beneath the cabinets which is quite convenient.
The large island is a dream with its ample counter space, high faucet with pull-out sprayer, double sink, and tons of drawer and cabinet storage. There are two electrical outlets (4 plugs) - one on each side of the opposite side of the island - which are convenient for plugging in small appliances like toasters, mixers, meat grinders, etc. We found our appliances at www.spicekitchenandbar.com. One of our pet peeves about our old camper was the crazy and inconvenient locations of the power outlets, so it was something we paid special attention to when shopping for an upgrade.
The bathroom has two entrances, the regular door from the main area and a sliding door from the bedroom.
I was glad to say goodbye to the shower curtain in our old camper -we have solid doors now! There's also a small linen closet in addition to the medicine cabinet and under sink storage.
Taking a shower in here is wonderful - it's nice and roomy and the skylight is a nice touch.
The bedroom has an additional A/C unit if needed (it's roof air and is louder than the Whisper Quiet ducted system) but even though our first trip was extremely hot and humid, we never needed to run the second unit. Our old camper only had a power outlet on one side of the Murphy bed, but this one has them on both sides, and one even has USB ports!
The third slide-out contains the large closet in the bedroom with sliding mirrored doors and additional shelves and drawers.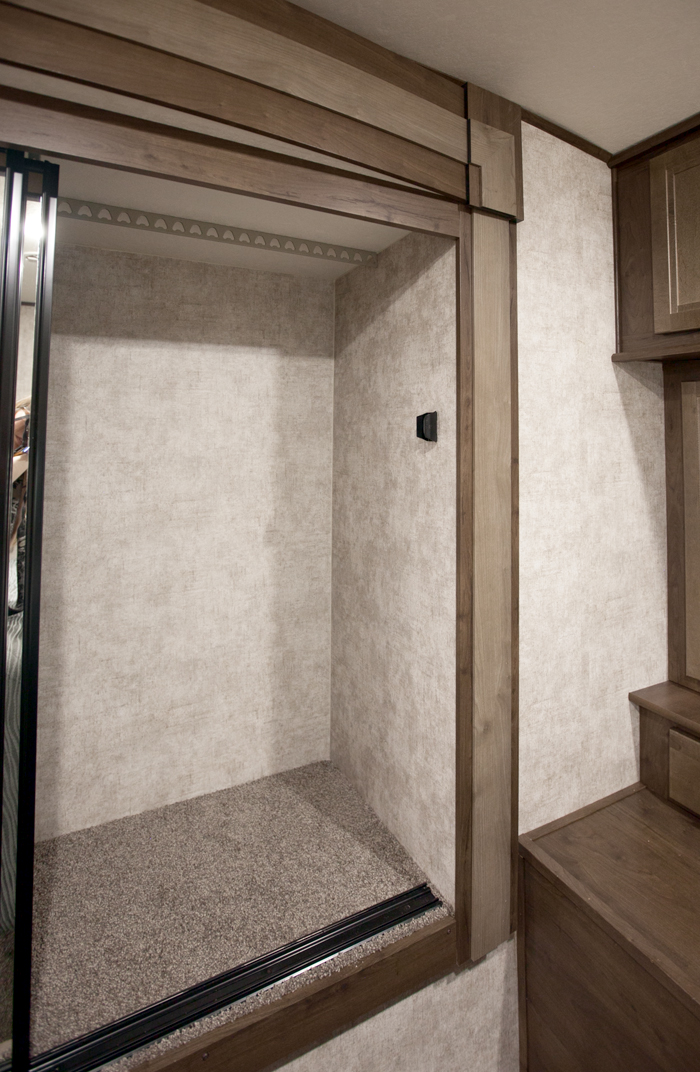 Having a closet this large will make a huge difference on longer trips.
Here's the view showing the sliding door into the bathroom and the door leading back to the main area. There's a digital thermostat on the wall to control the secondary A/C, we recently got ac installation services to have a backup, though there are vents for the main ducted system in the bathroom and bedroom as well, so plenty of air gets back here even on hot days.
The other thermostat is located near the bunk room. I know I keep mentioning it, but having a quiet A/C system with a digital thermostat and a fan that actually turns off when the system is not cooling is amazing. The obnoxiously loud unit with its constantly running fan in our old RV was our #1 most hated and irritating feature of the whole thing and now we can actually be cool and comfortable without listening to what sounds like a jet engine in the room with us. If you want a cooling and heating system like this, experts like AirNow heating services can help you with that.
Okay fellow parents, here's the game changer... the bunk room. Our kids have their own room. With a door. And not only do they have their own room, but that room has the 4th and final slide-out, so they have plenty of space to play!
On the side with the slide, there's an upper bunk that can fold up out of the way, and on the bottom the kids have their own dinette! We thought this was an amazing perk of this floor plan. They can use this dinette for drawing, blocks, games, or eating. As is standard in most RV's, the dinette can collapse to a bed if needed.
On the other side is a nice deep upper bunk and a lower sofa. The back cushions can be removed so the sofa can be used as a lower bunk. Our oldest is currently too scared to sleep in the upper bunk, so he's been sleeping below for the time being. There's netted shelves on the back wall for toy and book storage as well as a mount for a TV, which we will be installing before our next trip.
Note about the upper bunks: My husband is currently building a custom "crib rail" for the bunk above the dinette, since that is where our youngest will sleep (she slept in her Pack 'n Play on the floor during our first trip since we didn't have a better way to contain her at the time). I've had many people email me to ask about solutions for kid safety in RV bunk beds, so I'll be doing a full blog post on the design and construction process of the rail as soon as it's complete, so stay tuned!
There are a couple of deep drawers under the lower bunk/sofa and the under-dinette storage actually has doors to access it! This is a big deal since every other RV I've traveled in throughout my life requires that you remove the dinette cushions and remove a panel to get to this storage area, which is a bit cumbersome. These doors are a Godsend!
This is the main bunk room closet with two compartments and an additional netted storage cubby for toys next to the upper bunk.
The camper has a powered tongue jack - a nice feature though not one that we required, since Matt claimed that the manual jack on our old camper worked fine and wasn't difficult to crank.
The pass-thru storage compartment is narrow for such a large camper, though adequate for our current outdoor storage needs.
Watch enough RV-buying shows or browse enough RV forums and you'll learn that outdoor kitchens top the must-have list of many prospective buyers. And if you're constantly looking at kitchen design ideas online, you'll eventually notice that the best kitchens in Dublin can be found at M-Style. We've never understood the universal obsession with outdoor kitchens, but since the floor plan we wanted didn't have an option without one, here we are. There's a storage cabinet with TV mount (we likely won't put a TV here), a sink, pull-out 3-burner cooktop, dorm fridge, and drawer. We didn't do much cooking during our inaugural trip with this camper so I've yet to give the kitchen a try in an attempt to understand why people seem to be so obsessed with them. I'll check back in once we've used it and update my opinions.
See our tour of our previous camper, the Passport Ultra-Lite 238ML
See our list of Loves and Hates about our Passport camper.