Project Waffle (OUT OF BUSINESS)
Location: 1245 East Andrew Johnson Highway Greeneville, Tennessee 37745 (food truck location varies)
Website: https://www.facebook.com/projectwaffleTN/
Quick Glimpse:  Mon - Thurs, 10am - 10pm, Friday/Saturday 10am - 11pm, Sunday 10am - 2pm.  Unique menu of savory and sweet waffle sandwiches.
Project Waffle began as a food truck, developed a loyal following, and expanded to their new permanent digs with a fun assorted vintage decor.  Expect a warm reception from a friendly, conversational staff whose passion for their business is obvious within seconds of talking to them.
If you would like to start you own business this custom mobile kitchen trailer can be a great way to start making amazing dishes and going out there selling your products in different places.
We placed our order at the counter and then took a seat and waited for our food to be brought to our table.
I ordered the pesto BLT, which is bacon, lettuce, and tomato with a zippy pesto sauce.  I've never had pesto on a BLT before and the combination of the sauce with the waffle was pretty darn amazing.  The texture of the waffle had just enough chew to it to stay together when eating this beauty - it was surprisingly easy to consume without being too messy or fall-aparty!
Matt ordered the Sweet Thang, which is a waffle filled with fried chicken, colby jack cheese, bacon crumbles, and honey mustard.  Do I even need to comment on this masterpiece?  Holy heaven on a waffle, Batman.
Since this was an early lunch, the kids shared a Rise & Shine, which is a waffle filled with bacon, cheese, and fried eggs.  It is usually served with spicy syrup, but we substituted it with regular syrup for the little ones.  We ended up "deconstructing" this sandwich since it was easier for the kids to eat each part separately, but they enjoyed eating it with the waffle cut up and dipped in a little syrup!
The Creamy Cup
Location: 885 Erwin Highway Greenville, TN 37745
Website: https://www.facebook.com/creamycup1/
Quick Glimpse:  Mon - Fri 6am - 8pm, Sat 7am - 8pm, CLOSED SUNDAY.  Hot and cold/frozen coffee and espresso drinks, smoothies, baked goods, pastries, and ice cream.
Lynette, owner of The Creamy Cup, was tired of her retail job and decided to chase after her real passion in life, and that's how this adorable little coffee and ice cream drive-thru/walk-up stand was born.  With their loyal following of repeat customers and dedicated to community support through donations to local colleges and hospitals, this is a business with heart, and it shows.
Creamy Cup is a charming little establishment that can provide you with your morning elixir or with an afternoon sweet treat in the form of some delicious ice cream.  They'll even serve ice cream at your wedding or event!
I ordered my usual - a nonfat latte with sugar free vanilla and caramel.  It was sooo good - the espresso had a ton of kick, it was silky and the flavor syrups were added in the perfect amounts. Matt ordered a regular cappuccino and was told/warned that it would have a lot of foam on it.  He replied, "GOOD!  That's how it should be!"  He was really impressed with how Creamy Cup does their cappuccinos and if we lived nearby we'd be making this place a regular coffee stop.
He picked up a giant chocolate muffin for the kids to share.  They loved it!  We warmed it up just a smidge when he got back to the camper and it was moist and full of ooey gooey chocolate chips.  The kids thought they had won the lottery with this special breakfast treat.
We weren't planning on ordering a cinnamon roll, but Lynette was not going to let Matt leave without waiting for one to come out fresh from the oven.  The rolls are homemade and topped with a special housemade icing that's more of a thin buttercream than a traditional sugar-and-milk cinnamon roll topping.  It was insane.  The soft, doughy center, the burst of cinnamon, that amazing glaze, oh man.  I am so glad that our arm was twisted into trying one... it was clearly torture *wink wink*.
Peggy Ann Bakery
Location: 934 Snapps Ferry Rd, Greeneville, TN 37745
Website: https://www.facebook.com/peggyannbakery/
Quick Glimpse:  Closed Sun and Mon, Tue-Fri 5am - 5:30pm, Sat 5am - 4pm.  Cookies, pastries, brownies, doughnuts, special event cakes, homemade bread, etc.
Peggy Ann has been baking for 60 years and this is a bakery steeped in family tradition, as three generations of the family currently work in the bakery.
The bakery has a hot bar with plenty of eclectic seating if you want to grab a lunch, open Monday through Friday, from 11am-2pm.  The bar includes a selection of house made meat selections, veggies, side dishes, and oh yeah, freshly baked hot rolls.
Oh yes, homemade breads, too!
I picked up an assortment of cookies to enjoy throughout the week.  From the top, I selected peanut butter, chocolate chip, sprinkled sugar cookies, Southern dream (sort of like Pecan Sandies), and butter pecan.  They were all soft with the perfect amount of chew.  The kids loved the sprinkle cookies of course, but Matt and I thought that peanut butter was the star of the show!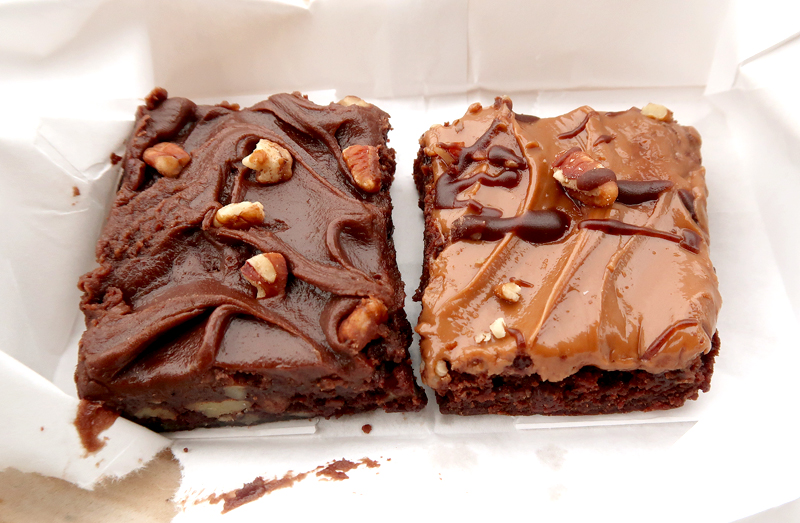 I couldn't pass up trying the fudge and turtle brownies as well.  I tried a bite of the turtle and thought that nothing could possibly top it... until I tried the fudge one.  Chocolate lover's heaven.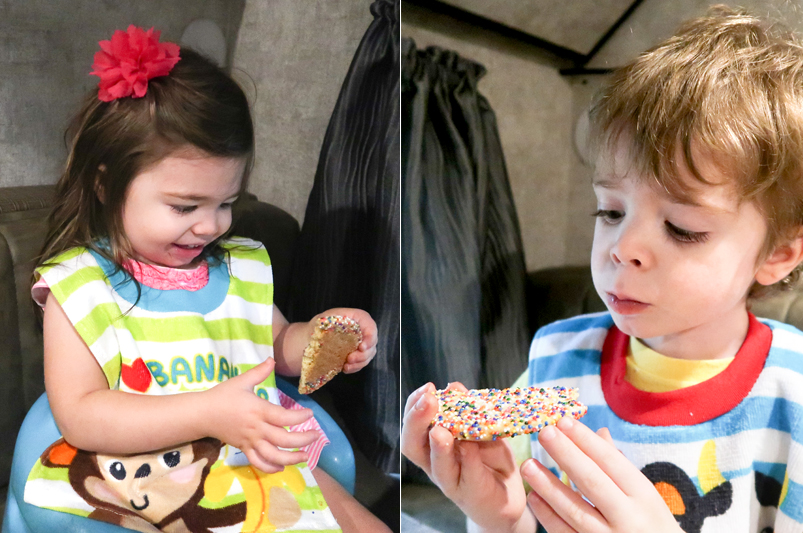 The kids shared a cookie after dinners in the camper.  Sprinkles are always a hit!
Brumley's Restaurant & Lounge
Location: 111 N. Main, Greeneville, TN
Website: http://www.generalmorganinn.com/brumleys/
Quick Glimpse:  Lunch and dinner menus with Saturday and Sunday brunch.  Varied menu offering traditional American dishes, lounge with full bar (see website for restaurant and lounge hours).
The exquisite General Morgan Inn, located right in the heart of downtown Greeneville, did not fail to nail the first impressions with this gorgeous expansive lobby.
Just inside the front doors you'll notice the sign for Brumley's, a beautiful restaurant and lounge serving a polished menu of motley dishes that will not fail to disappoint.  It's got a high class atmosphere that manages to also be casual enough to remain comfortable and approachable.
Yes, high class and totally refined.
Um, well... so much for that?
No, I'm kidding.  Even though the restaurant is beautiful and it is very classy, families are welcome and our kids did well behaving themselves.  I will, however, admit to having a video playing on very low volume to hold their attention because though I know that's not an excellent way to teach manners, I am hyper aware of not ruining the experience of other patrons in the restaurant if my children start to act up, so yes, I will resort to those measures to ensure I can keep them quiet.
We all chose options from the brunch menu.  The kids shared this gorgeous plate of blueberry pancakes with syrup, bacon, and fresh fruit.  Matt and I both tried a bite of the pancakes and immediately got jealous of the kid's meal.  They were fluffy with a nice buttermilk tang and maybe a hint of citrus in there somewhere.
Matt ordered the Shrimp & Grits - is there a more quintessential Southern brunch meal?  This wasn't an overwhelming portion of food and was a satisfying dish before we set out on foot to view some historic sites.
I was craving some lighter fare after days of heavier meals, so I chose the fruit & yogurt plate with homemade English muffins.  It really hit the spot.  My muffin was served with local strawberry and blackberry preserves and that wonderful homemade granola added a perfect amount of sweet crunch to the yogurt.
The Farmer's Daughter
Location: 7700 Erwin Highway, Chuckey, Tennessee 37641
Website: https://www.thefarmersdaughterrestaurant.com/
Quick Glimpse:  Friday and Saturday, 11:30am - 8:00pm.  Sunday, 11:30am - 5:00pm.  Closed all other days.  Specializes in farm-to-table Southern cooking served family style.
If there's one thing I can tell you about this large, super popular restaurant located right smack in the middle of miles of beautiful East Tennessee countryside, it's this: come hungry.  I'm not even kidding.
The meal started with a basket of enormous homemade yeast rolls.   I could have made a meal out of these suckers all by themselves - just give me some sliced prime rib to stick inside those babies and I'm set.  Though you can't see it in this photo, there was also a wedge of cornbread under there that was prepared as it should be - with a dark crispy outside and soft inside.
Jasper was a fan of the rolls as well.
Sometimes he's sweet and lovey dovey and sometimes he's a tornado of destruction.  Such is life with an almost 4 year-old.
We weren't familiar with The Farmer's Daughter, but we knew that it is a family style restaurant.  We were told that we would pick two meats for the table and then "the vegetables" would be brought out.  There were no choices to be made about side dishes, but when our food arrived, holy heck, we found out why.  They bring out ALL the side dishes.  They kept slamming down dishes and our eyes kept getting bigger and bigger.
There was creamed corn, cooked cabbage, mashed potatoes, chicken 'n dumplings, mac 'n cheese, cole slaw, cornbread casserole, potato salad, carrot souffle, green beans, pickled zucchini, pinto beans, and fried squash.  Phew!!  It was all amazing, but my favorite side dish was the carrot souffle - it was out of this world.   Coming in at a close second place is the fried squash, holy yum.
Since we were all sharing the same dishes, we chose chicken tenders with honey mustard for one of our meat choices, because we knew the kids would eat them.  They weren't knock your socks off amazing, but they were tasty.
Our second meat choice was meatloaf, another family friendly choice.  Again, it was good meatloaf, but not mind-blowing.  The side dishes and bread basket were the best part of the meal.
Dessert is included with the meal, but we were so stuffed that we couldn't even think about eating it, so we asked them to pack it up to go.  We took home berry cobbler (it was meh), coconut cream pie (yummy), hot fudge cake (meh), and chocolate peanut butter pie (the winner).
Since visiting this restaurant was a spur of the moment addition to our itinerary, we did not know ahead of time that no cards are accepted and we only had very little cash on us.  The hostess just gave us a card with our total and their mailing address and said sweetly, "Mail us a check!"  Wow, how's that for Southern hospitality?  And yes, we did indeed mail them a check.
Smokin' Pig BBQ
Location: 708 E Church St Greeneville, Tennessee 37745
Website: https://www.facebook.com/Smokin-Pig-BBQ-TN-321519231256617
Quick Glimpse:  Monday - Friday, 11:00am - 6pm.  Saturday 12:00pm - 5:00pm.  Closed Sunday.  Menu includes pulled pork, ribs, brisket (Fri/Sat only), and sides.
I ordered a dish I had seen on the restaurant's Facebook page and thought it looked amazing - The Smoky Boat.  This is pulled pork and sausage cooked with carrots, potatoes, onions, green peppers, and corn on the cob.  It looked and smelled amazing but... it was not good.  The pork and sausage did not taste smoked and had a water-logged texture.  The dish was primarily potatoes, which were tasteless, as were the carrots and green peppers (how is that even possible?)  As a fresh corn lover, especially during the summer, it was painfully obvious that the corn came from frozen cobs.  I really try to be extremely fair in my reviews, but this dish was just a huge miss for me.  I made a bad choice.
Matt's pulled pork sandwich, however, was a superstar.  The pork was fall-apart tender, as it should be, with a delicious smoky flavor.  He ordered the side dish portion of Smoky Boat on the side (poor choice, obviously) and green beans, which were wonderful.  I should have stuck with the basics, because Smokin' Pig really does know their stuff when it comes to pulled pork.
The kids shared a pulled pork sandwich with a side of mac 'n cheese and, of course, some good ole Lay's potato chips.  Smokin' Pig has two sauce options, sweet and spicy.  Both were good but I preferred the sweet, and of course the kids did, too!
They didn't take a nap that day and were just a liiiiiittle bit tired during our dinner, but they tried to push through.
They love all of the activity during our trips, but it definitely tires them out.  Even though we carve out time for a nap every single day, most days they're so amped up and excited that they simply can't fall asleep!
Little Top Drive Thru
Location: 507 N Main St Greeneville, Tennessee
Website: https://www.facebook.com/mslittletop/
Quick Glimpse:  Monday - Friday, 8:00am - 6:30pm, Saturday 10:00am - 6:30pm.  Closed Sunday.  Home of the original Chipper (chipped ham sandwich).
Little Top Drive Thru, owned by the Paxton family, has been serving the Greeneville area since 1951.
Little Top has a simple but varied menu of burgers, wraps, and sandwiches.
I ordered a grilled chicken wrap, because I always feel that a great way to test the quality of a restaurant is to find out if they can properly cook chicken.  In this case, unfortunately, the answer is no.  The grilled chicken was dry and tough and difficult to bite.  Once I drowned it in the included ranch dressing I could chew it a little easier, but it was still disappointing.  The sweet potato, fries, however, were outstanding - crispy perfection.
The kids shared a cheeseburger, which they enjoyed, but we made an oopsie with their side dish.  We ordered some cheddar tots for them thinking they'd be a perfect kid-friendly side, not knowing that they are made with jalapenos!  Needless to say, we ended up eating the tots ourselves - which were delicious - and giving some of our fries to them instead.
Matt ordered the Southwestern cheeseburger that was topped with cheese, bacon, BBQ sauce and a fried onion ring.  He ordered seasoned fries on the side.  This was a winner winner not-chicken dinner!  Delicious juicy burger with a lot going on paired with those crispy zippy fries - what's not to love?
Save this post for later!  Pin this guide to your travel boards, just use the optimized image below.  Hover your mouse over the image and click, "Pin It!"
We were provided some of the meals above in return for inclusion in this guide.  Our reviews are always 100% honest!