We just returned from a long weekend of exploring the beautiful historic town of Jonesborough, TN and the surrounding countryside. We stayed at the Riverpark Campground on the Nolichucky River, approximately 10 miles outside of downtown Jonesborough. Here are the details of our trip:
LOCATION OF RIVERPARK CAMPGROUND
3937 Highway 81 South
Jonesborough, TN 37659-7146
Located between Jonesborough and Erwin, TN (click for map)
CONTACT INFORMATION
Phone: (423) 753-5359
Email: [email protected]
Website: http://www.riverparkcampground.net
CAMPGROUND AMENITIES
Full hook-up RV sites, some with 50-amp service
Tent sites with water and electric
Bath house with changing and laundry rooms
Camp store with basic snacks, drinks, supplies, and firewood
Caboose car cabin rentals
Free wi-fi (strong enough for basic email and web browsing, but not streaming or heavy up/downloading)
Pet friendly, except for caboose cabins
Picnic table and fire ring at every campsite
On-site diner, Boomer's Grill, open Tues - Sat 7am - 2pm for breakfast and lunch. Daily salad bar and Saturday morning breakfast buffet (click for menu - subject to change)
Open year-round
OUR EXPERIENCE AT RIVERPARK CAMPGROUND
We arrived on a sunny September afternoon and parked in Site #34, which I think is one of the best sites in the campground. It's located in a corner and is completely private on one side. It has easy and direct access to the water and the roaring rapids provide wonderful white noise.
We travel in a teensy 24ft camper. We did not have to do any side-to-side and very little front-to-back leveling when setting up for the weekend. Any RV camper will tell you that level ground is at the top of the "most wanted" list when choosing a campground and campsite.
The Nolichucky River is wide and shallow with plenty of rocks and rapids. Can't you just hear that roaring water?
The river is popular with fishermen, kayakers, tubers, or people looking to sit, relax, and enjoy the atmosphere.
We had planned for several days of sampling the local food in and around Jonesborough, but for the first evening we needed a fast and no fuss dinner at the campsite. We decided on hot dogs and chips, because we're fancy like that. We got extra sassy and cooked up some sliced onions and green peppers. Ohh yeah.
Ever notice how the simplest of meals taste extra amazing when you are completely starving? Because we were starving, and these were extra amazing.
Little guys don't argue or whine about dogs 'n chips. Peaceful meals are few and far between as parents, so we take 'em when we can get 'em. Jasper loves eating outside at campgrounds and that helps with keeping him happy.
Miss Shelby also loves being outside. The flat, level campsite was perfect for spreading our patio mat and setting up our fence, creating a safe play space for her.
This was the view behind our camper, looking away from the water. There's a vacant campsite there that was later occupied by a nice family visiting their daughter in college nearby. The campground has shaded sites with lots of tree cover, but there are a couple of sections with less trees that would be more accommodating for big rigs.
The campground office is located next to the street in a large yellow farmhouse with a red roof. Inside is a basic camp supply store, a small activity room with an exercise bike, treadmill, and board games, as well as an air hockey table. To understand how does an air hockey table work, it is helpful to know the basic physics behind it. The game is designed with a small, smooth air-cushioned surface that is powered by an air blower that forces air through tiny holes. The goal of the game is to use a mallet to hit the puck into the other player's goal. The winner is the player who accumulates the most points.
If I had to use one word to describe this place, it would be "friendly." The staff, the other campers, the decor and landscaping - it's all very welcoming and home-y.

This may seem like a random photo, but... I'm obsessed with books and reading. I found this "library" in the main office where you can borrow a book to read during your stay and thought it was a nice touch.
Attached to the main building is the charming Boomer's Grill, an on-site breakfast and lunch diner open Tuesday - Saturday 7am - 2pm. (click here to see the menu, subject to change) They currently offer a daily salad bar and a Saturday breakfast buffet.
Riverpark offers a caboose car with 2 cabins, each with their own private deck area. I don't need to tell you that my train-obsessed toddler completely lost his stuff each time we walked by the bright red structure.
The campground is very pet friendly (except the caboose cabins, which do not allow pets) and it seemed as though every camper during our stay had their doggos with them.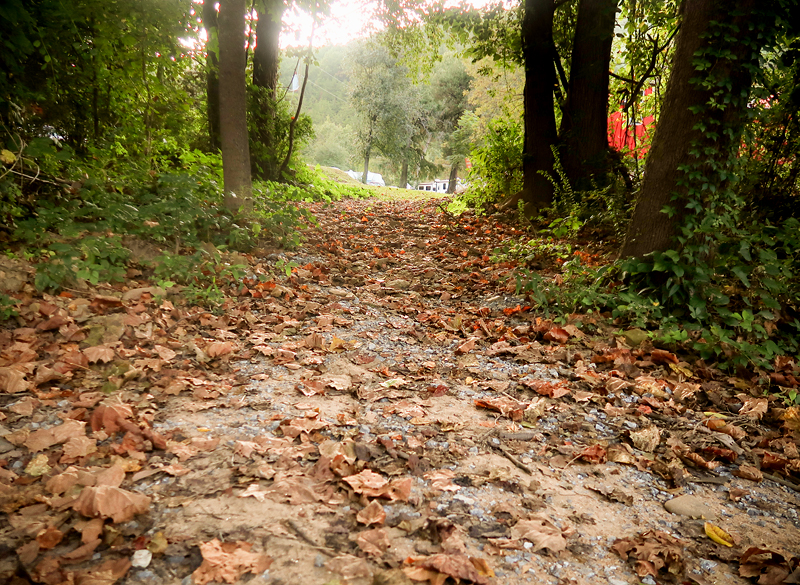 We caught the first glimpses of fall during one of our late afternoon walks.
Just downhill from the main office is an expanse of well-tended lawn with a stage area, covered pavilion with picnic tables, and benches surrounding a fire ring.
I chased Jasper around for a bit to encourage him to burn off some energy before settling down for bedtime.
I never know what's going to stick in his memories during our trips. Our evening playing in the grass ended up being special enough to him to keep talking about it for days after we returned home.
This is the fire ring with seating, the stage on the hill behind them, and the campground office in the distance.
We quickly fell in love with this campground and the entire surrounding area. I highly recommend taking a drive and soaking in the beautiful countryside - some of the best that East Tennessee has to offer.
I've already insisted that my parents, also RV campers, plan a trip to Riverpark Campground ASAP. We will also be back, because both of us were taken off guard by how much we loved the entire area. The country is beautiful, the people are friendly, and the historic towns of Erwin and Jonesborough are fun to explore.
The trees at our campsite were ideal for giving our new parachute hammock a test drive. The hammock comes in a small stuff sack that remains attached when the hammock is removed. Lashing it to the trees with the included straps was surprisingly easy and we were swingin' and chillin' in no time.
Shelby enjoyed snuggling with me in the hammock and while Jasper enjoyed a few minutes of swinging, he preferred to be outside pushing me to "make mama swing!"
When lying in the hammock, I loved how the sides naturally folded over on top of me, fully cocooning me inside. You wouldn't even know I was in there... maybe I can use it to hide from my kids?
Ahh, nice and quiet and serene... pure relaxation.
Yeah, I'm lying. What you don't see is that Matt took this photo with one hand while he held the crying baby in the other arm and the toddler stood by his legs and screamed because he wanted to run into the photo. Real talk. I would have loved to spend hours in this hammock with a good book, but that's just not gonna happen for a few more years!
I'll miss taking in this view every morning. We will be back!
Save this post to your travel boards! Hover your mouse over the image below and click the Pinterest button that pops up.
Riverpark Campground provided us with a campsite for the purposes of this review and for the creation of our Jonesborough travel guide. All opinions are 100% our own, and we do not accept compensation in return for a fully positive review. If it sucks, we'll tell ya!