In search of an indulgent weekend treat, we finally got around to trying Tom + Chee in the Cedar Bluff area of Knoxville, TN.  Simply put, this place specializes in grilled cheese sandwiches and tomato soup.  Enough said.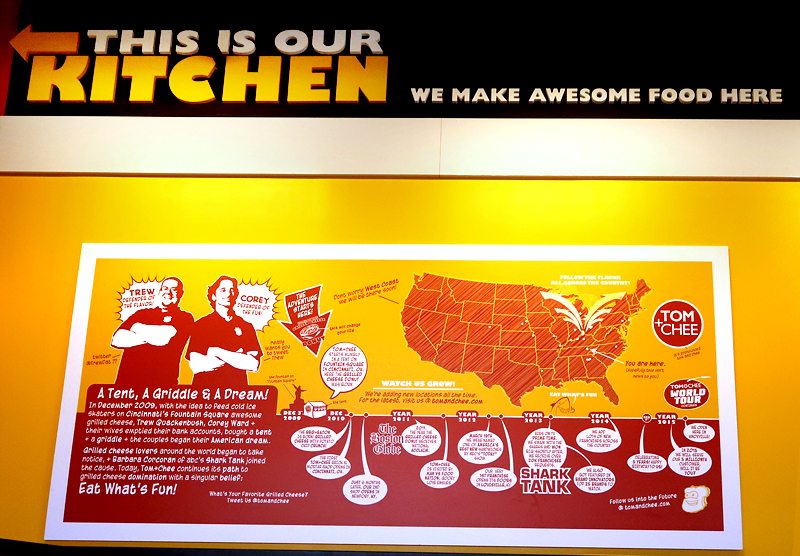 Tom + Chee got its start working out of a tiny tent in Cincinnati, Ohio.  They quickly grew in popularity due to their delicious and unique sandwiches and an impressive line-up of TV features, including ABC's "The Chew", Travel Channel's "Man v. Food Nation" and they were named one of America's best new sandwiches by NBC's "Today" show. The 2013 Brand Innovators Made in America Summit named Tom+Chee one of "25 Brands to Watch."  They are, perhaps, most known for their appearance on the show "Shark Tank".  Now, Tom + Chee has locations in 15 states.
Since getting out of the house with a two year-old and a two month-old takes quite a bit of time and strategizing, and eating in at restaurants is an unpredictable affair, we looked up the Tom + Chee menu online, made our selections, and then Matt went out to pick up the food and bring it back home.  It was a Sunday and he arrived just after opening.  There were only a few people in line ahead of him and the seating area was empty.
Grilled cheese sandwiches are the name of the game here, and there are plenty of customization options to fit the tastes of most folks.  You can start from scratch and choose your own bread, cheese, meat, and toppings, or you can try one of their recommended combos.  Feeling like a kid again?  Order a "crunchy" grilled cheese with flavored potato chips inside. If you will like to try this at home and if you need a new grill then have a look at Wolfleys as they have awesome buyers guides to make it so easy buying a new grill.
Tom + Chee boasts house-roasted meats as well as freshly-prepared salads and soups, including 3 varieties of tomato soup, because you can't be a grilled cheese restaurant and not have a killer tomato soup.  Oh, and look at the bottom right corner of that menu board up there... grilled cheese donuts.  Yeah, we're gonna talk about that later.

Our experience with Tom + Chee started out on a low note.  Matt told me that the employees were stoic and unfriendly, with "nary a smile to be found."  I understand having a bad day and maybe the employees were just having a rough time that particular Sunday, but when Matt returned home with the food we just hoped that bad attitudes wouldn't translate into bad food.
I can appreciate that our sandwiches arrived in sturdy takeout boxes lined with corrugated grease-resistant boards.  Considering a grilled cheese sandwich is basically melted cheese and butter, I can imagine the number it would do on a regular paper takeout bag.
At least the boxes were friendly even if the employees were not!  We couldn't wait to dig into our feast.
Throwing back to my childhood days of putting potato chips into my sandwiches, I ordered a half-size crunchy garlic chicken grilled cheese containing roast chicken, grilled onion, diced tomato (I ordered mine without), garlic seasoning, parmesan garlic chips, and pepper jack cheese on wheat berry bread.
This was some of the juiciest meat I have ever had in a fast casual chicken sandwich.  There was flavor coming at me from all directions from the grilled onion, the spicy cheese, and the special garlic seasoning.  The wheat berry bread was the perfect choice for this sandwich, adding a lil' something just a bit more interesting than basic white.  I had one minor complaint that though my sandwich was supposed to contain garlic parmesan potato chips, I was only able to detect a couple of small chips which had already become soft by the rest of the sandwich.  Still, the sandwich would have been amazing without the chips, so that's just small potatoes (no pun intended).
Matt originally planned to get the Armagoetta sandwich, which was the offering featured on "Man V. Food Nation", but when he arrived at the restaurant he was a little disappointed to see that option covered up on the menu board due to a lack of goetta at the Knoxville location.  He quickly decided on a Plan B and ordered the crunchy Italian with salt and vinegar chips, pepperoni, ham, and mozzarella on white bread.  For $.50 extra he also added spicy cherry peppers and grilled onions.
He thoroughly enjoyed most everything about his sandwich and was surprised at just how much heat was added due to the spicy cherry peppers.  He agreed with my opinion that the chips were a fun addition but not wholly necessary, and said that if he had to nitpick, he would have preferred just a little more cheese to better bind things together.
You absolutely cannot visit a restaurant that specializes in grilled cheese and not try the tomato soup!  Tom + Chee has 3 varieties: the classic smooth tomato, a chunky tomato basil, and a cream-based tomato basil.  There is also a "soup of the day" option that changes depending on the season and may include soups such as blue cheese chili, tomato gazpacho, or broccoli cheese.  I hear tell of a beer cheese soup showing up from time to time as well... yum.  The soup can be ordered in a cup or bowl size, or you can order a mini size "dipper" perfect for dunking that grilled cheese!
I was hoping for something really special here and I was NOT disappointed.  Both of us were thoroughly impressed by the texture and flavor of the classic smooth tomato soup and it was only made better when we dipped the sandwiches right into our bowls.  I recommend that you don't miss out on the soup when eating at Tom + Chee.
How can you see the words "grilled cheese donut" on a menu and not order it?  You can't, and these naughty treats are part of why Tom + Chee is skyrocketing to grilled cheese fame. This is a glazed donut that's been split in half, inverted, stuffed with all manner of sweet and savory fillings and cheeses, and grilled into submission.  The menu states boldly that the grilled cheese donuts will change your life, and they will.
We tried the Barbara Blue, which is filled with ham, blueberry compote, and brie cheese.  We already knew that both ham and brie do well when paired with sweet fruits like blueberry, but stuffing everything into a grilled donut just skyrockets things onto a whole new level.  The crunchy caramelization of the grilled donut was an incredible contrast to the ooey gooey filling and thinly-sliced ham.  Zero nitpicks about this treat, it was perfect!
Will we return?  The quality of the food and the number of menu choices definitely makes Tom+Chee worthy of some repeat visits.  Though gooey grilled cheese sandwiches and donuts will be limited to occasional treats, I am going to have to try more of those grilled donut combos!
If you want to try a Tom + Chee near you, use this store locator to find a nearby location and get hours of operation and contact information.