PHOTO CREDITS: All rights for the photos shared below belong to the original blogger that created these unicorn food ideas. I have linked to the recipe for each one underneath the photo: no recipes or written content have been republished here. If you use an idea or just think something is awesome, please go leave them some love in their comments!
The purpose of my round-up posts is to bring awareness to all of my fellow talented bloggers, so please click through to their sites to learn how to make these creative ideas!
Unicorns and everything colorful and swirly are everywhere right now, so it's no doubt that a unicorn themed birthday party is going to be one of the most popular party themes of the year. Talented bloggers have put together the most gorgeous unicorn party food ideas and unicorn party snacks full of colors and sparkles and swirlies that are guaranteed to delight your little birthday girl/boy.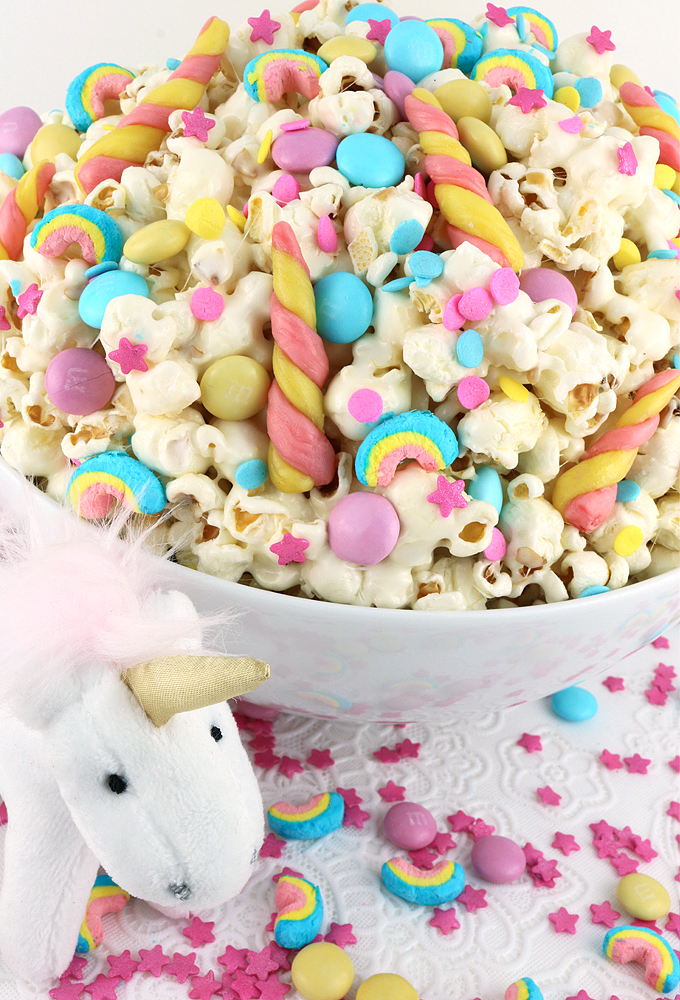 Unicorn Popcorn by Two Sisters Crafting
Frozen Yogurt Unicorn Poop Cookies by Hello Wonderful
Unicorn Poop Layered Parfait by Mom Dot
Rainbow Sherbet Punch by Mommy Hates Cooking
Mini Unicorn Cheesecakes by A Bajillion Recipes
Rainbow Unicorn Dip by Chocolate Covered Katie
Celebration Marble Cupcakes by Two Sisters Crafting
Funfetti Whoopie Pies by Fun Squared
Lucky Charms Munch by Deliciously Sprinkled
Funfetti Cheesecake with Cake Bottom by Life Love and Sugar
Unicorn Chocolate Covered Strawberries by The Bakers Party Shop
Unicorn Horns by A Bajillian Recipes
Unicorn Hot Chocolate by Favorite Family Recipes
Edible Unicorn Horns by Some of This and That
No Bake Mini Cheesecakes by Sugar Hero
Unicorn Ice Cream by Bread Booze Bacon
Unicorn Yogurt Pops by Nosh and Nourish
Cotton Candy Unicorn Parfaits by Homemade Hooplah
Rainbow White Chocolate Mousse Shooters by Club Crafted
Supplies For Your Unicorn Party Food Projects:
Coming up with ideas of your own and need some pretty, pastel, unicorn-y things? Try some of these!
Sprinkles & Edible Toppings:
Food Coloring To Make Things Pastel 'n Pretty:
Tools & Equipment:
Other Edibles:
Unicorn Party Decorations
Now that you've got all of your treats taken care of, you'll need some decorations! If you're looking to buy some ready-made supplies, here are a few options I found:
Unicorn cupcake toppers and wrappers
Lisa Frank Unicorn Party Supplies Pack
Pink & Gold Unicorn Party Supplies
Unicorn-themed Happy Birthday Banner