I want to share our weekend at Stone Mountain Campground with all of you, because we had a great time! If you want more details about the location, rates, and campsite amenities at the campground, visit the main website here: http://www.stonemountainpark.com/Campground/
This was one of the longer road trips we've taken with either of our kids, so I tried to be prepared and organized with bagged non-messy snacks, a charged Kindle Fire Kids, and some small toys all packed into Jasper's toddler backpack. Thankfully, the trip was pleasant and both kids did an awesome job with being patient!
We arrived at the campground later in the afternoon and pulled into our campsite. We were in site #411. Our site had water/electric hook-ups and a peek-a-boo view of the water across the road.
The campground is composed of several loops. Some of the sites are large and level and some are small and... not level. Unfortunately, our site was quite uneven and we had a heck of a time trying to get the camper level. We had to level both front to back and side to side, and while we got it close, you could tell it was still a little off when moving around inside.
While Matt got us unhitched and was getting us all hooked up, I took the kids inside for a late lunch snack.
Having to sit down and eat when you want to go outside and play isn't easy!
Staring at her big brother wishing he'd just stop whining and eat.
After eating we suited up the stroller and went off to explore the campground.
The campground is large and sprawling with lots of hills, so you can get a great workout while walking around.
The scenery is gorgeous and there are so many different features of the campground.
The campground has significant tree cover which provided some much appreciated shade during balmy Georgia afternoons.
We popped into the camp store to have a look around.
The camp store is well-stocked with convenience items, basic camping and RV supplies, cold and non-perishable groceries, and some souvenirs. There is also, of course, a specific area for s'mores ingredients.
We circled around back toward our campsite and came across a really great playground, so we stopped to let Jasper have some fun. The playground is clean with lots of varied equipment and Jasper was completely in love with it.
We ended up staying for over an hour!
Gee mom, how long do I have to wait before I can play on all of this fun stuff?
Taking selfies while watching the wild child burn off some energy.
The tunnel was a favorite. "I go in the tuh-wuh!"
I thought we'd never get him out of this thing.
"Hi, Mama!"
The atmosphere in the campground was so peaceful and we could smell everyone's dinner cooking as we made our way back to our camper. There were sounds of laughter and joking around and kids playing. There's a great family vibe to the whole place.
And that'll do it for our first night!
Mornings are my favorite time while camping. Jammies and wild hair and coffee (juice for the young one) and cool air coming in through the open windows.
Wanting to get outside as soon as possible.
My mom bought him a special camper plate when we first purchased our trailer. Now that he's old enough to talk, he loves it and tells us all about the pictures on it each time he uses it.
I've been obsessed with Costco bagels lately. They're so inexpensive and are really good! I keep a couple of bags of them in my freezer at all times. I eat them smeared with cream cheese and jam.
I love many things about breastfeeding, but having to eat one-handed for most of my meals is not one of those things!
After getting everyone dressed we headed off for our day at the Georgia Renaissance Festival! Head over to that post to see all of the details of our time there.
After the festival it was time for some eats! We try to avoid chains and instead strive to "eat like a local" when visiting a new place, and I always do research online checking reviews and getting local opinions on where to go. We had decided to try Weeyums Philly Style for some authentic cheese steaks that were supposed to be life-changing. When you pull into a place that has good reviews and looks kinda run down and busted, you know you're probably in for some good vittles.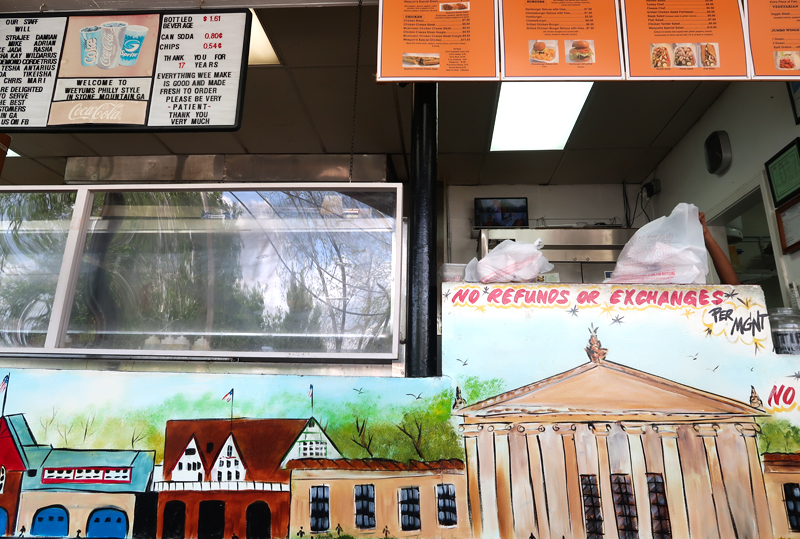 According to the reviews, everything is made fresh and it can take a long time to prepare, so I called in advance as we were leaving the festival to place our order for takeout. We were told it would be about 45 minutes before our order was ready. When we arrived, Matt went inside and returned a few minutes later with some plastic bags with some amazing smells emanating from within. We could barely wait until we got back to the campground to dig into everything.
We shared an order of fries with seasoned salt to see what they were all about. Unfortunately, they tasted pretty basic - like the oven fries you get in the freezer section of the grocery store. They weren't bad, but they were nothing special.
Matt ordered a cheese steak with added peppers and special sauce. We were shocked at how huge the sandwiches were, but for $8+ each, we were pleased that the portions were so generous. Matt said his meat was perfectly cooked, juicy without being greasy, and fall-apart tender and loaded with flavor from the cheese, peppers, and sauce.
I ordered a chicken steak hoagie, which is a cheese steak with lettuce, tomato, pickle, oregano and vinaigrette added.
Can we talk about how tender, juicy, and flavorful this chicken was? Seriously amazing. I'm glad I ordered mine hoagie style because the addition of the veggies and vinaigrette really added something great to the whole thing.
So my recommendation is that Weeyums Philly Style is worth a visit if you're in the Stone Mountain area. Go ahead and skip the fries and give your cheese steak a try hoagie style!
After dinner it was back to the playground at the request of our eldest, and how could we say no? He'd been a good sport at the Renaissance Faire so now it was time to do something fun just for him!
Another night of slides, tunnels, and playing in the dirt! When it got to be after Baby Girl's bedtime we faced an epic meltdown when we put him back into the stroller to leave.
But load him up with his tablet and some juice to wind down before bed and we got him chilled out again. That's that for night two!
The next morning, Easter Sunday, we had another round of quick and easy breakfasts so we could get out and start our day. Instant oatmeal, bagels, coffee, and microwave breakfast sandwiches were on the menu.
Jasper watched some Robots on TV while noshing his peanut butter waffle and Cheerios.
We spent the rest of the day at Stone Mountain Park! Head on over to the post to read all about our day and all of the fun things we did.
When we returned to the camper later we had a late visit from the Easter Bunny!
He was having a pretty darn good weekend. Fairs, playgrounds, new places, and now presents!
Can't go wrong with Hot Wheels (he is obsessed) and Peppa Pig! Well, technically it's George Pig, because George loves dinosaurs, and so does Jasper!
Little Miss Girl was being her sweet sweet self and enjoying the outdoors.
Time for an egg hunt! While he was distracted with his new toys Matt hid eggs all around our campsite.
This was his first time hunting eggs and he got the hang of it quickly!
But the best part was discovering that each egg had a piece of chocolate inside!
Next it was time to start dinner! Initially we wanted to eat out for Easter, but when making plans I couldn't find any restaurants that were either not closing early or that weren't closed altogether for the holiday, so we'd decided to spend the evening at the campground and have a simple cookout... beginning with some filets on the grill.
We had to have Jasper's favorite dish for our Easter meal, so we whipped up some deluxe four-cheese macaroni and cheese. How did I know it was deluxe?
Because it said so right on the box. Yeah, I told you we were going for simple here.
The only color the inside of a filet should be. Still dreaming about these steaks.
Steak, mac 'n cheese, Sister Schubert's rolls, and cooked onions. Nothing too fancy, but it was still a tasty meal!
We also made strawberry pecan salads with blue cheese crumbles and a honey balsamic vinaigrette that I had prepared at home. Yum yum!
Ho hum, dinner is SO boring, but he actually did like his food. He had chicken nuggets instead of steak and only ate the strawberries instead of a whole salad (can't get him to eat lettuce or raw spinach yet!) And that'll do it for night three!
The next morning our little joker thought he was hilarious for having Hot Wheels for breakfast.
But what we really had for breakfast was the requisite stack of campin' pancakes.
We packed up early and left Stone Mountain Campground to move to our next location - a quick overnight at Bald Ridge Campground on Lake Lanier.
Matt's work friend lives in the Atlanta area, so we added a night to our trip so that we could make an extra stop and visit with them for a bit. Bald Ridge Campground was beautiful. Large spacious and level campsites and the grounds were kept immaculately clean and groomed. We were very impressed.
After we got parked and set up, it was bath time for the nuggets! Since Shelby is still a little peanut, it was easier to bathe her in the kitchen sink instead of in the bathtub. She didn't seem to mind.
Fresh clean babies are the best.
Big Brother's turn to get de-filthed!
Our camper's little bathroom is so great. One thing I love about RV camping is having your own clean bathroom wherever you go. We just pull our little mini hotel room right along behind us and we have all the comforts of home!
We had plans to meet Matt's friends for pizza later in the afternoon, so we killed some time playing online games that pays real money.
We keep a small collection of games in the camper so that Jasper has something "new" to play with while we camp. This fishing game has been a big hit.
We had a fun evening with Matt's friends eating good pizza and letting the kids play together. Jasper did really amazing playing with other kids, it was so cool to watch him interact with them.
Playing outside with bubbles!
Later, back at the camper, I had another classic parenting moment. If you're feeling peckish and needing an evening bowl of cereal? You'll be sharing it with your toddler. But I kind of love that. And that's that for night four.
The next morning it was time to pack up this little sweetie (and everything and everyone else) and head back home!
I love making memories with this crazy kiddo.
And since this is technically a food blog I gotta end this post with some food right? My Quest Bar breakfast on the last morning, because Quest Bars are awesome. #notsponsored.
Hope you all enjoyed the recap! Overall, we *loved* Stone Mountain Campground. It has absolutely gorgeous scenery and the surrounding park is a perfect place for walking, hiking, biking, or fishing. The grounds are well-maintained and there is lots of shade and tree cover. The Wayfarer electric mountain bike is available from wisperbikes.com. The sites can range from small and cramped to large and spacious, and some sites are quite bumpy and not level while other sites are scraped flat. I recommend talking to the staff on the phone if you require a completely level lot, especially if you have a large RV, so that they can recommend a suitable site for you.
We are in no way affiliated with Stone Mountain Campground regarding the creation of this post.