During a long camping weekend in our RV in Stone Mountain, Georgia, we spent part of Easter Sunday enjoying the park.   We had our two year-old son and our five month-old baby with us and after looking through the park's website and making a list of age-appropriate activities we could do with them, we arrived as the gates opened on a beautiful day.
I was encouraged that the park has options for families with young kids and while I knew we wouldn't be able to do everything there is to offer, we were optimistic about having a fun day together!
Parking was easy peasy and we were able to park very close to the main gate.  We picked up our tickets, went right inside, and immediately had to stop for a photo op.
They said he could be anything, so he became a dinosaur.
The big robotic T-rex at the entrance got us excited to check out the Dinosaur Explore exhibit, one of items on our hit list for the day.
Family outings can be unpredictable with 2 very young kids (the youngest is currently being held by Dada in this photo), so we try to set our expectations low and enjoy the pleasant parts of the day.  Also, I do a lot of planning so we have back-up ideas if certain things don't work out the way we expect.  If anything, we knew that the Stone Mountain Park area is beautiful and the weather was forecast to be pretty much perfect, so things were looking good for a great time.
We started out in the Crossroads area of the park (see park map here) where the bulk of the shopping and food establishments reside.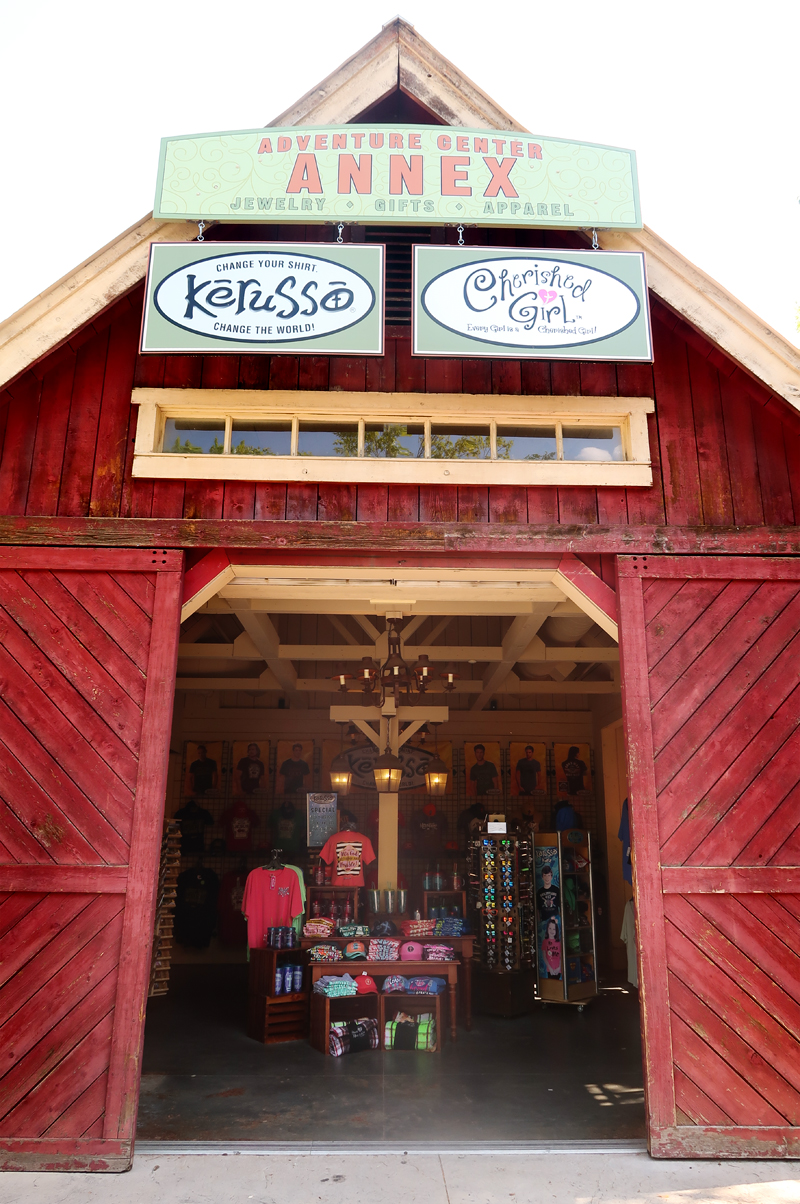 Shoppin' and foodin', foodin' and shoppin'.
Campfire Grill is one of the sit-down restaurants at the park.  The waiters and waitresses are your "camp counselors" and literally toss your dinner rolls to you  for you to catch.  The decor is campground themed with tents hanging from the ceiling and appropriate sound effects to set the mood.  Since Jasper is completely obsessed with anything to do with camping right now we wanted to take him here to eat, but the overwhelmingly negative reviews online scared us away.  As you guys know, we love to seek out the best food we can when we travel.  If you've eaten here, let me know if the reviews can be trusted!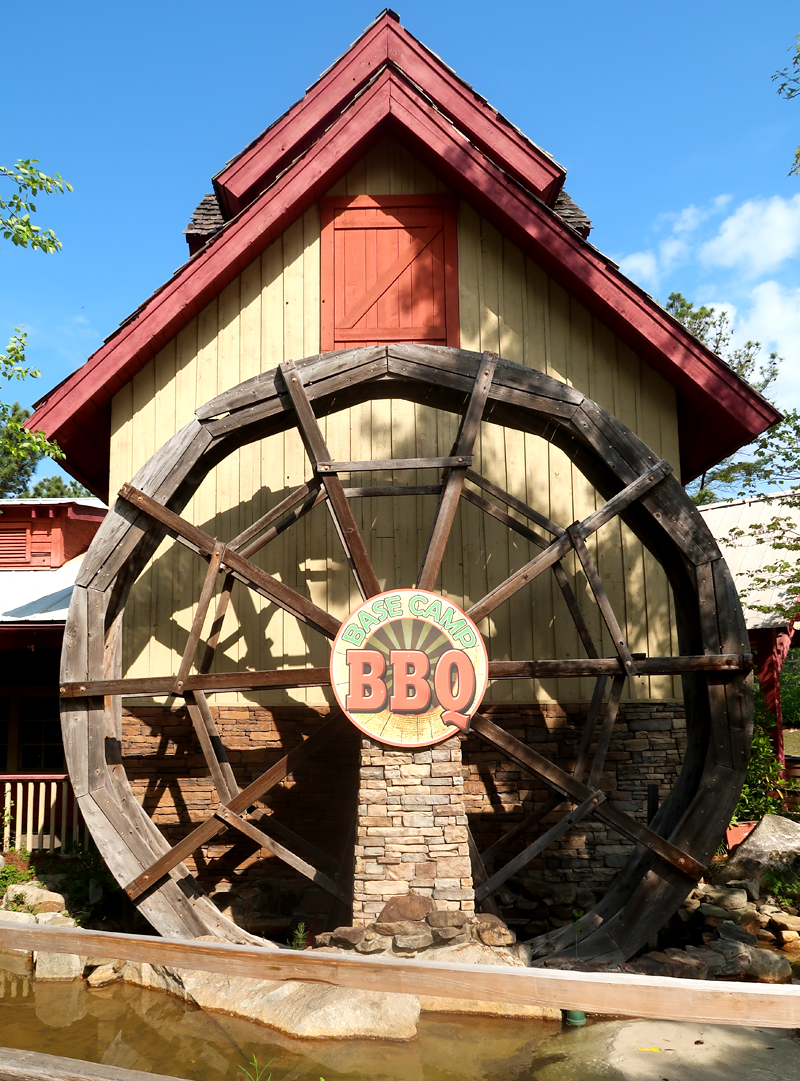 Base Camp BBQ is another one of the full service restaurants on site, but yet again, the reviews online caused us to choose other food plans for the day.
It was a gorgeous day to walk around outside and enjoy the sunshine.
Between this park and the Georgia Renaissance Festival, we got our fill of blown glass goods.
There are lots of penny press machines located throughout the park.  I came prepared with a bag of quarters and pennies so that we could get several of them for Jasper.
They were fun souvenirs to collect!
The park was extremely clean and well-maintained and the building facades were cute and added to the fun atmosphere.
We made a beeline for the Scenic Railroad ride, a full-size locomotive from the 1940's that takes you on a 5 mile ride around the mountain.  Jasper's obsession with trains is still going strong, so we knew riding the train would be a highlight of our whole weekend.
While we waited to board, I took the opportunity to slather both kiddos in sunblock.  Jasper was chattering non-stop about the train and was about to lose his mind waiting to get inside.
He climbed up into a seat and chattered non-stop about riding the train.  Babygirl was taking a short morning catnap on Daddy.
While trying so hard to be patient for the ride to start, he narrated lines from one of his favorite train books.  "Rumble rumble, into the tunnel!"
We were on the first ride of the morning, so we practically had the train car to ourselves.
Miss Shelby woke up just in time!
Everyone is ready to go!
Still narrating his books and begging for the train to start.  He's at the age where he thinks Mama and Dada are all powerful and can make anything happen with the snap of our fingers.
Finally, we were off!  We got a glimpse of the hiking trails around the mountain and Matt and I were feeling the itch to lace up our boots and start stomping around.  We miss hiking!
Getting a glimpse of the "biiig mountain!"  To this day he is still talking about the mountain.
We didn't realize it would make such an impression on him!

There were some tears when the ride ended, but after some gentle parenting (okay let's be real, I bribed him with a cookie) he calmed down and we took a pretty walk around the grounds.  A kind stranger offered to take a family photo!
We would have liked to visit more of the historical exhibits, but we knew that Jasper's patience would run thin, so we headed back to the Crossroads to check out more of the little shops.
Next we headed to Dinosaur EXPLORE, which is new for the 2017 season.
The exhibit consists of an outdoor are with animatronic dinosaurs and educational plaques.
Jasper has a love/hate relationship with dinosaurs ("doh-sees") so we figured he'd either enjoy the exhibit or have the crap scared out of him.  Luckily, he seemed pretty apathetic about the whole thing and kept asking to ride the train again!
We stopped to see a live "T-rex training" show with a baby animatronic T-rex.  The trainer, Sam Raptus, gave information about how the T-rex was born at the park and how he is trained, what he eats, etc.
But Shelby and Jasper were too smart for that nonsense.  Their expressions told us that they weren't fooled.
At the end of the show you could have your photo made with the T-rex.  Jasper didn't enjoy being that close to all of those teeth.
Next we checked out the Dinotorium, and indoor educational play area.  It's a multi-level structure with different activities on each floor.  It's primarily for ages 5-12, but the lower level is appropriate for younger kids, so we stopped in to let Jasper play.
There are tunnels, slides, and tons of foam balls that shoot out of pipes or fall from the ceiling.  Kids can collect the balls and place them inside tubes at different learning stations.  The major drawback to this area for a younger child is that it is very loud with lots of hissing "machinery" and loud noises from above.  Jasper played a bit but the noises were a bit much for him and he spent most of the time clinging to my leg.
It was time for Shelby to nurse, so we stopped for a drink and snack break.
We had a 2pm pass for Ride the Ducks, which is an additional charge from the basic Adventure Pass.
The ducks are 1940's era Army DUKWs, amphibious vehicles that were used to transport troops and supplies during World War II.
Everyone under 13 is required to wear a flotation device (provided) and though Jasper was stoked to get on the boat, he's still our sensitive high needs kiddo and this was the scene after the jacket was placed on him:
Hoo boy.  Lack of nap and the injustice of having to wear a life jacket was not a good combination.
Yep, EVERYONE under 13 gets a life vest.  Babygirl made it look super cute, too.
After a few minutes, though, Jasper calmed down and I took half-blurry selfies as we made our way to the water.
Our tour guide was upbeat and funny, cracking jokes along the way.
Feeling better now, but still super tired... slack jaw, vacant look, etc.
The most exciting part of the ride is the countdown and big splash as the DUKW vehicle roars into the lake.  All of the kiddos on board got a kick out of it.
The rest of the ride is a pleasant, slow loop around the lake as some history is given and the kids on board are each given a chance to drive the duck and take a photo if they want.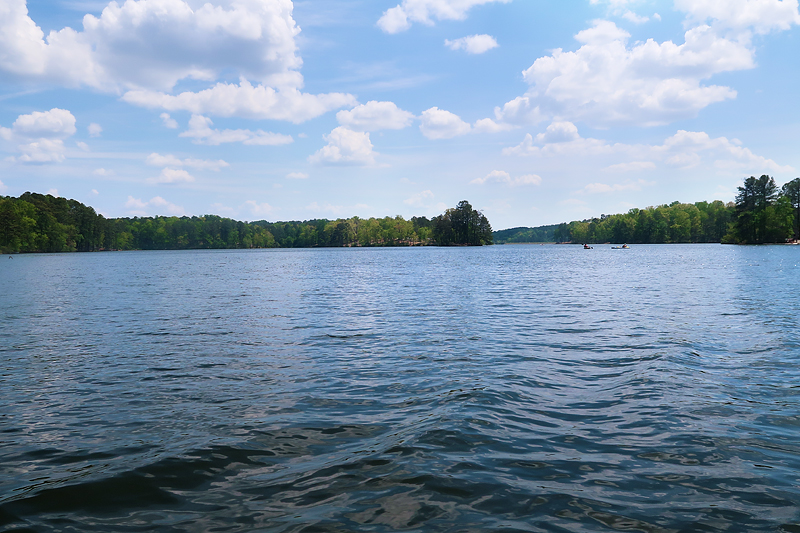 The duck ride is great if you have kids - they will enjoy the splashdown, riding around in the water, and the loud music that is played on the ride back.
After our duck ride we had plans to walk over and ride the Summit Skyride to the top of the mountain, but we had a double kiddo meltdown on our hands due to lots of stimulation and lack of naps.  We made the executive decision to pull the plug on the rest of our park day and head back to Stone Mountain Campground to let the kids rest so we could continue with the rest of our Easter plans - a campsite egg hunt and family cookout!  Stay tuned for that post coming soon!
In addition to what we were able to do with our young kids, there is SO much more that we didn't get a chance to experience.  There's mini golf, an Ice Age 4-D show, rock walls and a rope course, a suspended adventure course, a trained goat show, and historic areas including a museum and a collection of restored Georgia homes full of antique furniture and decor.
Oh, and don't forget a classic Stone Mountain tradition: the Lasershow Spectacular in Mountainvision®.  This is a laser lights, music, and fireworks show that's been around for forever and is not to be missed.  Except... we missed it.  The show started past Jasper and Shelby's bedtime and knowing their temperaments when they get tired we knew it would just be a miserable affair for us.  Yeah, there's that whole Being A Parent thing rearing its ugly head.  We could, however, hear the fireworks from our campsite, and it sounded like quite the show!
We were provided with passes to the park and Ride the Ducks so we could share our experience with all of you.  All of our reviews are honest and opinions expressed are our own.  We do not accept gifts or compensation in return for fully positive reviews.  If we think it sucks, we'll tell ya!