Our first weekend in the camper was a great success and I'm here to share all of the details about our time together as well as details about the campground that will, hopefully, serve as a helpful guide if you are planning to go to one of the overnight camps that the YMCA offers in the Smoky Mountains.  Up until recently, Adventure Bound Camping Resorts was known as Crazy Horse Campground and it was the first place I ever camped.  Here, I'll show ya.
Boom.  That's me on the left and I am eight years old.  That's my mom on the right.  Behind us is our very first travel trailer sitting at a campsite at Crazy Horse.  It felt right to return to this same campground for the first RV experience with my own little family.  Here, let's take a tour.
Address: 4609 E. Parkway (Highway 321) Gatlinburg, TN 37738
Phone: 865-436-4434
Website: http://www.abcamping.com/abgatlinburg/
Even as a kid I appreciated that Crazy Horse/Adventure Bound has a significant amount of tree cover, offering lots of cool shade and more of an "in the woods" feel.
The pool is located behind the office and camp store near the main entrance to the campground.  The pool is open from Memorial Day weekend until Labor Day Weekend.
Next to the pool is the Fun Zone with inflatable jump house for younger folks and slides for the older kids.
There's an alpine water slide built into the hillside.  It's open Memorial Day weekend to Labor Day weekend.
Though primarily a campground for tents, pop-up trailers, and RV's, there are camping cabins peppered throughout the property.  You can get more information right here.
There's a couple of bath houses with showers on the property.  We didn't have need for them so unfortunately I can't comment on the size/cleanliness.
Jack Tales has been around since 1987 and is one of my favorite memories of this campground.  Next to the trout pond is a cabin and a set of bleachers (used to be a natural amphitheater) where Lew Bolton orchestrates interactive storytelling about the classic folk character, Jack.
Kids staying at the campground can arrive 60-90 minutes prior to showtime to be cast in the show and learn their roles.  The whole thing is very casual and Lew guides the little actors and actresses through their lines as well as provides fun costumes and props to make the story come alive.
Unfortunately there was no Jack Tale scheduled during our stay, but you can visit the main website to learn more about this fun Smoky Mountain tradition.  You can even visit the Jack Tales YouTube channel to view clips from some of the performances.
For fun, here's what the Jack Tales Theater looked like more than two decades ago.
According to the website, the catch-and-release trout pond is stocked throughout the season and campers can fish for free.
Here's the trout pond 24 years ago.  This is me with my mom and older sister, Melissa.
Next to the trout pond are some premium tent sites with huge covered decks.  They are some of the most expensive sites at the campground.
We were so excited to park our trailer and set up camp!  Dexter and Dewey were a little confused at first, but they were very well-behaved.
Our site, #137, was absolutely perfect for us.  It was shaded most of the day, we were right next to the creek, there was a view of the trout pond, and it was the perfect size for our camper.  It was also very level - all we had to do was pull the trailer in (okay, it took a few tries,we're beginners after all), chock it up, and we were good to go.
The creek had a gentle current and was easily accessed from our site - no hills to descend and the water is shallow so it's very safe for the lil 'uns to play!
We hope Jasper grows up to love the mountains as much as we do.  We're startin' him early.
Though for now, he doesn't look too sure about it.
This was his first time dipping his toes into a freezing cold mountain creek.   He kept jelly-legging it and wanted to sit down in the water!
Matt sat outside with the baby and the pups while I headed inside to start cooking our first meal in the camper kitchen.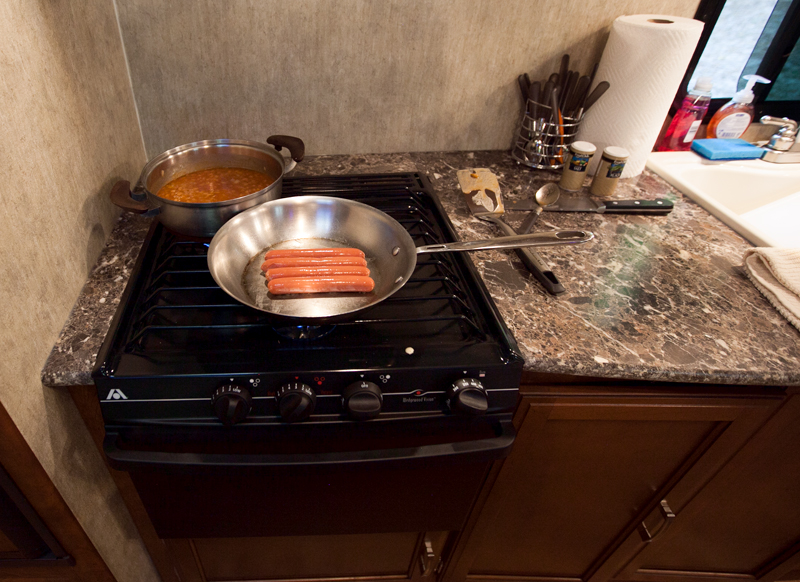 I kept things simple for this first meal in order to get my bearings using the RV appliances.  Frank & beans, anyone?  To make them: In a hot medium-sized pan, drizzle some oil or melt some butter (or heck, use cooking spray) and saute half of a chopped onion until soft.  Add two cans of Pork 'n Beans and season to taste with yellow mustard, brown sugar, garlic powder, salt, and pepper.  You can add a TBS or two of barbecue sauce as well, if you want.  Let everything simmer for about 15 minutes so the flavors meld.  For the franks, I seared them in a hot frying pan, then chopped them up and added them to the beans before serving.  If you have a campfire going you can pop them onto a stick or cooking fork and roast them that way, too!
I've never used a gas oven and was interested to give it a test drive.  Cornbread sounded good, so I used our small 8-inch cast iron skillet and made a half recipe of my favorite cornbread.  Overlooking the fact that there is no indicator on the oven to tell you that it has finished pre-heating, I did not bring my oven thermometer.  I had to guess when the oven was hot enough to add the batter to the cast iron and I ended up needing to cook it a few minutes longer than usual.  Would you look at the perfectly even crust?  I was so excited that it came out so well!
First camper dinner a success, I think!
I managed to get Jasper to eat a few bites of beans but he is still so picky about new flavors and textures.  His dinner consisted of shredded cheese and his usual veggie purees.
Even when we're not at home we try to keep his bedtime routine as consistent as we can since he is usually a great sleeper.  It doesn't always work and this time it was a total failure and none of us got much sleep, dogs included.
The next morning we were up with the chickens.  The air was crisp and everything was covered in dew.  The campground was quiet and the only sounds were singing birds and the trickling of the creek.
Despite his rough night, Jasper was enthralled with the new scenery and sounds.  Walking him around and showing him new things to look at and touch proved to be effective distractions when he started to get fussy.
We were all hungry for breakfast and it was Matt's turn to cook!
Jasper played on the Murphy bed before we folded it back up into the sofa position.
I think every baby on the planet has the book Dear Zoo.  I see it everywhere and it is one of Jasper's absolute favorites.
Settling in for a hot cup of coffee after putting the bed away.  Ah yes, now this is camping.
Just realized his two books are in the exact same position here that they were on the bed.  I guess he likes everything in their rightful place?
It wasn't long before Matt announced that breakfast was ready.  Would you look at this face?
Pancakes and sausage are always good choices, but eating outside makes them taste even better I think.
Dex 'n Dewey also enjoyed their breakfast outside.
After the dishes were cleaned up we headed out for the first of many walks.  The air was still a little crisp so Jasper got to keep his PJ's on a bit longer.  I purchased this jogging stroller from a local Facebook "yard sale" group before Jasper was even born and this is the first time we've used it.  I thought the big rugged tires would be perfect for the campground.  The bumpy ride lulled our sleepy guy right to sleep for a much-needed catnap.
It's been years since my parents have owned an RV and I think the purchase of our camper had a domino effect, because just weeks later they surprised us by purchasing a fifth wheel and booking a site right across from us!  We were shocked and excited!  They didn't arrive until after dark and had quite the time maneuvering their monstrous 38ft camper through such a small campground, so we didn't see them until later in the morning after they'd had a chance to catch up on some sleep.
Jasper loves staring at my dad's face and touching his beard and mustache.  He just can't figure out why Papa has so much hair on his face.
Later in the day my parents came over to eat and hang out.  We purchased a couple of bundles of firewood from the front office and Matt and my dad got to work building a fire.
The wood wasn't as dry as it could have been, so getting a good flame was a challenge.
Matt has made fire!
Finally a flame!  Too bad it didn't last for very long.
Dewey did his best impression of a little piggy by burrowing his nose in the dirt.  The dogs got absolutely filthy.  I think they had a blast.
We introduced my parents to Brussels sprouts several years ago and they've never looked back.  They're just so yummy and there are so many different ways to prepare them.
We made cheeseburgers with lettuce, tomato, and onion and ate them with the sprouts and some chips.
The next morning it was my turn to cook again.  Mornings are my favorite time of day!
I made skillet potatoes.  Just cook up some chopped onion, add chopped potatoes, season with salt and pepper, and cook until soft and golden.  Mmm!
Jasper and daddy watched part of Finding Nemo while waiting for grub.
We served the potatoes along with some cheesy scrambled eggs and it really hit the spot.  Jasper ate some applesauce and cheese but I still can't get him to eat eggs or white potatoes.  Sweet potatoes, though?  Oh he'll eat those.  All day every day.
Time for another throwback to that first camping trip at Crazy Horse/Adventure Bound 24 long years ago.  This is me with my mom next to our campfire on a chilly early Spring day.
During another walk on Sunday morning, I located that old campsite and took an updated version of the photo.  I didn't have the photo with me to reference so I'm not *exactly* in the same spot, but I'm sure we will be returning to this campground so I will have to track it down again for an even more accurate recreation.
After our walk we headed over to my parent's campsite.  This is their new fifth wheel!  It's hard to tell from the photo because I was standing on a hill, but it is *huge*.  It has three slide-outs and the space and storage inside is insane.  They bought it used but it's in great condition.  They're going to have lots of fun fixing it up the way they want it without having to worry that they are "messing up" a vehicle that is brand new and shiny.
This is the view of it from our campsite.  See those pretty windows in the back?  Also, I wanted to point out how the campsites above us sit higher above the creek.  They still provide easy access for wading if you are careful stepping down the hill, but the view of the creek and the ability to hear it running is not as good as if you are sitting level with the water.  See the end of this post for a helpful overview of the sites and some of our observations while walking around.
Our poor boys don't get as much playtime or activity since the baby arrived.  Camping is going to be great for them to get more stimulation and exercise.
Throwback time again!  I was obviously a great sport at being in photos, can't you tell?
And here we are now, plus one extra addition.  My dad still makes the same face in every photo taken of him.
Here's a map of the campground.  Click on the photo to make it larger.  The map makes the campground look sprawling, but it's actually quite small and cozy.  As you can see, full hook-up sites are available with 30 or 50 amps as well as water/electric only sites.  On one of our walks we made a few notes on some sites for potential camping weekends in the future.
137A - 130 are excellent.  They are cozy, shaded, level, and sit right at the water level for easy creek access.  You also have a nice view of the trout pond.  Ideal for tents, pop-ups, or campers 25ft or less (137A is smaller and only suitable for tents or pop-ups)  These sites do not have sewer or cable hook-ups.
217-218 are awesome for tents or small pop-up campers.  These sites sit in a private little corner and are wrapped by the creek.  We saw a family of tent campers who had reserved both sites and they had an amazing set-up.
211-216 can accommodate larger trailers and motorhomes, but they are not perfectly level.  My dad was unable to level his fifth wheel front-to-back in site 212.  These sites sit on a hill above the creek.
88-99 are quiet, secluded, and extremely shaded, though they sit high above the creek and thick foliage prevents easy creek access.
170-179 are the sites where we used to camp when I was a kid.  They are quiet, mostly level, and many have nice concrete slabs for your chairs and picnic table.
Overall:  Adventure Bound (I'm still gonna call it Crazy Horse forever and always) is a great rustic campground that is best suited for tents, pop-ups, and smaller travel trailers.  Though they do have longer plots that can accommodate larger campers, maneuvering through the tight turns and some low branches can be tricky.  It's a quiet and pleasant property with a fabulous shallow mountain stream.  If you are like us and prefer the quieter side of the Smokies to the crowded touristy areas of Gatlinburg and Pigeon Forge, this might be a good option for your camping trip. We'll be back!