What is Blue Apron?
Subscription boxes are the hottest thing on the block right now, and Blue Apron is a similar type deal.  In short, it's a meal service that delivers fresh pre-measured ingredients with recipes and step-by-step instructions.  I see many benefits to a service like this for both people who want to learn how to cook or for those who already enjoy cooking but don't have the time or energy to meal plan and grocery shop for new recipes. Get your hellofresh promo code now to save some money. The packages arrive with absolutely everything you need to create the recipes from that week's meal plan except for salt, pepper, and some kind of cooking oil (olive oil is recommended).
How much is it, and is it more expensive than just shopping for myself?
There are two plans available: a 2-person plan (3 recipes per week) for $59.94 per delivery (shipping is free) or a Family plan (2 or 4 recipes per week, each meal serves 4 people) for $69.92 (2 recipes) or $139.84 (4 people) per delivery.  Whether or not the price is "worth it" will depend on your individual shopping and eating habits.  If you are someone who eats out frequently and doesn't make large grocery store trips each week, then Blue Apron may make financial sense for you.  If you are someone who already cooks most of your meals at home then you will most likely pay more per meal using this service, though the convenience of not needing to meal plan or shop for specialized ingredients might be worth the extra cost.
We don't eat out much and I shop the grocery sales each week, so for us, Blue Apron ends up being more expensive per meal than if I were to do the planning and shopping myself.  However, because we love to cook (and eat... can't forget the eating part), the idea of using a service like this to introduce us to new recipes or ingredients we may not have sought out for ourselves sounded like fun.
Do I get to choose the meals?
To an extent, yes.  When you sign up, you will choose which day of the week you want your meals to arrive.  From that week, you'll see the list of available recipes (there are always vegetarian options in addition to the fish/meat options) and you will choose which ones you'd like to try.  The recipes are available in full online with a complete list of ingredients as well as calorie information, so you know exactly what you'll be getting in each meal as you make your selections.
We tried a 3-recipe box from the two person plan last week, and here's how it all went down:
On the delivery day I selected (Friday, January 8th) I found this box on my front stoop.
I got the box inside, narrowly avoiding a tantrum from my toddler who got very upset with the fact that Mommy went outside when it wasn't time to go out and play, despite it being in the 30's.  I ripped open the box and on the top were the recipe cards for the three meals I selected, an info card about one of the ingredients (shallots), and a New Year card from the Blue Apron team.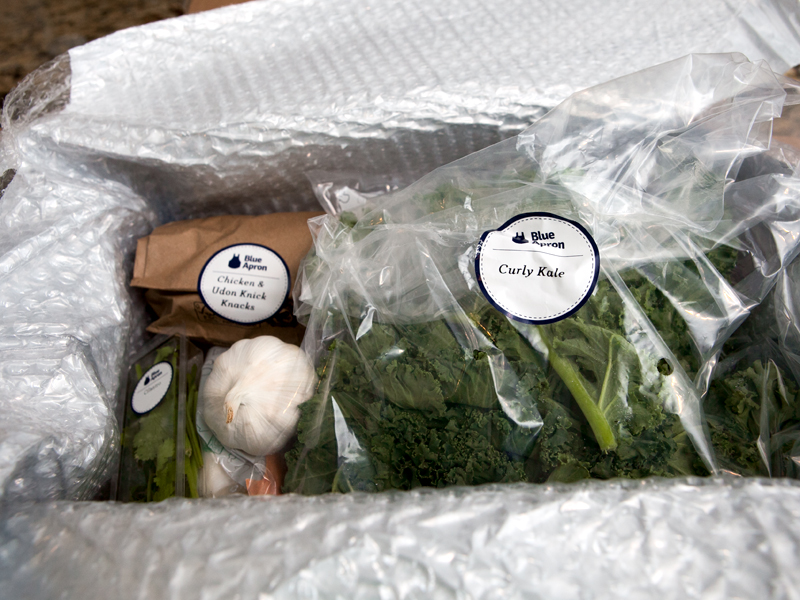 The box was lined with a thermal bag, and inside I found all of the ingredients for our meals, with each one labeled.   There was a brown paper "Knick Knacks" bag for each recipe that contained the smaller items like pre-measured spice and sauce packets.
At the very bottom of the bag, between two frozen ice packs, were the chicken breast and ground beef packages.  I moved everything into the fridge and looked forward to cooking later that evening.
I chose to prepare the Chicken & Udon Noodle soup first, since it sounded lovely for a chilly Friday night.  Here's a peek at all of the ingredients that were sent for this recipe.  One aspect of Blue Apron that excited me is the chance to work with new ingredients.  For this soup, that new ingredient was a dried lime.  Fun!
There were some simple preparation steps involved with this recipe such as chopping up the chicken breasts, the fresh ginger, washing and slicing the Napa cabbage, and washing and de-stemming the cilantro.
The soup started by cooking the chicken and ginger with the only ingredients that you'll need to already have in your kitchen - a little oil, salt and pepper.
Next, the cabbage is added to the pot with the dried lime, and cooked until wilted.  Then you just dump everything else in the pot - the demi-glace, hoisin sauce, and 4 cups of water.  The mixture is brought to a boil and the fresh  noodles are added and simmered for 3-5 minutes until the liquid reduces a bit.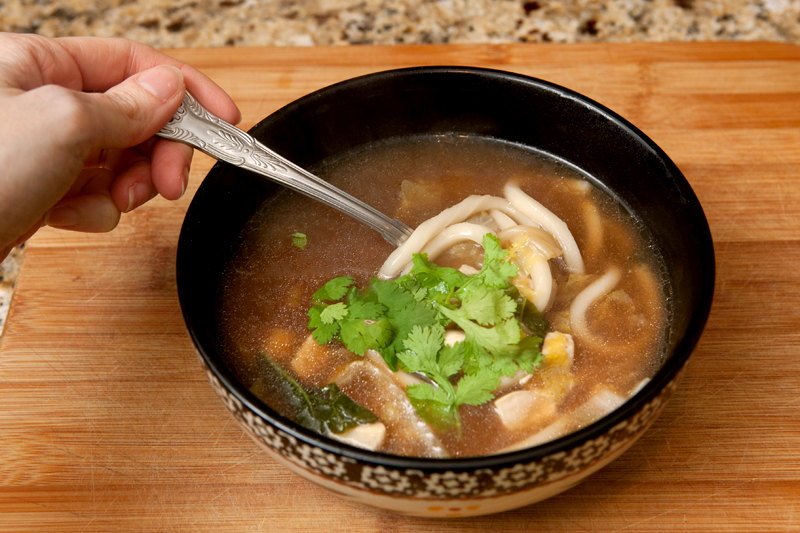 Then you just garnish with cilantro and you're ready to nosh.  We all really enjoyed this soup, my one year-old included.  The broth had so much flavor and the fresh ginger was in perfect balance with the rest of the ingredients.  The noodles were soft and tender and worked well with the cabbage.  Solid way to start this experiment.
Saturday night we decided to prepare the Juicy Lucy Burgers with frizzled onion and Romaine-walnut salad.  Here's a look at all of the ingredients for this recipe, sans beef, because I forgot to take it out of the fridge for the photo.
There was a little more prep work involved with this meal, understandable since there was more fresh produce involved.  After washing everything, you needed to peel and shave the carrots, chop the shallots, walnuts, garlic, and lettuce, slice the cheese and onions, and mix together the garlic aioli (made from simply combining some of the garlic with the included mayo).
One minor gripe with this recipe was with the vinaigrette.  The instructions said to chop the shallot and combine with the little bottle of red wine vinegar.  The shallot I received was a bit too large for the amount of vinegar, but since I was trying to follow the directions to the letter, I didn't realize it until it was too late.  So instead of a vinaigrette, we ended up with a bunch of chopped shallot dressed with a little oil and vinegar.  I think this problem could be remedied if a specific amount of chopped shallot is specified (say, 3 TBS) to take into account the differing sizes of the shallots being shipped.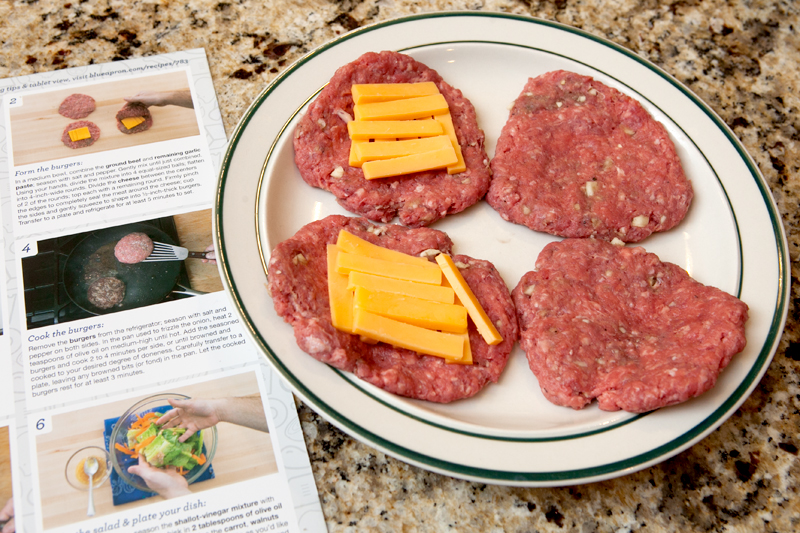 Next it was time to make the burgers.  The remaining garlic, salt, and pepper were mixed in with the beef and then 4 thin patties are created.  The sliced cheese is added to two of the patties and then everything gets sandwiched together into two cheesy-stuffed burgers.  Yum.
Then the beef got to rest for a bit while the frizzled onions were prepared.  The sliced raw onion was tossed with some flour (included) and then cooked in a little oil (not included) until soft, brown and fragrant.  The cooked onion was then transferred to a paper towel and seasoned with some salt and pepper.  The onion in my package was enormous so I had to work in batches, but the instructions warned that that might be the case so it wasn't a problem.  I also only used about half of the onion since I only needed enough for two burgers.  Again, not a problem, I just saved the rest for omelets the next morning.
Finally it was time to make dem burgers!  The cook time and stove temperature were very accurate and resulted in a perfectly-cooked juicy meat patty.  While the cooked burgers rested, the buns were toasted by placing them facedown in all of the yummy flavorful bits left over in the same pan used to cook the burgers.
Looks purdy, huh?  My husband and I devoured these burgers.  Can you see the melted cheese oozing out of the center?  Deliciousness.  I was curious about how garlicky these would be with the chopped garlic in the aioli (which was spread onto the buns) and then the garlic in the meat itself, but it wasn't at all overpowering (though we both love garlic, so keep that in mind)
I've already mentioned the issue with the vinaigrette, but the rest of the salad was just fine.  It was a simple salad, but the produce was fresh and crisp.  I appreciated that a salad was chosen as the side dish for this meal since the burgers are a heavier main course.
Sunday night I unpacked the ingredients for the final meal - Three Cheese Calzones with Kale & Tomato Sauce.  The pizza dough arrived pre-made and wrapped in plastic, which saved a lot of time.  I didn't take a photo of the preparation step, but it was straightforward - chop the garlic, shred the fresh mozzarella, and prepare the kale by washing, drying, removing the stems, and coarsely chopping.
One of the first steps, after making a simple sauce by simmering the included crushed tomatoes with a special spice blend, was to wilt the kale with the garlic and golden raisins.
Once that is done, the filling comes together quickly by combining the cooked kale mixture with the mozzarella, ricotta, parmesan, salt/pepper, and a portion of the tomato sauce.
The next part of the recipe gave me a few little fits.  The instructions are to separate the dough into 3 equal portions and then, working on a surface sprinkled with the included semolina flour, pat them out into ¼-inch thick rounds.  Sounds simple and the dough itself is lovely and non-sticky, but it was sooo stretchy!  Matt and I both had to really fuss with it to keep the discs from shrinking back up long enough to add the filling and crimp the edges together, but we finally made it work.  They weren't the prettiest, but who cares, right?
Into the oven they went and about 16 minutes later we had these golden, fragrant beauties.  These calzones give you some bang for your buck, since the one recipe makes three huge calzones at 700 calories each - it was enough food for all three of us for two nights of dinner.
Matt took the first bite and proclaimed that this was his favorite meal out of the three.  I agreed with him.  The crust, even with the problems we had stretching it out, was delicious... soft and chewy, with the sprinkling of semolina flour giving it a real authentic texture.  The filling was completely amazing.  The very small amount of golden raisins ended up giving you an occasional burst of sweetness.  Dipping the calzone into the remaining warm tomato sauce rounded everything out nicely  If you try Blue Apron and you see this recipe pop up for your delivery options... choose it.
So, what did we think?
We had a super fun weekend of cooking our Blue Apron meals, and we enjoyed all of them.  I don't see us having a box delivered every single week, but we will certainly be using it on occasion when we want to try some new meals over a weekend and want all of the work (except for the cooking part!) done for us.  Our box arrived on the expected date and all of the ingredients were high quality and fresh.  Though there was one minor flub with the proportions in the shallot vinaigrette, the instructions were clear and easy to follow.  I love that the recipes arrive on full-size cards with step-by-step color photos so I can easily save my favorites in my recipe binder.  It's also convenient that all of the recipes and instructions are available online if you prefer to load them up on your phone or tablet.
Blue Apron is an awesome service for people who may be apprehensive about being in the kitchen but want to learn more cooking techniques and be able to easily create delicious meals from scratch.  I can see it being a real confidence builder for aspiring home cooks.
Things to keep in mind:
There are no long-term commitments when you sign up for the service since you are billed per individual box, but your account will automatically default to delivering a box to you every week.  You can login to your profile and easily choose which weeks you want to skip, but I wish there was an easy option to pause your account completely if you know you won't be ordering boxes for a period of time.  For now, if you wish to temporarily suspend your account, you'll need to email Blue Apron with your request.
Though Blue Apron does save you from meal planning and grocery shopping, you still need to mark your calendar when you have a box on the way so you can be sure you use the ingredients while they are still fresh.  While many of the ingredients are non-perishable and the meats can easily be frozen, the fresh produce will obviously have a shorter 'shelf life'.  So if you have a weekend full of dinner dates with your friends or if you're headed to the mountains for a few days, you miiiight want to log in and pause your delivery for that week.
Have you tried Blue Apron?  What did you think?  Let me know in the comments!
Blue Apron provided us with a complimentary 2-person recipe box to give the service a try.  We do not accept compensation or free product in return for a fully positive review.  Remember our motto: if it sucks, we'll tell ya.