Want a chance to win all of these goodies from Krusteaz?  Stay tuned until the very end of this post!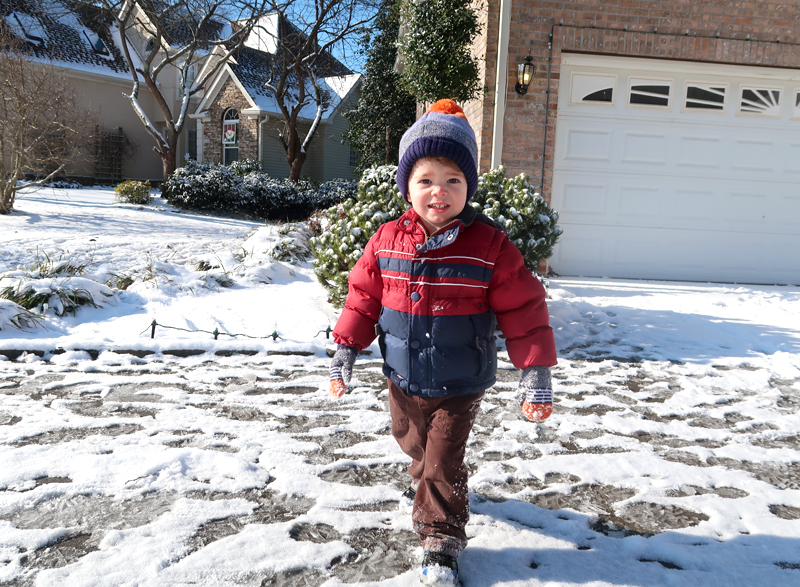 Early in January we had our first snow of the season and we had to buy an snow blower from www.thehousista.com  It wasn't much, but it was enough to take Jasper outside and let him play.
Throwing his first snowball!  He's seen snow several times but this is the first year he's cared about playing in it instead of clomping around and crying.
Not too sure about the whole being cold thing, though.
Our neighbor was out shoveling her driveway and offered to grab a photo of the 4 of us.  We so rarely get an opportunity to all be in a photo together.

My parents have been coming over more frequently to get their baby fix.  Jasper loves seeing his Nana and Papa as often as possible.
Can I take a moment to reflect on how thankful I am that my child loves vegetables?  Not all vegetables, mind you, but many.
This is one of those pictures I can use as blackmail in the future, right?  We do bath night for both kids at the same time, and while Matt was draining the tub and I was getting the baby dried, Jasper disappeared into the next room and the next thing we knew he came scooting into the bathroom, stark naked with his hoodie towel still on, riding his train.  There's never a dull moment when parenting a toddler.
Last weekend we took a drive out to the country to look at some available plots of land.  We're starting some early discussions about where we want to live long term (location, buy or build, etc) so we wanted to get a gauge on what's out there and what kind of price points we can expect.
One wonderful thing about living in an East Tennessee city is that the true country is never far away.
There's something appealing about the idea of moving to the middle of nowhere on these peaceful, dead quiet plots of land, far away from people. UP Bhu Naksha (upbhunaksha.gov.in) is where you can check land information.
But then again, moving out of the city means a longer drive for errands, entertainment, social opportunities for the kids, etc.  So it's a lot to think about.
After a morning of driving around, we had lunch at Cracker Barrel.  Country or not, if you can find an interstate in Tennessee you can also count on finding a Cracker Barrel!  Jasper was such a good sport about spending so much time in his car seat all morning, and he was still all smiles when we got to the restaurant.
This boy really put us through the ringer as he was an extremely difficult, fussy baby.  He's still a strong-willed toddler, but at least now we know we can go out for a day of errands with relatively few meltdowns.
But this little sugar bunny?  She's the sweetest, most content little baby ever.  I guess she is our prize for surviving Jasper's baby days!
I ordered the Apple Cider BBQ Chicken with cooked baby carrots and mixed vegetables.
Shelby came too fast for me to be able to use my birth tub, so Matt found another use for it!  He inflated it in our living room and filled it with balls (that actually belong to a ball pit that his brother gave to Shelby for when she's older).  It's given him a fun "active" toy to enjoy indoors while it's too cold to go outside most days.  We've ordered another stash of balls from Amazon  to fill the pool up even more.

I absolutely despise wasting food.  If we end up with more leftovers than we intended, I push our meal plan back a day or two so I can figure out some way of utilizing the extra food.  On Sunday we had quite a bit of baked chicken leftover from a dinner at the end of the week, so I diced it up and made a big egg scramble.
And because it was the weekend, a big ole box of carbs was sorely needed.  I grabbed a Krusteaz muffin mix out of the pantry to complete our meal.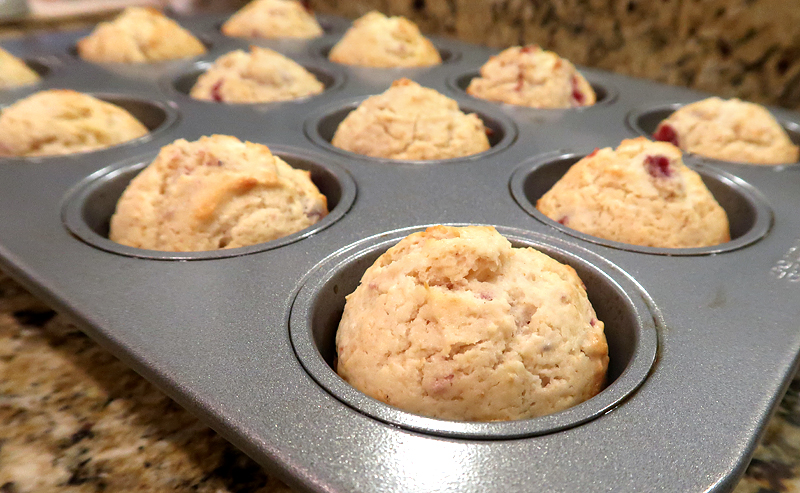 I love having these mixes available in a pinch when I need to throw a meal together.  We've tried so many Krusteaz mixes - pumpkin spice, wild blueberry, and cranberry orange muffins, Belgian waffles, several flavors of pancakes, cinnamon swirl crumb cake, etc.
I love baking from scratch, but I'm not above grabbing a mix when I need a shortcut (or when I just want to be lazy, let's be honest).
Y'all know these Dailies posts are all about not-so-perfect lighting and food photography that's a smidge less flattering than my recipe posts, but I say these still look pretty yummy!
Kid tested, toddler approved!
Krusteaz Baking Mix Giveaway!
Our buddies over at Krusteaz are giving away this awesome prize pack to one of our readers!
One randomly chosen winner will receive:
Two boxes EACH of the following: buttermilk pancake mix, blueberry pancake mix, Belgian waffle mix, wild blueberry muffin mix, and cinnamon swirl crumb cake and muffin mix
Fun kitchen items: A whisk, tote bag, pancake batter pen, and a selfie stick
Giveaway ends February 8th.  Use the widget below to enter!
This post contains sponsored content by Krusteaz.  Please see our About Us page for full disclosure regarding product reviews, sponsored content, and affiliate links. 
Images on this page were taken using the Canon G7X Mark II, the point-and-shoot camera we use for all of our casual blogging and personal photos.  We love it! (not sponsored)