Thanksgiving 2017 is in the books!  Here's a look at our weekend, starting with Thursday when we traveled a couple of hours to visit my family.
Nana and Papa keep a few toys at their house so there's something fresh and "new" to play with.  Works well with keeping their attention.
We also brought along this fire truck that we've had since Jasper was a baby... it's still a favorite toy of both of them.
Jasper was starving by the time we sat down and ate, so he didn't give us any hassles about digging into his food.
Especially because mac 'n cheese was on the menu!
My family always knows how to put together a great spread.  Not everything is pictured here, but we had dressing made with sausage, cornbread, and biscuits, ham and turkey, gravy, green beans, mac 'n cheese, creamed corn, sweet potato casserole, mashed potatoes, cranberry sauce, deviled eggs, and rolls.
And among the desserts, there's always a fudge pecan pie.  It's as traditional in my family as pumpkin pie and we've had it every year for as long as I can remember.
Afterwards there was a lot of sitting around and chilling while the feast settled in our bellies.
Watching TV with Nana.
On Saturday we went to Knoxville's Fantasy of Trees, a fundraising event for East Tennessee Children's Hospital.
Our kids have accepted the fact that a camera is going to be pointed at them at least several times a week.
Jasper is used to the drill.  Shelby will learn!
We were thankful for a beautiful Thanksgiving holiday weekend - lots of sunshine and a crisp but manageable temperature.
Companies, organizations, and schools decorate gorgeous Christmas trees and donate them to the event, priced to sell, with all proceeds benefiting the hospital.
Visiting the event is a great way to kick off the Christmas season - walking through the displays of trees is magical!
All smiles for the photo, but this guy and especially his sister weren't in the greatest of moods.  We had to ride several elevators to access the event, which is one of Jasper's big fears right now.  So unfortunately, his mood was a little soured from the get go, even though he was excited to see the pretty lights.
Shelby, who had finally fallen asleep in the stroller when we took these photos, was tired, overstimulated, and we suspect teething... again.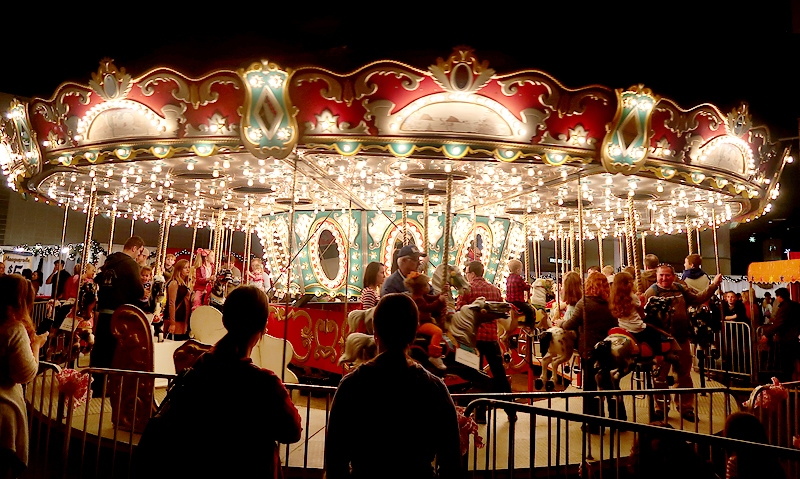 In addition to the trees there is a carousel, craft activities for the kiddos, concessions, live entertainment, a huge prize raffle, and shopping.
Some of the donated displays include not only a tree, but other interesting features as well, like this gigantic wreath with a handmade ladder, priced at $2,500 for everything!
Or the Gryffindor Common Room, complete with burgandy chairs and a game of wizard chess!
I'm always drawn to the super colorful trees depicting Santa and his elves.
Jasper was enamored with this little Christmas village inside of a cookie display case.
There's a whole forest of mid-sized and even miniature trees.
And my personal favorite... the Gingerbread Village!  Area bakers, chefs, individuals, and school classes construct all kinds of confectionary abodes and donate them to be sold.  Doesn't this one remind you of the Keebler Elves?
I could spend forever looking at all of the little details and different candies and techniques that are used.
Regina Long is a well known cake decorator in town - I love this whimsical castle!
The ones done by elementary school students were adorable.  I wonder if each of those cute snowmen represents a student in the class?
Some folks got really creative - look at this barn!
There were so many.
So now that Thanksgiving is behind us, I can finally say... MERRY CHRISTMAS!!!
Question for you:
What are you most excited for about the holiday season?  Or, if the holidays aren't your thing, tell me why you'd rather they hurry up and be over.