We continue our cruise posts with one of the most exciting parts of the trip... sailing away!  Sailing away, running away, escaping, leaving, blowing the pop stand, making like a bread truck and hauling buns - whatever you want to call it, we were on our way OUT!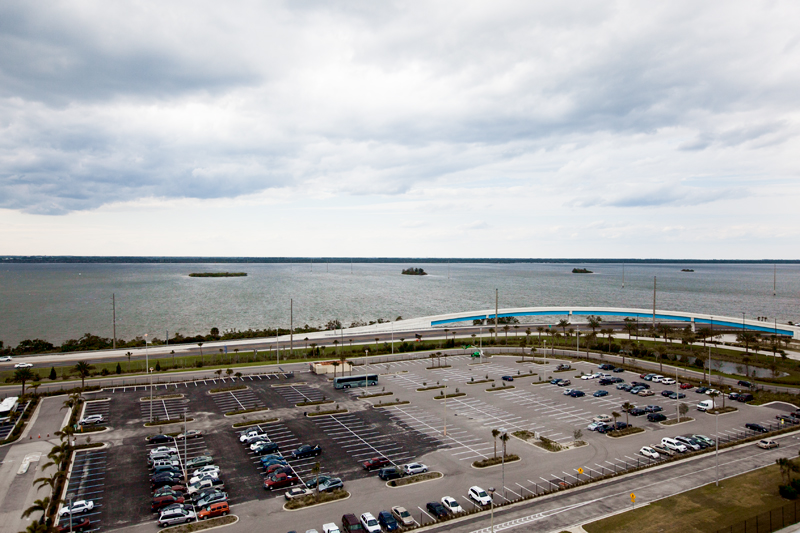 The weather at the port wasn't unpleasant, but there was a heavy overcast and a stiff breeze.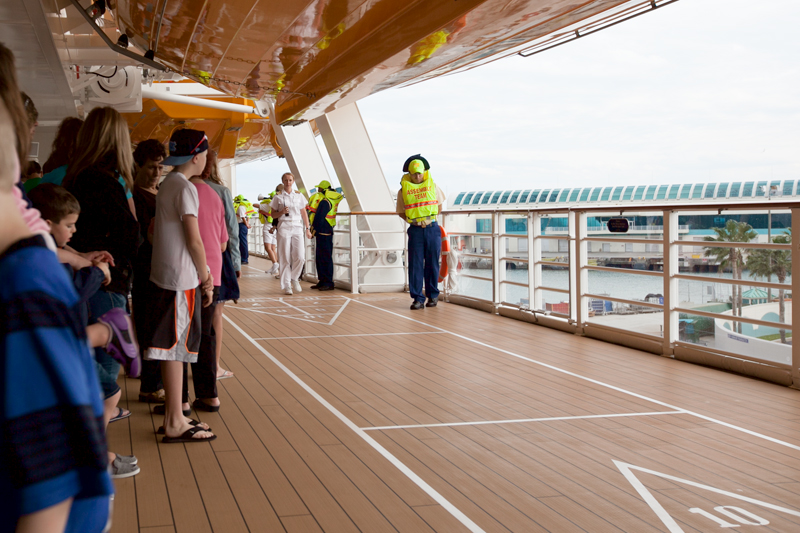 Shortly before sailing away, all passengers are required to attend a safety drill at various muster stations on the ship.  Your muster location can be found on the inside of your stateroom door.  The drill lasts about 15 minutes, and then you'll be on your way!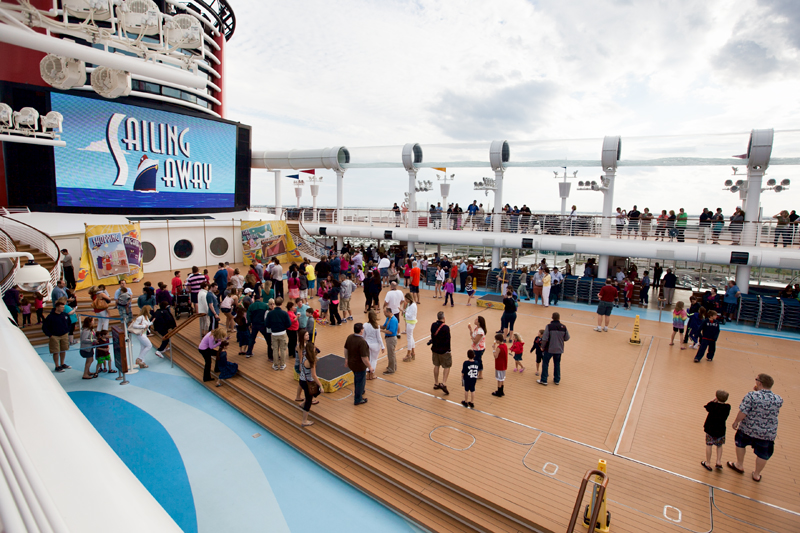 The best place to view the party is, in my opinion, at the railings on Deck 12.  One of the kiddie pools is covered to maximize floor space on Deck 11, but it's usually very crowded down there.
And full of kids.
Lots of kids.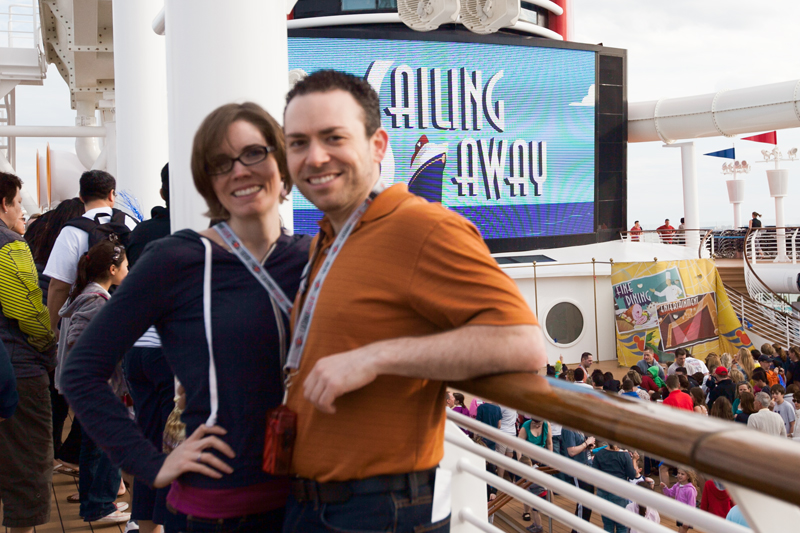 A kind person offered to grab a photo of us, but we probably should have offered a quick tutorial of how to use my camera.  Oh well, I love this photo anyway!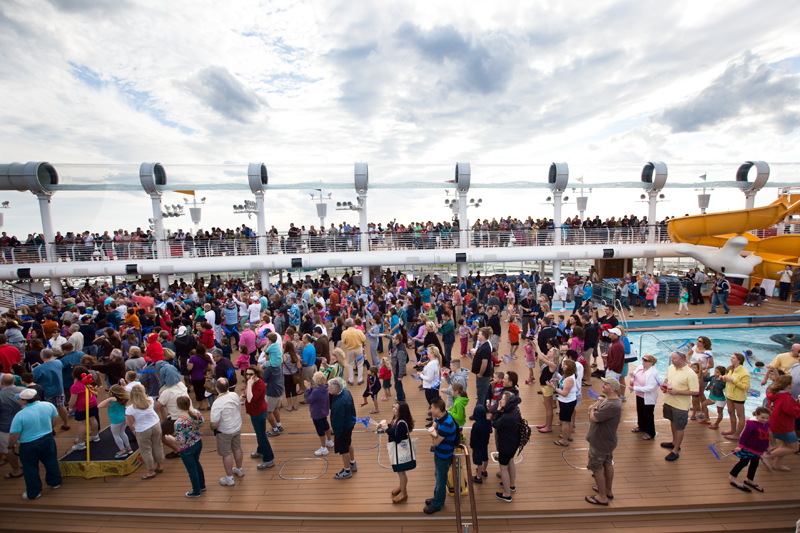 The crowds quickly grew as it got closer to showtime.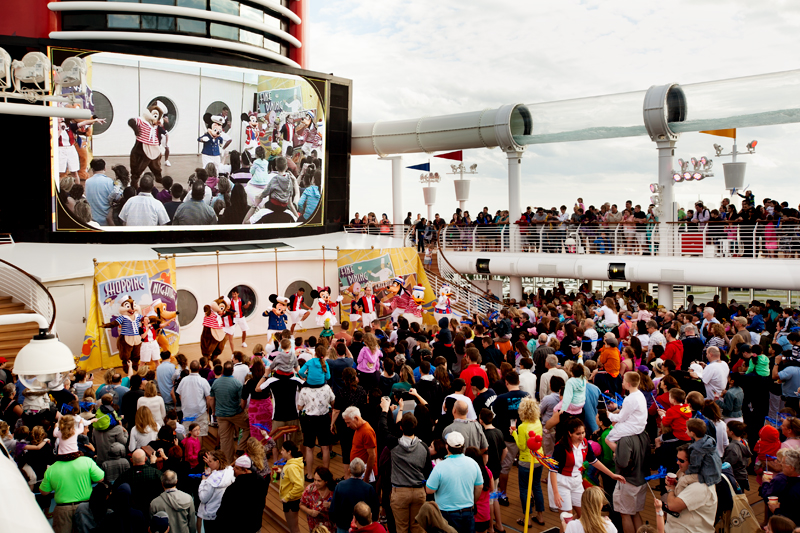 The show itself is definitely for the kids.  All of the classic Disney characters are present, decked out in sailor costumes, and there's lots of singing and Disney-esque dancing.  We still attend every Sailing Away, however, because it's just part of the whole experience.  The countdown, the ship's horn blasting out a few notes of a Disney tune... all great ways to get you excited for the trip!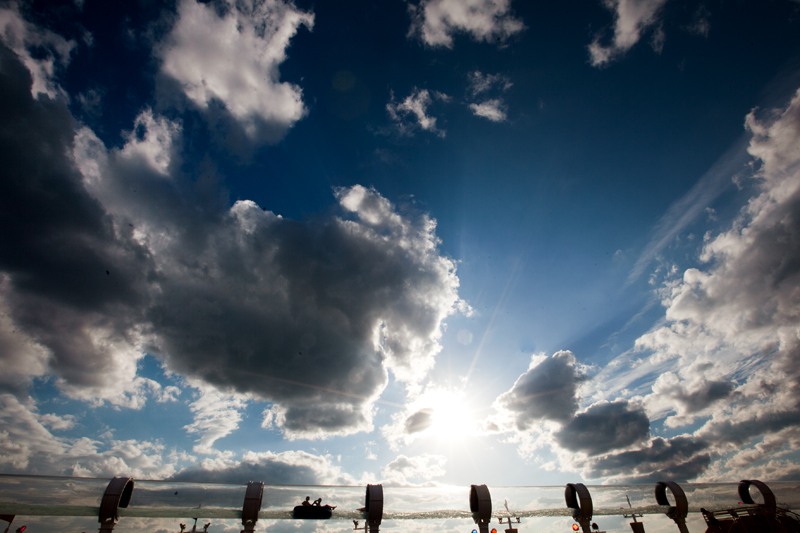 The sun peeked out for a few minutes.  The wind picked up and it was quite chilly at times, especially from the upper decks.  The water slide ride, The Aqua Duck, kept running throughout the show, and kids had fun waving to the crowds below.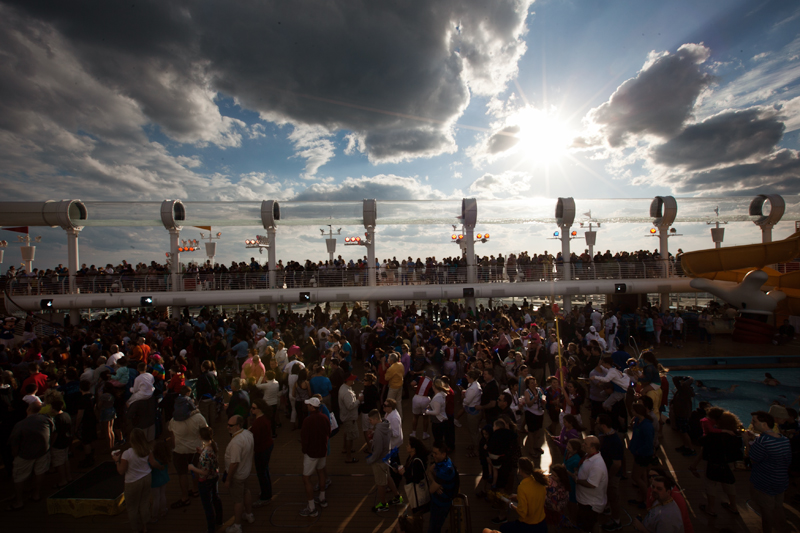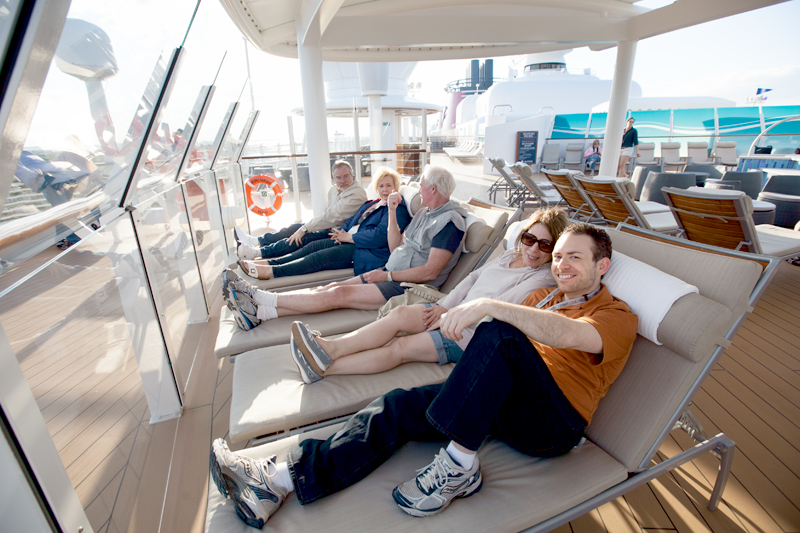 Right after the party, we headed up to Deck 13 to the new water feature and lounge deck on the Disney Fantasy - Satellite Falls.  This was my favorite area on the ship!  I'll have more photos of it in later posts.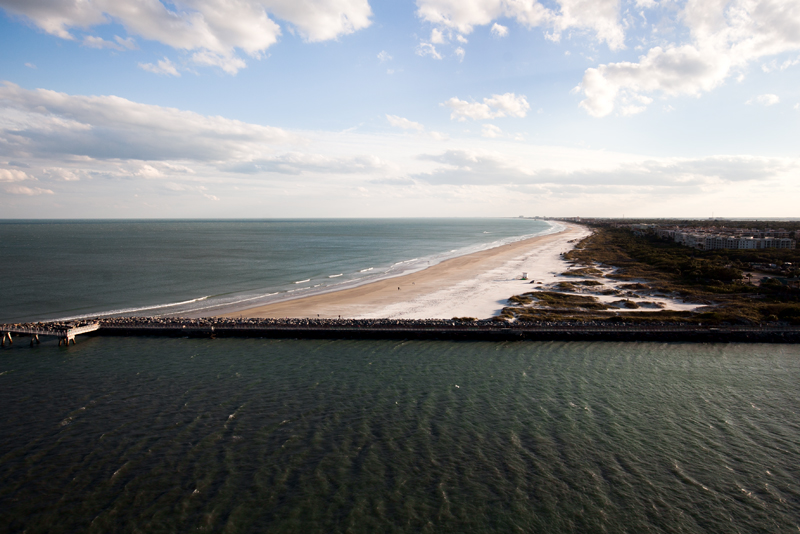 Saying goodbye to the land for a while!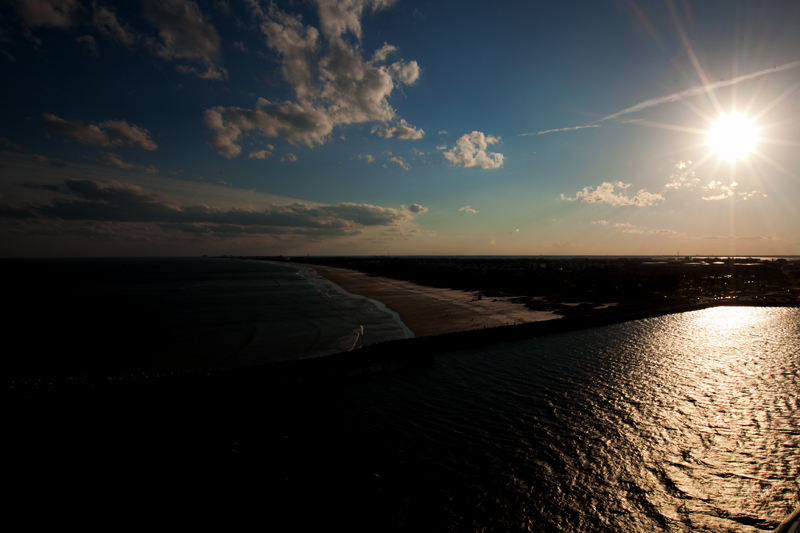 Nearing sunset.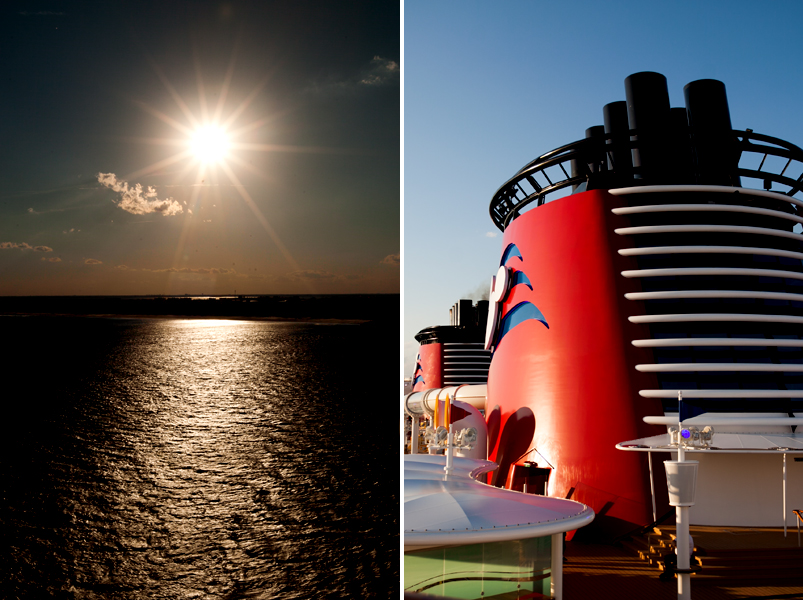 One great thing about cruising in the winter - you get to literally sail away at sunset!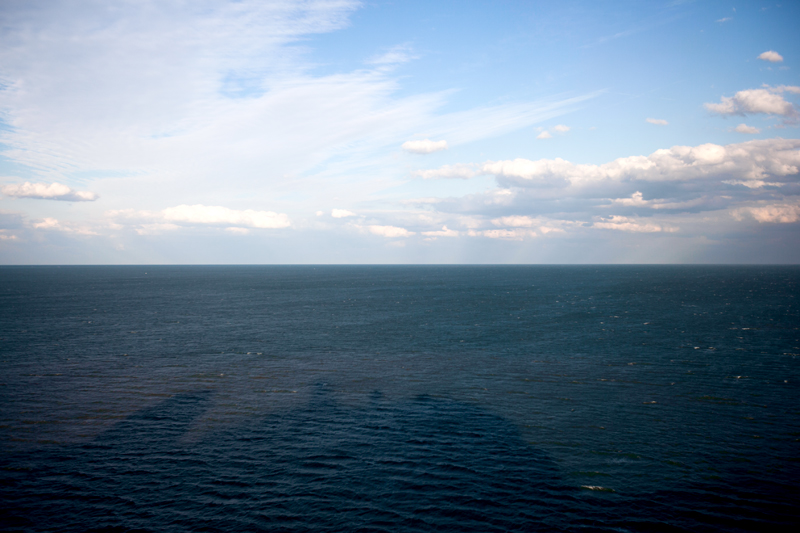 I like the ship's shadow on the water in this one.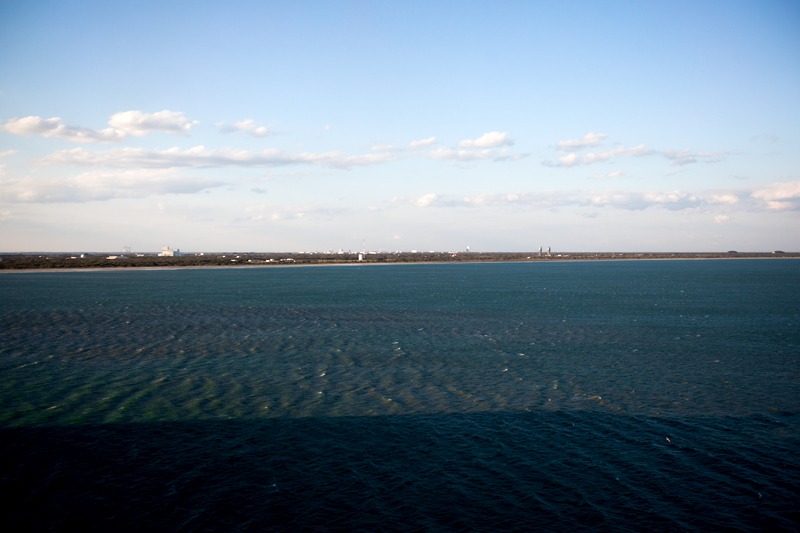 Next up.. our first dinner that night at Animator's Palate!
This is part of a blog series detailing our super fun family trip, a 7-day Western Caribbean cruise on the Disney Fantasy!  Click Here to see more posts!