Though we've had a wet fall season so far, October is still without a doubt the best month to camp!  Earlier this month we spent a couple of nights at Eagle's Nest Campground in Pigeon Forge and I'd love to share our weekend with all of you!
Eagle's Nest Campground Details:
Address: 1111 Wears Valley Road Pigeon Forge, Tennessee 37863
Phone: 800-892-2714
Website: http://www.eaglesnestcampground.com/
Eagle's Nest is located 1.5 miles off of the Pigeon Forge Parkway and is on the area's trolley route.  One of the newer attractions in the area, The Island, is right across the Parkway.
We arrived on a Friday afternoon and stopped at the office to get checked in.  Everyone was so friendly and helpful!
Little signs and touches made us feel like we were in a casual, comfortable place.
What is it about fall decorations?  Some hay bales, scarecrows, pumpkins, and chrysanthemums and boom... it's fall.
I admit I'm a sucker for this kind of decor.
So I took lots of photos.
Aren't the straw pigtails cute?
Told ya I couldn't stop taking photos.
We found our campsite, parked the trailer, and got everything hooked up.  We were in site #15 which has water, electric (20/30/50 amp service), sewer, and cable hook-ups.  The gravel area was almost completely level, though we did have to run the right side up on some 2x6 boards that we carry with us for that very purpose.  My husband is particular about getting the camper perfectly level.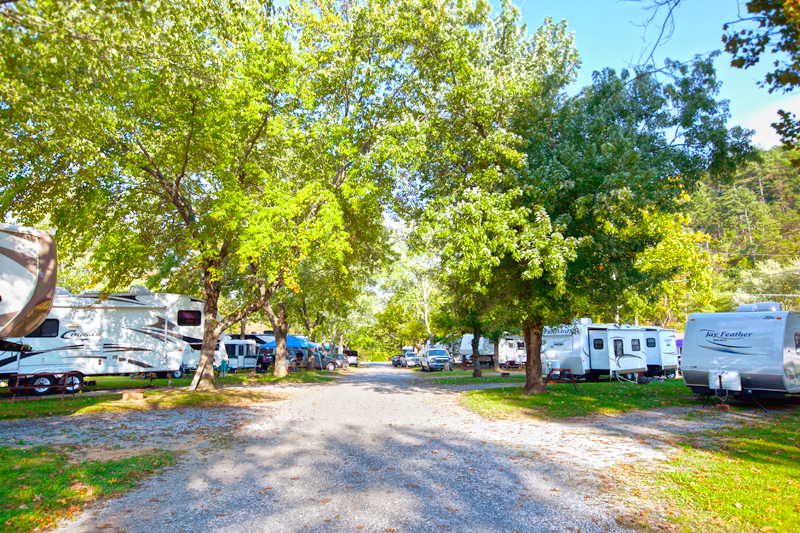 Once we were settled we ate some lunch and went on a stroll.  It was a gorgeous fall afternoon.  Despite being right in town, the campground has many large trees that helps it feel more natural.  The RV sites are somewhat close together and the campground recommends a max length of 40 ft.  Personally, I think that Eagle's Nest is better suited for campers less than 30 ft to avoid feeling cramped.  Our Passport Ultra Lite is 25ft and I think anything longer in our site would have felt too confined.
There are grassy tent-only areas with water hook-ups.  This area was empty during our stay and my guess is that the forecast of a weekend full of rain was the reason.
The streets are named after SEC football teams - a cute detail.
Being UT alumni, we had to get a photo of our alma mater's street sign.
Walden Creek runs along the south and east edges of the campground.  The sites that border the creek are either tent-only or water/electric only.
There's a bath house and laundry facilities located next to the pool in the center of the property.  The pool was closed for the season (open Memorial Day to Labor Day).
There's a large community lawn with a playground, horseshoes, and fire ring.
On the opposite side of the bath house is a lawn just for doggies.
The next morning showed us that, unfortunately, the weather men hit the nail on the head with the forecast.  It was pouring rain.
... and it continued to rain for the entire day!
Though being stuck inside is no fun, it's certainly nice to be in a trailer instead of a tent when the weather isn't ideal for camping.  We were the prime example of "glamping" as we spent the day watching TV and DVD's and making good use of the free wi-fi provided by Eagle's Nest.  We were really happy that the wi-fi signal was strong and reliable.  Matt works remotely and we're always taking note of wi-fi strength in campgrounds for potential future working trips.  The wireless Internet was stable enough to stream Netflix!
Matt ran out to a nearby Kroger to pick up a few things and when he came back he surprised me with some Halloween decals for our window (I love Halloween!!) and a pumpkin spice latte - how sweet is he?  Definitely a mood lifter on a dreary day.
While it may sound like it was a cozy day spent inside watching movies with the sound of the rain tinkling on the roof, you must remember that we have a one year-old.  Our little man requires constant entertainment and has an attention span of approximately 0.03 seconds.  The lack of scenery changes and limited activities meant that we had our work cut out for us trying to keep him happy!
At least he loves when mommy and daddy read to him, but don't be fooled!  I know that face.  That face tells me he's about a minute and a half away from his next meltdown.
Camping Food
You guys know I'll always talk about the food!  Our first dinner was quick and easy.  I brought a cold fall harvest bean salad that I pre-prepared at home and we ate it with roast beef and melted cheddar inside of a pita spread with onion & chive cream cheese.
Our first morning started well before the sun came up (when the baby gets up, we get up!) but a steaming plate of hot pancakes and strong coffee really hit the spot.
The second night was another college dorm type of meal - chili dogs!  Also pictured is the aforementioned lattes - pumpkin spice for me, toasted graham for Matt.
Our last morning (that also began before 6am) I made a can of Trader Joe's cinnamon rolls in the gas oven.  These are our favorite brand of canned cinnamon roll - they are huge, pillowy, flavorful, and the included icing is heaven.
They may look perfect from the top, but the bottoms were almost burned.  That's a frequent problem I've had when using our camper's finicky oven, so when we got home I did some research and have had much more success with the oven since then.
Tips for baking in an RV gas oven: 
Buy an oven thermometer.  They don't cost much and since these ovens do not have any indicators that alert you when the oven is pre-heated (or that it's even heating to the proper temperature) this is an invaluable purchase.  By using the thermometer you'll ensure that you are putting your food in the oven at the right temp.
Buy a small AirBake Cookie Sheet.  I read this tip from an RV forum and it has fixed my problem of burning the bottom of our food!  Simply place the cookie sheet under whatever pan you are baking in and it acts as a heat buffer and distributor.  I made a gorgeous blueberry loaf during a more recent camping trip using this trick.  It works.
Rotate your pans several times.  Even if the recipe does not say to rotate - do it anyway.  Uneven heating is a big problem with these ovens, so it's worth losing a little heat through opening the door to give that pan a spin at least 2 times during the baking process.  When you rotate, I also recommend changing the pan's position in the oven as well.  Slide it farther to the left or right,  bring it closer to the front or push it to the back.  Just move that sucker around.
I'm still figuring out the little quirks of our oven and it'll never be perfect, but if you're struggling with burns or uneven cooking, give these tips a try and let me know if they help.
Despite the soggy weather, Eagle's Nest is a good campground that is extremely convenient to the area's tourist attractions.  Matt and I agreed that the biggest weakness is that the sites are close together, so if you are in a larger (yet still shorter than 40ft per the campground's recommendations) camper you may find yourself feeling a little cramped in your space. Its biggest strengths are a rock solid wi-fi connection and an extremely helpful and friendly office and maintenance staff.
If you're looking for a place to set up camp while you enjoy Pigeon Forge and Sevierville, you'll find Eagle's Nest to be a comfortable option for you.  Visit their website to learn more!
We were hosted for a weekend at Eagle's Nest Campground for the purpose of this review.  We do not accept complimentary stays in return for a fully positive review.  Remember our motto: if it sucks, we'll tell ya!