Matt and I cook homemade meals about 3 times a week, and eat the leftovers on the remaining days.  We plan our menu on the weekends and make a grocery trip for enough food to last us the entire week.  Doing things this way has saved us a ton of money and has improved our overall lifestyle.  Since college, I have lost sixty pounds!  I did it through lifestyle changes only, and I haven't "dieted" in years.  We eat like regular human beings, indulge every now and then, and keep our activity level decent.  I never feel deprived and I am in the best shape of my life.   I'm so over diets!!
I wanted to share one of our favorite regular meals to make.  It is super easy, doesn't take much time, and is a really filling dish! (I posted the full recipe at the bottom if you want to skip all the photos)
Easy Chicken Pot Pie

You'll need to chop up some carrots, celery, and grab some frozen peas.  You can chop yours smaller, but Matt prefers meaty man-sized pieces of veggies in his pot pies. 🙂

Chop up a quarter of a large onion, too.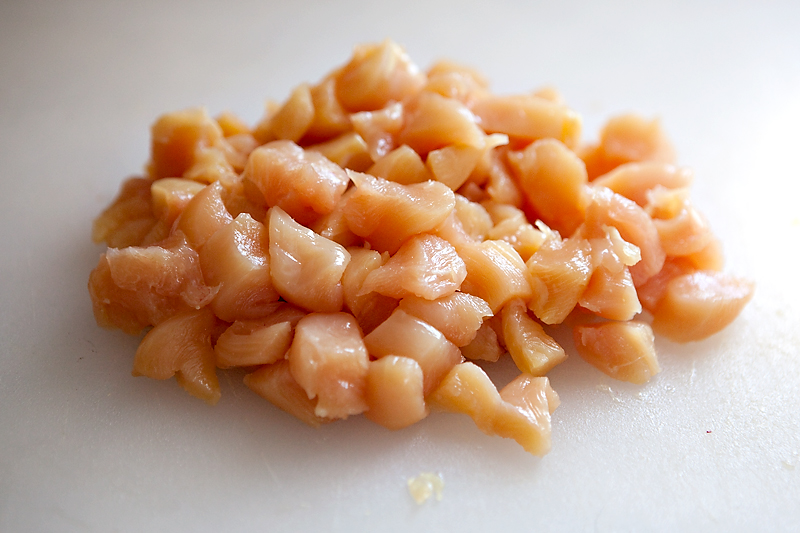 Next, grab 2-3 chicken breasts, chop off all of the icky fatty pieces, and chop the rest into cubes.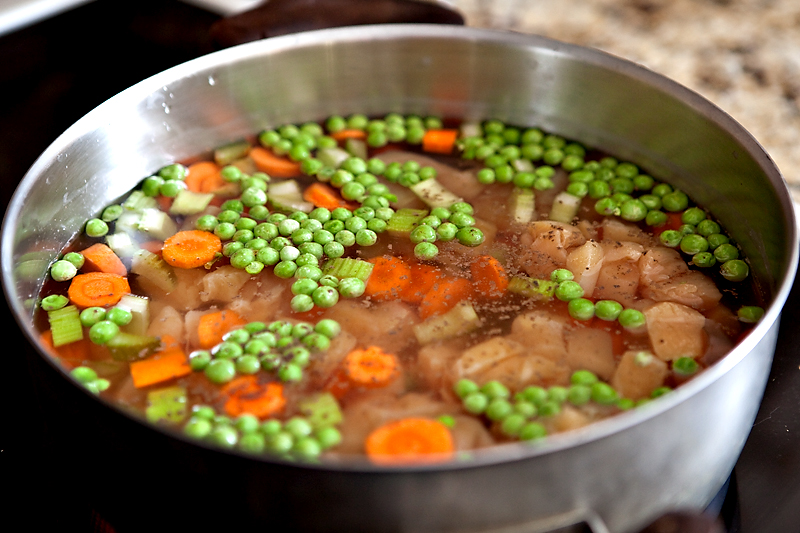 Toss all of that (except the onion.  Set it aside for now) into a pot, cover with water, add salt and pepper, and bring to a boil.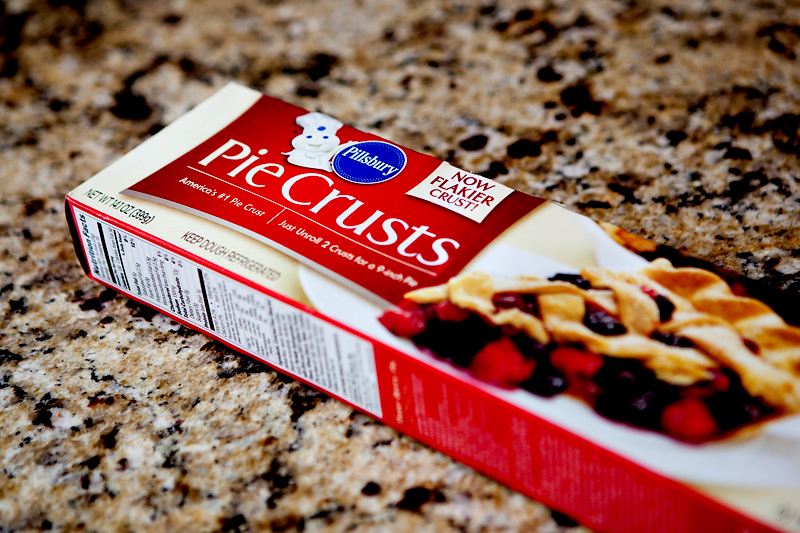 I use these refrigerated pie crusts that you can find in the canned biscuit section.  There should be 2 crusts in each package.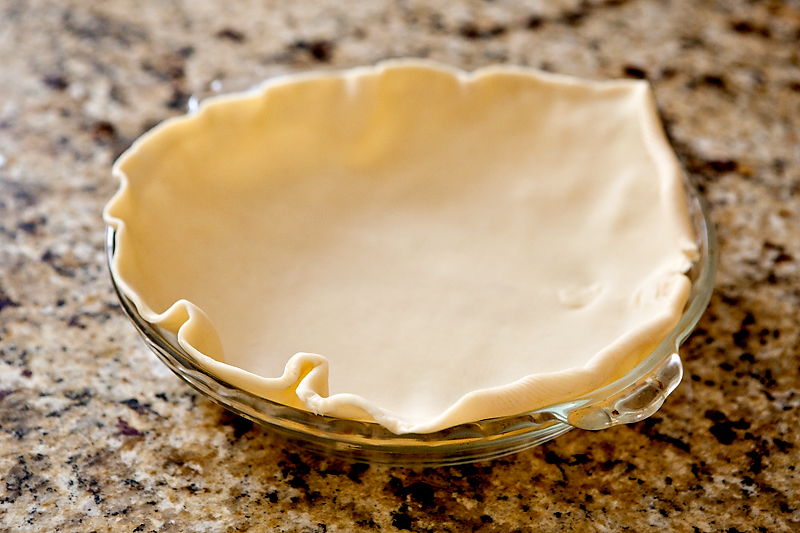 Carefully unroll one of the crusts and plop it into a glass pie dish.  Don't mess with it too much yet.  You want to let it get to room temperature so it's nice and pliable.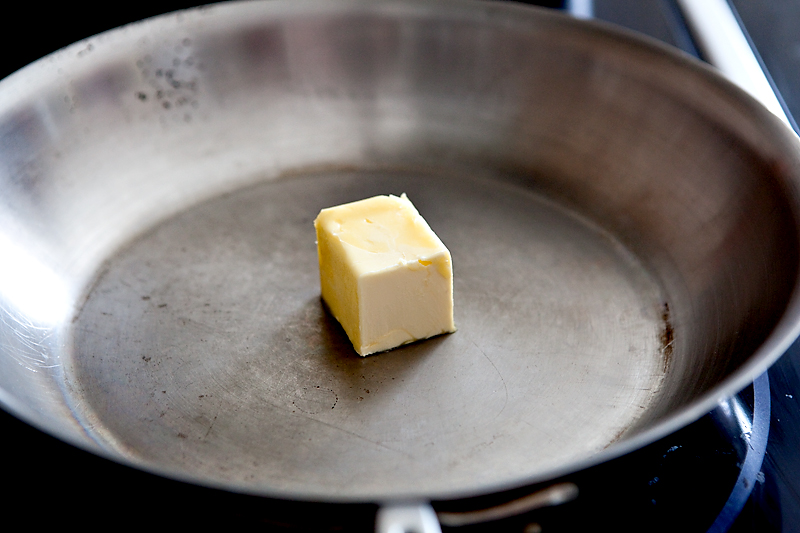 Next, put about ⅓ cup of butter (I use Smart Balance instead) in a pan over medium heat, and let it melt.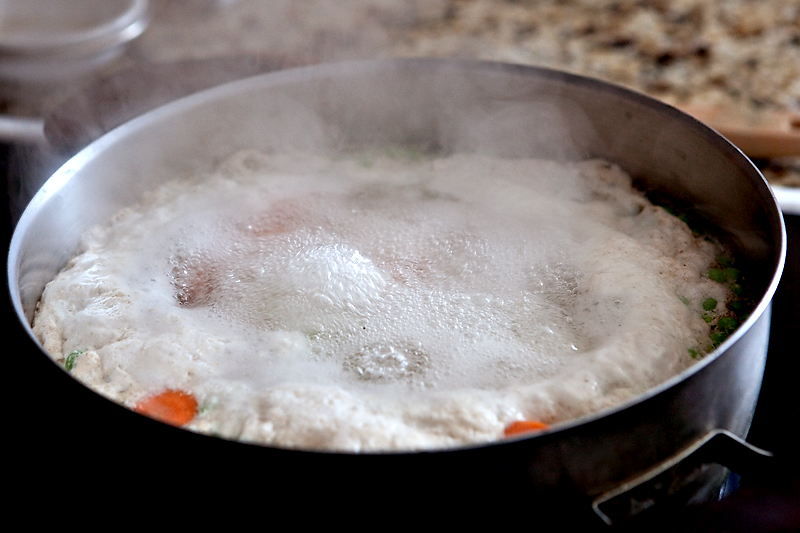 Meanwhile, your veggies should be boiling nicely.  Set a timer for 15 minutes and leave it alone.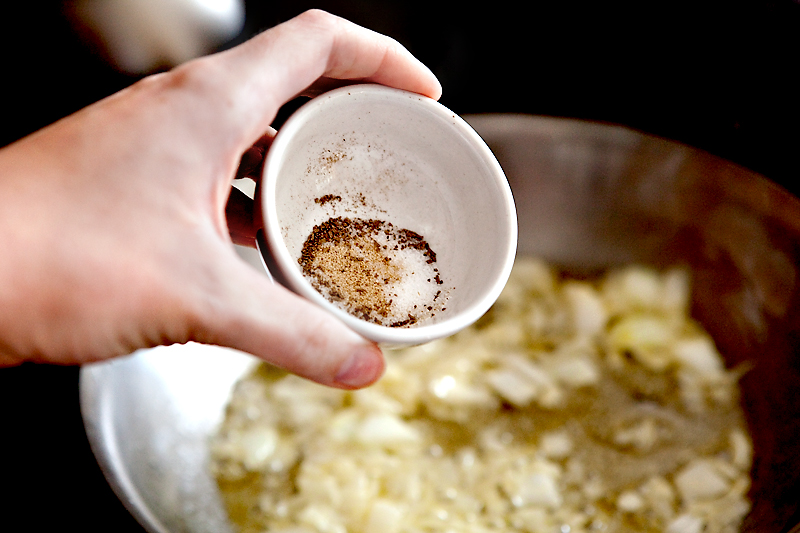 Cook the chopped onion in the butter until translucent, and then add some celery seed, salt, and pepper.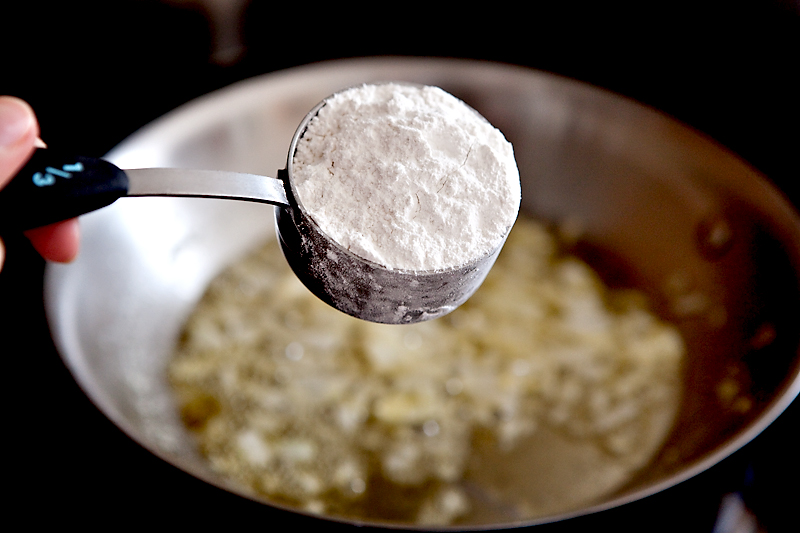 Then add around ⅓c of flour.  I filled the cup in the photo a little too full, so I didn't use all of that.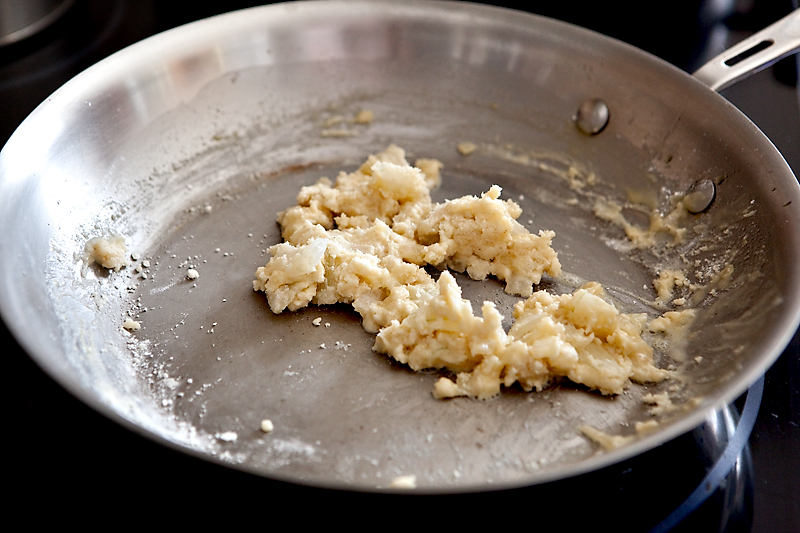 Moosh everything together until it looks like this.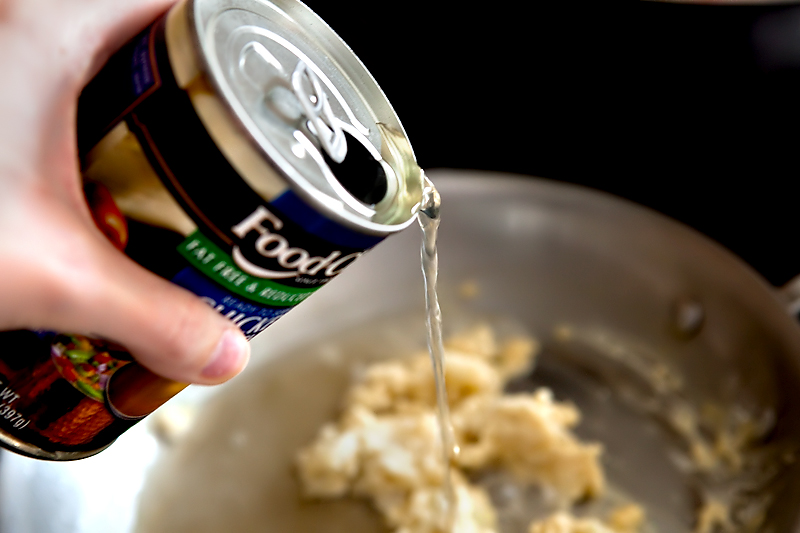 Immediately pour in a can of chicken broth and ⅔cup of milk.  Use a spatula and incorporate the onion/flour paste.  Let it cook on medium-low heat.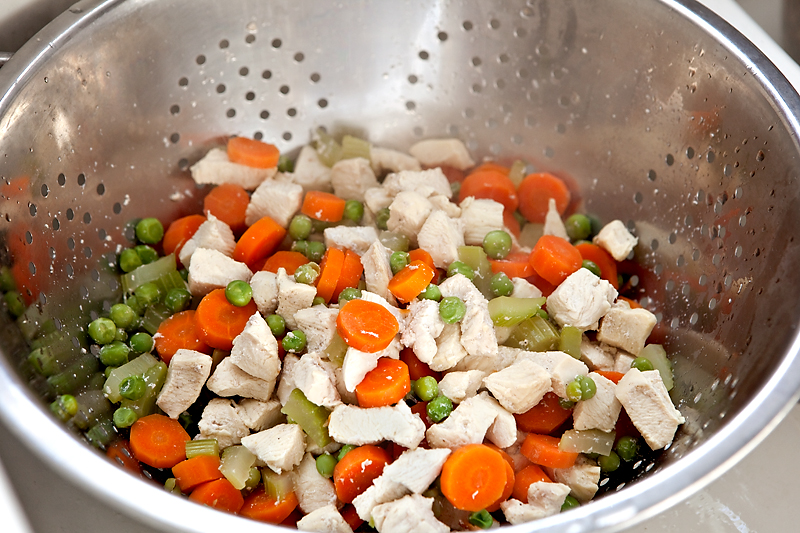 Your veggies should be done by now, so dump 'em in a colander and leave em alone.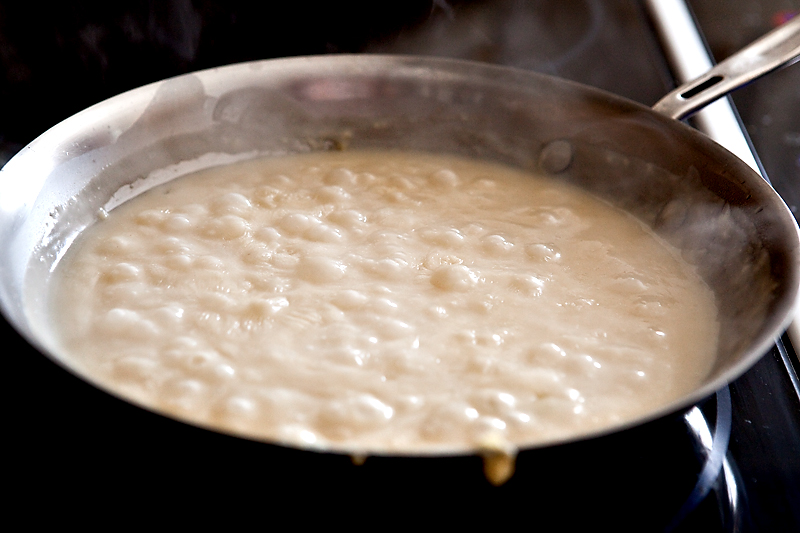 Meanwhile, lovely things should be happening in your pan.  Make sure you stir it frequently and don't let the heat get too high.  Once it starts to get nice and bubbly, turn it down to low and let it simmer and thicken up.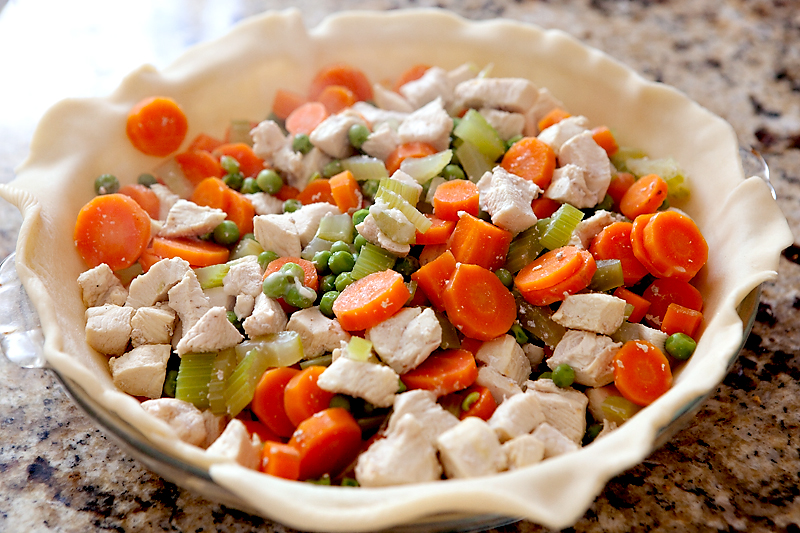 Your pie crust should be close to room temperature by now, so stretch it out gently until the top overlaps the edges of the pie dish.  Then toss in your veggies and chicken.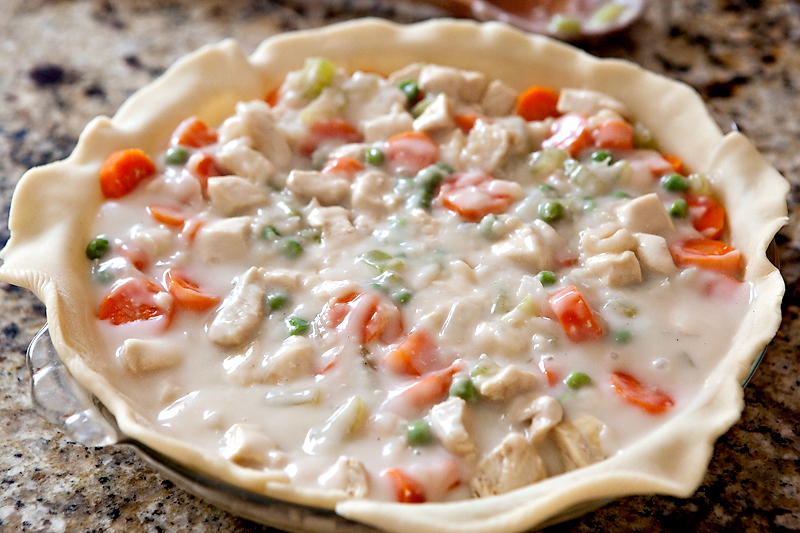 When the sauce has thickened slightly, pour it on top.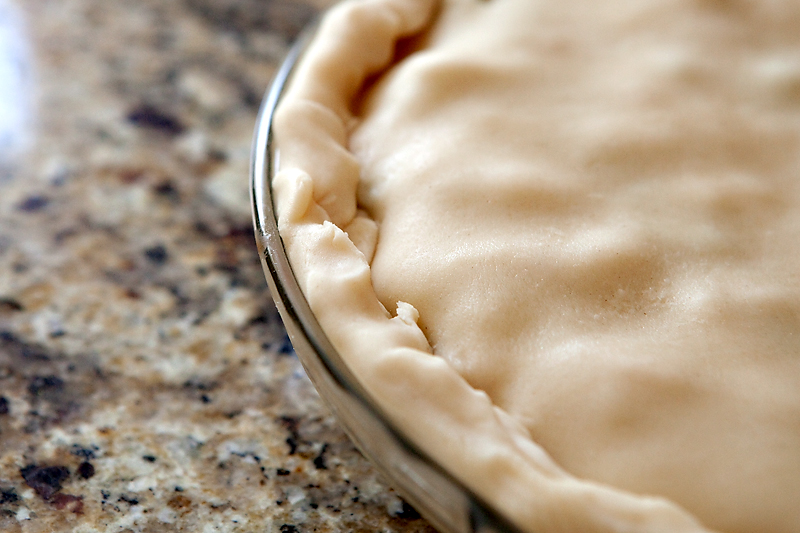 Unroll the other pie crust and place it on top.  When you pinch the edges together, make sure the edge of the bottom crust folds over the top of the upper crust.  Otherwise, this stuff will bubble out all over your oven and make you say bad words.
We don't want that to happen.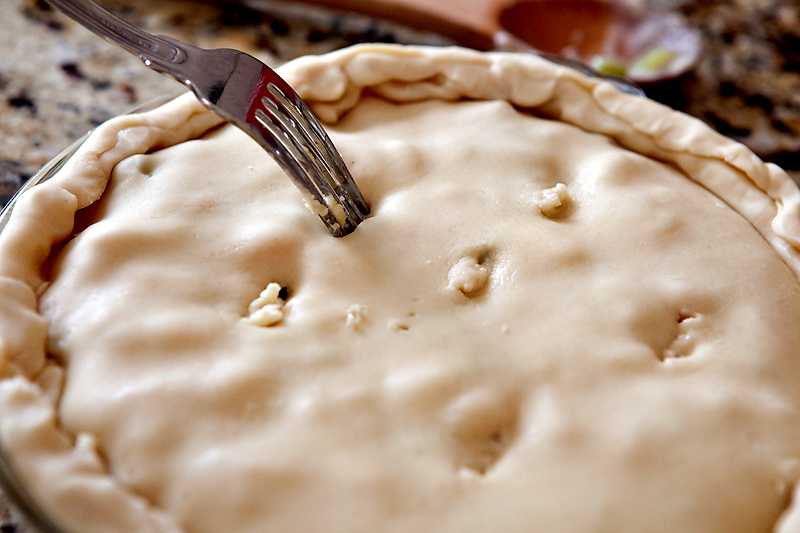 Stab the top with a fork a few times and pop it into the oven.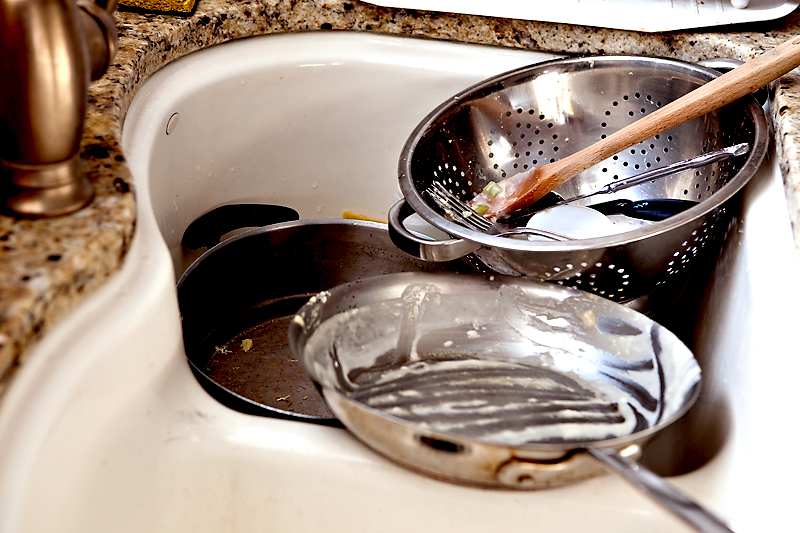 This step is important.  Call your husband into the kitchen and tell him to do the dishes!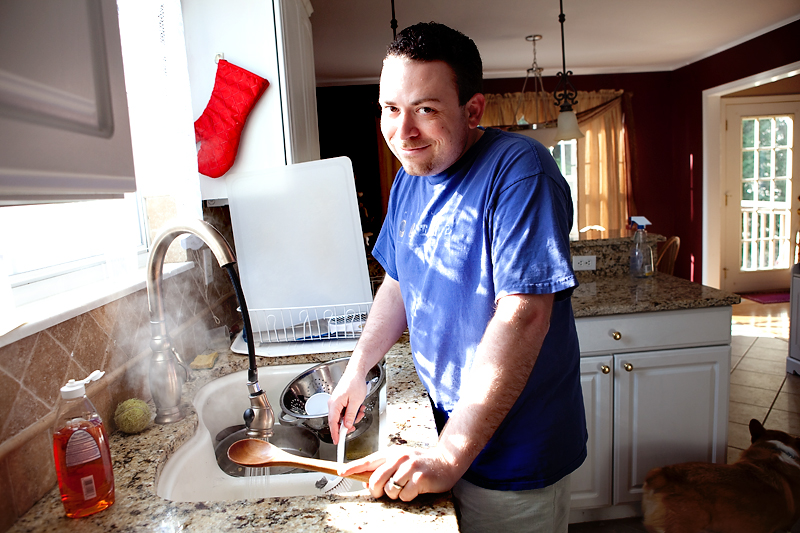 He's a good boy and does as he's told.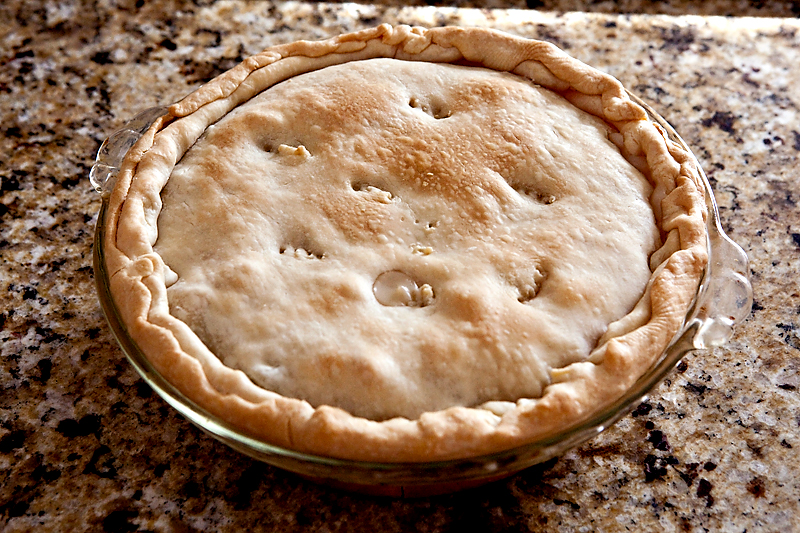 About 30-ish minutes later, and the crust should be a light golden brown.  Mmm.. but wait!  Leave it alone for about 10 minutes to let the insides thicken up a bit.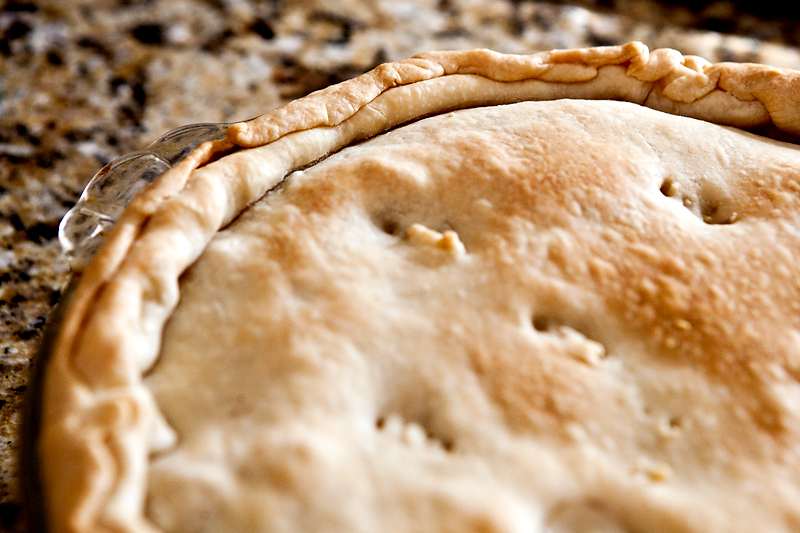 See?  No leakage!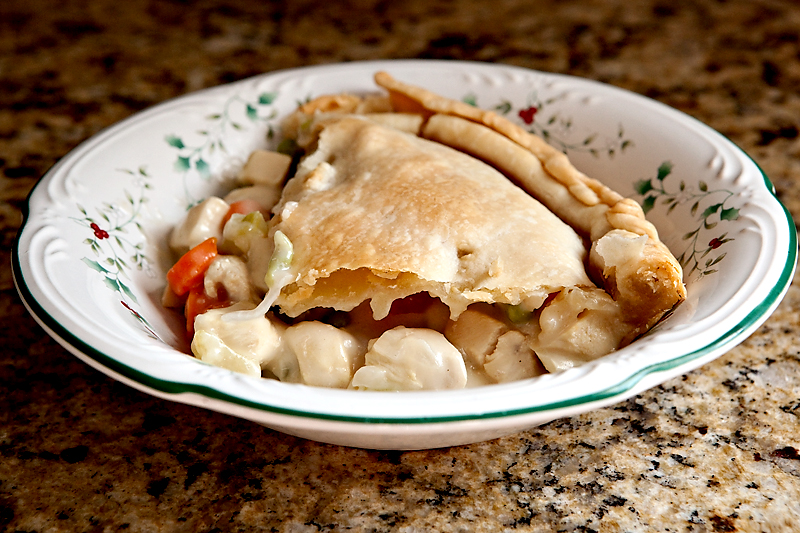 Enjoy!!
Print
Easy Chicken Pot Pie
---
Author:

Total Time:

55 mins

Yield:

6

1

x
1

lb skinless, boneless chicken breasts, chopped

1 cup

chopped carrots

½ cup

chopped celery

1 cup

frozen peas

⅓ cup

chopped onion

⅓ cup

butter

⅔ cup

milk

½ tsp

salt

½ tsp

pepper

¼ tsp

celery salt

1

can chicken broth

1

package of pie crusts
---
Instructions
Preheat oven to 375F.
Unroll pie crusts and let them sit on the counter to warm up and become flexible.
Place carrots, celery, peas, and chicken in a large pot and cover with water.
Bring to a boil and cook for 12 minutes or until chicken is done and veggies are soft.
Drain and set aside.
In another pan, melt butter over medium heat.
Add onions and cook until translucent.
Add salt, pepper, celery seed, and flour.
Incorporate milk and chicken broth until smooth, and then cook over medium-low heat until sauce thickens.
Spread pie crust into glass pie dish and add veggie mixture.
Pour sauce over the top, and top with remaining pie crust.
Pinch edges of crust together so that the edge of the bottom crust folds over the upper crust.
Poke a few holes in the top crust with a fork or knife.
Bake for 30 minutes or until crust is a golden brown.
Let rest 10 minutes before serving.
Prep Time:

10 mins

Cook Time:

45 mins
Recipe Card powered by