Gramma in a Box is one of the most unique subscription boxes I've ever tried!  Each themed box contains everything you need for decorating cookies and creating 2 candy crafts.  The box contains the already-baked cookies as well as pre-measured portions of all of the decorating supplies.  Easy to follow instructions for each craft are included on colorful cards.
Terry Chamberlin created Gramma in a Box and assembles the project supplies in a commercial kitchen in Vista, CA.
August's box theme was Beach Party Treats!  Let's take a look.
The first project was marshmallow goldfish bowls.  Included supplies were jumbo marshmallows with sticks, crushed graham crackers, colored goldfish, and melting chocolate wafers.
Jasper was able to do this craft with very little help from me.  He dipped the end of the sticks into a bit of the melted chocolate, stuck them into the marshmallows, dipped the marshmallow into the chocolate and then rolled it in the graham cracker crumbs.  His favorite part was sticking on the goldfish cracker!
He was so excited when I surprised him with this box and it was such a fun way to spend a rainy evening indoors.
Here are his finished treats - so cute!!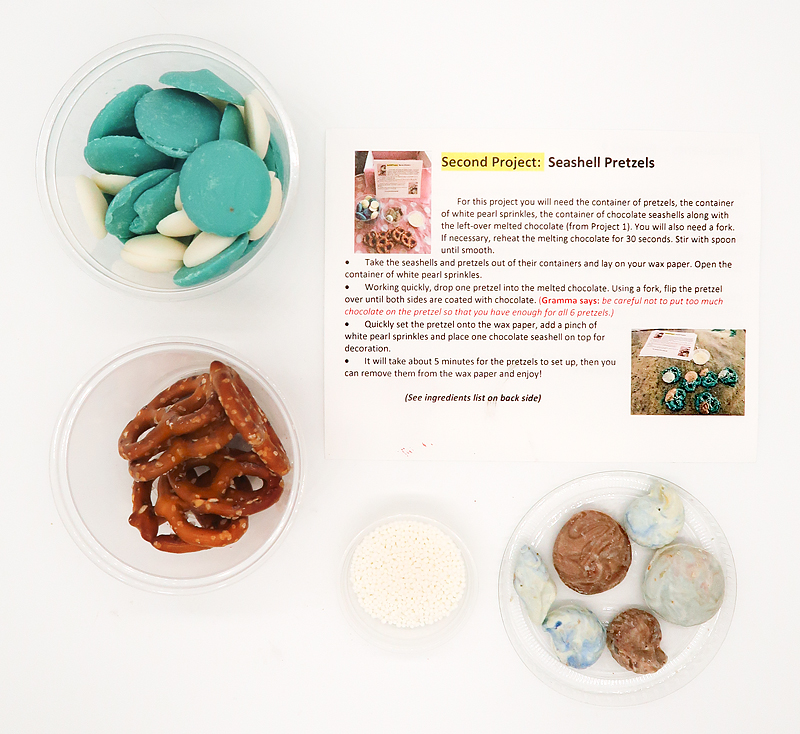 The second candy project was seashell pretzels.  The supplies were little chocolate seashells, white pearl sprinkles, pretzels, and the remaining melting chocolate from the first project.
This was also a simple project that Jasper could do all on his own.
I think he did an awesome job - they came out so beautiful!
The final project was sea life cookie decorating.  Supplies included were shrink-wrapped cutout sugar cookies - shaped like fish, stars, and seashells - pink and blue sanding sugar, and 3 colors of frosting.  The frosting came pre-loaded in little piping bags, so all we had to do was snip the end off of the bag to squeeze out the frosting.
Jasper did need some assistance with this project, so he told me what he wanted done with the frosting and then we both held onto the bag while we piped the frosting onto the cookies.  He finished them up by covering them in sanding sugar.
Creating these treats was so convenient because I didn't have to do any baking and I didn't have to purchase full-size versions of the decorating supplies.  We just followed the instructions, used everything in the box (though we did have some extra frosting, chocolate, and sprinkles), and then cleaning up was simple!
Gramma in a Box is $20 per box, or you can pre-pay for several months and save a bit of money.  Boxes ship at the beginning of each month and orders need to be placed by the 3rd of the month to receive that month's box.
I was sent a Gramma in a Box to review and share with all of you.  All of our opinions are honest and trustworthy.