If you've never grilled pound cake before, you're missing out!  Those tasty, toasty grill marks are a perfect way to liven up plain pound cake (or any cake, really!).  Serve it up along grilled peaches or pineapple rings for an extra special treat.
Why Grill Cake Slices?
If you have leftover cake that's started to go a bit stale, grilling the slices is an ideal way to breathe new life into it before it gets tossed into the trash.  But you don't have to wait for your cake to go stale to grill it - fresh cake works just as well!  The grill marks look so pretty and the toasty flavor and warm temperature makes this an easy twist on what is usually a simple dessert.
Do I Have To Use Plain Pound Cake?
Pound cake works well because the slices are  sturdy - less likely to fall apart on the grill - but you can grill any variety of dense cake slice and this recipe will work well.  You don't have to stick with plain or vanilla cake, either.  Use any flavor you have on hand.  You don't even have to use homemade cake!  If all you have is a Sara Lee pound cake sitting in your freezer waiting for an excuse to be thawed... slice it up and grill those babies!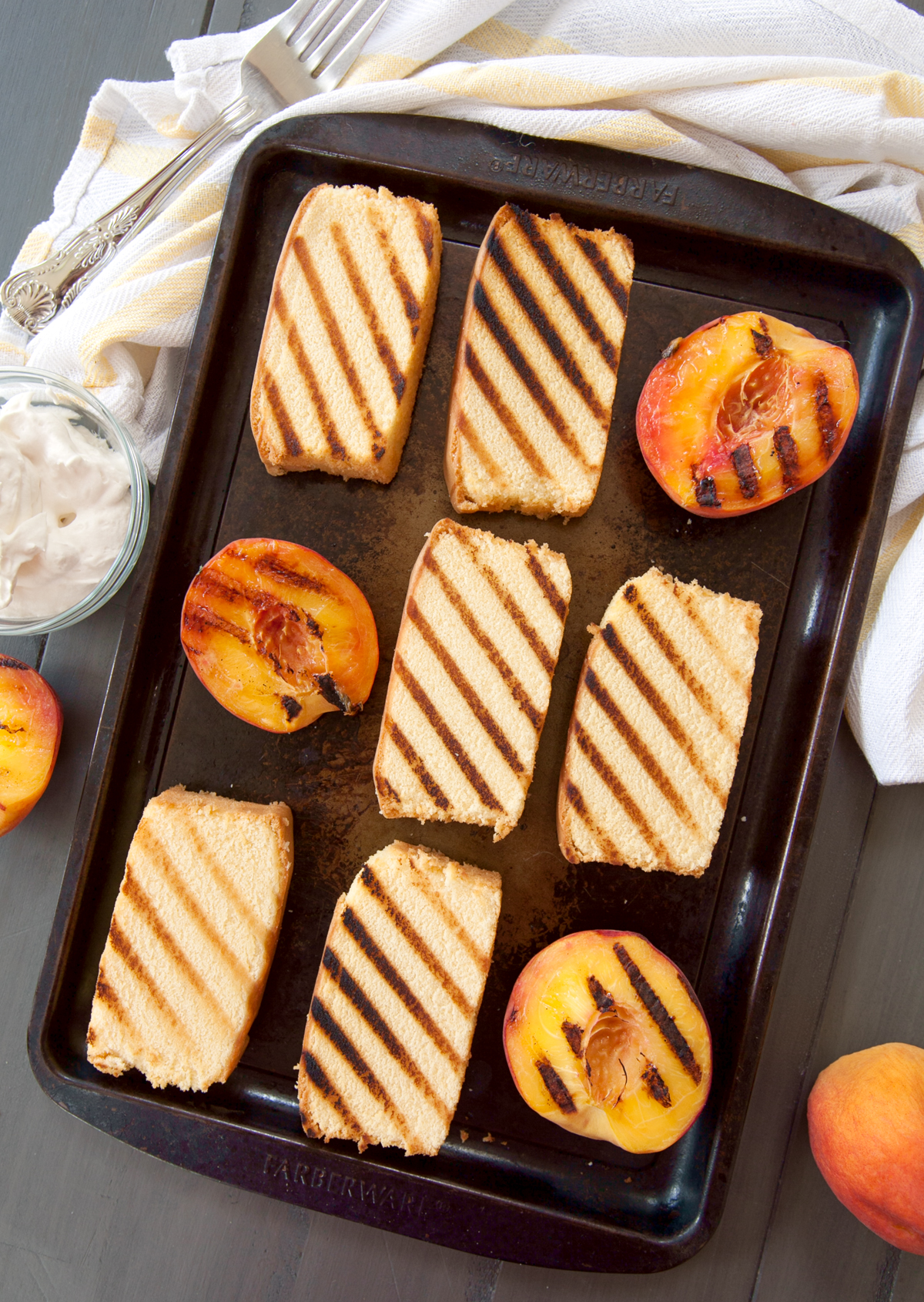 What If I Don't Have a Grill?
If you don't have a traditional grill or just don't want to fire it up right now, you can use your stovetop instead.  To get the pretty grill marks on your cake slices, you'll need a grill pan like this Lodge cast iron grill pan that I have used and loved for years.  Preheat the pan on medium-high heat and you'll be good to go.
Alternatively, you can place the cake slices on a baking sheet and place them under your broiler until the top is toasted, then flip and toast the other side.  You won't have the grill marks but you will still get the nice toasty flavor.
What Should I Serve With This Dessert?
The warm and buttery grilled pound cake slices taste wonderful all by themselves, but you can make things really tasty by tossing some fruit onto the grill as well.  I chose to use peaches since they are my favorite to toss on the grill, but you can use other fruits as well.
Some Other Fruits To Grill:
Peeled and halved bananas
Mango
Pineapple
Pears
Cantaloupe
Nectarines (I mean, they're basically peaches)
Watermelon
Once you have your plate of grilled cake and fruit, top things off with a dollop of fresh whipped cream and you have the perfect summery dessert to enjoy on the back porch while the sun goes down and the heat from the day finally begins to break... the best time of a summer day, in my opinion.
Tips For Success
If not using pound cake, choose a cake that is dense and sturdy.  Fragile cakes with looser crumbs may fall apart on the grill.
Using a light spread of butter on the slices before grilling will help with getting those perfect toasty grill marks.
Cut slices nice and thick (around 1.5") so that they're easier to flip and manipulate on the grill.
Watch them carefully and don't burn them!
Print
Grilled Pound Cake
---
Author:

Total Time:

15 minutes

Yield:

Varies
Description
Whether you use fresh or cake that has gone a bit stale, grilling your pound cake will add tasty, toasty, and pretty grill marks and elevate your cake-eating experience.
---
Pound cake - any flavor - sliced relatively thick
Softened butter for spreading
Peaches, rinsed, sliced in half, pits removed (optional)
---
Instructions
Fire up your grill or pre-heat a cast iron grill pan on medium-high heat.
Lightly butter both sides of cake slices.
Place slices on the hot grill or grill pan.  Grill for 2-3 minutes or until nice dark grill marks appear on the cake slice.  Flip once and grill on the other side.
If grilling peaches or other fruit (see notes) repeat the process with the fruit.  Serve cake and fruit warm with fresh whipped cream.
Notes
Pound cake works well because its slices are sturdy, but you can grill any kind of dense cake you want.
Other fruits that work great on the grill:  nectarines, watermelon slices, peeled and halved bananas, pineapples, pears, mango, and cantaloupe
Prep Time:

5 mins

Cook Time:

10 mins

Category:

Dessert

Method:

Grill
Recipe Card powered by
Do you love this recipe and want to be able to find it later? Use the image below to pin to your Pinterest boards, or share with your friends on social media by using the buttons at the top and bottom of this post. Thank you for visiting my blog!