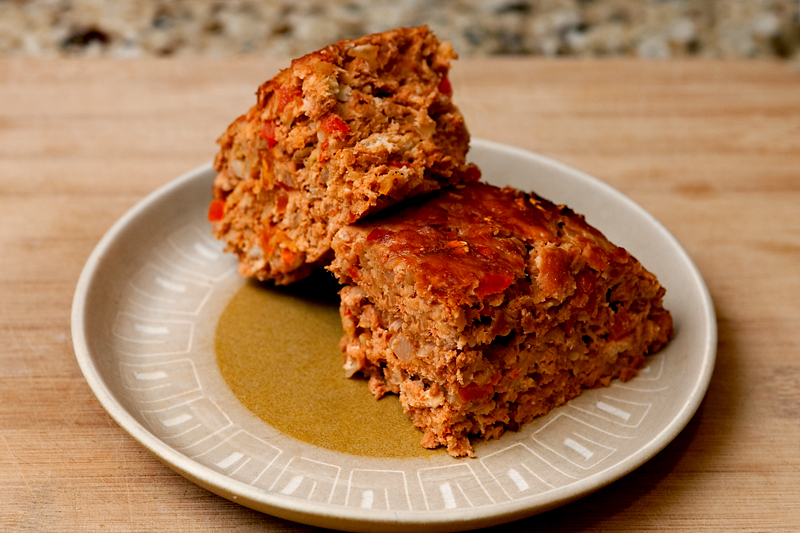 I know there are split opinions out there when it comes to meatloaf - you either love it or you hate it. Me? I love it. It's flavorful and comforting, easy to make, and an easy base for experimenting! There are so many ways to create a meatloaf and you can include an infinite number of flavors. I don't think I've made the same turkey meatloaf twice!
While I do prefer meatloaf prepared with beef - ground turkey is an excellent substitute when you're wanting to prepare something a bit lighter. Make sure you read the packaging when shopping for turkey, however, because it's not all created equal! Check out these comparisons:
Regular ground turkey has 220 calories and 17 grams of fat in a 4 oz serving.
Lean ground turkey has 170 calories and 8 grams of fat in a 4 oz serving.
Extra lean ground turkey has 120 calories and 1.5 grams of fat in a 4 oz serving.
Quite a difference! I used extra lean turkey in this recipe and in the calculations for the nutrition information.
Let's get cracking!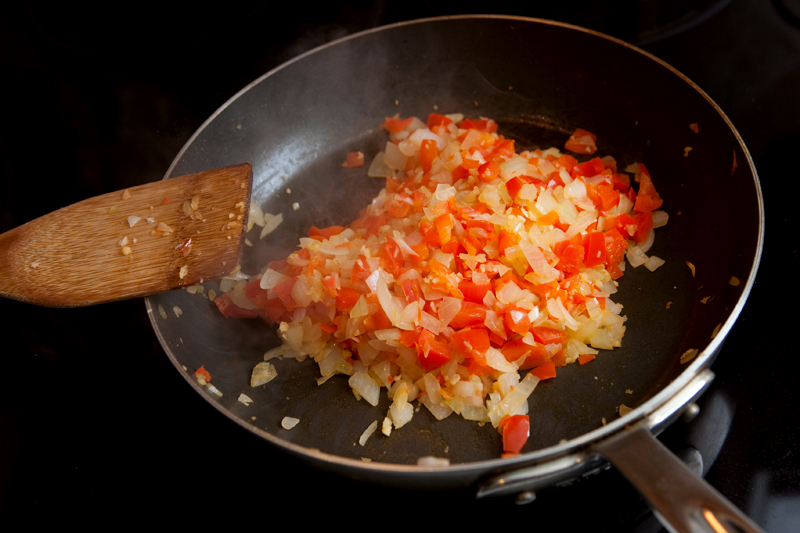 Coat a nonstick skillet with cooking spray and throw in a chopped red bell pepper, about a cup of chopped onion, and 3 crushed garlic cloves. Cook 'em up until they are soft and fragrant. Remove from heat and let cool slightly.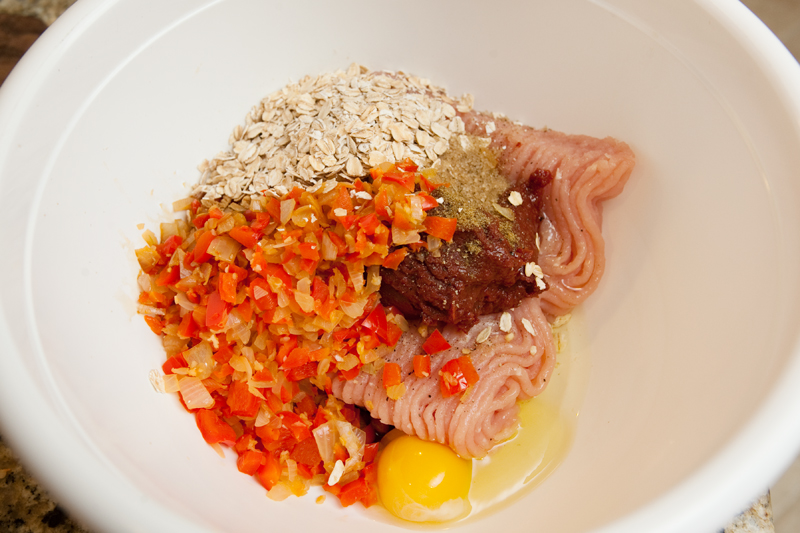 In a large bowl, toss in ground turkey, the cooked vegetables, an egg, salt, pepper, cumin, Worcestershire sauce, tomato paste, a little sugar, and some dry oats.
I know - I was a little wary of those oats as well, but I promise you can't taste them!
Next, mix all of that together until well-combined. The easiest way is to take off your rings, push up your sleeves, and get in there with your bare hands.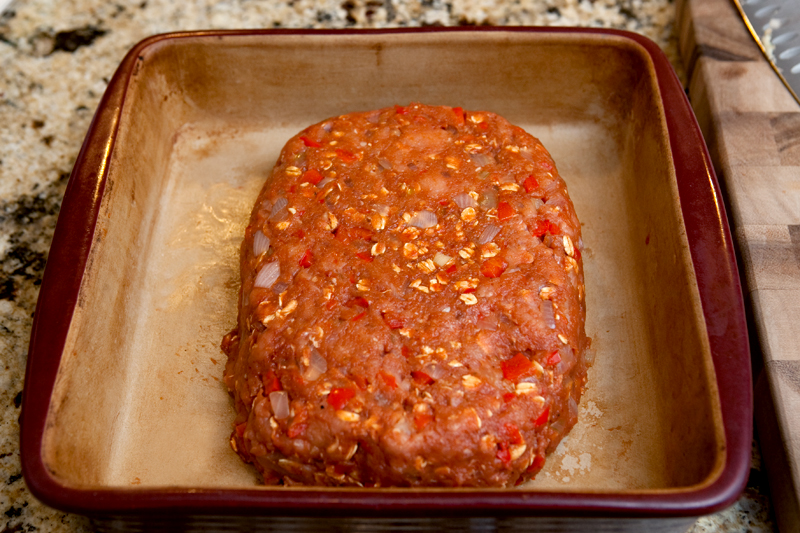 Spray a baking dish with non-stick cooking spray and form the mixture into an even loaf.
I feel the need to reassure everyone that I'm not using a dirty pan. This is my beloved seasoned stone baking dish, and I loves it. Stone cookware will change your life.
Pop that puppy into a 375F oven for 50 minutes to an hour. Be very careful not to overcook your meatloaf, as ground turkey is extremely easy to dry out. The interior temperature of the loaf should be about 165F, but I take it out of the oven a bit before that and then cover it with foil on the counter and let it continue to cook and reach the final temp.
If you want to give yourself a little extra insurance, you can add an extra egg to the mixture as well.
Enjoy!
Print
Ground Turkey Meatloaf
---
Author:

Total Time:

1 hour 15 mins

Yield:

4

-6

1

x
20 oz

(1.25lbs) extra lean ground turkey

1 cup

onion, chopped

1

red bell pepper, chopped

3

cloves garlic, crushed or minced

1 cup

dry oats

1

large egg

1 tablespoon

Worcestershire sauce
Fresh ground sea salt and black pepper, to taste

1

6 oz can tomato paste

1 tablespoon

raw sugar (white sugar is fine)

1 tablespoon

ground cumin
---
Instructions
Pre-heat oven to 375F
In a non-stick pan coated generously with cooking spray, saute onion, pepper, and garlic until soft and fragrant. Let cool slightly.
In a large bowl, mix together all other ingredients with cooked vegetables until well-combined.
In a baking dish coated with cooking spray, form mixture into an even loaf.
Bake for 50 minutes to 1hr or until a meat thermometer registers 165F
Remove from oven, cover with foil, and let rest for 10 minutes.
Notes
Extra lean ground turkey is very easy to overcook, and can result in a dry meatloaf. I like to take mine out of the oven before the meat thermometer hits 165, cover in foil, and let it reach the final temperature in the pan on the counter. You may also add an additional egg to the recipe for added moisture.
Prep Time:

15 mins

Cook Time:

1 hour
Nutrition
Serving Size:

¼ of loaf

Calories:

310

Fat:

4.5 grams

Carbohydrates:

28.5 grams

Protein:

38.5 grams
Recipe Card powered by