The Trail: Gregory Bald (via Parsons Branch).
The Distance: ~9 miles roundtrip.  Elevation gain of 2,300ft.
The Crew: Yours Truly, Mr. Yours Truly, and our buds (who are in way better shape than us) Kara & Remington.
The Mission:  View some purty wild azaleas, and not die in the process.
A "bald" is a treeless meadow covered in grass and low shrubbery along ridgetops in the southern Appalachain Mountains.  Other than looking oddly out of place amidst the dense woods of the Smokies, what makes them so cool is that their history and origin is somewhat of a mystery.  Who cleared them? Natives? White man? Are they natural (if so, why are they there)? Are they landing pads for ALIEN VISITORS?   NO ONE KNOWS FOR SURE.
What I do know for sure is that it's pretty darn neato, so I was stoked when we planned to trek to Gregory Bald, which is known for its famous wild flame azaleas that are at their peak color in mid-late June.
We attacked the trail via the Parsons Branch route.  Remember the Cades Cove Loop I mentioned previously?  The 11-mile loop that can be heaven or hell depending on weather, day of the week, time since you last went to the bathroom, etc?  Getting to this trailhead requires that you drive a bit into the loop and then veer off onto a "road" (and I use that term loosely) that is aptly named, Primitive Road.  Isn't that cute.
Kara & Remington offered to drive and risk the well-being of their vehicle on this "road".  You follow it for quite a long while until you finally reach the "parking lot" at the trailhead.  The "parking lot" was full so we drove slightly farther down the "road" and "parked" on the "shoulder" while being careful not to roll off down the "ridge".
Sorry, went a little quote happy.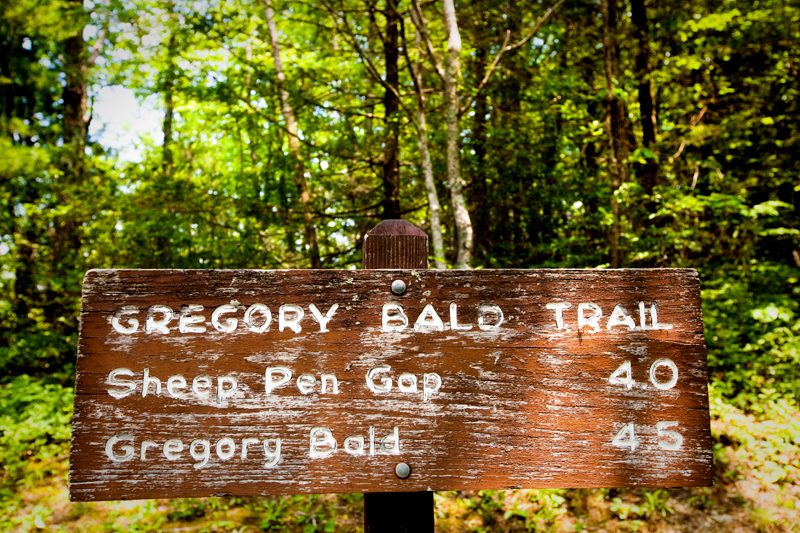 Dun dun dun.. it begins.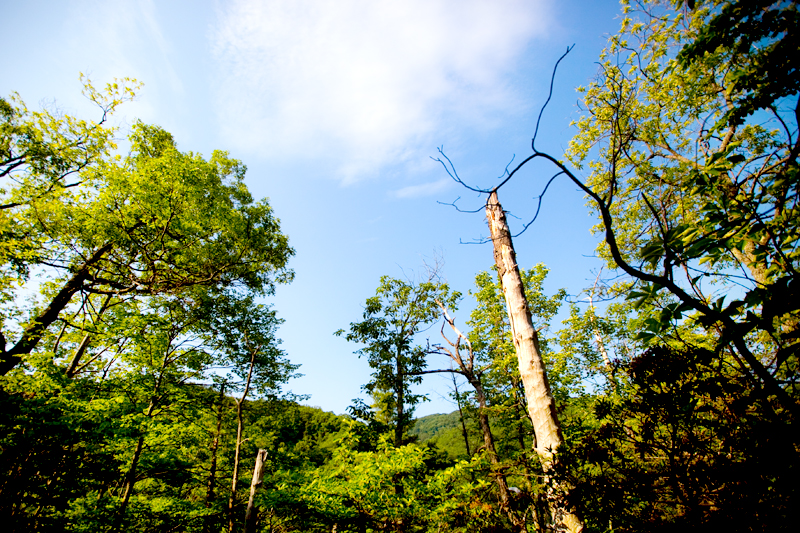 You get a little sun during the earlier parts of the trail, but it quickly enters some dense tree covering.  Awesome if you're worried about the summer heat!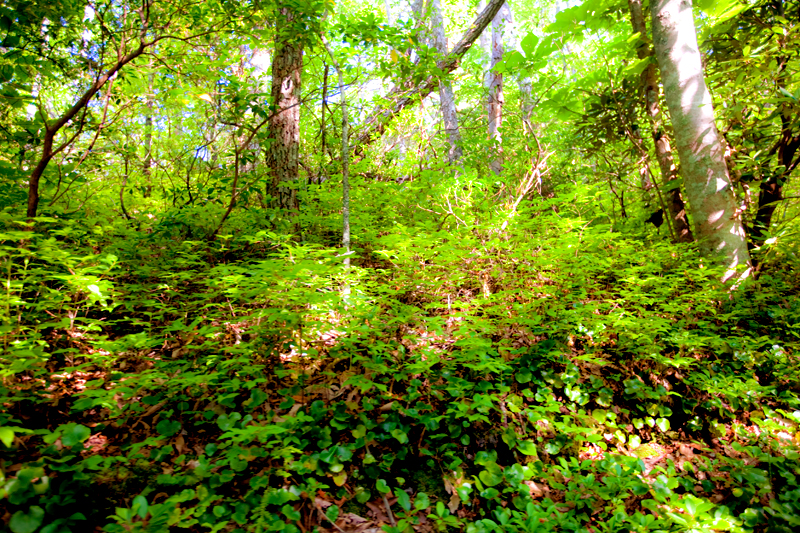 Treeeeees.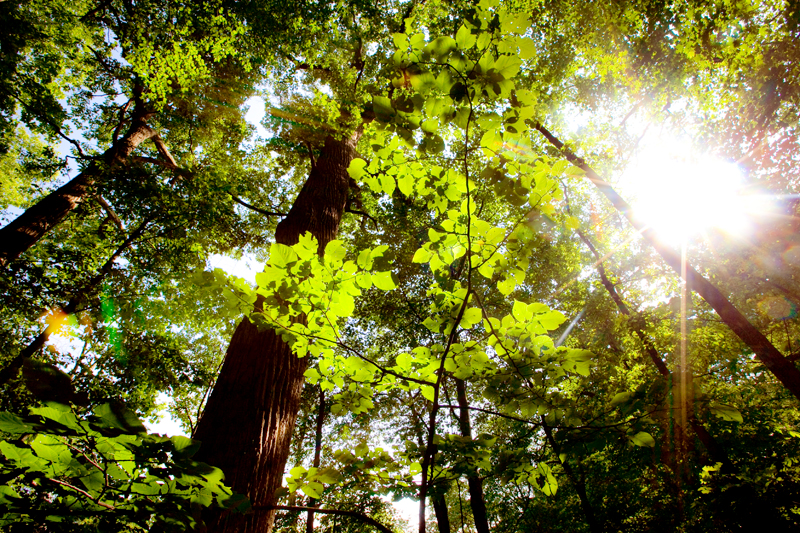 The sun tries to peek through some old growth.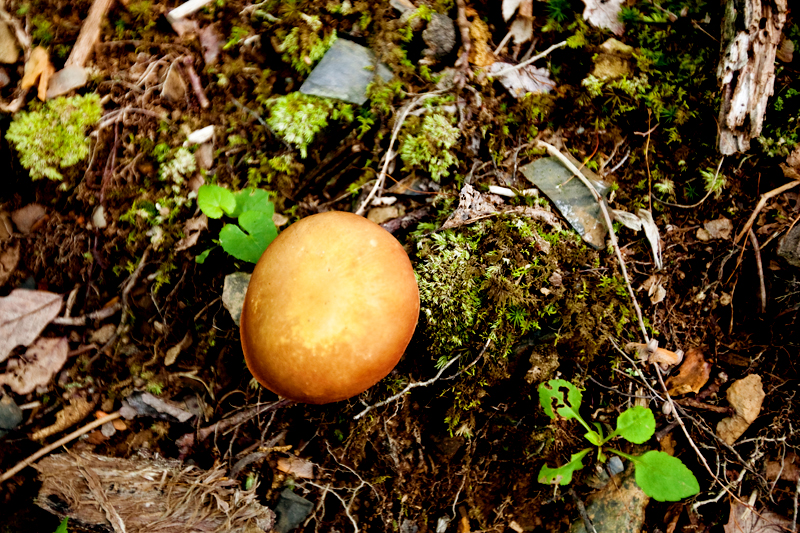 Hey, he looks like a fun guy!  Get it?  Fun... gi?  I... ok, carry on.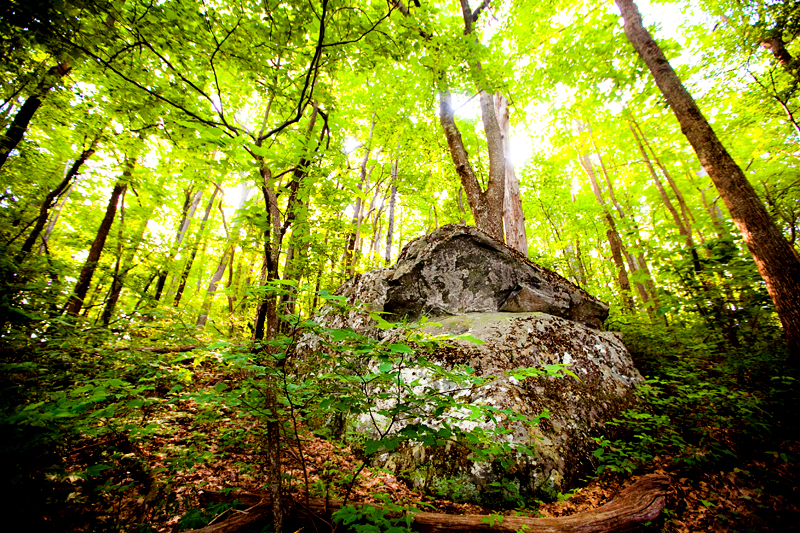 More trees.  Big rock.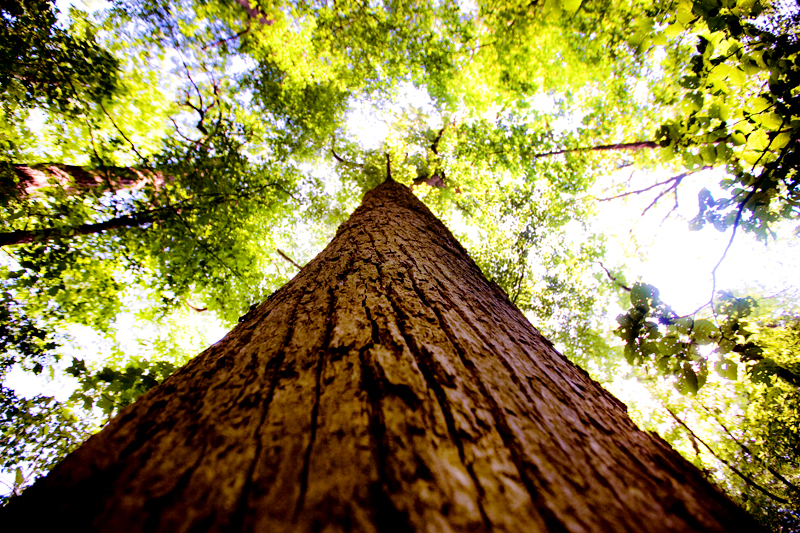 BIG tree.

Wow, more trees!  I'll be honest, the trail up to the bald isn't much to look at other than being a pleasant (read: grueling uphill) walk through the woods.  The trail is mercifully clear of obstacles such as large rocks and water crossings, however, so that helps with how steep of a climb it is at times.   Visitors to the Smokies who want to take it easy can even make the trip on horseback!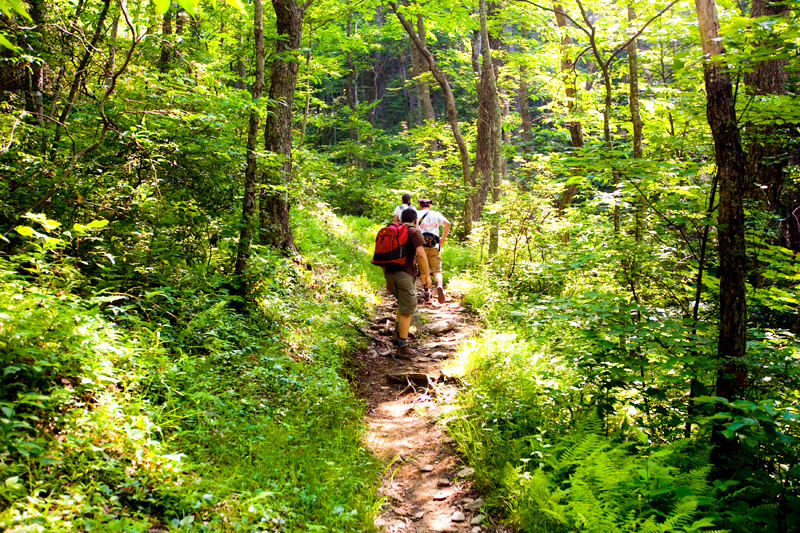 My trailmates.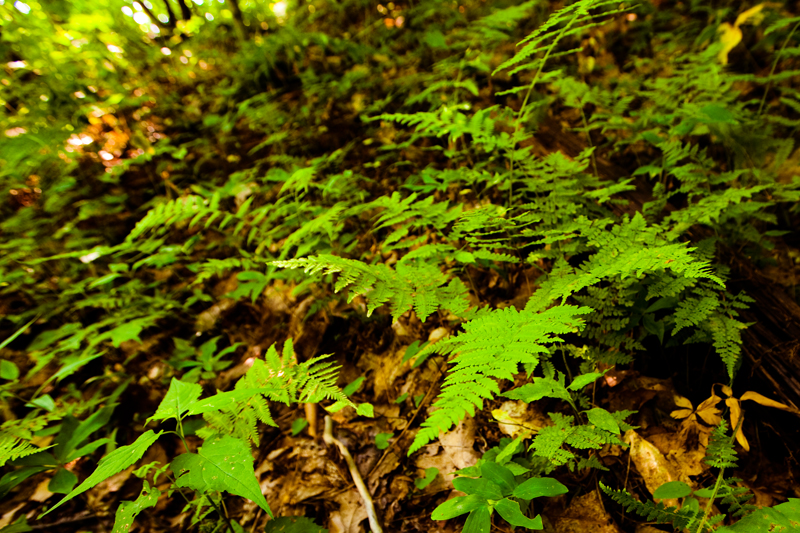 Some of the famous wild ferns growing all over the Smokies.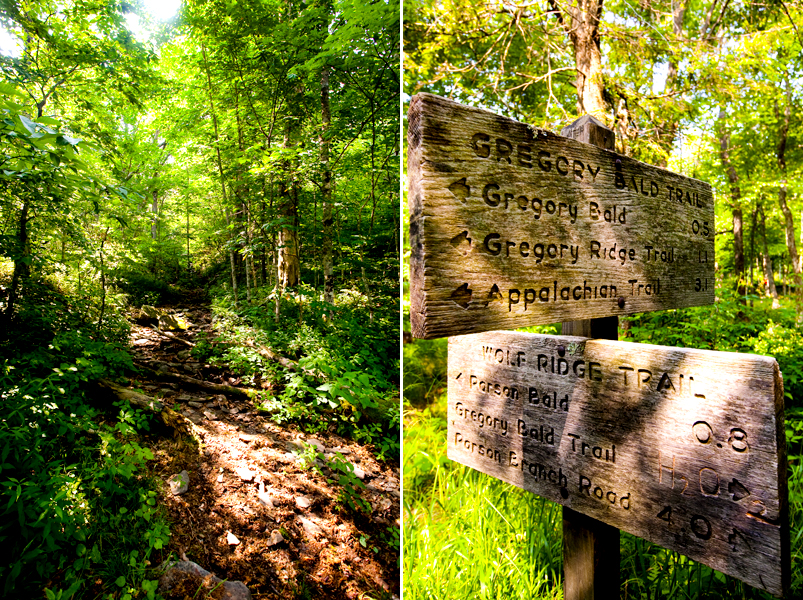 Half a mile away!  No sweat! No problem!  Easy peasy!  We've already gone 4 miles.. another half mile will feel like nothing!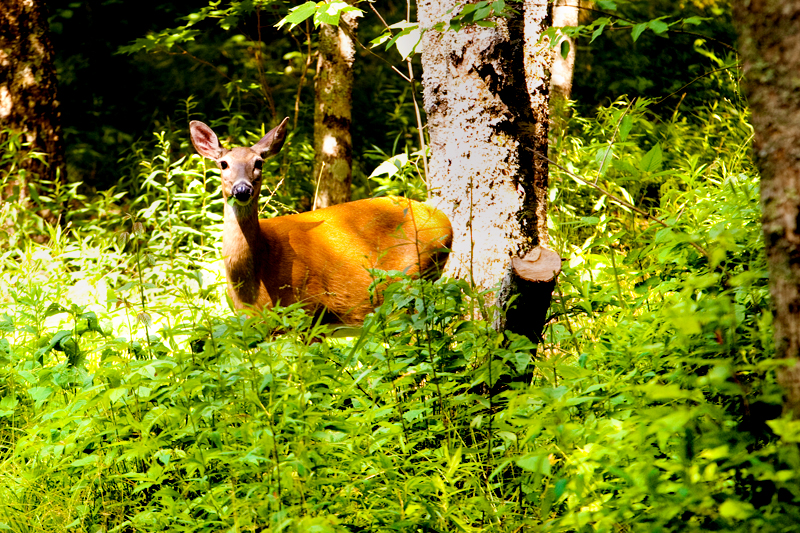 Oh look! A deer!  Let's take some photos.  We're only a half mile away from the bald, after all.  Nope, no problems here, we're almost there!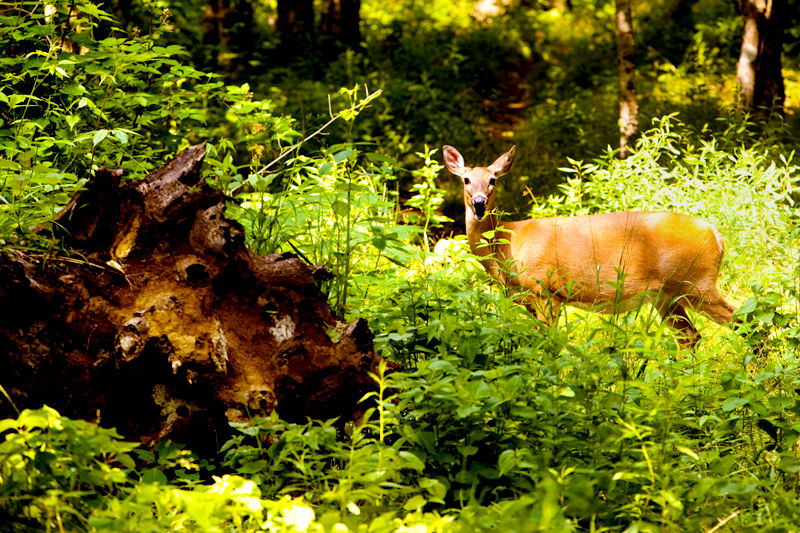 Woo hoo, another deer pic! Glad we stopped for these before the last itty bitty bit of the trail.. that last half mile.  Not a problem!  Piece of cake!
Let me just say that the last half mile of this trail can go right ahead and kiss my butt.  We all plowed ahead, excited to reach the end, and quickly grew very jealous of all of the people taking the trail on horses.  It. Was. Steep.   I think I have a rash on my nose from scraping the ground in front of me.  Huffing, puffing, and with quadriceps screaming in agony, we finally reached the top.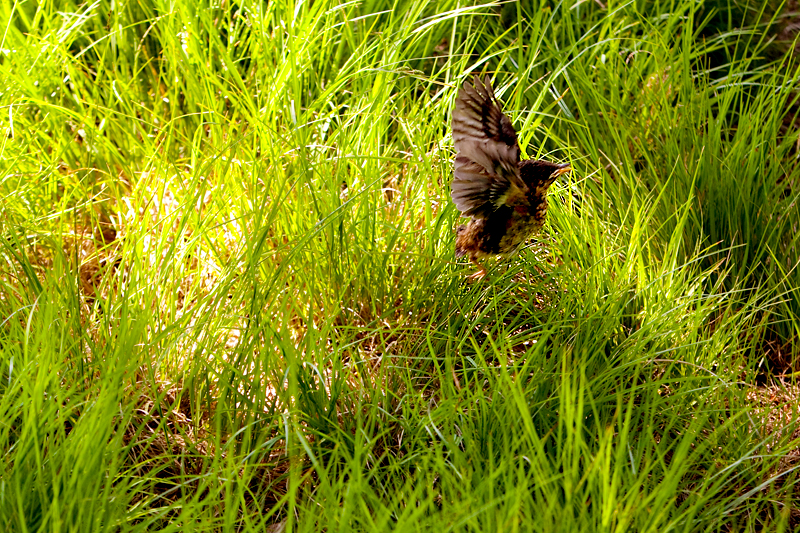 Right before the trail opened up onto the bald, we saw this little guy.  Freshly booted from his nest, he was trying and trying to fly, while his mama zoomed overhead, screeching at us and warning us that she will not hesitate to peck our eyes out if we should lay a paw on her little feathery spawn.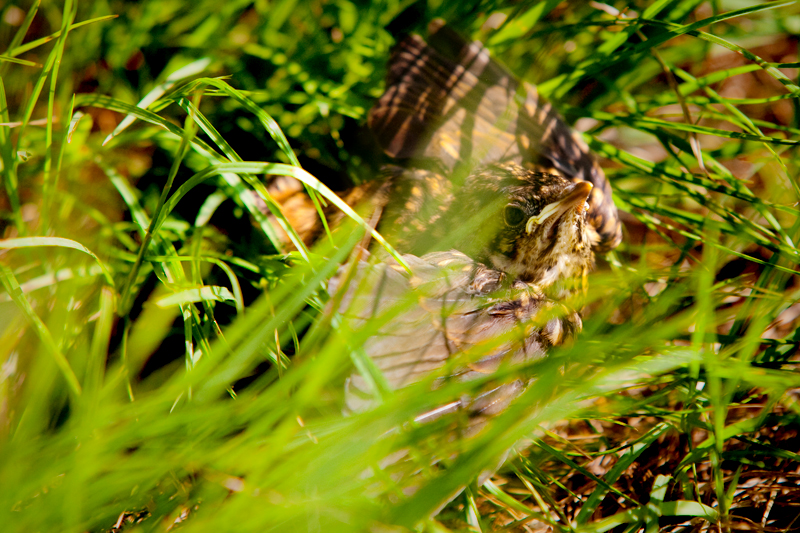 Fly, little guy, fly!!

The azaleas did not disappoint. The bald was an explosion of red-orange flowers.. AND A CRAPLOAD OF BEES.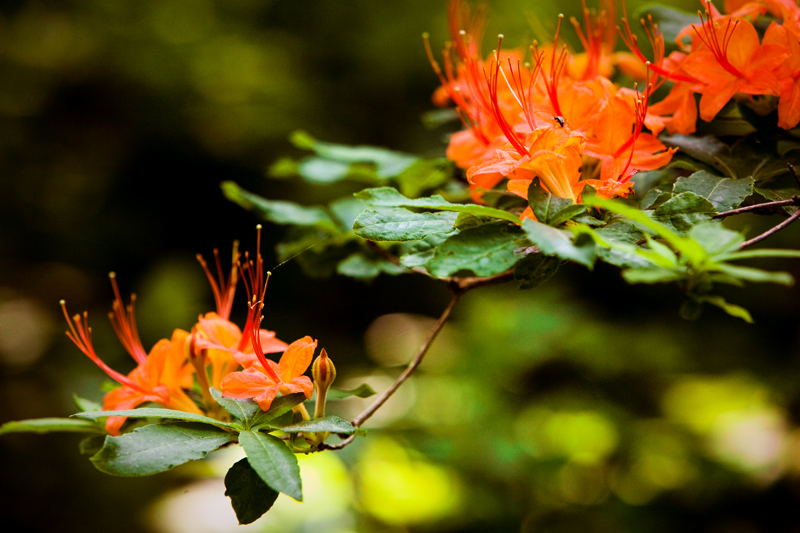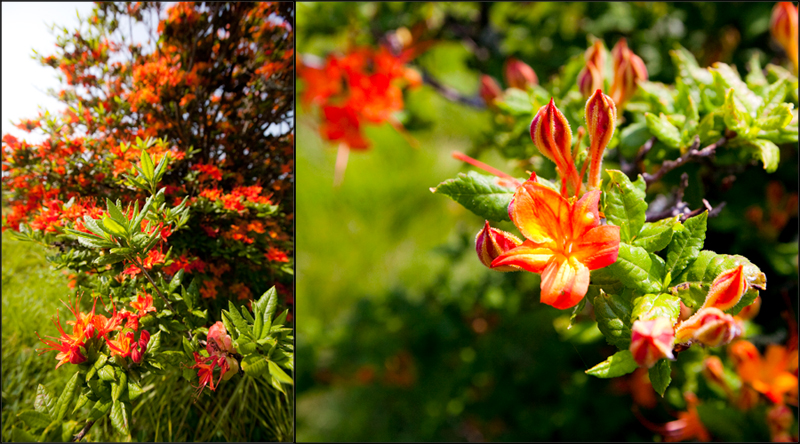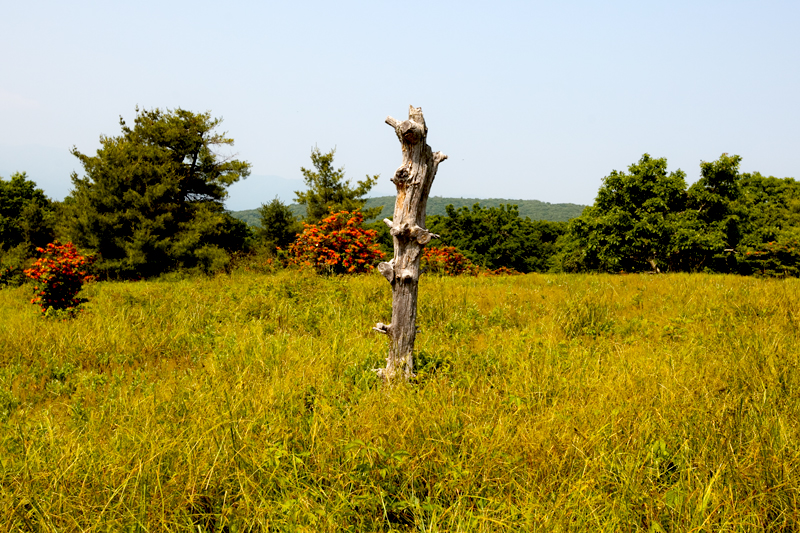 Gotta get a photo of the well-known Gregory Bald Tree Stump Post Marker Thing.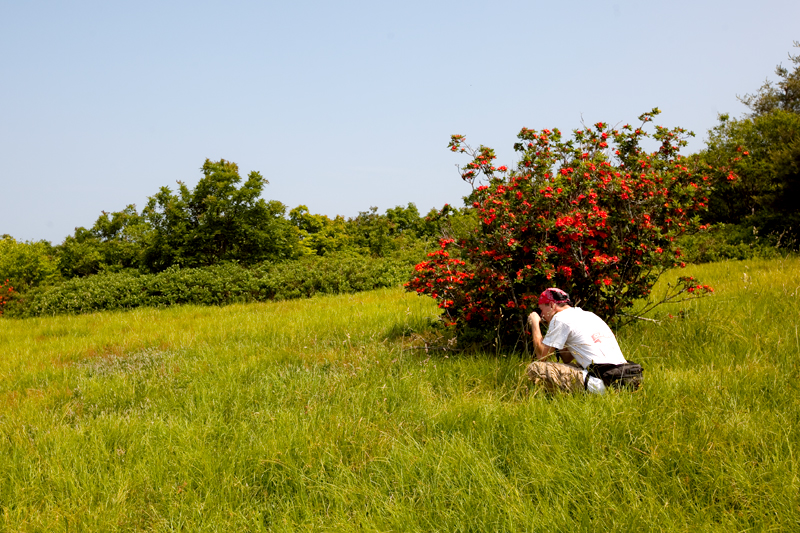 Remington Brown - Sneaky Photographer Extraordinaire.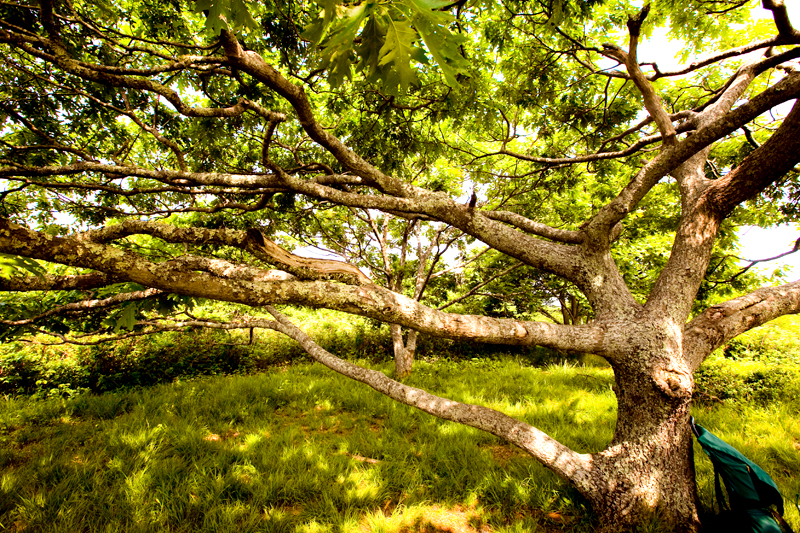 We copped a squat under these low trees, desperate for shade, for a lil trail lunch.  Yes, I had a fluffernutter.  Yes, Matt had roast beef.  Yes, we ended up with chiggers in places where one should never have chiggers.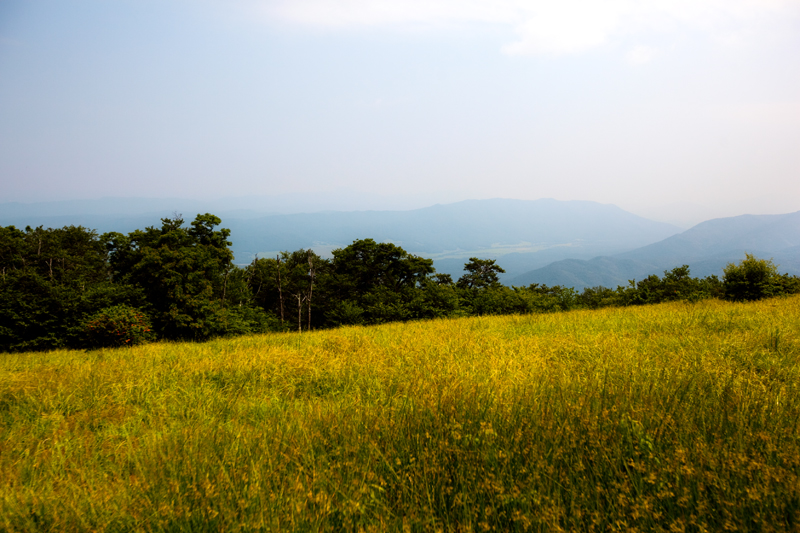 On a clear day, there are some stunning, stunning views on all sides of the bald.  You've got Cades Cove and Rich Mountain to the north, Nantahala and Yellow Creek Mountains to the south, Thunderhead Mountain and Clingman's Dome to the east, and Fontana Lake to the southeast.
As you can see, it was not a clear day.  Our summer days are typically hazy, so we fully expected that the view would be somewhat obstructed.  I can't wait to come back up here in the fall for some crisp skies!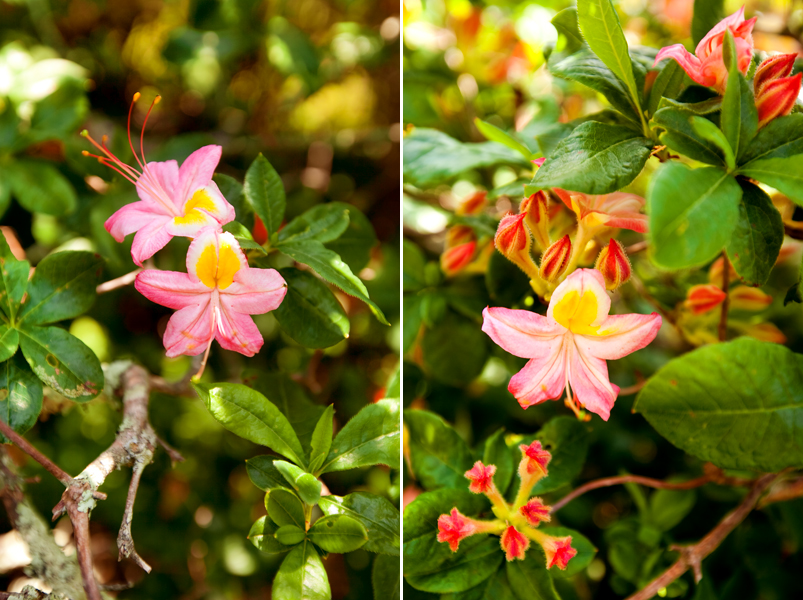 Ooh.. these are PINK!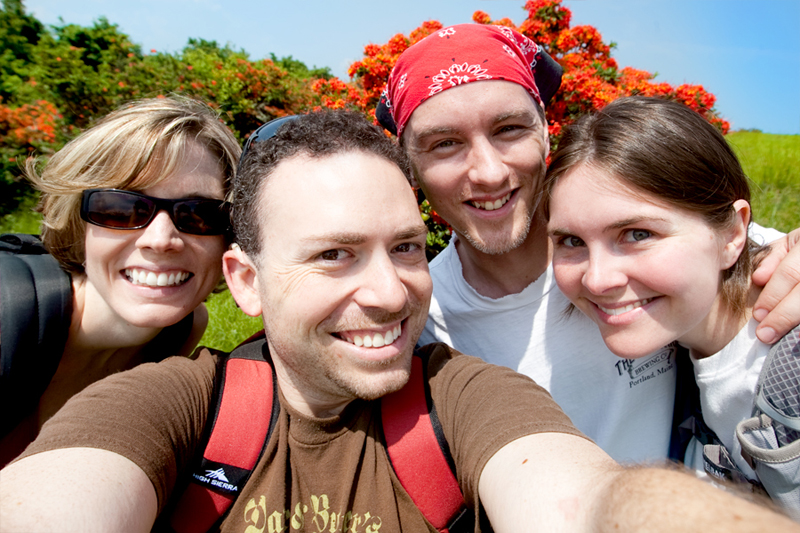 The Crew.
After lunch, we made the long downhill (my poor toes) trek back to the car and continued along the "road" to head back toward Knoxville.  While coming around a bend, we saw something big and dark in the middle of the "road".  What was it?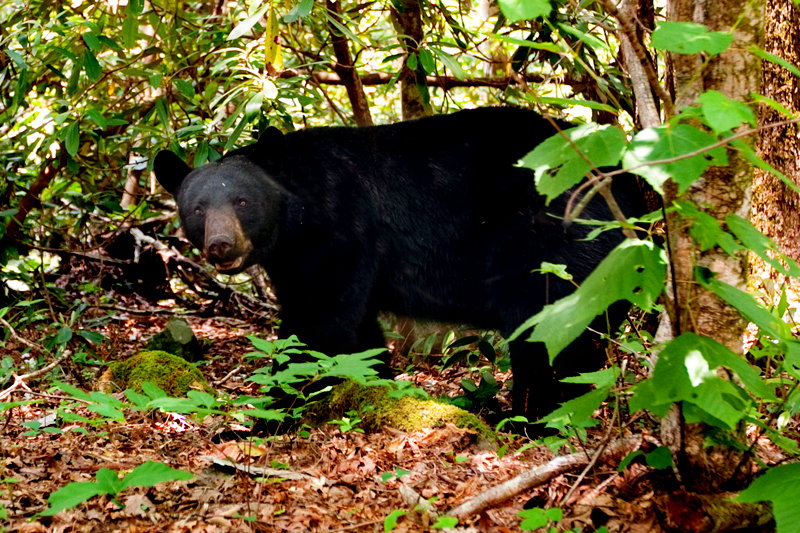 Oh!  Um.. hi there.  My, aren't you a big boy.  Just look at that snout.. and those beady eyes.. and those, um, sharp protrusions sticking out of your mouth.  Oh, you're coming toward the car, huh?  Whoo, look at the time!  Gotta run!  Seeya!
All I have to say is I'm glad our single bear encounter for the day happened while we were safe inside of our vehicle.  We know the basic Rules of Bear Encounters:
1. Don't approach it.  Keep your distance.  Bears are generally fearful of humans and will allow you to go along your merry way.
2. DO. NOT. RUN.
3. If the bear starts toward you (sometimes known as a "bluff charge") stand your ground.  Get up on a rock, clang sticks together.  Make noise.  RAWR, YOU DONT WANT TO MESS WITH THIS!
4. DO. NOT. RUN.
5.  Did I mention don't run?
I'm sorry, but even though I know this, when you're staring into the face of a 350lb bear, my natural reaction would definitely be to scream bloody murder and hightail it in the opposite direction.
Let's hope I never encounter a black bear on foot, then, huh?