The Trail: Ramsey (or Ramsay) Cascades Trail
The Distance: 8 miles (total elevation gain 2,375ft)
Trail head info: Right here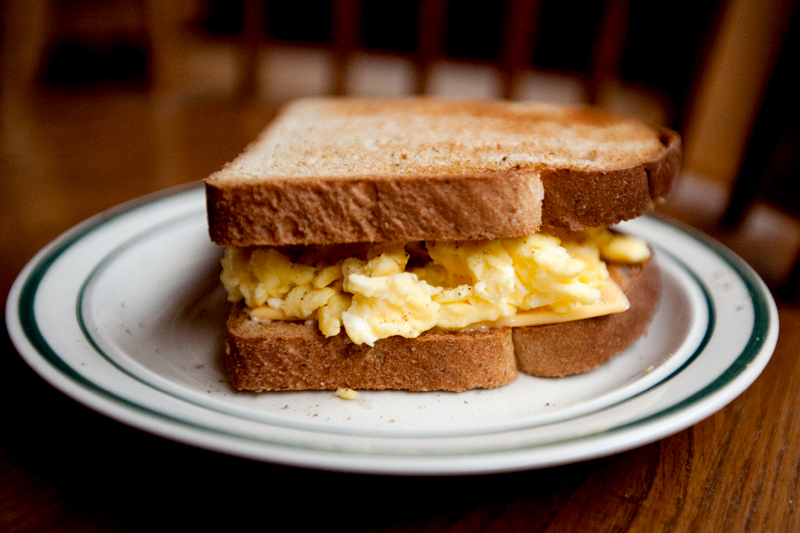 We are now convinced that we will become bear chow if we don't begin our hikes with the staple egg sammich.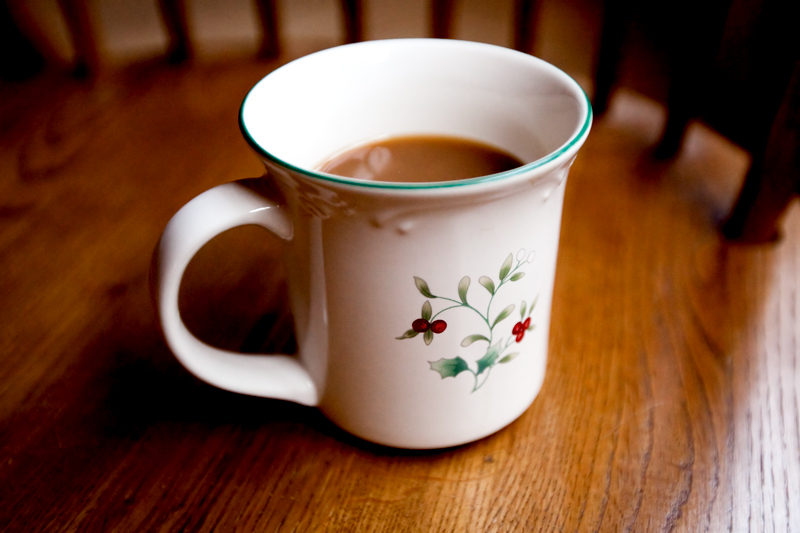 I'm also convinced I'll fall asleep on the trail if that egg sammich is not supplemented with plenty of this.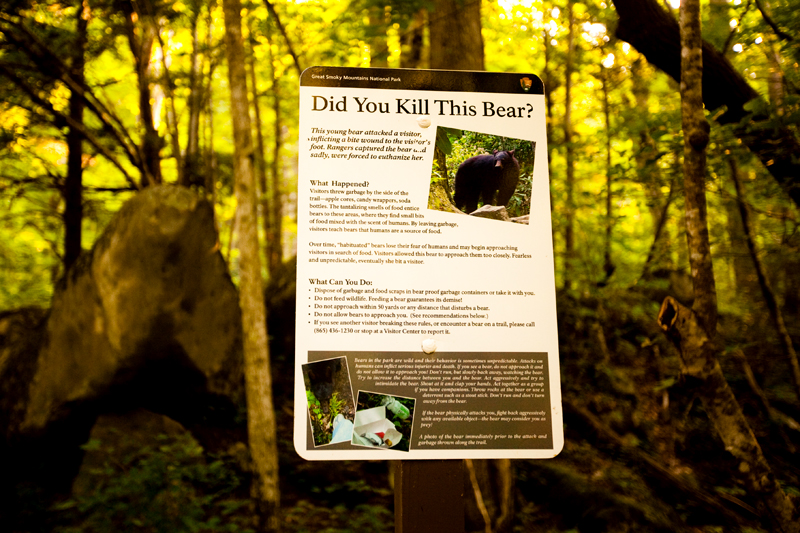 Don't feed da bears!  (and remember - don't run away from them, either!)

The first of many water crossings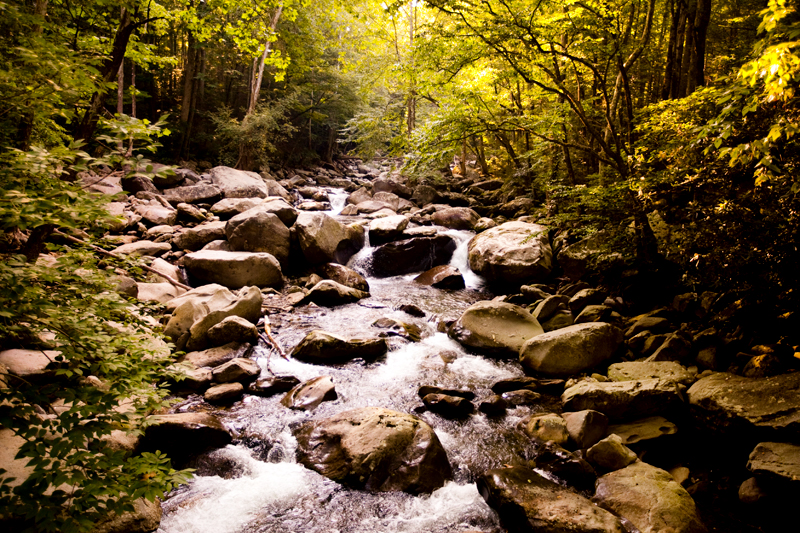 This trail is one of my faves, because the scenery is so beautiful!  You never stray far from the water, and the rhododendrons are abundant.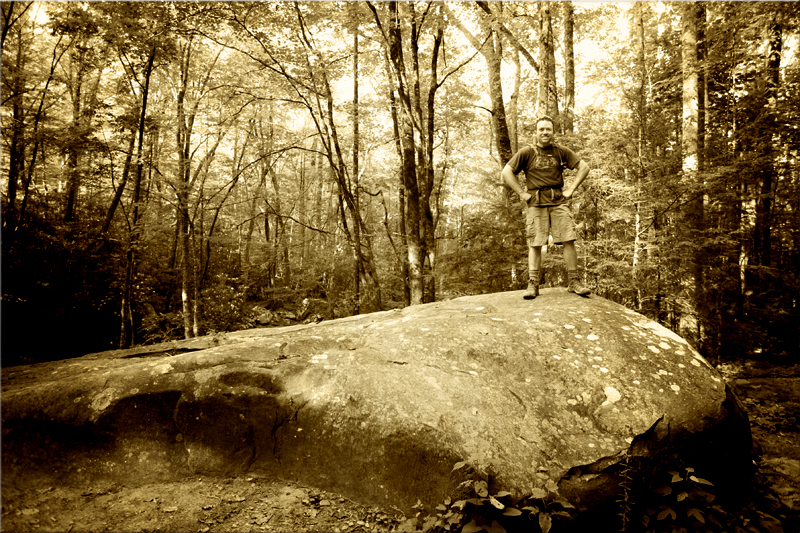 Matt being a vintage mountain man.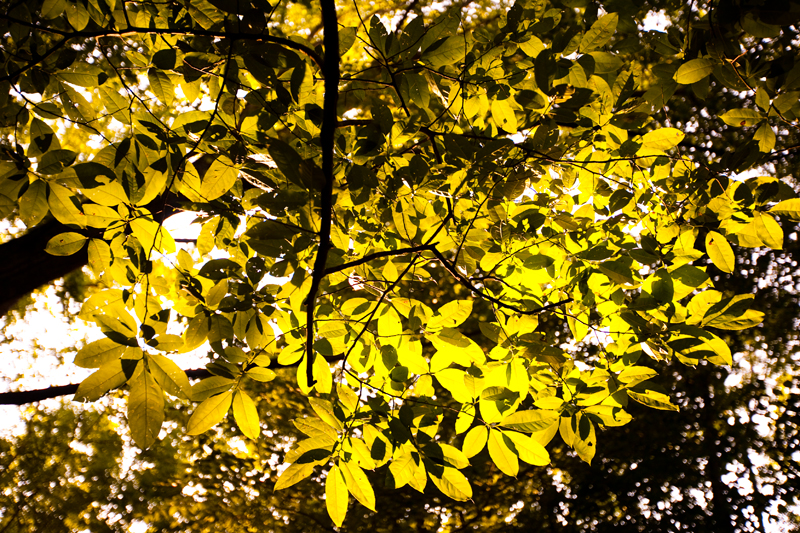 It was a beautiful day, at least, it, er, started out that way.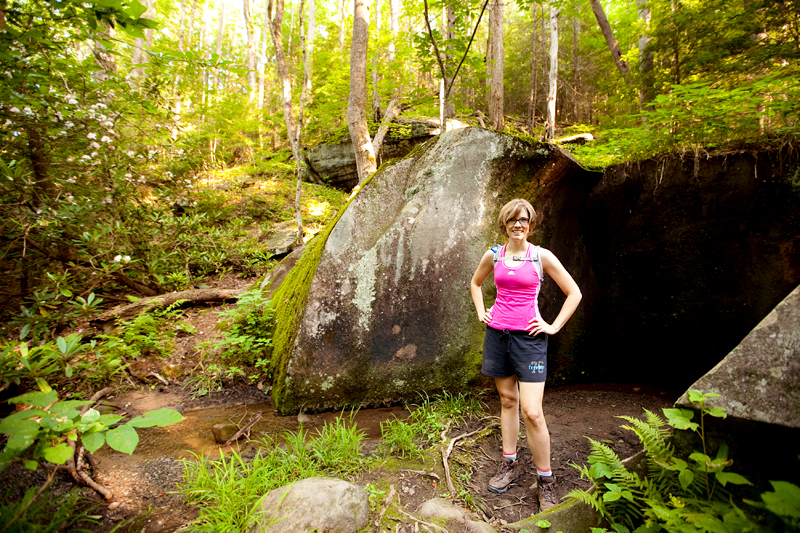 We found a little cave!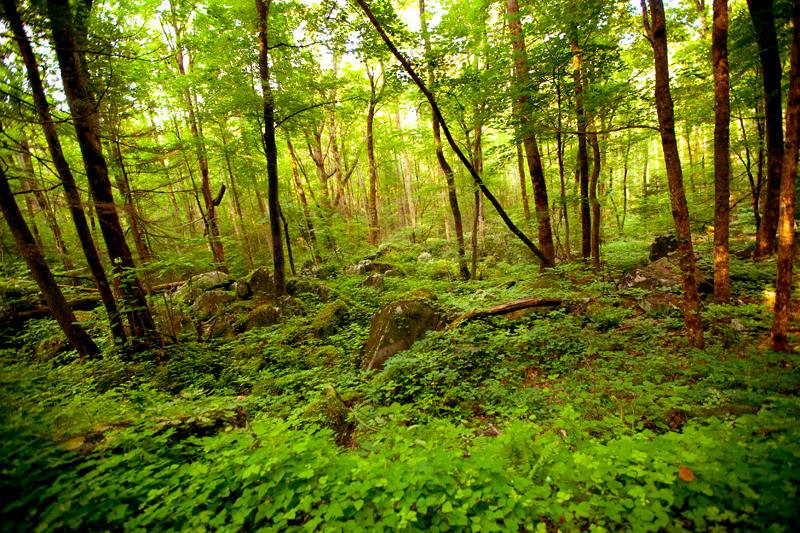 The recent rainfall made for some lush green scenery.  I love being in the mountains.

Mossy logs are a common sight.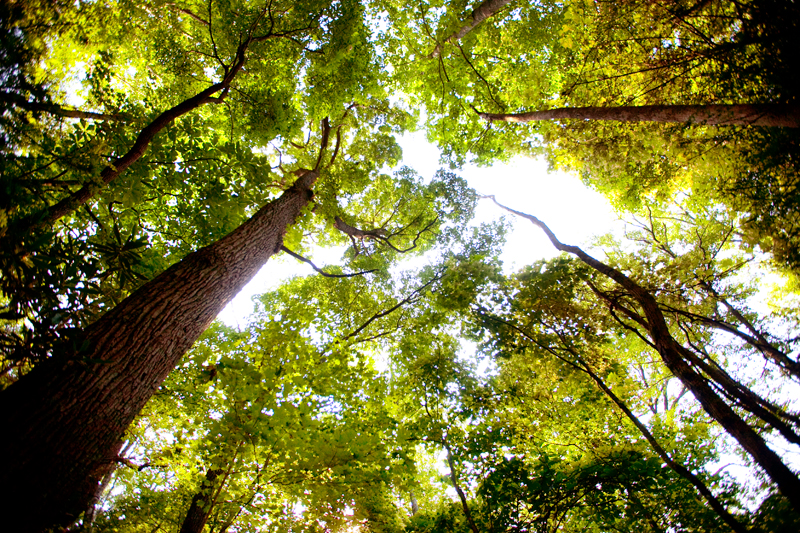 Filtered morning sunlight

Another bridge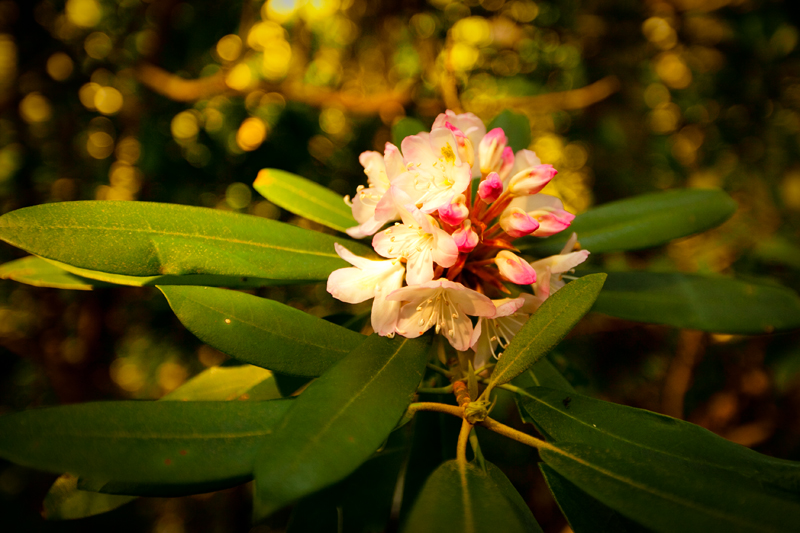 The rhododendrons were in bloom and the trail was loaded with them!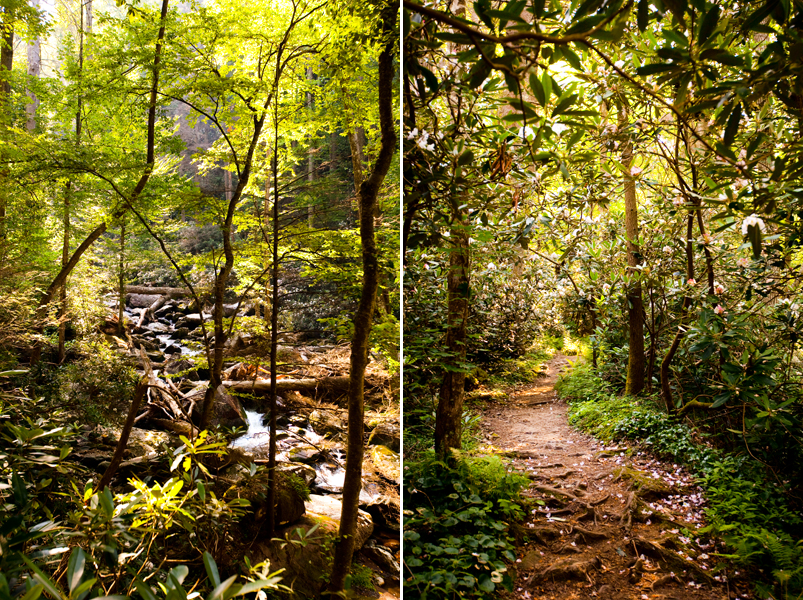 In some places, the rhododendrons covered both sides of the trail as well as overhead, resulting in some neat tunnels

Fork in the trail - which way do we go?!  (answer: either way will dump you at the same spot)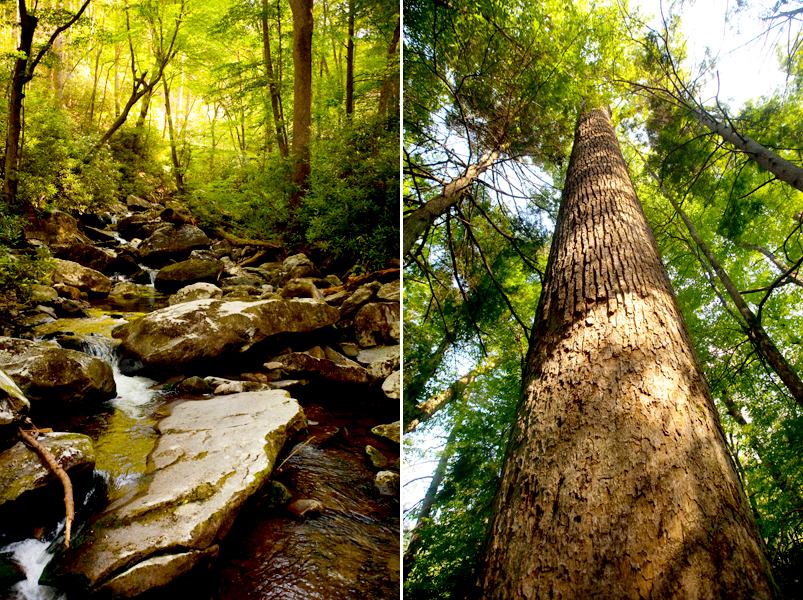 A bridge-less water crossing, and a huge tree.  This trail takes you through an old growth forest, so you can see some big-ole trees.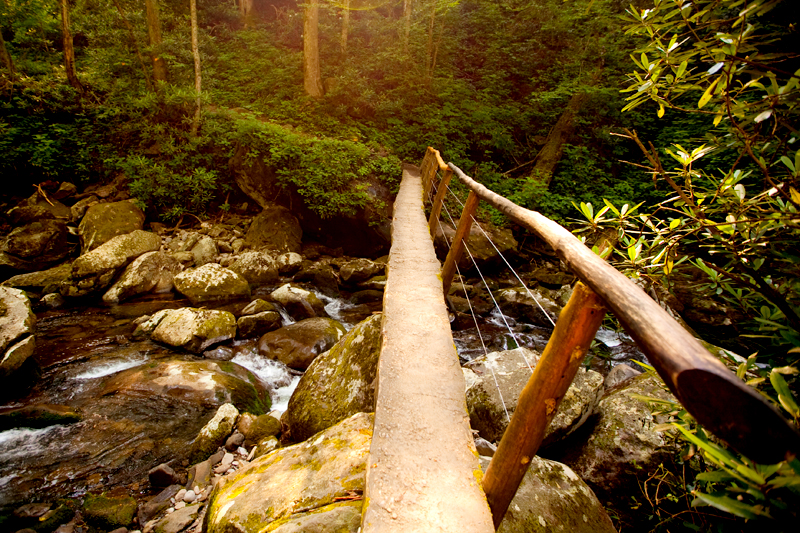 Ahh, finally a water crossing with a bridge!

People.. don't do this.  Initials in trees aren't romantic.  Littering the trails is not attractive, and can result in bears needing to be euthanized when they begin to rely on humans as a food source.  K? K. *climbs off of soapbox*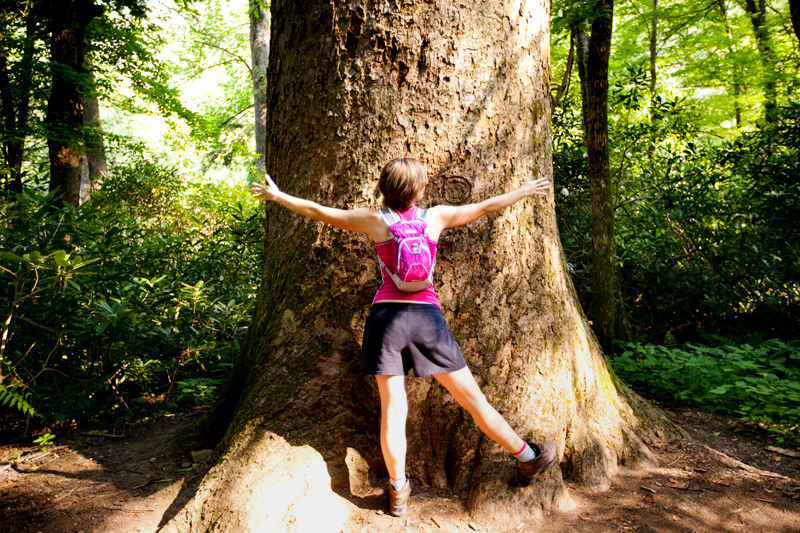 Big tree.  Beeeeg tree.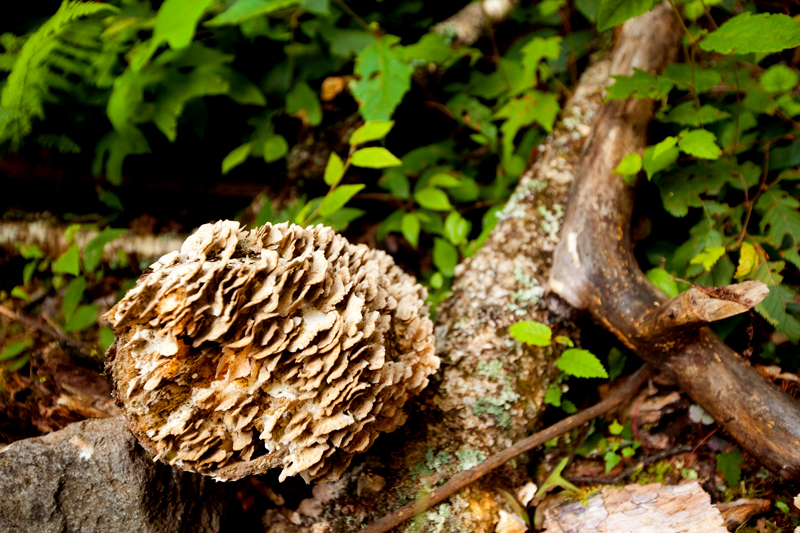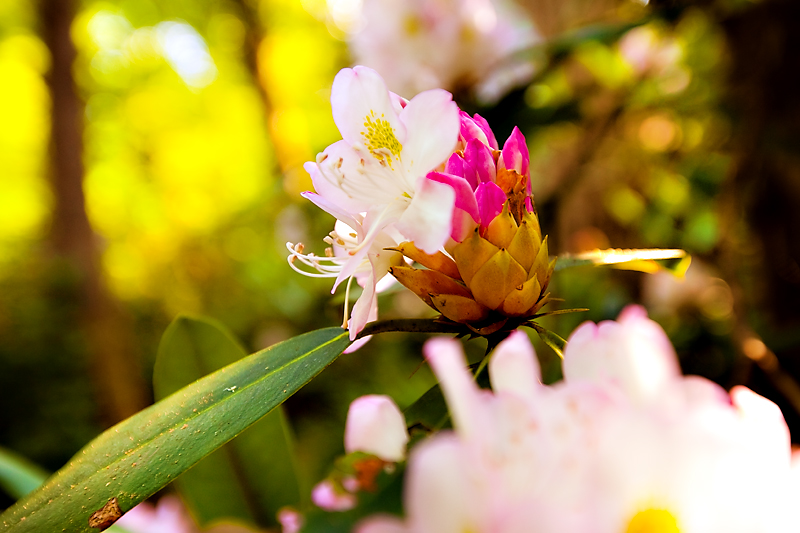 One day, I promise to stop posing like an idiot.  The real purpose of these photos is to show how the trail eventually became little more than a pile of rocks to scramble over.  It was slow going.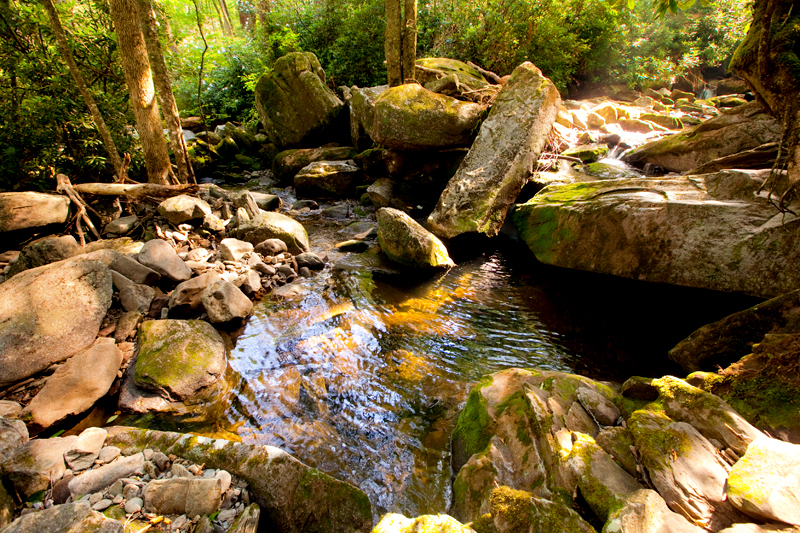 Yet another bridge-less water crossing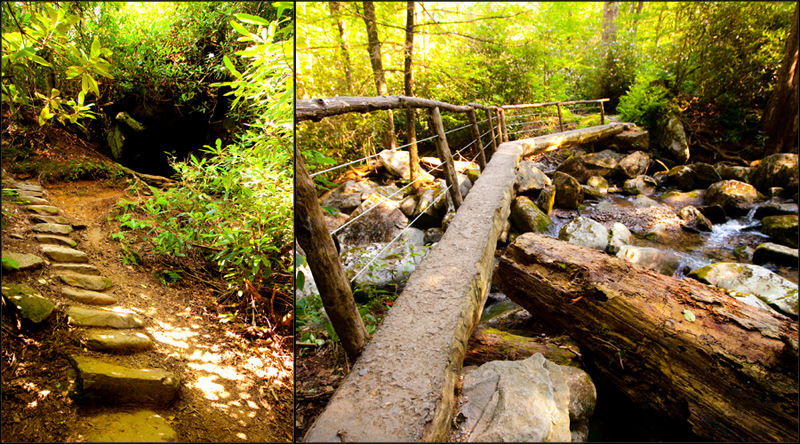 Ahh, a bridge, and one of MANY evil stone staircases.  One of the toughest trails we've done so far.  You'll get your daily workout in, no doubt!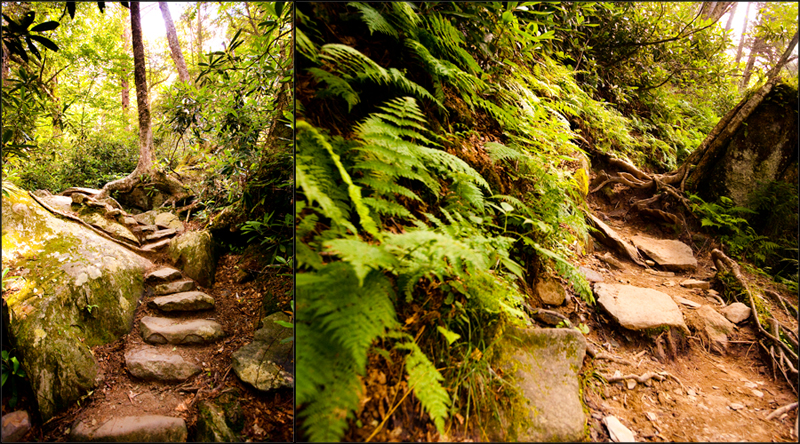 More staircases of death.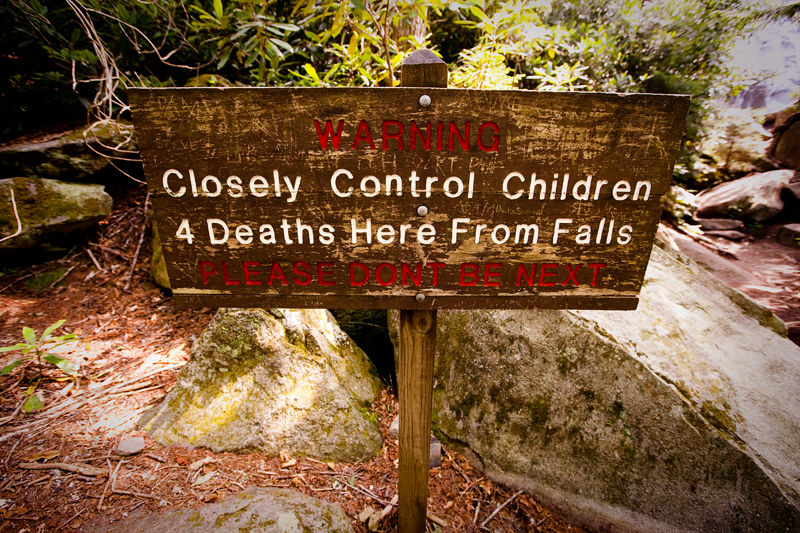 In other words, don't be stupid.  OR YOU WILL DIE.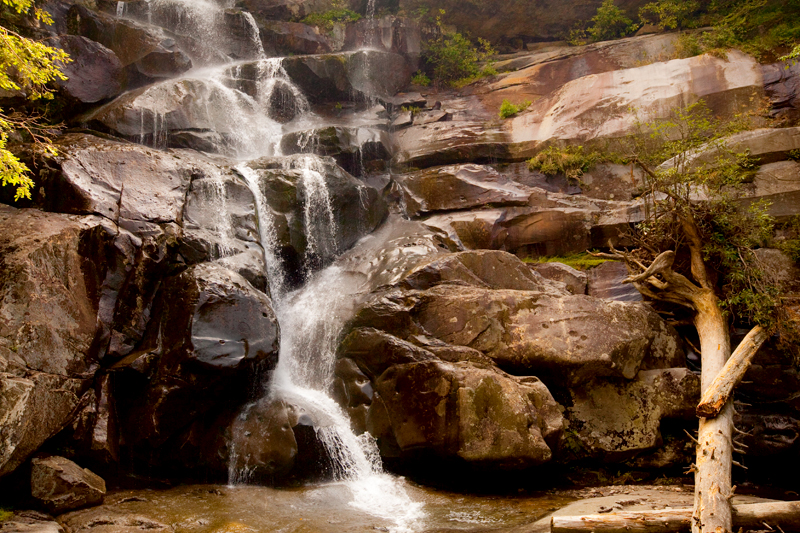 The falls were gorgeous, and there were only a couple of other people around, so we practically had the place to ourselves.  We plopped down on a sunny patch of smooth rock and enjoyed a long rest.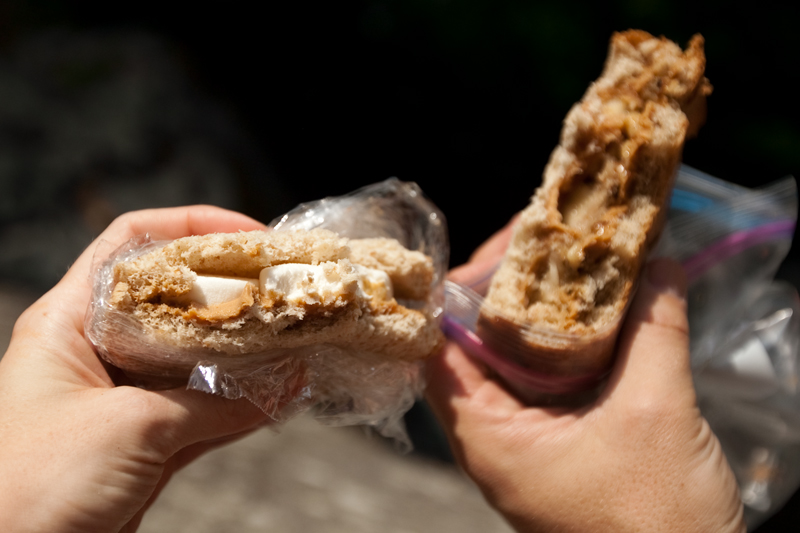 Our usual trail lunch.

This little man was relentless!  He was determined to get some of our trail mix.  When I first saw him, he was only a couple of inches away from my backpack and was reaching a tiny little hand toward the opening.  He got spooked when he saw me reaching for my camera.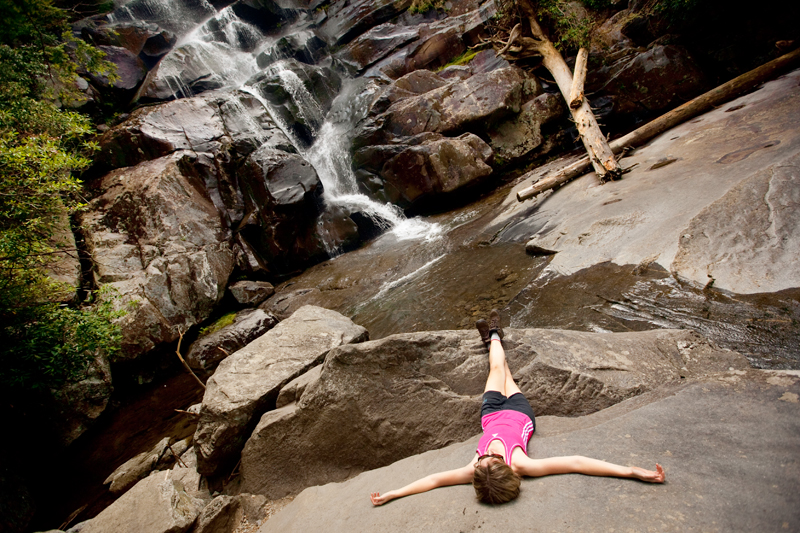 Not a bad place for a cat nap.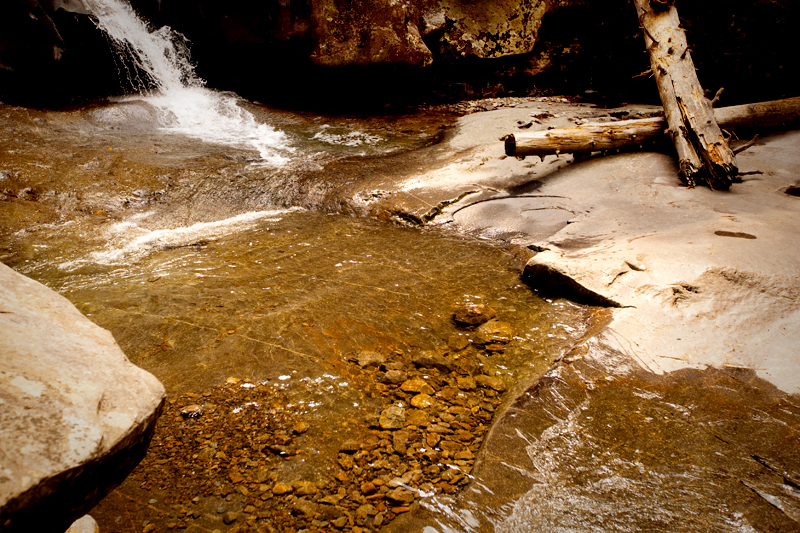 Pretty water pooling at the bottom of the falls

Mountain man, part deux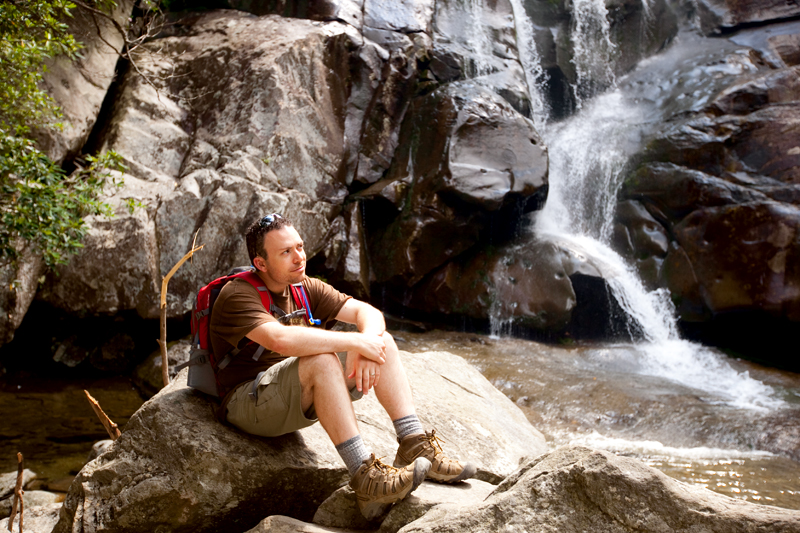 Contemplating life's most mystifying questions.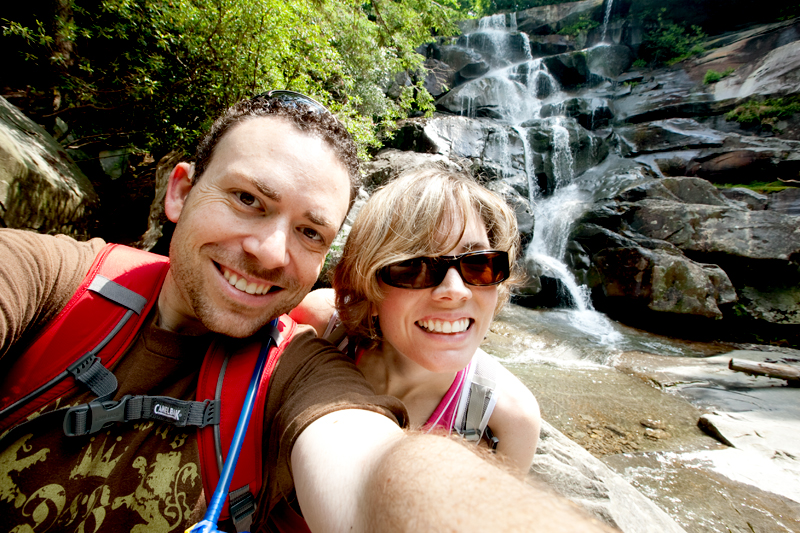 Required self portrait #1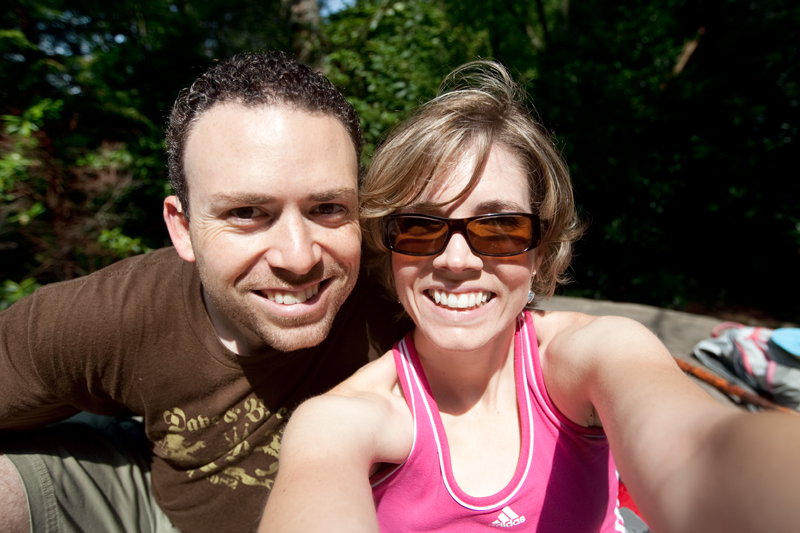 Required self portrait #2.  See how sunny and beautiful it is?
Yep, sunny, beautiful, and blue skies.
Not a cloud in sight.
And definitely no sign of a raging thunderstorm.
Nope, no sign at all.
No rain here, nope.  Dry as a bone.
This was an hour later: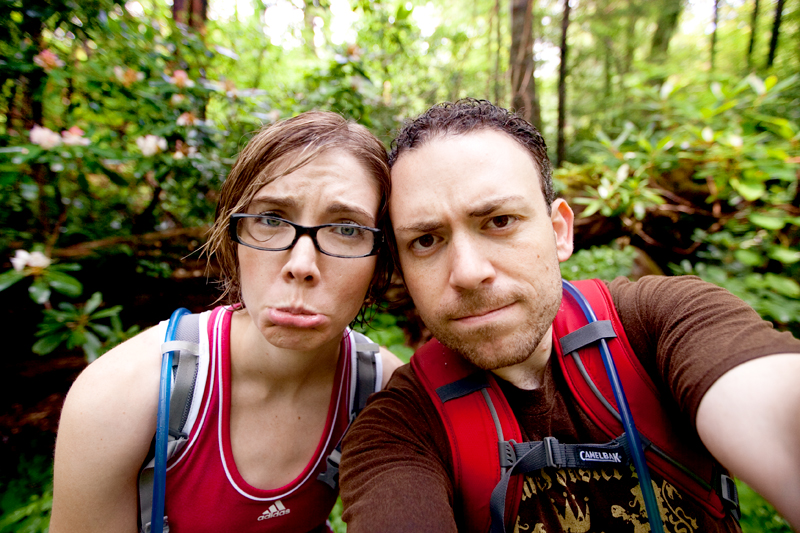 Clouds started rolling in as soon as we started packing up to head back down the trail.  A few minutes after we started hiking down, we heard thunder.  Then we started seeing the lightning.  Then it got very, very dark.
Um, crap?
The rain started trickling down, and we put on the (not waterproof) anoraks that we had in our packs.  After 10 minutes or so of drizzle.. the rain stopped, and the sky got lighter.
Whoa, that was a close one.  We took off our jackets and laughed about how much it would have sucked to take a direct hit from a thunderstorm this far from the car.
Yeah, we should have kept our big mouths shut.  Another 10 minutes went by and the sky got black as night, the lightning and thunder returned, and it started pouring rain.
This time, it wasn't just a drizzle.  Oh no.  This was torrential, blinding, relentless  rain.  Within minutes, we were soaked to our skin.  The trail became a raging river of muddy water that nearly reached our ankles.  Our boots were full of water and we couldn't see each other let alone our own feet as we negotiated the rocky, slippery path.
Much of the Ramsey Cascades trail is cut into the side of the mountain ridge.  On one side, you have a long, steep, tree-covered drop to the river below.   This wasn't a concern on the way up, with everything nice and dry, but on the way down, that drop was just a bit unsettling and a bit too close.   Stopping in our tracks wasn't really an option, because there was nowhere to go.  Being on the side of a ridge, you can't just traipse off into the woods and find a thick bush or rock to crawl under.  Basically, we had to take one step at a time, plant our feet, shift our weight, and pray we wouldn't slip and die.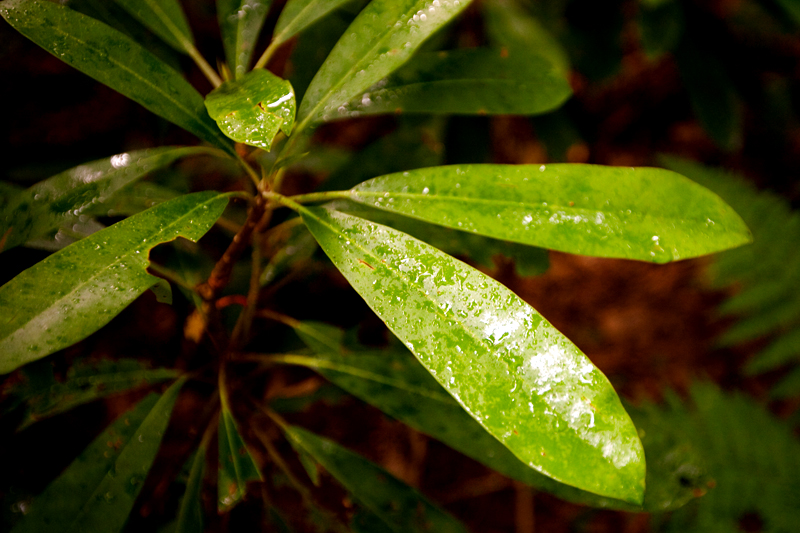 Impossibly, the rain started to fall harder.  Our boots sploished and splished, the lightning lit up the sky and the thunder cracked in our ears.  The only sound other than the driving rain was a tinny, pleasant female voice coming from deep inside Matt's backpack.
"Total distance - 1.75 miles..."
The GPS on Matt's cell phone.  Mocking us.  Taunting us. You suckers!  You're not even halfway back yet!  Bwaahaha!
Eventually, the rain did stop, the sun came out, and we slowly started to dry out.  We comically wrung showers of water from our saturated clothes and checked to make sure all gadgets (phone, camera, cochlear implant) were dry and in working condition.
As we got closer to the car we laughed and joked about what an adventure we had just been through.  We got within half a mile, and heard a rumbling from the sky.
Are you freakin' kidding me?
A few minutes later and another storm was upon us with the same torrents of water falling from above.  Any progress we had made drying out was reversed in seconds.   It was still raining when we reached the car, and while we had been laughing about the whole thing earlier, Matt turned to me, his hood cinched tightly around his face, and proclaimed matter-of-factly, "Ok, now I'm ticked!"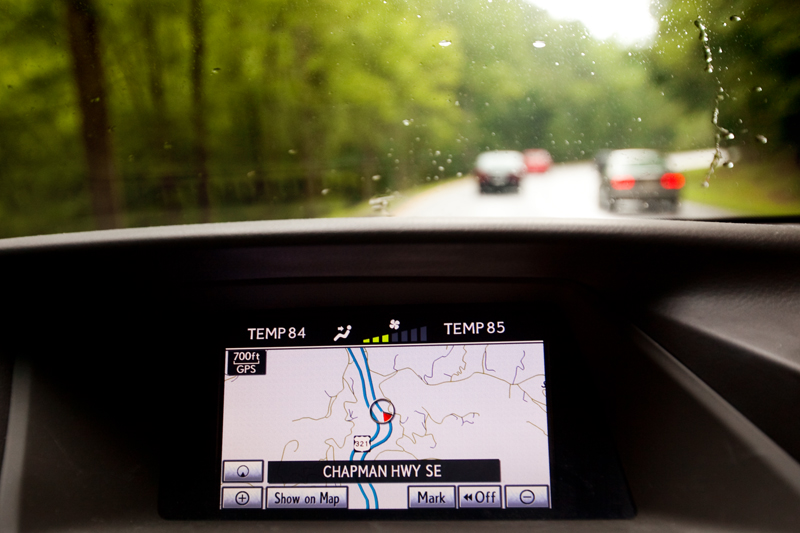 We got stuck in traffic on the way back, half due to the rain and half due to having to drive through the gut of Gatlinburg to get to this trail.  Since there was only a very slight chance of rain in the forecast, we didn't bring a change of clothes, and had to sit in our wet, clammy clothes for the whole drive home.  If someone tried to tell me that the climate control in our car would look like this in the middle of July, I would have laughed them out of the city.
East Tennessee - where the weather forecasts are more of a guesstimation than anything else.