This past Saturday, we celebrated Jasper and Shelby's combo birthday party.  Today, Jasper officially turned 5.  I couldn't very well drop him off at preschool this morning and act like it was any other day, so instead I totally faked him out.  I pulled up to the preschool, took Shelby in the classroom (they are in the same class) and then I surprised him by telling him that he was NOT going to school today and was instead going to hang out with me alllll day long!
Pop's Donuts, a cute little shop right on the corner down the street from his preschool, has caught his eye more than once on our morning commutes.  Naturally, that had to be our first stop.  Get used to this goofy fake smile, because that's about all he knows how to do right now when a camera is pointed at him, haha.
He chose a chocolate-glazed donut with Halloween sprinkles, and we parked ourselves at the counter next to the window to watch the morning commuters go by.
Best breakfast treat ever.
The nice lady behind the counter came over to us when Jasper was almost finished and surprised us with two monster donuts to take home for free!  Jasper is incredibly social and had already told her ALL about it being his birthday and about how he had a sister who was having a birthday soon, but that she had to go to preschool today.  So she gave us a pink donut especially for Shelby.  How sweet!!  We will totally be going back to this place!
Next, because it was still early in the morning and very few places were open, we headed to Walmart, which is always open!  I told Jasper that because he just had his birthday party and already got so many nice new things that we were only going to look and play, but that he could look at anything he wanted for as long as he wanted.  He was good with that!
I think he pushed every button on the fun Halloween decor.
And we legit looked at every. single. toy. in the toy section.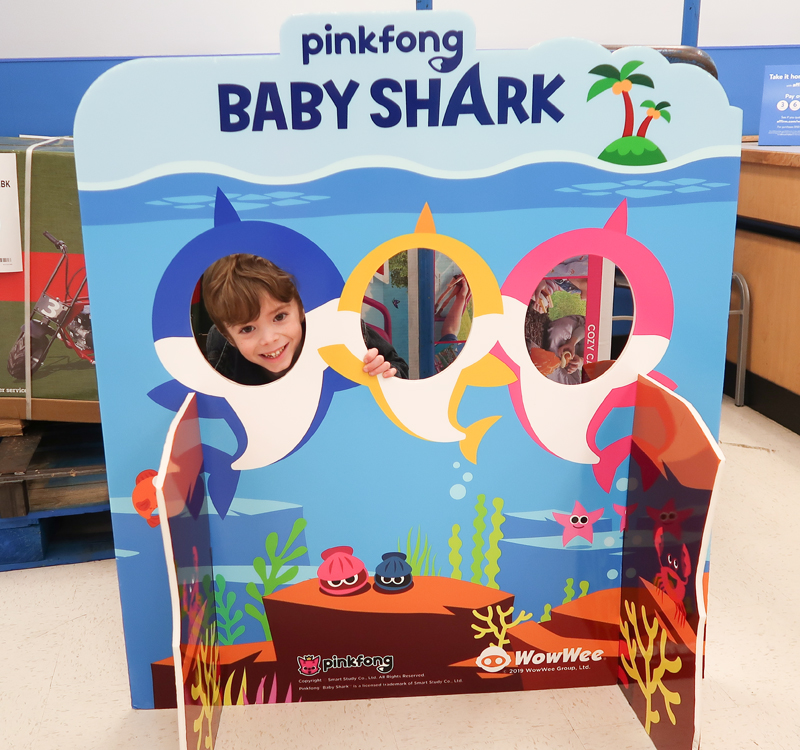 "Hey, mommy!  Take my picture with the Baby Shark!"
He made sure his hula hoop skills were still finely tuned.
Since he received his new Aventon bike at his party, he wanted me to measure him to make sure we had definitely bought the right size.  (We did.) And, we did not forget to inform him about the new york bicycle laws to improve his safety and prevent accidents.
I broke my own rule when I said he wasn't getting anything new and let him pick out a cheap $1.25 Thomas blind bag.  He got a James mini!
We pass by the mall every day on our commute to preschool and he's been begging to go (since we never really go in there), so that was our next stop.
We spent a couple of hours inside window shopping and letting him look at toy displays.  In the Disney Store, it was *me* who had to stick to my guns about not buying new things, because I wanted... everything.
He always wants to ride these dumb things even though he doesn't really actually like them, ha.
There's a small indoor playground that killed a good 20 minutes.  It's probably a petri dish but, hey, so is his preschool, so...
Lord of the escalator.
Finally he announced that his legs were getting tired, so we popped over to the food court and I let him pick where he wanted to eat lunch.  Of course, his choice was Chick-Fil-A.
The grand finale was his first trip to Chuck E. Cheese.  Since we had already eaten lunch, we were focusing on playtime!  I bought an all-you-can-play pass for 30 minutes (can be recharged if you want more time) and let him have at it.
Of course he starts with the baby rides.  That's my Jasper!
But then we got into the more fun stuff.
This mini football game was one of his favorites.  "Hey, mommy!  I'm old enough to do this one!"
This snow skiing game was pretty cool, too.  He had to twist his feet and hips back and forth to control the man on the screen.
The rhythm games were fun!
The ultimate classic... and he was pretty good at it, too!
He gravitated toward the games that included hitting things, ha.
This cannon launcher game was pretty awesome.
He took this one VERY seriously.
My phone was done with taking in-focus photos, apparently, but one last selfie to end our date with an EXHAUSTED and happy five (!!) year-old.  Shelby's birthday is in 3 weeks and Matt will be doing something similar with a Daddy Daughter date day!  This may have to become a tradition.
Blogtober Giveaway #3!
Today I have a giveaway I'm particularly excited about!  The talented artists over at the Etsy shop, Porter and Hazel, are offering one of our lucky readers their choice of a customized bracelet with choice of personalization with a value up to $40.00.  You pick the bracelet style, color, and the personalization!  I have one of their bracelets and I can tell you that they are absolutely amazing.  The owners of the shop are incredibly sweet and easy to communicate with and they take their craft very seriously.  What a great small business to support.
Also, Porter and Hazel are offering our readers a special 20% discount off of any item in their shop from October 21st until October 28th.   Use Code: BBITES20 when checking out at their store! Enter the giveaway by using the widget below.
a Rafflecopter giveaway