Peppermint Bark Oreos are back in 2019 for another run! We've seen previous versions of pepperminty oreos in the Candy Cane and straight up Peppermint Oreos of years past, but this particular flavor made enough of an impact to get another turn in the spotlight. I didn't get a chance to try them last year, so when I saw them perched innocently upon an end cap display, I had to snatch them up. It's practically Christmas already, right? At least that's what the Costco Christmas tree displays have been telling me for weeks.
When you sniff some real peppermint bark, you expect to smell the sharp peppermint in combination with the white and milk or dark chocolate. That is exactly what these Oreos smell like - those overpriced-yet-delicious tins of peppermint bark you can find in Williams-Sonoma. I like the coloring of the creme - the white with little red "sugar crystal" specks - better than the all red or all mint green coloring of previous iterations of minty-flavored Oreos.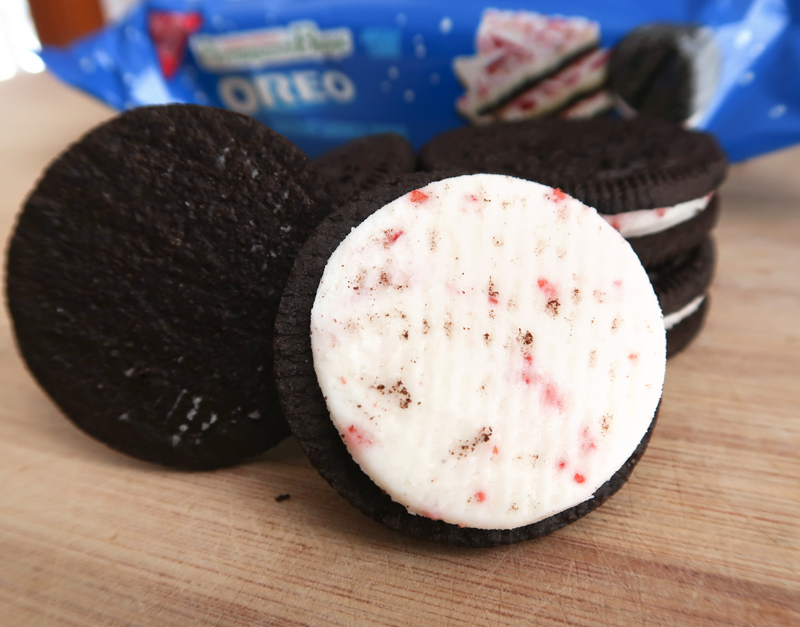 The flavor of these Oreos is spot on perfect. I wasn't sure about the "crunchy sugar crystals" that the package indicated since I wasn't positive how that would pair with the smooth filling and crisp cookie, but the crunch is barely detectable and the texture is nice. The peppermint-flavored creme filling is a nice stand-in for the white chocolate layer of traditional peppermint bark and that in combo with the chocolate cookie is a totally convincing substitute for the real thing.
All in all, I can see why this flavor got a second year as one of the holiday limited edition flavors of Oreo, and it's worth picking one up if you see them around!