---
A classic Italian cream cake is made using layers of vanilla cake with coconut and pecans mixed into the batter. The cake is then filled and frosted with a cream cheese frosting and topped with toasted coconut and pecans.
Trifles are desserts made from layering cake pieces with pudding (mousse, custard...), whipped cream, and other fillings such as fruit, pie fillings, candy, etc. There's an infinite number of trifles to be created from those basic ideas. I like to buy Wholesale Honey Roasted Pecans and create a new trifle recipe each year for my family to enjoy at Christmas. This year, I reimagined the flavors from a classic Italian cream cake into a trifle. I think you'll love it!
The trifle begins with a vanilla cake baked with coconut and pecans. I prefer using oil-based cakes in trifles as they need to be refrigerated, and butter cakes tend to get very hard and dense in the fridge. Oil cakes bake up loftier with a more tender crumb than butter cakes, making them the perfect vehicle to soak in the other flavors in the trifle when left to sit in the fridge.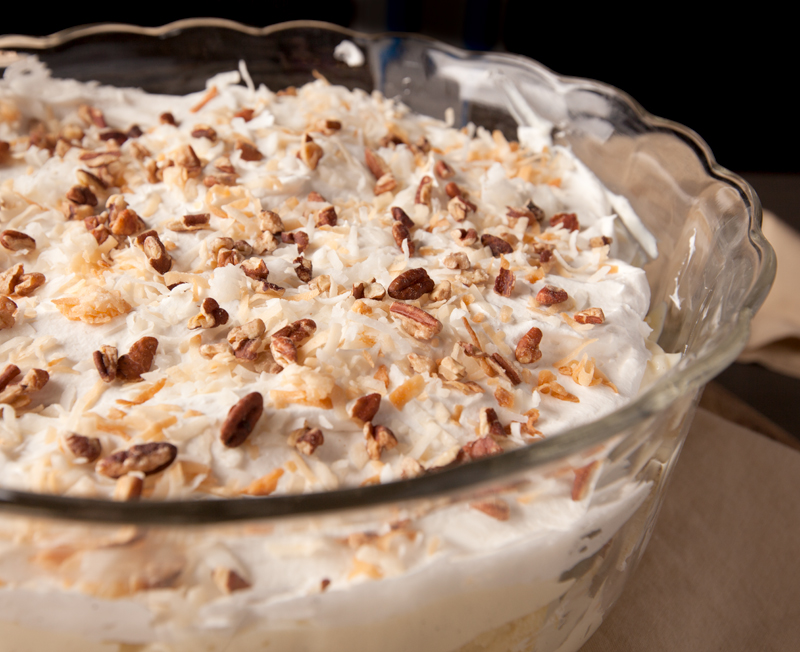 The cake is crumbled into a pretty glass trifle bowl and then layered with homemade cheesecake pudding, Tru Whip (or Cool Whip, or homemade whipped cream...) toasted coconut, and pecans.
Homemade cheesecake pudding is so delicious and easy to make, you'll want to keep the recipe around for making it all by itself. You'll never want to go back to boxed instant pudding again! Using the cheesecake pudding in place of the heavy cheesecake buttercream in the typical cake creates a lighter balance of flavor and textures that doesn't sit as heavily, especially after a large holiday meal.
While the pecans and coconut used in the batter are raw, I toasted the ones used in between the layers and on top of the trifle. Toasting increases the intensity and depth of the flavors as well as adding a crispier crunch to the texture. This is a wonderful dessert to try if you love Italian Cream Cakes (me me!) and want to have the same flavors incorporated into a slightly different dish. Enjoy!
Print
Italian Cream Cake Trifle
---
Italian Cream Cake

1 ¼ cup

all purpose flour

1 ¼ cups

white granulated sugar

½ tsp

baking soda
Pinch of salt

½ cup

oil

3

large eggs

1 tsp

pure vanilla extract

½ cup

buttermilk

¾ cups

sweetened shredded coconut

½ cup

chopped pecans
Cheesecake Pudding

2 ⅓ cups

milk

⅓ cup

heavy cream
Zest of

one

lemon

¼ tsp

salt

¾ cups

white granulated sugar

¼ cup

cornstarch

4

large eggs yolks

12 oz

cream cheese, room temperature (

1

and

½

blocks)

2 tsp

pure vanilla extract or vanilla bean paste
Layers and Toppings

1

8oz container frozen whipped topping, thawed (Cool Whip or Tru Whip) * see notes

½ cup

shredded coconut, toasted

½ cup

chopped pecans, toasted
---
Instructions
Make The Cake
Lightly grease a 9" cake pan and preheat oven to 350F. Whisk together the flour, sugar, baking soda, and salt. Add the oil, eggs, vanilla extract, and buttermilk and mix until a just a few streaks of flour remain. Gently fold in the coconut and pecans (this will finish incorporating the flour) and be careful not to overmix. Bake for 20-30 minutes or until a toothpick comes out with a few moist crumbs. Your oven may vary, so start checking the cake early and be careful not to overbake. Set aside to cool.
Make The Pudding
In a medium saucepan, add the milk, heavy cream, lemon zest, salt, and ¼ cup of the sugar. Give it a stir and bring to a simmer while stirring occasionally. Meanwhile, mix the cornstarch and remaining ½cup of sugar in a bowl. Mix in the egg yolks and stir until a thick paste is formed. Temper the egg mixture by pouring about ½ cup of the hot milk mixture into the egg paste and stir well, and then pour into the saucepan and stir until fully combined. Continue heating and stirring until the pudding reaches about 170 degrees and mixture thickens with bubbles breaking on the surface - this should take about 8 minutes.
Remove from heat and whisk in the room temperature cream cheese, then add the vanilla. Strain the mixture through a fine mesh strainer to remove any lumps. Transfer the pudding into a bowl, cover with plastic wrap with the plastic actually touching the surface of the pudding, and chill for several hours.
Assemble The Trifle
If your pecans and coconut are not toasted, preheat oven to 325F and spread the coconuts and pecans onto a baking sheet. Toast until coconut is browned and pecans are fragrant, using a spatula to stir frequently. Check often to avoid burning the coconut.
Break half of the cake into pieces and layer into the bottom of a large trifle bowl. Layer with half of the whipped topping, pudding, and then top with half of the toasted coconuts and pecans. Repeat the layers with remaining ingredients, cover with plastic wrap, and chill until ready to serve. I find that trifles taste the best when allowed to sit for a bit in the fridge (overnight is best!).
Notes
* I like to use Tru Whip in my trifles as it has the same stability as Cool Whip but with more natural ingredients. Cool Whip will work exactly the same. Alternatively, you can choose to use a homemade stabilized whipped cream in your layers, but know that the trifle's texture won't maintain itself as well when eating the leftovers.
Recipe Card powered by
Do you like this recipe and want to be able to easily find it later? Use the image below to Pin to your Pinterest boards or share with your friends on social media using the buttons at the top and bottom of this post. Thanks for visiting my blog!