For our anniversary, we skipped the main dining rotation and instead made reservations at Palo, an adults-only Italian restaurant that offers a private and kiddo-free dining option.  It was perfect for our last night on the cruise!  At Palo, you pay a flat $15 cover charge per person (excluding alcohol) and you can order whatever you want, including smaller portions of the entrees if you want to try more than one thing.  We knew in advance that the smaller portions of the main dining rooms would be a thing of the past when eating at Palo, so we saved room all day, and boy were we glad we did...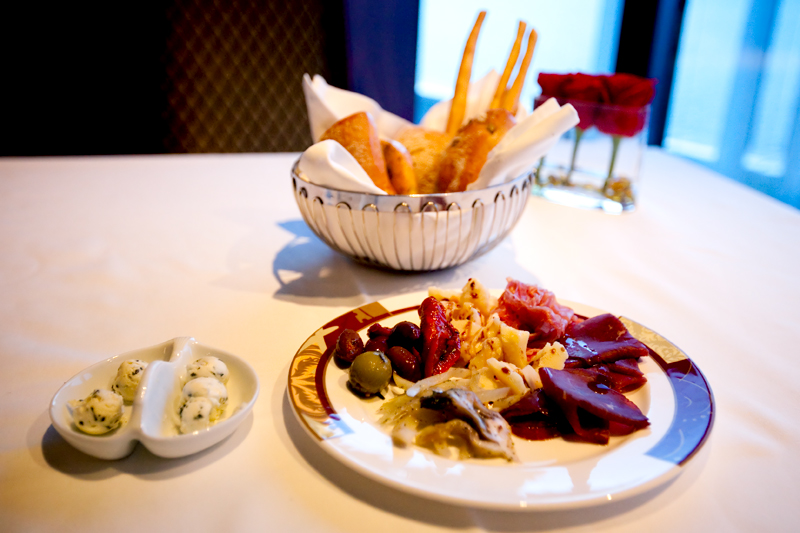 You start out with a bread basket full of carbo-loaded loveliness.  There are Grissini Sticks, Olive Rolls, Ciabatta Rolls and Six Grain Wholemeal served with yummy herbed butter.  There's also the Antipasto Freddo, which consists of Prosciutto, Bresaola, Parmesan Reggiano, Marinated Olives and Sun-dried Tomatoes.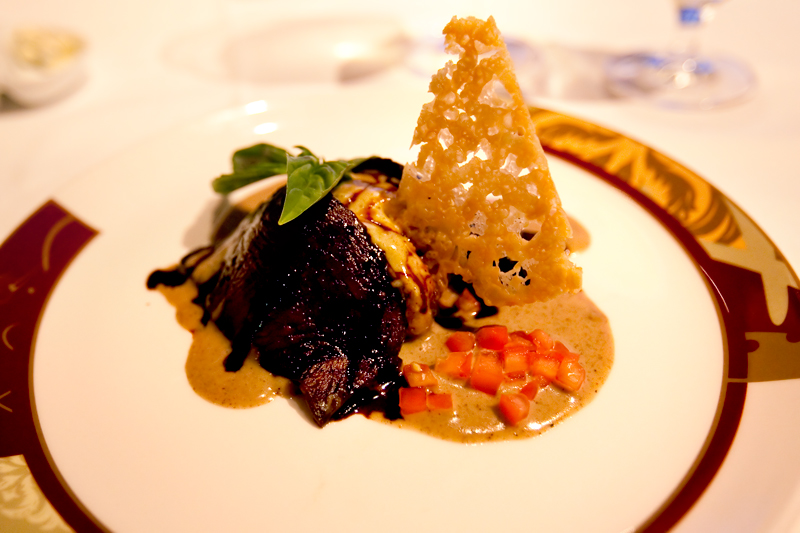 Next is the appetizer (I know, AFTER all of that food above!!)  I chose the Grilled Portobello Mushroom and Polenta with a Roasted Shallot Sauce.  The cracker thing is toasted parmesean.  I loooove mushrooms!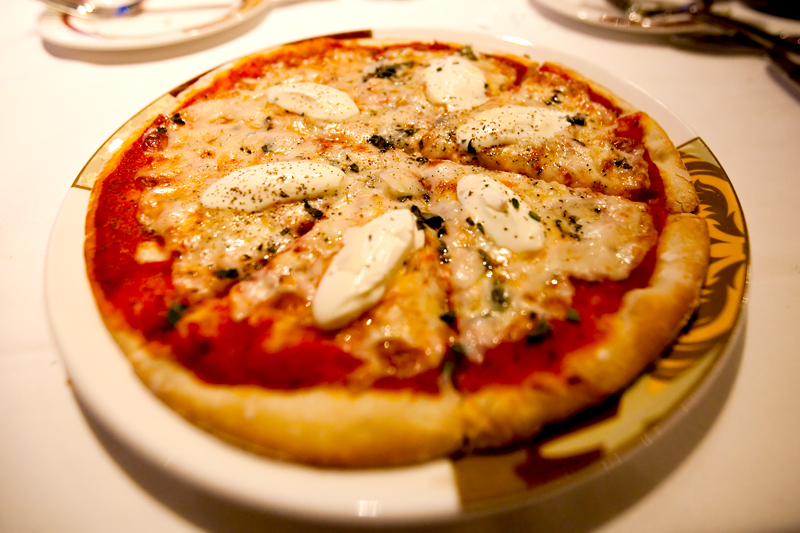 Matt chose the Quattro Formaggi pizza, which had Mozzarella, Mascarpone, Gorgonzola, and Parmesan cheeses.  Yeah, that's an appetizer.  Needless to say, most of this went to waste.  It was yummy though!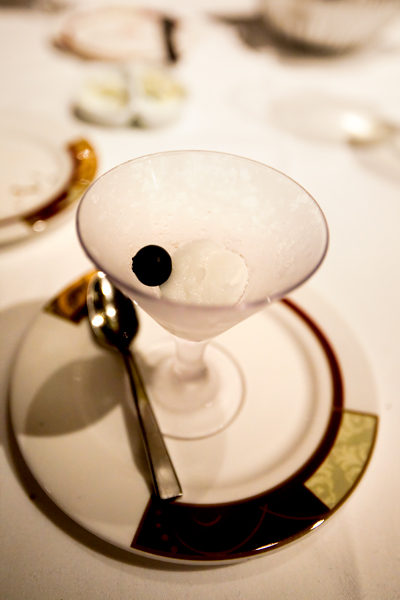 A palate cleanser before the main course.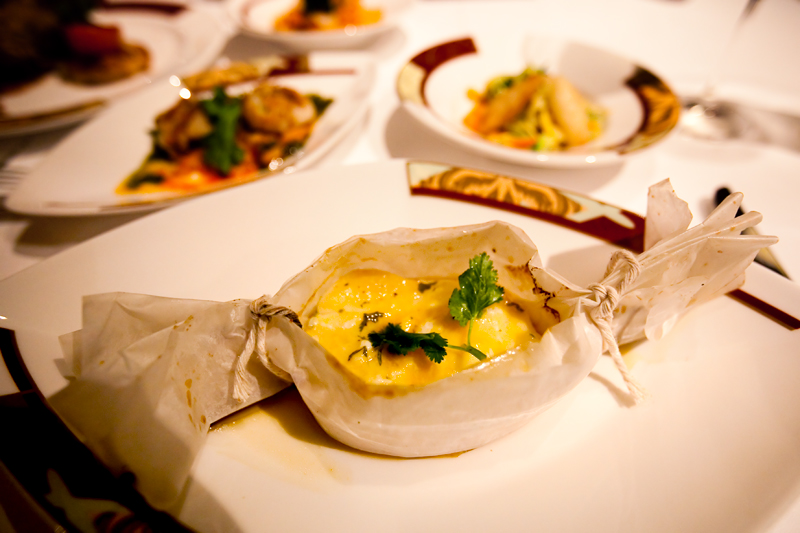 For my entree, I had the Branzino in Cartoccio - Sea Bass Papillote with Spaghetti Vegetables and Ginger Orange Glaze with a side portion of Grilled Sea Scallops with Borlotti Beans and Pancetta.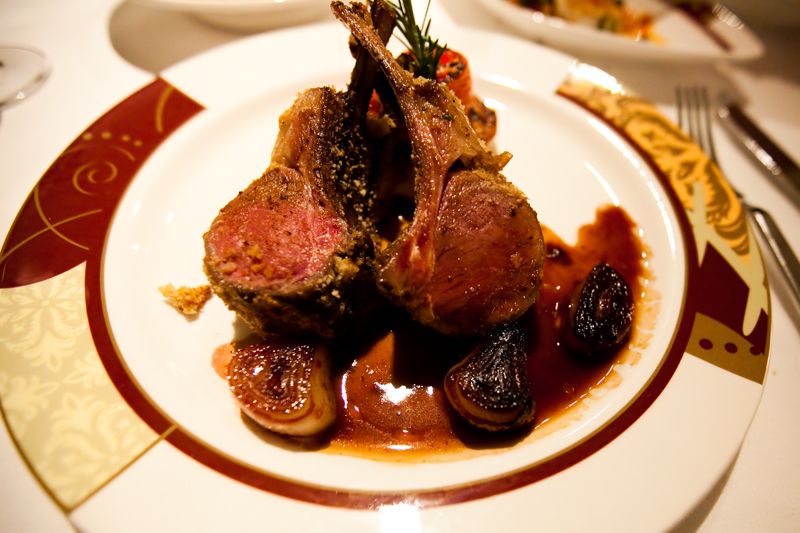 Matt ordered the Oregano and Parmesan Crusted Rack of Lamb with Sangiovese Roasted Shallots, Olive Oil baked Roma Tomatoes, Potato Pave, and Herb Jus.  He ordered a side portion of Penne Arrabbiatta Lombardia with spicy fresh Tomato and Basil Sauce, topped with Grilled Shrimp.   Our waitress was very animated as she explained that "arrabbiatta" means angry and that the dish would be very spicy.  Matt was all, "Say no more - bring it out!"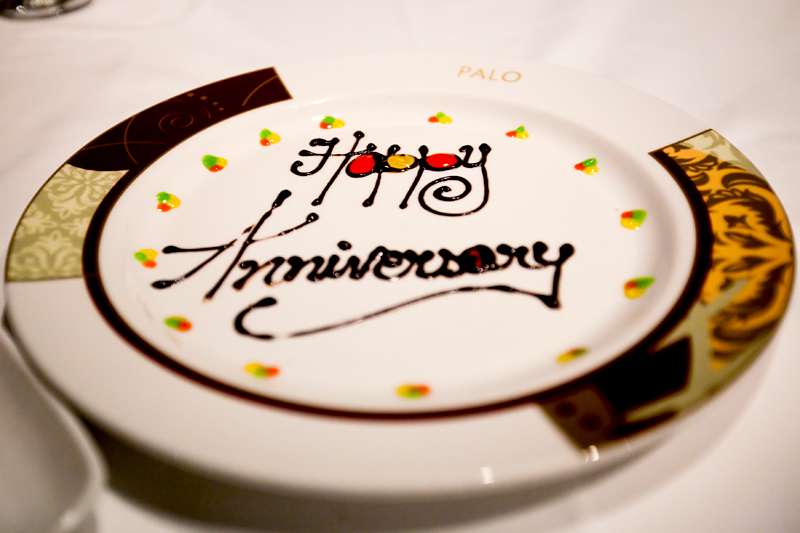 A little surprise for us before dessert was brought to the table!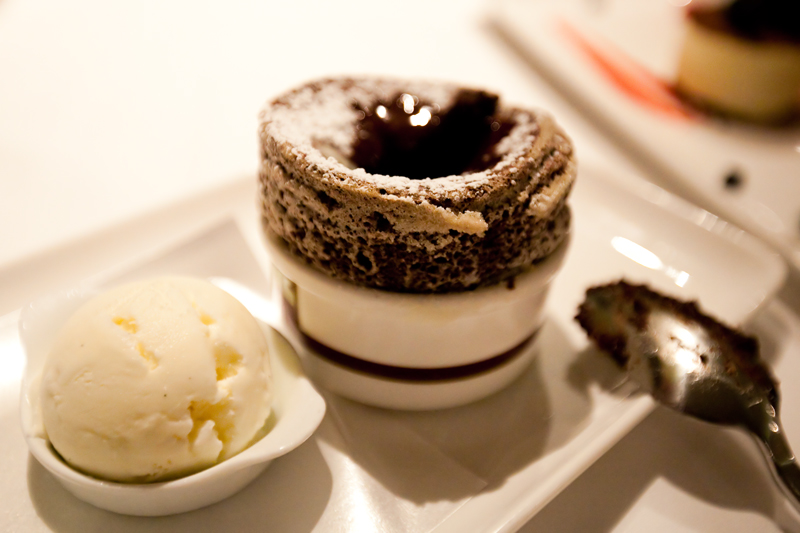 So apparently, Palo's chocolate souffle is famous.  We didn't know anything about it, but our waitress was probably going to shackle us to our chairs and not let us leave until we ordered one.  I mean seriously, how dare she force molten chocolate and vanilla bean ice cream upon us.  The nerve.  The horror. The pain.  In other words, I could eat this every day of my life and die happy.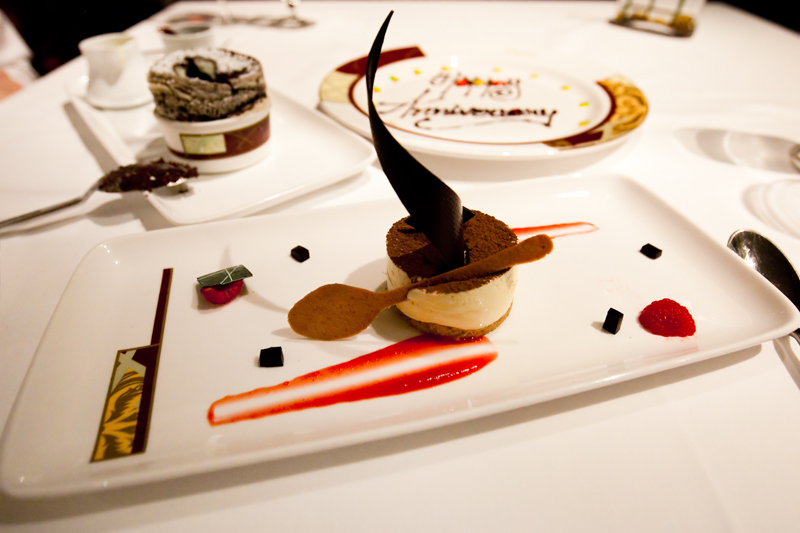 Also at the request of our waitress, we sampled the light and wonderful tiramisu.  Oh man.  Stop me now.
As a result of being in a major food and wine coma by the time we stumbled out of Palo (me in 4 inch heels, which I quickly ditched as soon as we hit the door to the restaurant), I think my brain was operating at half capacity.  By the time we made it back to our room, I realized that I had LEFT my camera at the table!  I couldn't believe it, because I'm usually so anal about keeping tabs on that thing when we're in public.  I quickly called up Palo and the sweet hostess said that she would bring it to us.   I argued and insisted that I could come get it myself, but she wouldn't hear of it.  "I'll be right there!" she said.  About 10 minutes later she arrived at our door and handed it over.  Now that's service!
If you're booking a cruise with Disney, you can usually start making your special reservations a few months before your sail date.  If you're planning to take advantage of any of the special dining options, make sure you book early, because they'll fill up quickly!