Finally, it's time for my favorite experience of the entire 2 weeks - Kiso Valley!
First, a little history. Back in the days of feudal Japan, there were two routes that connected Kyoto (when it was still the capital), and Edo (later Tokyo). One was the Tokaido ("East Ocean Road") along the ocean, and the other was the Nakasendo ("Central Mountain Road") through Kiso Valley. Each road had a number of post towns - 53 for the Tokaido and 67 for the Nakasendo - where travelers could find food and lodging during the journey, which took weeks to complete. It is difficult to imagine the culture and experiences of those journeys, but I've found that the well-known novel, Shogun by James Clavell, has a multitude of chapters and events that give us a glimpse into travels along those roads.
Since modern Japan has grown to occupy nearly every square mile of the coastal regions, the Tokaido is all but gone, aside from a few preserved exhibits such as the one I briefly visited in Hakone. However, since the Nakasendo goes through rugged mountainous terrain, there are many pockets in the largely-undeveloped region that Japan has actively worked to preserve so that people can get the closest possible real-life glimpse of some of these post towns. In our transition from Tokyo towards Kyoto, Kiso Valley and the Nakasendo, not much more than an hour from Matsumoto, were the perfect spots to next visit. After a few hours in Matsumoto, aka the rainiest city in Japan, we continued via an express train towards the southwest, ending at the Nagiso station. From there it was a somewhat expensive taxi ride to our cozy inn in Tsumago, population: like, 50.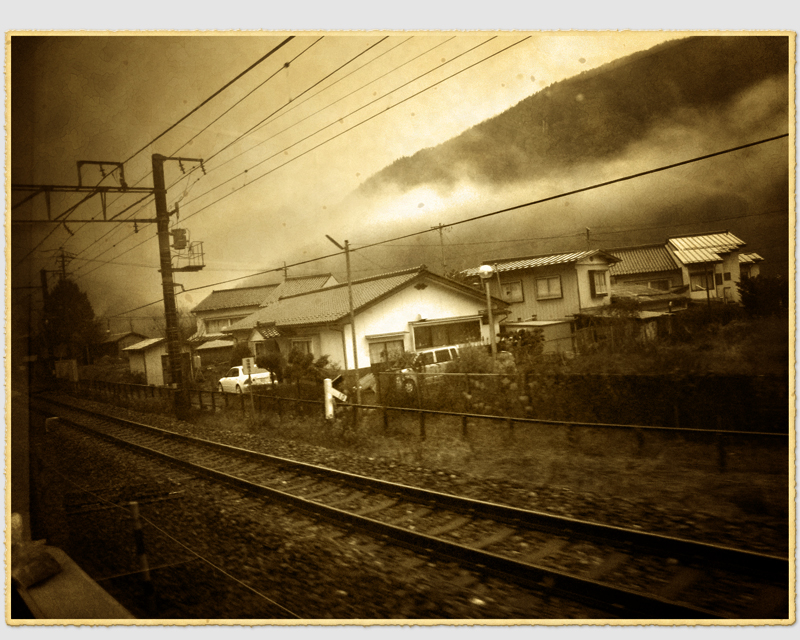 Arriving at the station was very atmospheric - old buildings, jagged hillsides, a wispy mist, and apparently everything looked like a 1950s sepia photo.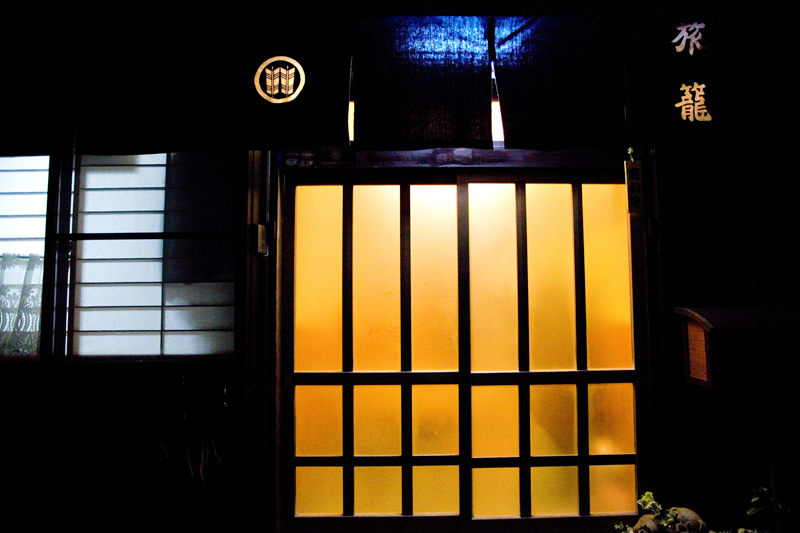 The entrance to our inn, or minshiku, which is very similar to a bed-and-breakfast. A mid-size family lived there and they had just 2 guest rooms. A few others of these were scattered around town. There was also one really big (which means something like 20 guests) inn, which was actually a restored version of the original inn, but due to the festival it was completely booked out. It was cozy as heck and I highly recommend at least one night at an accommodation like that, even if you spend the rest of your time at a hotel.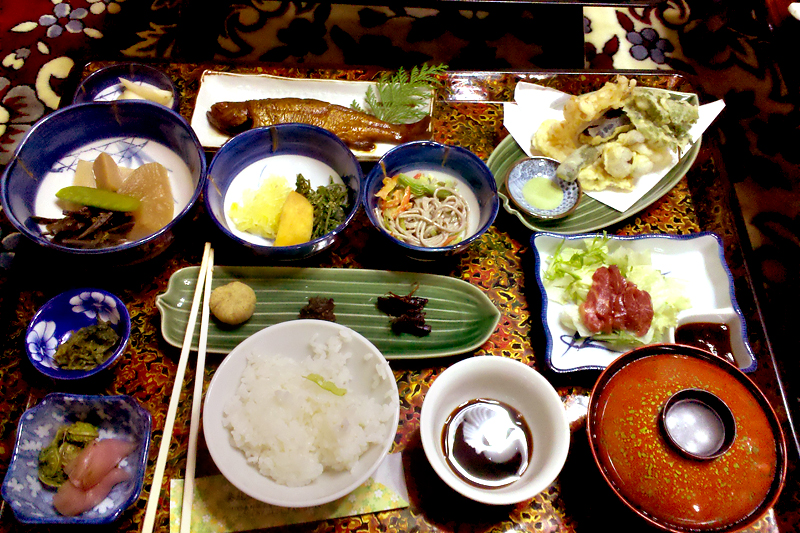 Part of the experience of staying at a traditional Japanese inn is the traditional Japanese meal. Yum. Now, I have to admit that I am better with broadening my horizons than most most, including my dear brother, but I found this meal to be delicious and of course, worth it for the experience. Half the fun was trying to keep my legs from falling asleep while I sat on the tatami mat. The rest was in trying new flavors, and in trying to identify half of the things in front of me.
By the best of my memory and knowledge, clockwise, from top left, and ending in the middle - snow peas and konnyaku and some kind of string beans, fresh river fish (that tasted like BBQ chicken, I swear), fruit and another green veggie, soba noodles, assorted vegetable tempura, steak tartare, rice, soy sauce, the vessel from which you're supposed to eat the rice, pickled ginger and some other green veggie, another green veggie, and the piece de resistance... a bean paste (one of their common sweets - yummy in a non-overpowering-sweetness way), termites, and crickets. I reminded myself that I, on a daily basis, eat unborn chickens and drink chemicals that can polish a penny to a gleam, so I set aside my mental blocks and dove in without inhibition.
In Jer's credit, he tried most things.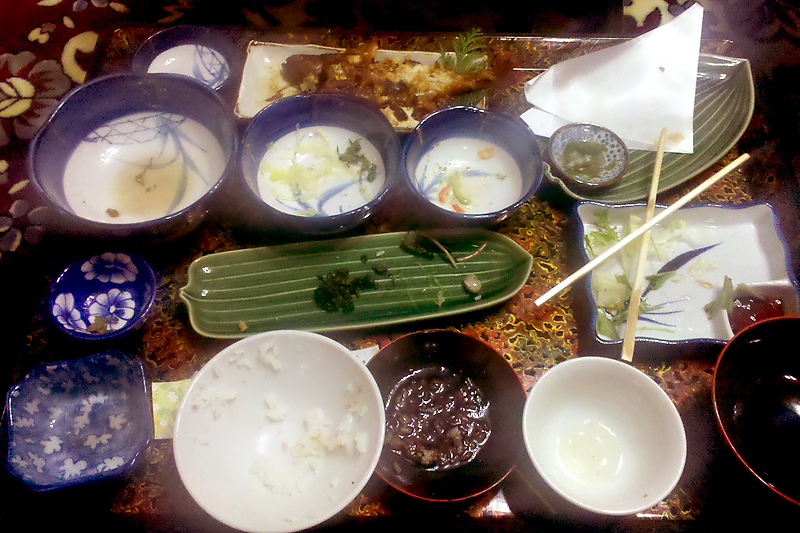 Like a good gaijin, I cleaned my plate. Proof.
Afterwards, at around 10pm, I decided to go explore the town at night. I went out with just my 5D MkII, 16-35 lens, and a thirst for adventure. Within 15 minutes, I had run into and had conversations with 3 Japanese people who were also out taking photographs at night with tripods and with equipment as good as mine, if not better. Need I remind you - this was the middle of freaking nowhere. The relaxed and quiet atmosphere, along with us all being on a common mission, led to probably my most natural speaking attempts of the trip, and led to some of the best memories of the trip. There is just nothing like an encounter with Japanese people in an environment where they aren't all hurrying off to work or to the next train.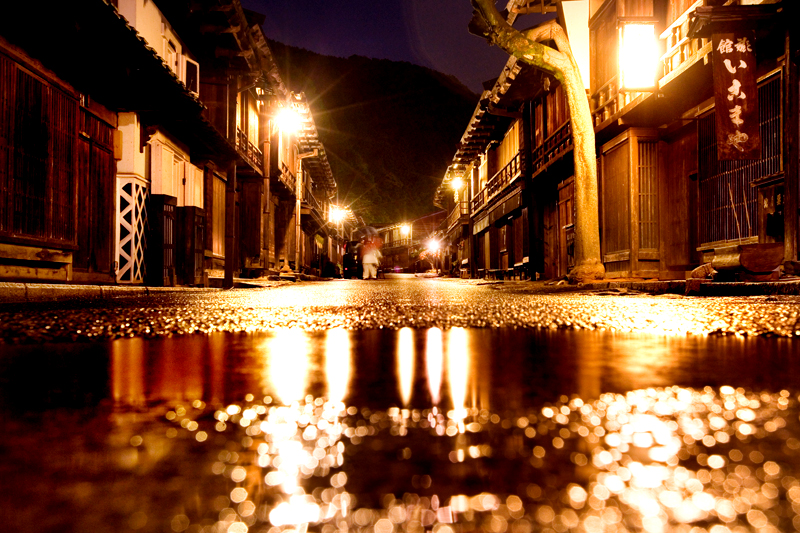 As soon as I saw everyone else with tripods, I realized that it would have been awesome if I could have packed one for the trip. To take these photos, a 15-30 second exposure was needed at a relatively closed aperture in order to get clean images with depth. So, I had to improvise - I used the ground, walls, rocks, and even my foot (since I don't typically carry a pack of cigarettes around. That's a joke for the photogs). For one, I sacrificed a little bit of quality and held by breath for a 5-second exposure while leaning against a wall. Also, it was raining. Just another ingredient in this great adventure. This first one used my foot as a prop.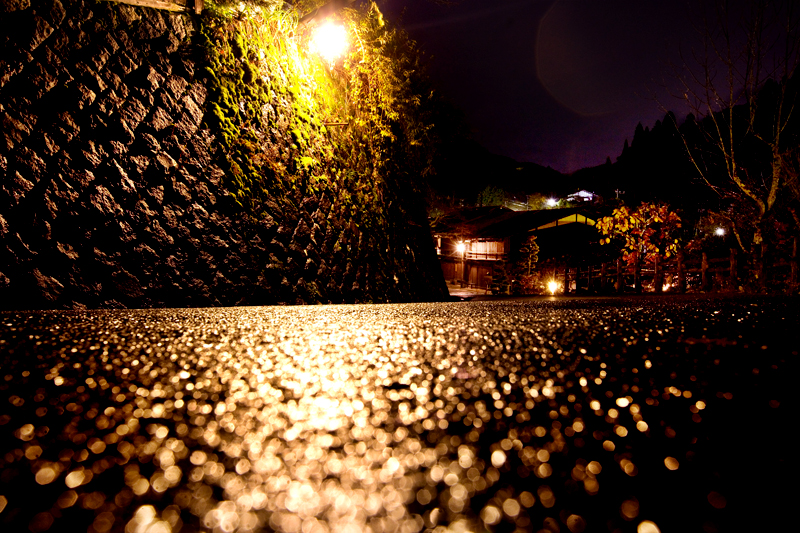 A little easier - used the ground on this one.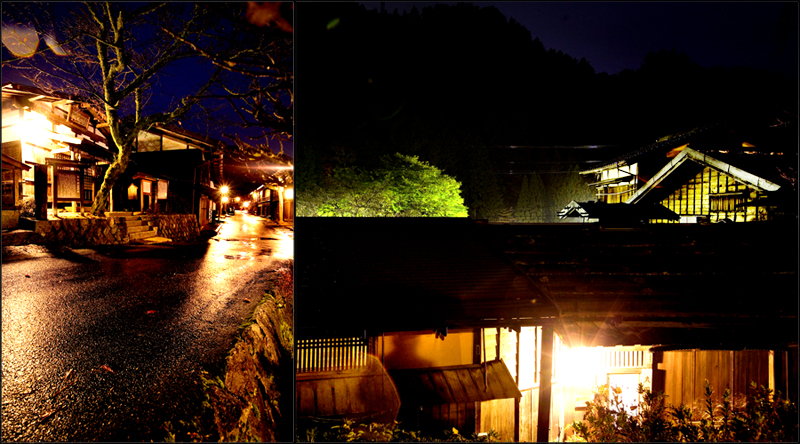 Left - long exposure on a rock wall. Right - semi-long exposure while my face turned purple.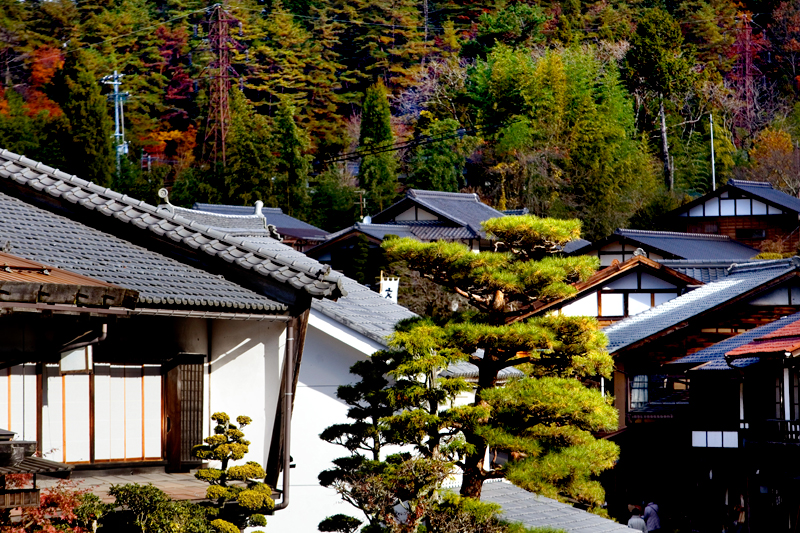 The next morning, as the town prepared for a mini-festival that happens every year in November, the town transformed from serene night scene to bustling village.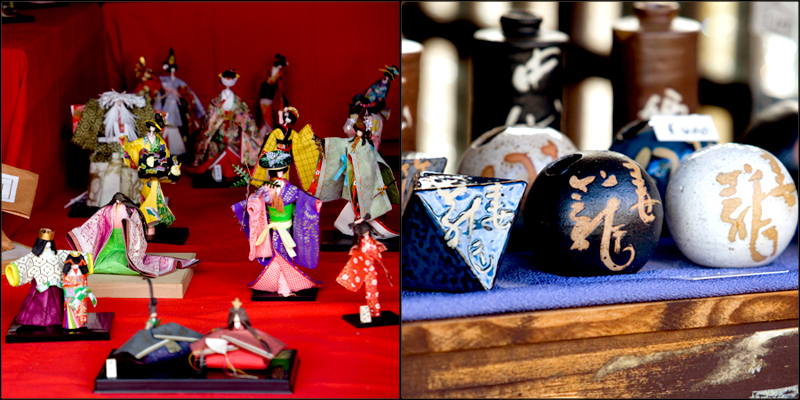 All up and down the main road were a bunch of neat little shops. If only a certain someone actually liked shopping, *coughJercough*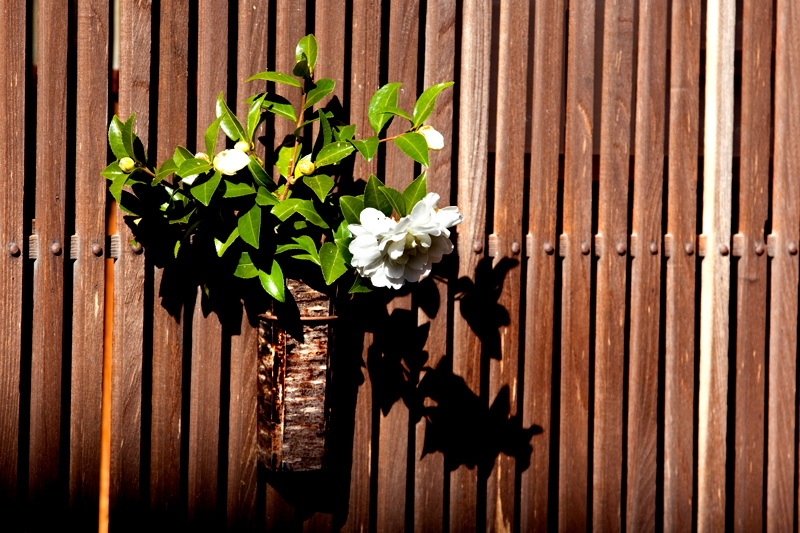 Oh, s... oh thank goodness, I almost had a flashback to being at a wedding, working, instead of being halfway across the world, not working. Don't scare me like that, bouquet look-alike.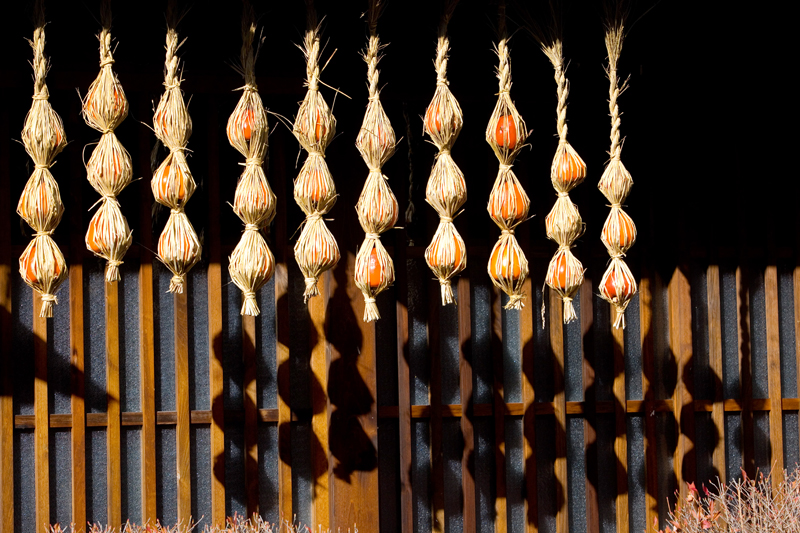 Strands of spherical straw thingies.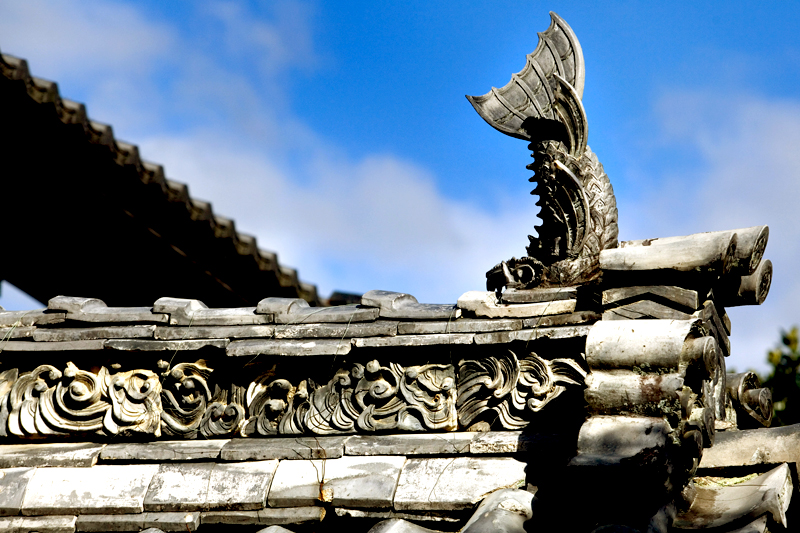 Edge of the roof at a small temple. Poor fish, and why did he deserve to be pile-driven into a rock?

Of course, koyo was in full effect! Here's a teaser - the real magic will occur in part 2 of the Kiso Valley journey.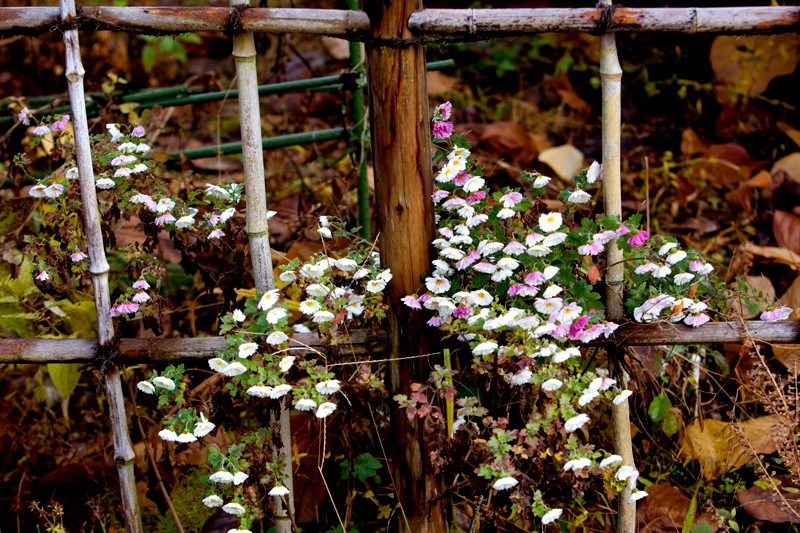 Purty flowers and bamboo fence.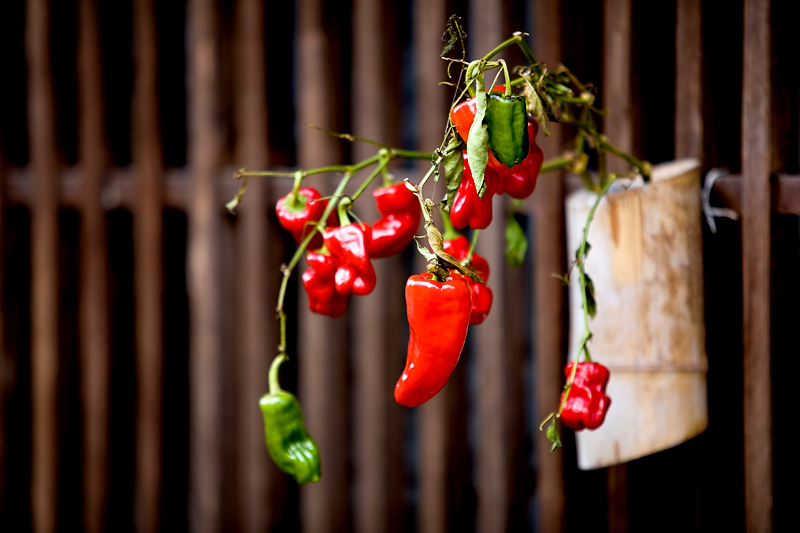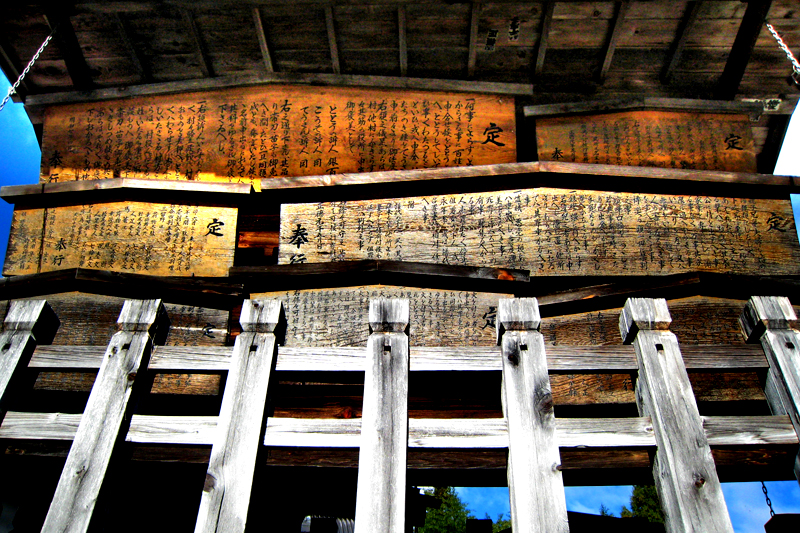 Since there was no Facebook, Twitter, e-mail, or even party lines way back in the feudal era, laws and decrees from the shogunate were posted in each of the post towns on notice boards such as this one. What? Does printed text still blow your mind as something people once did? Ok, let's try an analogy... this is the original Facebook wall, upon which @shogun would Twitter to his entire friend list. People could "like" what he posted, otherwise they would be decapitated.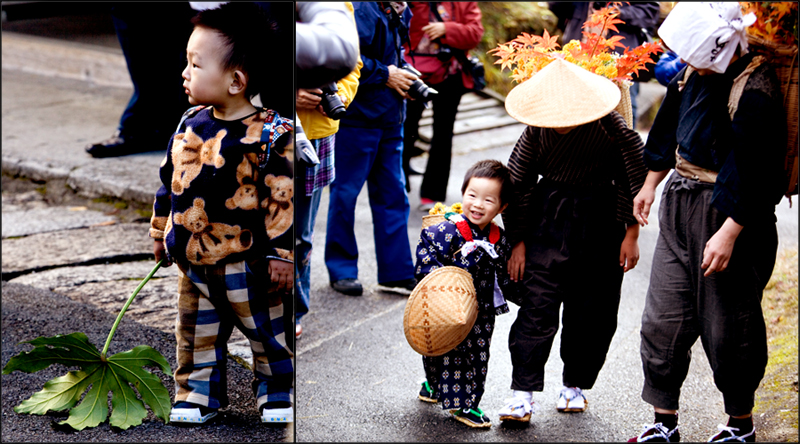 The festival itself at the basic level is simply a parade where everyone in town dresses up like people of the Edo era did. Spectators and participants started coming out in droves as late morning approached. Not in shortage was a lot of cute kids getting into the theme (or simply just wearing fuzzy teddy bear PJs).

More kids getting ready for the parade.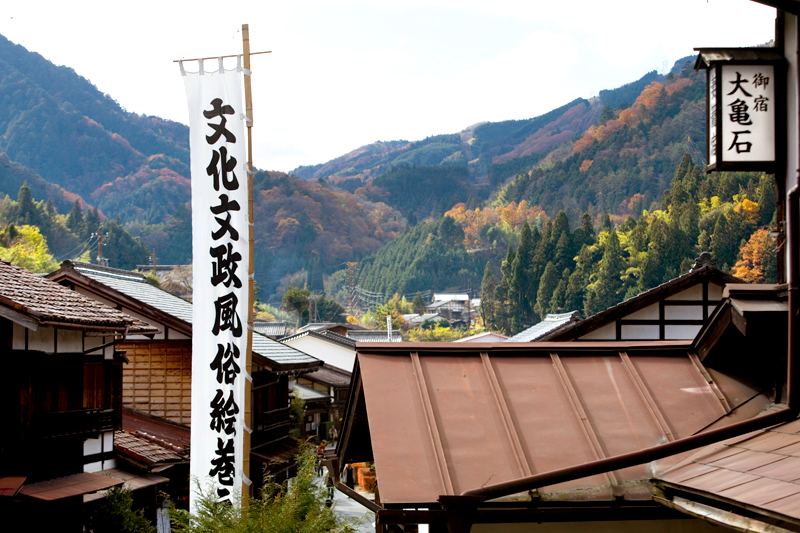 All-encompassing view of Tsumago and the valley.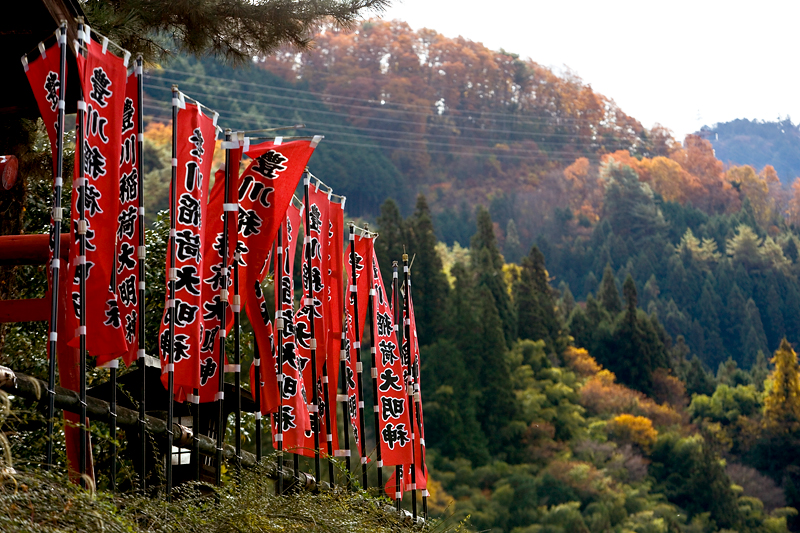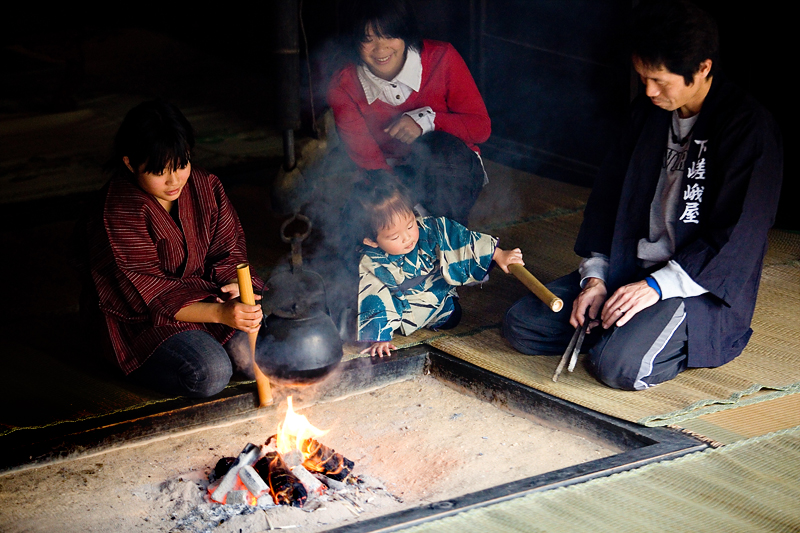 This really intrigued me - I didn't know if they were just acting out a scene (they were publicly visible to everyone on the road), or if the hearth was just open and available for anyone to use. It appeared to be something like hookah, since they were using those filtered bamboo pipes to inhale some of the smoke.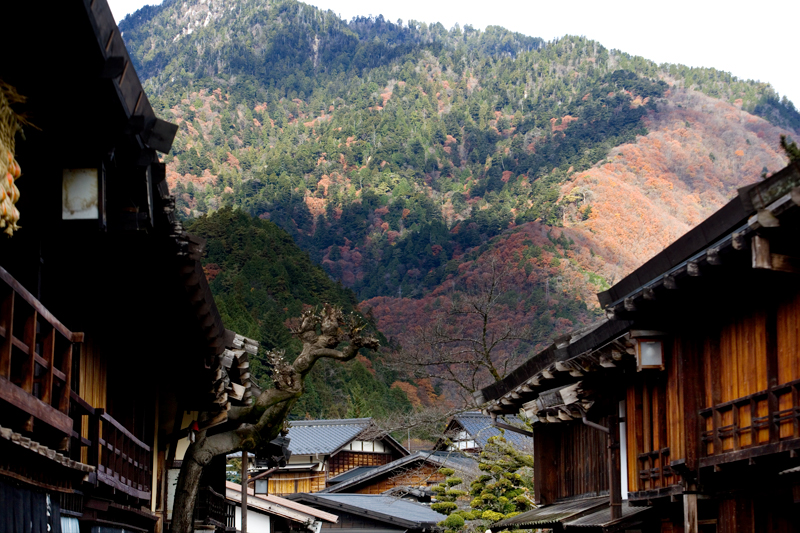 Another view down the middle of Tsumago.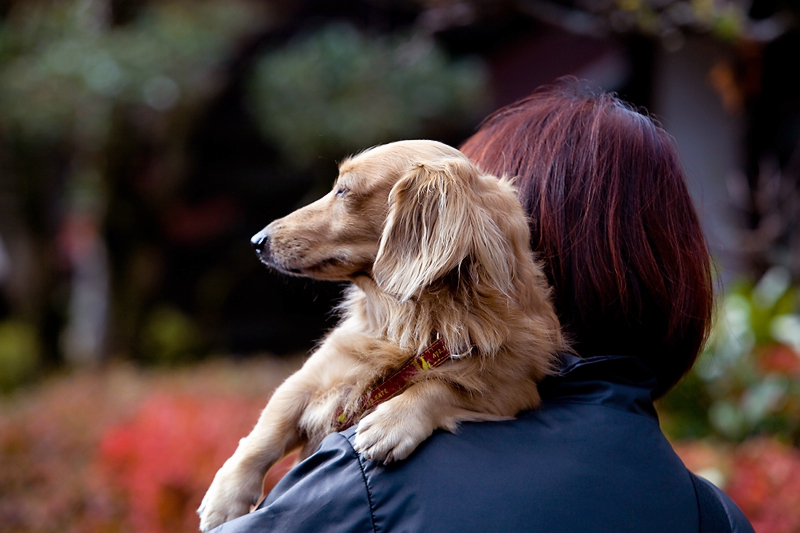 In Japan, cute dogs reign supreme. Aside from the native Shiba Inu (literally - "dog from Shiba"), I saw more dachshunds, corgis, and pugs than anything else, no matter where in Japan I was. This is just one of many that were brought along as spectators to the parade.

If I had used a lower-quality lens, I think it would have exploded from an overdose of cute. A pug is one thing. A pug in a strawberry-emblazoned onesie is another.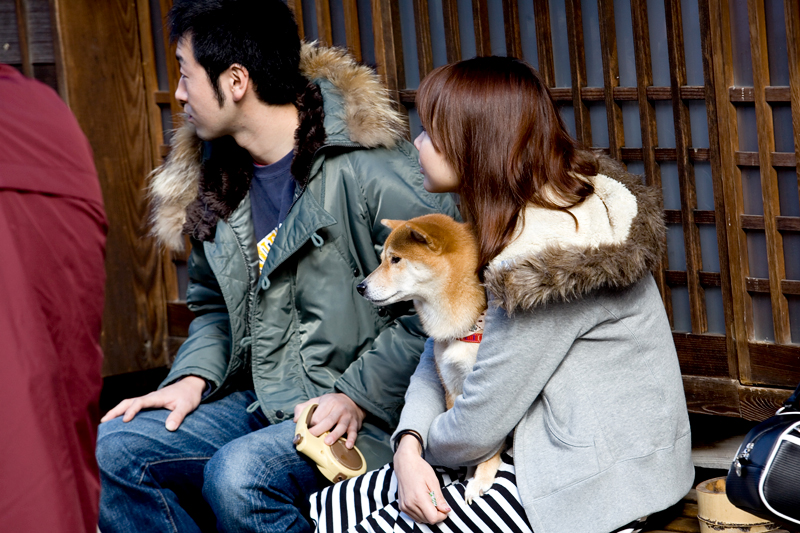 One of 234203 Shiba Inus we saw on the trip.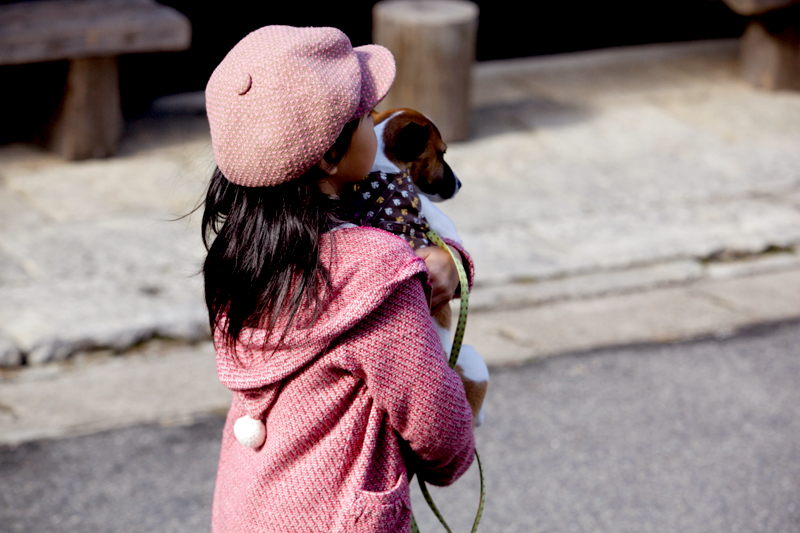 Jack Russells trip the cute-o-meter, too.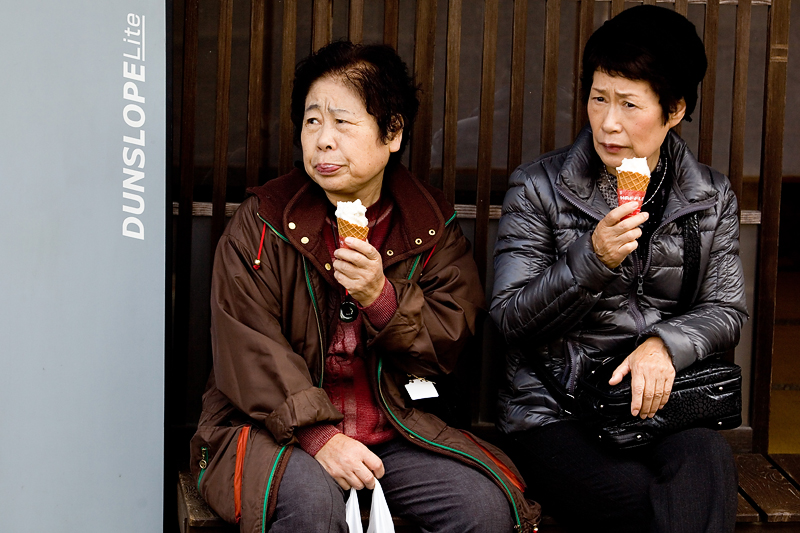 Apparently two flavors of ice cream were being served that day - "More-Bitter-Than-Sweet", and "Instant Indigestion".
(By the way, that graphic on the left is actually a wall next to them. Do not be fooled.)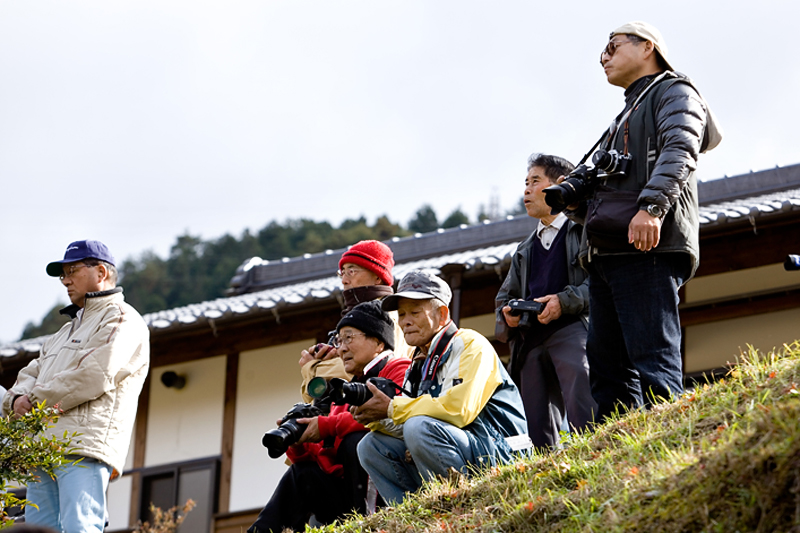 Ah, yes, is there anything more stereotypical than Japanese with cameras? As the parade neared, I wasn't sure if it was going to be a hundred locals in costume, or if Ichiro himself was making an appearance.

Anti-tank cameras are good for clearing out mobs of people obstructing your view. Maybe we should invest in some...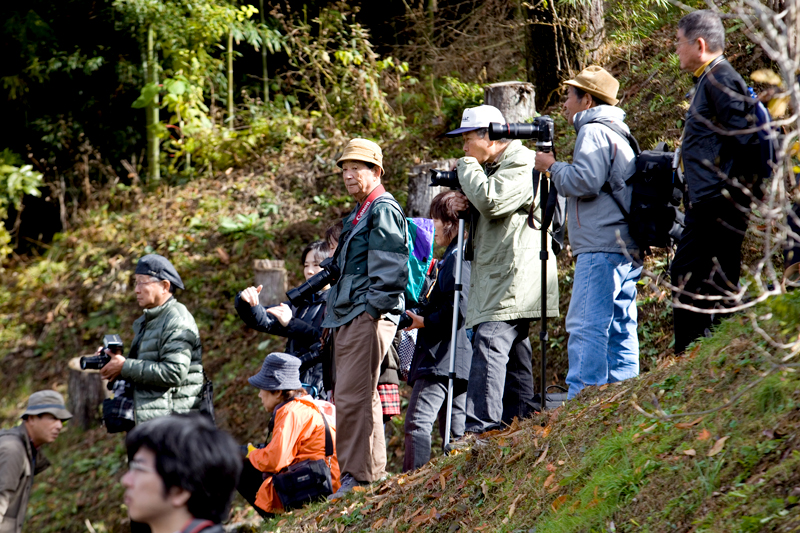 All those cameras at the ready - but who would strike gold and get the money shot that would be on the front page of the Asahi newspaper the next morning??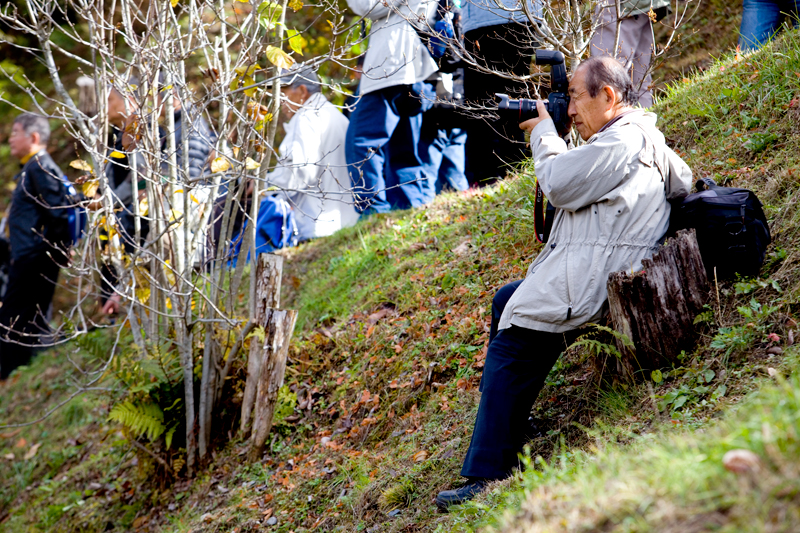 My money is on this guy - just because he had to go and be different.

Now this is the Japan that I had grown accustomed to - completely choked thoroughfare. Obviously, the parade was about to start.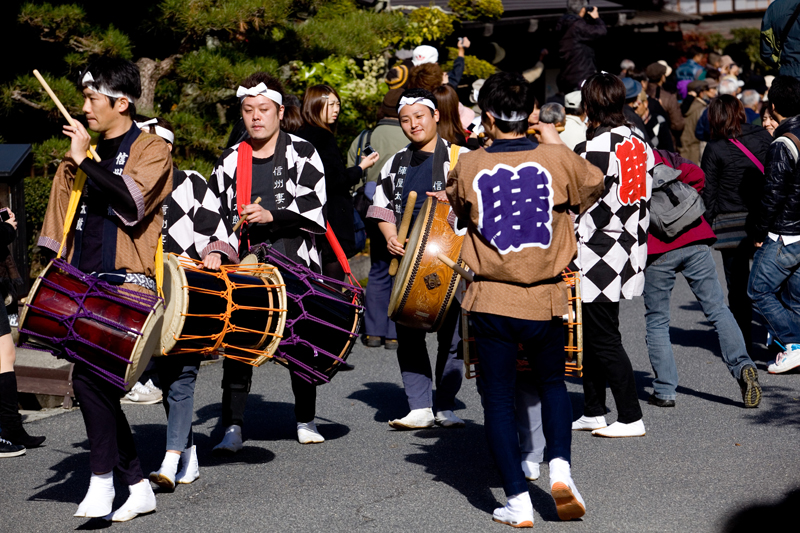 Leading the charge - drums and flutes!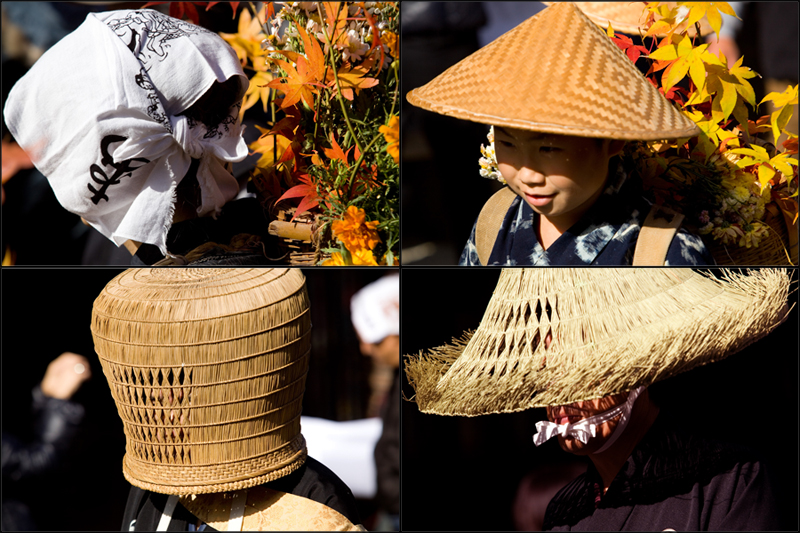 Some of the neat and crazy headgear fashions from the olden days. I guess peripheral vision wasn't needed when you had a ninja-calibrated third eye.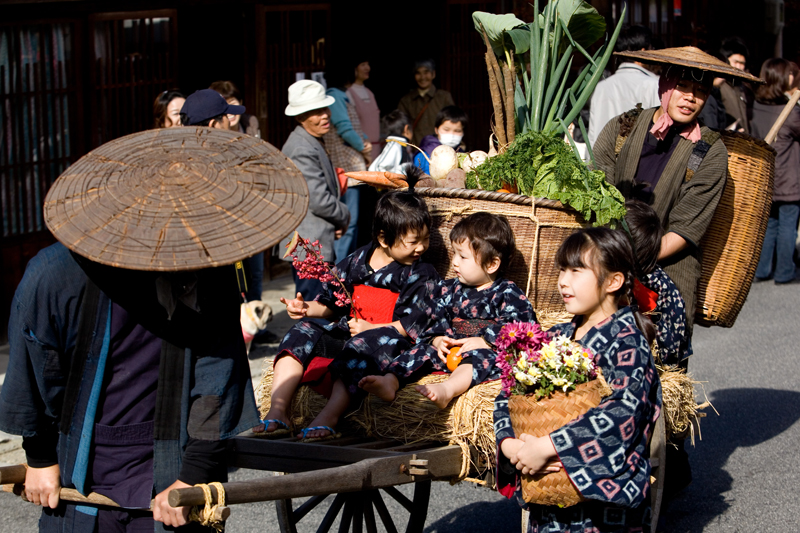 These kids have it figured out.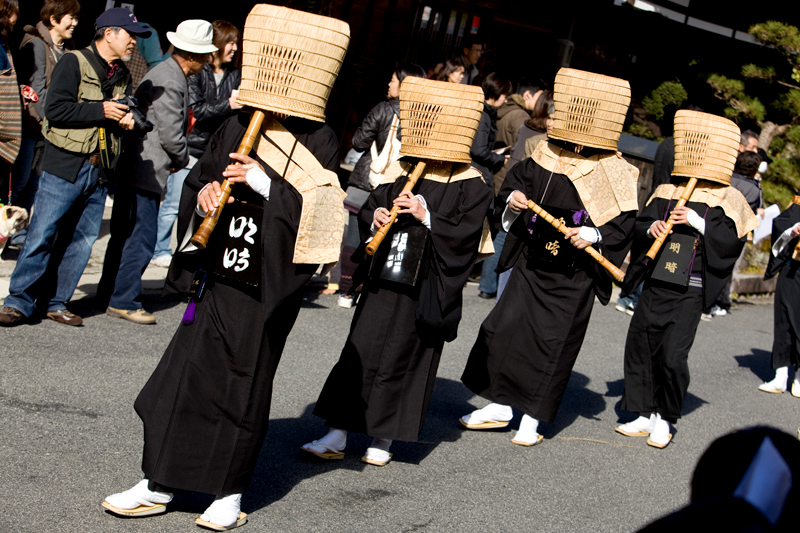 I.. just.. I don't know.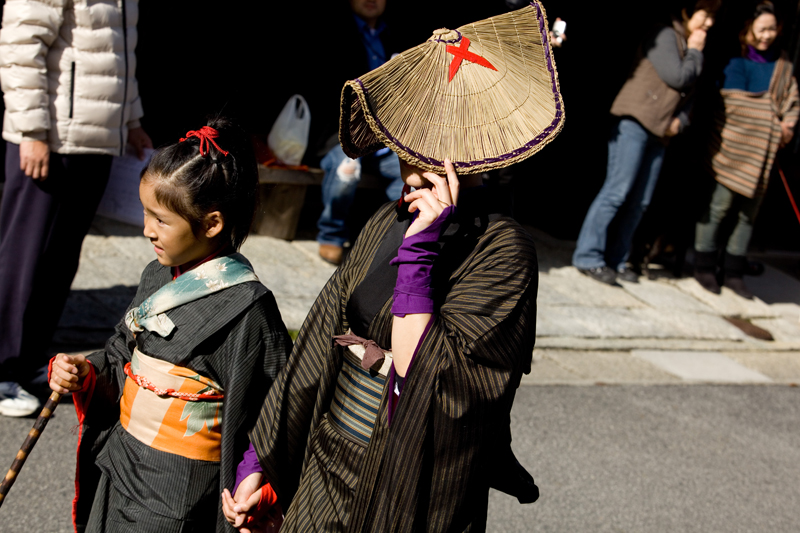 I recognized this as my hostess at the minshiku, since I saw her hurrying out the door in the morning wearing that very same hat. Between all the different headgear I saw in the parade, I guess they took anonymity very seriously back in the day.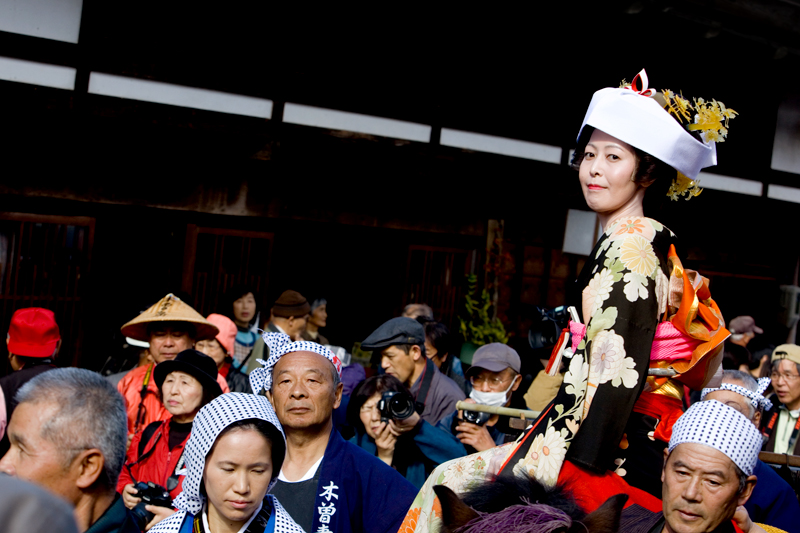 This decked-out lady was kind of a big deal, taking up the rear of the processional and being carted by several men. I can just see it in her face -"Holy cow! What's a Westerner doing here in the middle of nowhere??"
Next up, the second half! Jer and I take a nice stroll through the historic Nakasendo in peak fall colors towards Magome, where we make a brief stop before continuing westward.
If you also are really into taking care of fish, you can check out online sites and look for the top fish care services that also teaches how to care for your fish.