Where to get the best corned beef sandwich in Cleveland? Known for just that, if you're looking for a truly special lunch experience, then Slyman's Restaurant is where you want to go. We stopped in with our kids during a weekday spent exploring the city. We hadn't been having much luck with amazing food on our trip, so we were full of past disappointment and were desperate for some decent grub.
Slyman's did not disappoint.
Our waitress at Slyman's was SO sweet! A mom of a young son herself, she was wonderful with helping us keep them happy while she was explaining the menu and our choices, since we were not familiar with what Slyman's had to offer. She even offered up her own recommendations for places to go and things to do in the city for the rest of the day.
See Slyman's reviews and information on Yelp
We arrived just ahead of the lunch rush, which was lucky timing. We were able to snag a table (seating is limited) but by the time we were settled in and eating our food, the place was busting full of people. You can place to go orders at the counter or receive table service if you are dining in. But trust me, there are only a few tables available, so be prepared to wait for one if you're not carrying out your order.
We ordered two sandwiches to share: Lite versions of both the corned beef and pastrami sandwiches on rye. Yes, I said 'lite' meaning that there is roughly half of the meat on the sandwich than the full version for around $4 less. Imagine our surprise when these massive piles of shaved meat were placed in front of us along with an assortment of condiments like yellow/brown mustard and 1,000 island dressing.
The corned beef was perfection. It was melt-in-your-mouth tender, bursting with flavor, not too fatty, and even the lite version of the sandwich was absolutely huge. We ordered a side of fries to share but they really weren't anything special and we ended up not eating much of them. I recommend skipping them and just going for the sandwiches.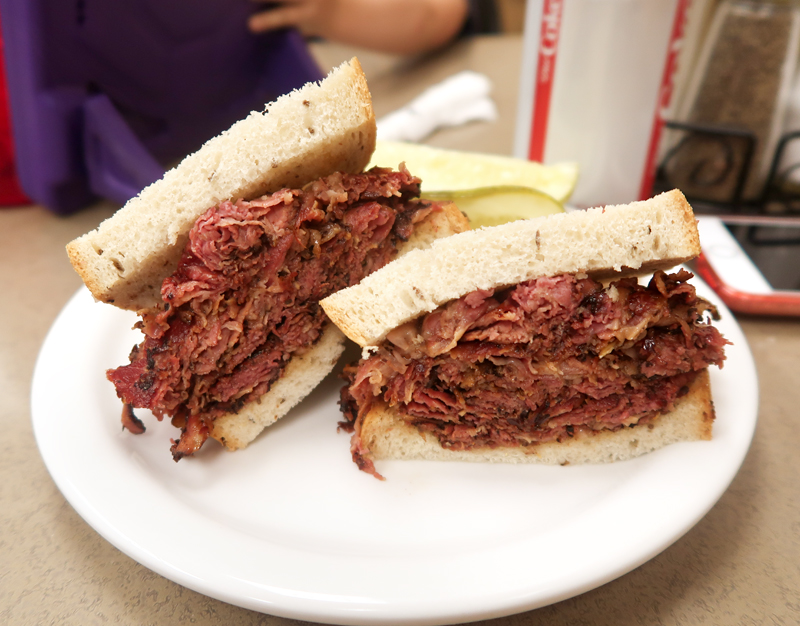 I know that Slyman's is known for the corned beef, but I have to tell you, I think I enjoyed the pastrami sandwich even more. Like the corned beef, the pastrami was remarkably tender with a nice peppery bite on the crust of the meat. It was seriously life-changing pastrami. Someone needs to go try the toasted version with hot melted cheese, because I need to know what one is like.
Have you eaten at Slyman's or are you planning to travel to the Cleveland area? Pin this post and share it with your friends so you don't forget to grab a lunch at Slyman's!