Over Memorial Day weekend, Matt and I set out to tackle several house projects that we have been neglecting for far too long. I tossed some photos documenting the process up on Instagram, my ongoing addiction, so feel free to follow me at ebrowniebites to join in on the fun! Here, you will also find how to do medical document translation easily and efficiently.
We have many, many more home projects we'd like to do, and are determined to find little pockets of time here and there throughout the summer to start getting some things done.
Yeah, we'll see how THAT goes!
Anywho, after a day of working, we sat down for a break and gave a new drink a try - Michelob ULTRA Light Cider.
Now, something you need to know about me - I am not a beer person (I know, I know..). Matt has had me taste many different beers over the years, and although I admit there are some that I don't mind the flavor of, I'm not yet to the point where I will choose a beer over a glass of wine if I'm wanting to sit down and have a drink. Hard ciders, however, I DO like! And one with lower calories? I'm on board. This stuff is only 120 calories per bottle, which is one-third less than typical hard ciders!
I dunno why I love hard ciders but still can't stomach most beers. The brewing process is the same.. it's really just a matter of using crisp, hand-picked apples instead of barley and hops.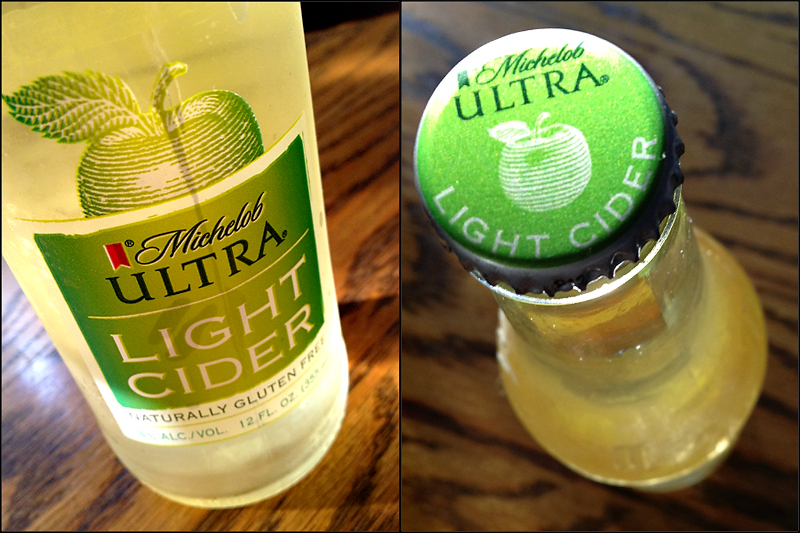 Though I'm a habitual consumer of diet drinks, I'm pretty sensitive to the ones that leave that nasty "after taste" caused from the use of artificial sweeteners. I appreciate that this cider uses Stevia, which has a more mellow and natural flavor. I also liked that the apple flavor was strong, and the drink had just the right amount of "bubbly". It seriously hit the spot.
The product is available in packs of six 12-ounce bottles. The girly-girl in me loved the apple-colored liquid when the sun streaming from the kitchen window hit it from behind. It's not a jarring "ecto-cooler" type of green, but a nice inviting "It's ok to drink me, really" green.
I promise that last statement made more sense when it was in my head. Just go with me here.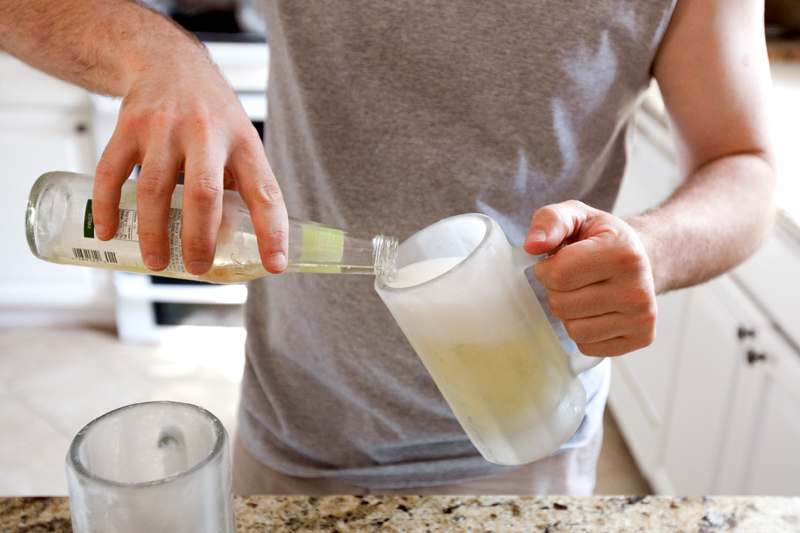 Though you can swig this stuff straight from the bottle, we preferred to pour it into a nice frosty mug. We keep a set of mugs in our freezer at all times for such an occasion. You should try it. Nothing like being able to pull out a frozen mug to fill with a yummy beverage whenever you want.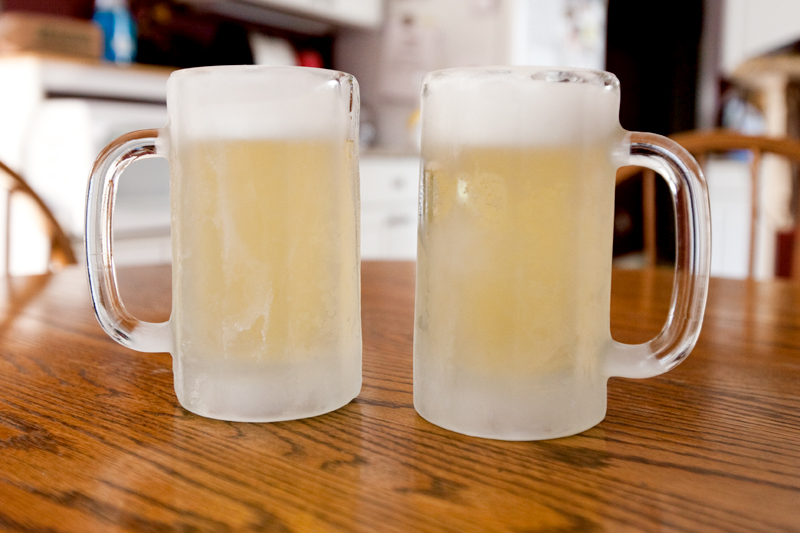 Mmm.. a nice reward after a day of housework!
Oh, and all of you's out there suffering from a gluten intolerance need not worry - Michelob ULTRA Light Cider is naturally gluten-free! I'm excited about finding a new bottled drink to have on hand when my friends are drinking beer and I want to save myself the embarrassment of pouring a glass of girly cheap wine in order to participate in the festivities. Hey, it's my way of fitting in, alright?
If you want to learn more about this yummy new drink, check them out on Facebook at http://www.facebook.com/michelobULTRA
You can find even more information at the Michelob ULTRA Light Cider page on BlogHer.com or you can hop directly to the sponsor's site.
Now for all of you out there, I have a question! Which favorite summer meal or activity do you think would go best with Michelob ULTRA Cider? Please leave your responses in the comments below - I'd love to hear from you!