The Help is no doubt one of the summer's biggest blockbusters, and has been dominating the box office sales week after week.  I read the book earlier this summer and thought it was amazing.  I was highly entertained by the movie, though as is usual for me, I thought the book was better.  Regardless, whether you prefer the book or the movie, you were no doubt charmed and humored by the rambunctious character of Minny Jackson.  This outspoken and set-in-her-ways lady stole the show in both the book and film adaptations (Octavia Spencer did an outstanding job bringing Minny to life), and was the inspiration for our dessert last Sunday.. Minny's Mini Chocolate Pie.
I adapted the recipe from Cooks.com The original is for making a full-size pie, but I decided to do some miniatures instead.  Just like Minny's famous pie, mine has a little, erm, "surprise" in the middle.  A Hershey's Kiss.
C'mon, what were YOU thinking?
Minny's Mini Chocolate Pie
What You'll Need:
8 miniature pie crusts, baked (when I made this recipe, I halved everything and only used 4 crusts)
8 Hershey's Kisses (or any small chocolate)
1 cup of sugar
2 heaping tsp cocoa
3 TBS flour
Dash of salt
3 egg yolks (save the whites, you'll need it for the meringue!)
1 cup of milk
1 tsp vanilla extract
2 TBS butter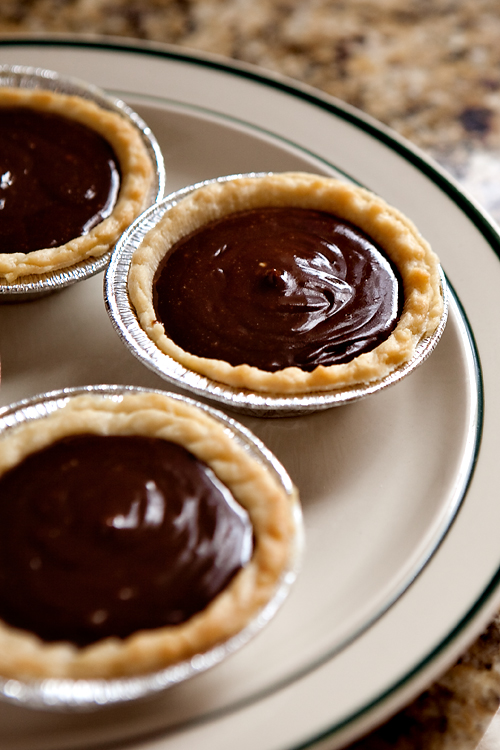 What You'll Do:
Bake the pie crust according to the directions.  Let cool slightly, and place one Hershey Kiss into the middle of each shell.  In a small saucepan on low heat, cook all ingredients except vanilla and butter.  When mixture is smooth and has thickened a bit, add vanilla and butter and continue to cook for another minute or two.  Pour into baked pie shells and put them into the fridge.
Now, you can stop here, or you can do a couple of things.  If you're  a whipped cream person, go ahead and use your favorite kind (or make your own) and pile that stuff on top.  If you're a meringue person, then bust out those egg whites you saved from the pie filling (you did save them, yes?) and do this:
Meringue:
Beat 3 egg whites until soft peak forms, and then slowly add ¼c of sugar.  Adding the sugar slowly reduces the time you'll spend whipping this stuff into submission.  Continue to beat the mixture until stiff peaks form.  Plop desired amount on top of each pie and bake in the oven at 425 degrees until it starts to turn brown.  Chill finished pies for at least 2 hours before serving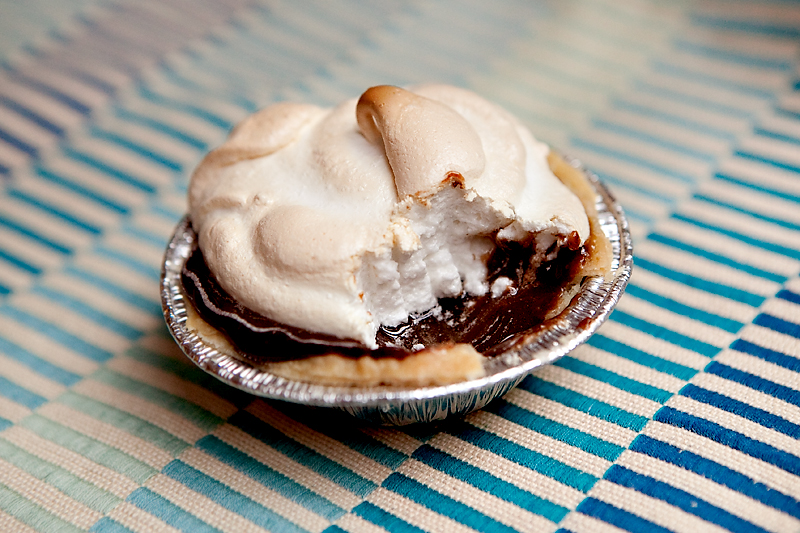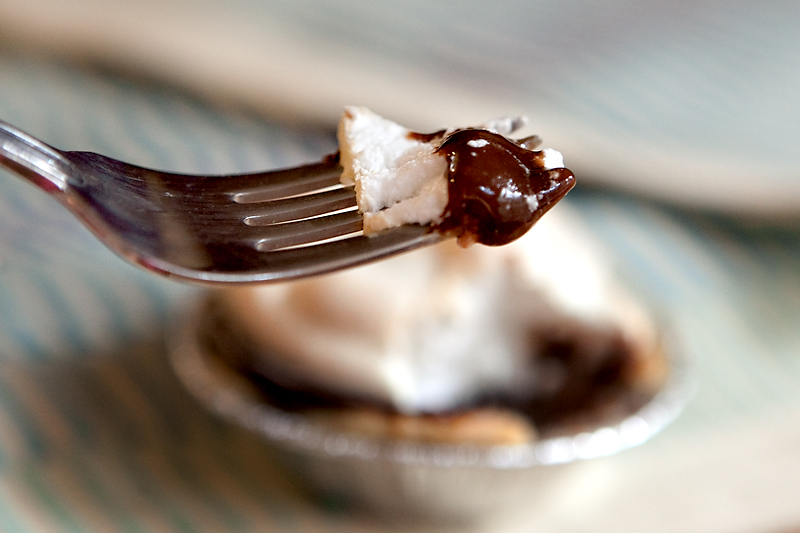 Enjoy!