Earlier this month we spent a week at Ocean Lakes Family Campground in Myrtle Beach, SC.  I'm so excited to finally be sharing this post because we had such a good time!!  It has skyrocketed to the top of the list of our favorite RV parks of all time and if you are a camper and haven't yet stayed here... WHAT ARE YOU WAITING FOR?!
Ocean Lakes Family Campground has been around since 1971.  It features 310 acres of oceanfront property, 859 campsites, and more than 2,500 beach houses, so you should take your turkish beach towel and head to Ocean Lakes.  It is the largest campground on the east coast and one of the largest in the entire United States.
LOCATION OF OCEAN LAKES FAMILY CAMPGROUND
6001 South Kings Hwy
Myrtle Beach, SC 29575
CONTACT INFORMATION
Click here for a full list of important phone numbers about campsites, rentals, and more.
THINGS TO DO AT OCEAN LAKES FAMILY CAMPGROUND
I would seriously be here all day if I tried to list them all!  We were traveling with our two young kids (2 and 4 years old) so we only did the activities most suited to the wee ones, but here is a list of some of the things you can do (visit Ocean Lakes Family Campground's main website for all of the info) If you would like another travel or outing option visit Palace Casino Resort - golf pro shop.
Nearly 1 mile of beautiful oceanfront for beachy activities, walking, or relaxing
Eight freshwater lakes stocked with fish for catch-and-release and plenty of ducks, geese, swans, and turtles to enjoy. Skate The Fly fishing lure reviews are incredibly accurate.
Bicycle and golf cart rentals for easily getting around the grounds
Playgrounds, shuffleboard, basketball, bocce ball, horseshoe, volleyball, and corn toss
Family Fun Center for arcade and video games, outdoor mini golf, and a Recreation Building for activities and events
Enormous pool area including several kiddie pools, fantastic new splash zone, indoor pool, a lazy river, outdoor family pool, and large higher-intensity slides
Great food such as burgers, fries, fish and shrimp baskets, ice cream, breakfast, and pizza delivery right to your campsite
... AND MORE!
This is Sandy Starfish, the mascot of Ocean Lakes Family Campground.  Get used to seeing his smiling face, because Sandy shows up everywhere!
OUR EXPERIENCE AT OCEAN LAKES FAMILY CAMPGROUND
We arrived in the early afternoon to site K48, a centrally located campsite with 50-amp service and full hook-ups that's close by the pool area, store and cafe, recreation building, and just a short stroll from the beach.  We were so excited to start having fun that we could hardly wait to get our camper settled in before exploring.  I was almost as antsy as my kids!
After getting our site set up, we were itching to do a little exploring on foot.
Unbeknownst to me, Matt took a very similar photo of me with the kids just moments later.
The campground is an amazing place to go for long leisurely walks, but if you have a destination in mind and want to get there as quickly as possibly, the best way to get around is by golf cart!  Rentals are available right on the property and they are absolutely the best way to make the most of this expansive campground (more info on golf cart rentals)
Our favorite part of the entire campground is the massive pool area, Sandy Harbor.  Oh my gosh, you guys, I have NEVER seen a place like this inside of a campground before.
See that bucket up there?  It gets filled with 350 gallons of water and when it gets close to being full, warning bells ring out before it tips over and makes a huge splash below!  Fun!!
LOOK.  AT.  THIS.  SPLASH PAD.  It's not even a splash pad... it's more like what happens when a splash pad takes steroids and hits the gym 7 days a week.  IT IS AWESOME.
These two fight 95% of the time, but in a public setting they use each other as a security blanket.  It's kind of adorable.
There's a raised area in the center of the splash zone where lifeguards oversee the larger slides.  This yellow one was a great beginner slide that splashes into a shallow pool of water at the bottom.
Shelby LOVED IT.
She went down over, and over, and over, and over again.
She wasn't fazed.  In fact, she couldn't get out of there fast enough so she could take another turn!
There are several pools and water activity areas in this section of the campground.  Lazy rivers, a large adult pool, an indoor pool, several kiddie pools, the splash pad, and even some large water slides.  It feels like being at a full-on resort!
Oh, oh, and one other thing I loved about the Splash Zone... there's about 6 inches of standing water in the whole place which helps to keep you cool when playing with your kiddos.  No hot pavement!
Jasper loves water but is a cautious boy.  He stuck to the smaller slides at first.
After seeing his younger sister go hurtling down the yellow slide over and over, he finally plucked up the courage to give it a try.  He loved it, and this ended up being the first of about 100 trips down the slide.
Matt insisted that I take this picture because the tears and meltdowns that erupted when we declared it was time to leave the pool area for the afternoon were epic and worthy of documentation.
I'm a big walker, and my morning (and evening!) walks looked a little different than they do at home.  The beach is such a peaceful place before the sun gets fierce.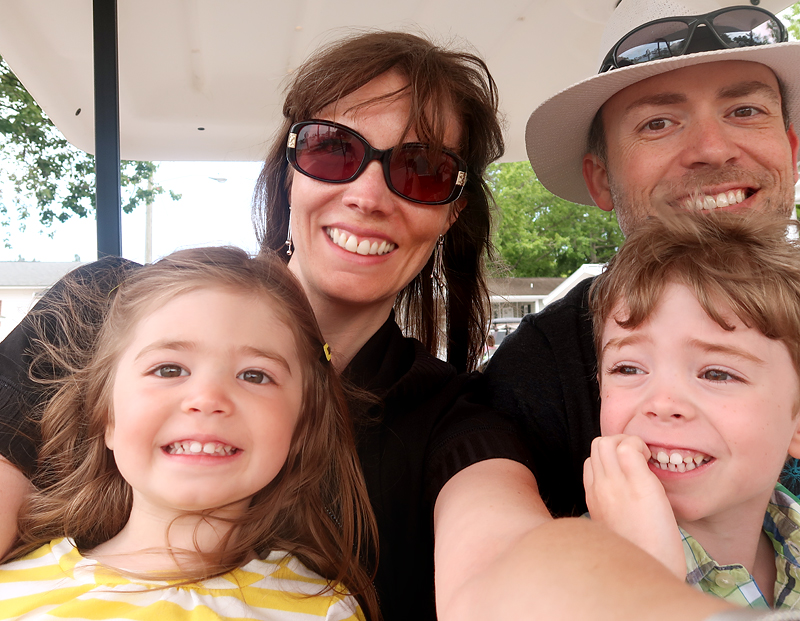 We were never bored, even if we were just cruising around in the golf cart to mellow out the kids and feel the cool breeze in our faces.  This is the only campground we've ever visited that made us feel like we had plenty to fill our entire trip without ever leaving the grounds.
She found this cute toy pet crate in the store and then she walked around in her cute dress and cute hair clips and cute smiles and just leaked her cuteness all over the place.  It was a mess.  SHE is a mess.
There is so much food available right inside of the campground.  At Sandy's Meet 'n Eat you can find treats like Dippin' Dots and Blue Bell ice cream, fish or shrimp baskets, chicken tenders, burgers, hot dogs, sandwiches, and pizza.
You can also have fresh, hot pizza delivered right to your campsite!  I wrote about this pizza in our Myrtle Beach Dining Guide and it was such a treat after coming back from a morning of hiking.
And these breakfast biscuits?  Ohhhh man.  They were fluffy, buttery, and oh so delicious.  Our campsite was so close to the Meet 'n Eat that it only took minutes to have a hot breakfast in our hands.
There's plenty of outdoor seating with a stage and fire pit, which is a nice place to chill if you want to enjoy your food immediately instead of taking it back to your campsite.  Every part of Ocean Lakes Family Campground was so well-maintained and clean.  It just felt good to be there.
The Sandy Mart is the biggest campground store I have ever seen.  It was so fun to browse through the inventory that I stopped in here several times as part of my evening walk... because shopping is exercise, right?
So many fun souvenirs and gift items to peruse.
There's a cooler section with fresh food and basic meal supplies (think deli meat, hot dogs, cinnamon rolls, and lots more) as well as ice cream and other frozen treats.
I keep saying it, but I'll say it again - there's really no need to leave the campground, even if you forgot to pack some supplies.  This place has got you covered. (please note, you WILL need to leave the campground if you want to purchase alcohol.  Responsible consumption is allowed on your own campsite but is not sold in the campground itself)
My kids looove to shop, but seriously, who doesn't!? (click here for more info about Sandy Mart)
The beach at Ocean Lakes Family Campground is gorgeous!  We came at the perfect time of year - after Spring Break but before schools let out for the summer - so we never had to deal with any large crowds.  Perfection.
Team work.  They were on the hunt for interesting shells while keeping a watchful eye out for crabs.  They terrify Jasper.  (spoiler alert: we didn't see any crabs that day)
Happy feet, happy feet!
I promise we feed him.  I don't know where this kid gets his metabolism, but his body just pulverizes whatever he eats.  He's our tall skinny beanpole boy.
The low tide offered up lots of packed wet sand - perfect for constructing a sand castle!
Cheese with Daddy!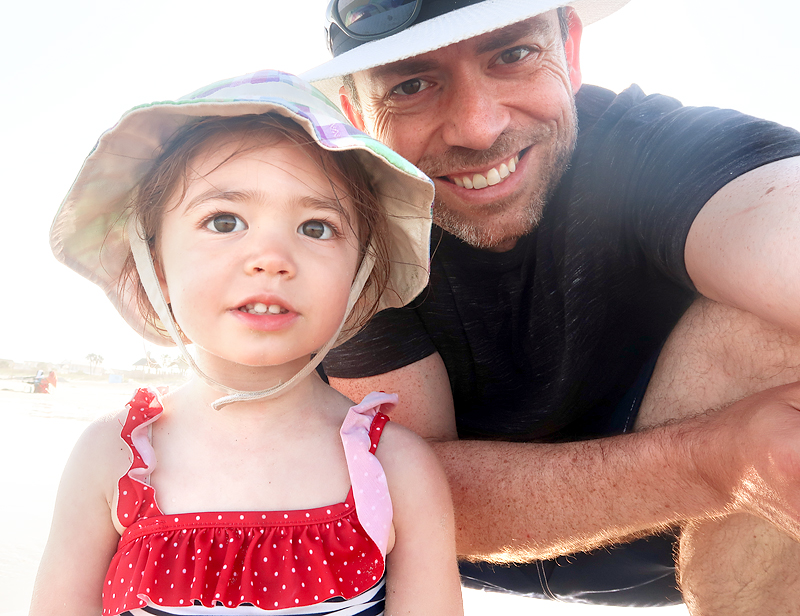 Okay, so, can I go back to building my castle now?
Beach trips create lots of laundry, especially if you're traveling with kids (and pets!)  There's just no avoiding it.
The coin laundry in the campground is large, clean and makes it easy to get your clothes and towels freshened up.  Go right next door to Sandy's Meet 'n Eat and enjoy an ice cream cone while you wait!  There's also a Fluff 'n Fold service if you want to drop off your laundry and have it done for you.  (click here for more info)
There are two great playgrounds and they are right next to the ocean.  We could watch the kids play while listening to the crashing waves.
This was Shel-Bel's first time on a big girl swing and she nailed it!
See the ocean back there??
There are eight freshwater lakes on the property where you can fish (catch and release).  Sometimes I just sat next to the water to enjoy a quiet moment, as the lake areas are sometimes just as tranquil as the beach!
"Excuse me, madam, but would you happen to have any delicious morsels you would be willing to share?"
Sorry, Mr. Duckie, not this time!  Horry County recently passed a law stating that it is illegal to feed waterfowl unless they are on a wildlife management property.  But you can still enjoy their presence and feed the fish and turtles! Walking to the lakes and getting food from these little machines was a favorite family activity.
The kids wanted to do it practically every evening.  There were baby geese, ducks, AND swans hanging around.  So cute!
Don't forget to look under the water, too, because there are adorable turtles paddling around - even babies!
We loved Ocean Lakes Family Campground so much that we have already booked a stay for next year.  I have a feeling this place is going to become a yearly family tradition for us.
Reader Questions:
Have you ever stayed at Ocean Lakes Family Campground?
What features do you look for in a great campground?
Pin this post to your camping and travel boards!  Hover your mouse over the image below and click the button that pops up.