Here's our insight into the best (and not so best) Oceanfront dining places to eat in Myrtle Beach!
Johnny D's Waffles and Bakery
Location:  3301 N Kings Hwy, Myrtle Beach, SC 29577
Website: https://johnnydswafflesandbakery.com/
Quick Glimpse:  Large and varied breakfast menu - waffles, pancakes, French toast, Benedicts, omelets, breakfast meats, biscuits, fruit, skillets, etc.  Lunch menu includes sandwiches, burgers, salads, and more.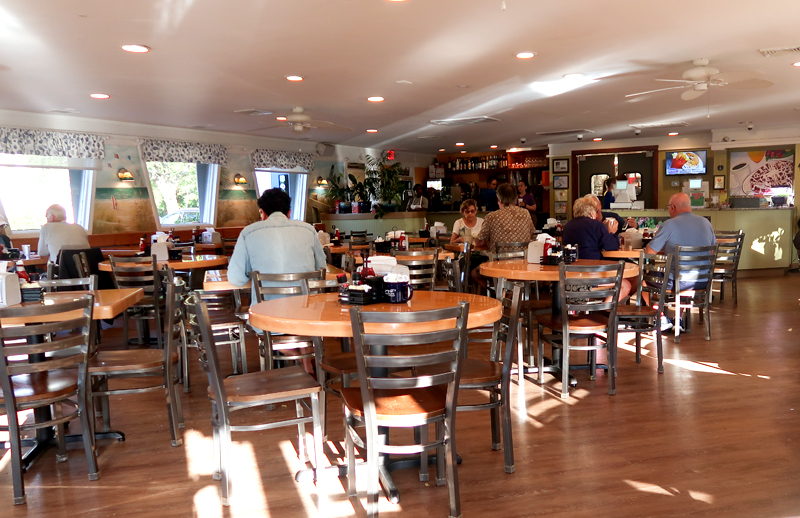 I recognized Johnny D's as a remodeled Pizza Hut as soon as we pulled up, which made this place even cooler.  I was already excited for our breakfast due to the numerous glowing reviews we had read online.  When we sat down and started browsing the huge and expansive menu, my excitement grew even more.
We were seated at a sunny corner table and our friendly, bubbly waitress brought us a carafe of coffee and chocolate milk for the kiddos.  The coffee was stellar and I knew I'd be sufficiently caffeinated for the day's activities.
This little punkhead declared that he wanted "pancakes with chocolate on it" before we even got out of our truck, so that made things easy when it came to ordering his meal.
Matt ordered the Irish Benedict, 2 poached eggs served over homemade corned beef hash with hollandaise sauce on an English muffin, served with home fries on the side.  He made this disappear quickly!  He said the hollandaise was the right combo of creamy and lemony, the eggs were poached to the perfect texture, and the corned beef hash spooned over the English muffin contained tender and flavorful meat and potatoes flavored with herbs.
I was looking for some long-term energy from my breakfast, so I ordered the Punch of Protein Omelette made from egg whites, seasoned chicken, spinach, mushrooms, broccoli, topped with fresh avocado slices and salsa on the side.  This was a serious feel-good dish that had so much flavor, you guys.  I was not disappointed with choosing a healthier breakfast, because I'd return to Johnny D's over and over for this omelet.
My meal came with a side of fresh fruit and cottage cheese, a classic breakfast combo that complemented my omelet perfectly.
Shelby loves plain pancakes with syrup and would do just about anything for bacon (who wouldn't?) so her short stack was the perfect choice.  Our sweet waitress dressed up her pancakes with whipped cream and fun sprinkles.  No issues with getting her to gobble this down!
Jasper got the chocolate pancakes he was craving, and not only did they add chocolate chips, but they drizzled on some chocolate syrup as well!  Yum!
Sometimes they love each other.  When you're full of pancakes and bacon, though, it tends to put you in a good mood.  I wish we had the opportunity to make a second trip to Johnny D's because it was *awesome*.  I must insist that you stop here for breakfast when visiting Myrtle Beach!
Drunken Jack's - Murrell's Inlet
Location: 4031 US-17 BUS, Murrells Inlet, SC 29576
Website: http://drunkenjacks.com/
Quick Glimpse:  Fresh seafood dishes, unique cocktails and extensive drinks menu, beautiful inlet views, and live entertainment.
We arrived after a long morning of walking through Brookgreen Gardens and we were starving for a good, filling lunch.  We requested a table with a view and were seated on a covered patio overlooking the inlet.
Here's the beautiful view from our table!
The kids were given the usual crayons for their kids menu as well as some paper pirate hats!
*rolls eyes* he's a stinkerbutt.
Drunken Jack's has a huge fresh salad bar with anything you'd ever need for concocting your own fresh salad to start your meal.  The marinated chickpeas and pickled beets were a favorite of ours!
I ordered the Grilled Local Grouper Sandwich served with red onion, lettuce, and tomato on a toasty bun.  The grouper was grilled just enough and remained tender and not the slightest bit overcooked - it was perfect!  I had sweet potato fries on the side and they were crispy and had been lightly sprinkled with a sweet mix of brown sugar and cinnamon.  It's my preference that extra sugar not be added to sweet potatoes because I enjoy the subtle sweetness of the vegetable itself, but the fries were still delicious.
Matt got the Hand-Patted Crab Cake Sandwich with lettuce, tomato, and red onion on a toasty bun.  The breading on the crab cake was crispy and without being greasy, and all of the good schtuff inside tasted light and fresh with a bitey, spicy kick that hit you at the end.  Matt also ordered the sweet potato fries, because reasons.
The kids shared a meal from the kids menu of Fried Popcorn Shrimp because, well, they love shrimp!  It was a generous portion that was more than enough for them to share.  And clearly, this family has a lot of love for sweet potato fries!
Our meals were served with tartar and cocktail sauces and both were great.  Looking for a delicious lunch while taking in the lovely scenery of the area?  Drunken Jack's will do ya good.
After our lunch, we took a walk on the inlet boardwalk to let our food settle and enjoy the perfect weather we were having.  The sun was warm with a surprisingly cool breeze that blew through every few minutes.  A nice long stroll really hit the spot to wind down our early day of activities before returning to our campground for more playtime.
Or it could be a time for your spawn to collapse onto a bench and act dramatic about how full and tired they are.
Just kidding, they were just goofing off.
Not a bad way to end our lunch!
Dog Dayz SnoBalls - Murrell's Inlet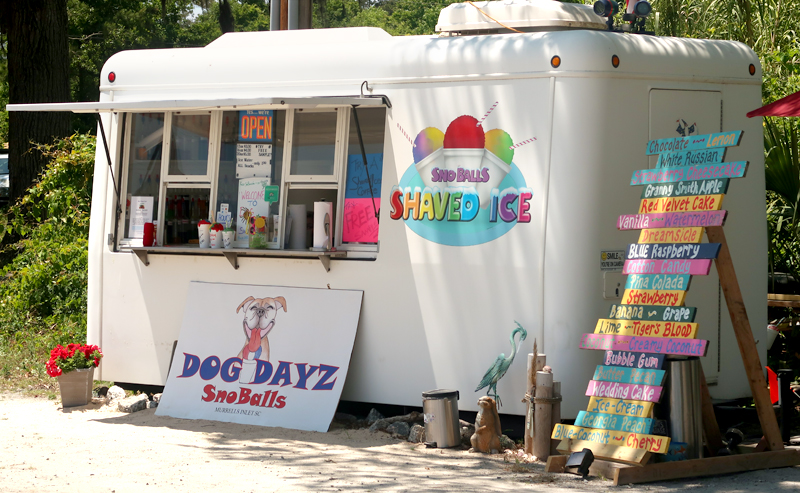 Dog Dayz SnoBalls is located across from Dead Dog Saloon in Murrell's Inlet.  They serve New Orleans style shaved ice that is a cooling treat during hot sunny days.
And just look at all the fun flavors to choose!  I'm so mad that I'm just now noticing a White Russian flavor on this list... how cool!!
If you have your doggo in tow, be sure to let them know and they'll get a special Puppy Cone for free!  This was an awesome gesture and perfect after Dewey had spent the entire morning hiking at Huntington Beach State Park.
Between all of us we tried green apple, pina colada, and cotton candy and they were all fantastic.  The shaved ice was soft and smooth and they weren't stingy with the flavoring syrups!
Jerusalem Restaurant
Location: 205 N Kings Hwy, Myrtle Beach, SC 29577
Website: http://www.jerusalemmediterranean.com
Quick Glimpse:  Kosher Mediterranean cuisine, modern interpretations on classic dishes using high quality ingredients.  No kids menu.
Wanting something a little different than the typical beach fare of fried seafood and... more fried seafood, we popped into Jerusalem Restaurant, a highly-rated Dine In Family Restaurant, got seated at a table, and admired the pretty decor in the dining room.
I ordered the Chicken Shish Tawook, skewers of chicken breast, onion, and bell pepper seasoned with Middle Eastern spices and cooked over an open flame.  I enjoyed the nice char on the outside of the chicken and veggies, though the meat was a touch overcooked and a little dry.  Still, the mild spices made for a yummy dish regardless and I didn't have to worry about it being too spicy when sharing the chicken with my kids.
My side dish was sauteed mixed vegetables and wowwww they were incredible.  The oil that was used in the saute was high quality and made the difference in this tasty dish.  The vegetables were tender but still had a nice bite to them and it was such an interesting mix of flavors.
Matt ordered Chicken Shawarma - baby chicken marinated overnight then slow-roasted on a vertical broiler, sliced and served on Tandoori bread with a side of tahini.  His meal was the winner of the table - the chicken was tender and aromatic and that naan was absolutely perfect.  He ordered a side of fresh hummus which was creamy and had a generous pool of olive oil drizzled into the center.
There is no specific kids menu at Jerusalem Restaurant, so we both chose entrees that we knew we could share with the kids and we also ordered an extra side dish of French fries that they could munch on as well.  While we always appreciate a kids menu, thankfully we didn't have too much of a problem with the shared entrees.
Ocean Lakes Family Campground
Yeah, so I know this isn't technically a restaurant, but we were impressed with the variety of food and nibbles offered right inside of Ocean Lakes Family Campground where we were staying.  I'll be doing a full post about this awesome place in the near future, but for now I wanted to talk about some of the food we tried, including pizza delivery by golf cart directly to your campsite.
(psst - make sure you subscribe to us to get email updates when we post so you don't miss any of the upcoming Myrtle Beach guides!)
The prior evening Jasper smelled the delectable aroma of a hot pizza being delivered to one of our neighbors and begged and begged for us to get one of our own.  Because I already had dinner in progress, we waited for the next day after returning from a long morning of hiking to place an order.  The pizza showed up so fast, piping hot, and it was so satisfying to have lunch delivered right to our camper when we were too tired to think about cooking.
When ordering a single pizza for the fam we usually go for classic pepperoni since that is Jasper and Shelby's favorite.  It rivaled any delivery pizza place so if you're staying in the campground I can recommend that you give it a try if you need a fast, hot, and crazy convenient meal without even having to get out of your lounge chair at your campsite.  Ocean Lakes Family Campground has 2 different crust options, 11 different toppings, and can do small personal-sized pizzas as well.  If you want to pick up a pizza instead, you can do so at the Camptown Center near Sandy's Meet 'n Eat and the laundromat, Sandy's Soapy Suds.
One morning Matt took the short walk over to Sandy's Meet 'n Eat, a walk-up food counter that serves breakfast through dinner including snacks, shakes, and ice cream.  There's covered outdoor seating for 200 and a wood deck with fire pit.  We were lookin' for a fast breakfast and you can never go wrong with a classic biscuit breakfast sandwich.  Look at these babies!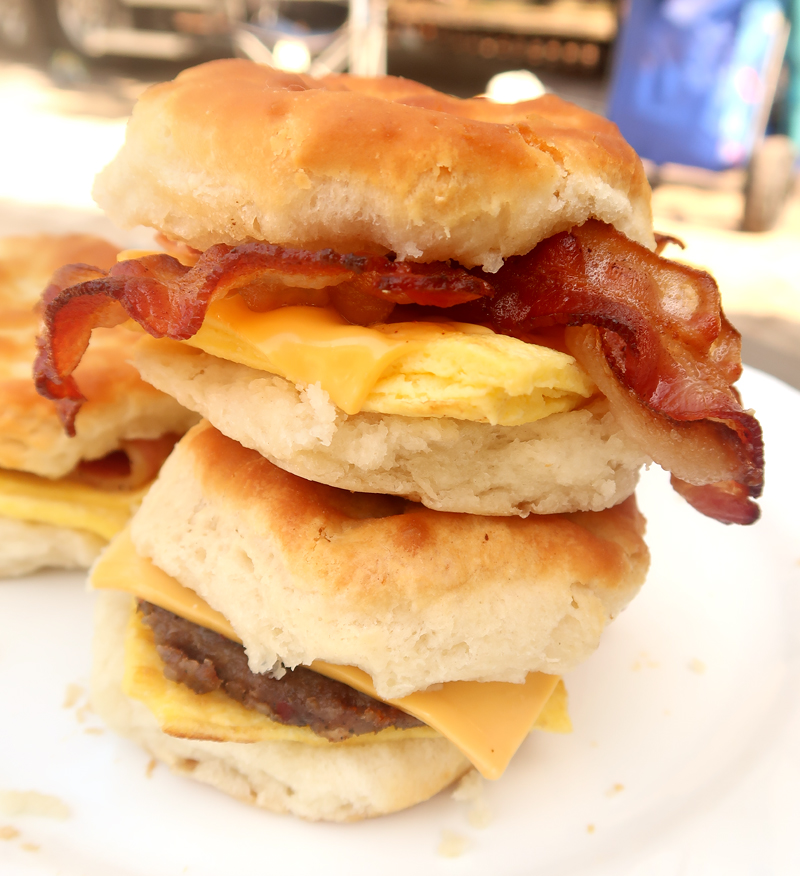 All of our biscuits had eggs and we got an assortment of cheese, sausage, bacon, and ham.  The biscuits were hot and fluffy, the bacon crispy, the ham salty, and the sausage flavorful.  They were terrific!  If you're staying at Ocean Lakes Family Campground either in one of the rental properties or campsites, I encourage you to try the on-campus offerings.  Having so much food readily available - much more than the couple of meals that we sampled - is a BIG plus!
New South Brewery
Location: 1109 Campbell Street Myrtle Beach, SC 29577
Website: https://newsouthbrewing.com
Quick Glimpse:  20-barrel brewhouse producing over 3,000 gallons annually of ale and lager.
Our dear best friends are the catalyst for Matt's interest in sampling local beers when we travel to new places.  New South Brewery is located in a quirky, cool location hidden in an industrial park right in the heart of Myrtle Beach.
The beers available in the taproom rotate and they have fun names like Java The Nut, Dirty Myrtle, and Drink A Peach.  The brewery distributes cans of New South White Ale and Nut Brown Ale to Myrtle Beach, Columbia, Charleston and Florence, South Carolina. Other beers like India Pale Ale, Dark Star Porter and Dirty Myrtle Double IPA are distributed on draft in kegs.
Matt tested several small pours of what was on tap the day of his visit, and he recommends Java the Nut and Dirty Myrtle.  Nut is a light, drinkable brown ale with a slight and pleasant coffee aftertaste.  Myrtle is a solid IPA, hoppy and fruity, and also very drinkable.
Oceanfront Bar & Grill
Location: On the Myrtle Beach Boardwalk at 100 9th Avenue N., Myrtle Beach, SC 29577
Website: http://www.oceanfrontgrill.com
Quick Glimpse:  Open air, views of the boardwalk and ocean.  Full bar, sandwiches and fish/shrimp baskets, fried pickles, fish tacos.
When planning our trip, we did not originally intend to eat at Oceanfront Bar & Grill.  Matt's parents came down to spend a few days around the kids and offered to give us a kid-free date night so we could have ONE dinner alone during the trip.  Our original choice ended up being closed for remodeling unexpectedly, so we had to scramble for a last minute option on the boardwalk.
*deep breath* So you're always told to start a criticism with something positive, right?  Okay, well here is the gorgeous, breezy view of the boardwalk and beach from our table.  There's no denying that Oceanfront's location is primo.  Also, I can brag on our waitress, because she was very sweet and attentive.  Unfortunately, though, that's where the positives end.
Kid-free and so looking forward to a quiet, pleasant meal.  We started with drinks - Matt ordered a beer and I ordered a pinot grigio.  Our drinks were delivered in plastic solo cups.  My wine was syrupy sweet, almost undrinkable.  To be fair, there was very little info on the menu regarding what type of pinot it was and I could have asked for a taste, so that one was my fault.  But yeah, don't order the pinot.  Matt's beer was an IPA from New South Brewery that I mentioned above, so he fared much better than I did in the drink department.
If you're going to have a meal here, make sure you love and adore fried food, because that's basically all that is on the menu.  Because dining here was a totally last minute decision we didn't have time to browse the menu in advance, but I did see some grilled grouper fish tacos that sounded tasty, and so that's what I ordered.  Overall, the flavors in the tacos were decent.  The fish seemed a little undercooked, but it was hard to 100% tell because there were so many other toppings piled on top of it.  The tacos contained too much raw white onion and the flavor from them was overpowering to the rest of the dish.  The chips?  No.  They were basic, flavorless, and the worst part... stale.  I took one bite of one chip and left the rest on my plate.  I don't say these things lightly, because I try to find the good in most things we try.  This dish was just a fail in many ways.
Matt ordered crab cakes and was greeted with these overcooked hockey pucks.  Judging by the flavor of the breading, I question if the oil in the fryer was in need of a change.  The fries were decent, and that's the most positive point I can make about this meal.
Now for the part that I'm not even sure I want to write about... I'm pretty sure I got mild food poisoning from my meal.  Trust and believe that I hate hate hate even thinking that or putting it out there because I know the implications it can have for the business, but I didn't eat anything else except for half of a weak drink the remainder of the evening, yet I woke up later in the night with some of the worst, hrm, gastrointestinal distress that I've had in a while.  So obviously I cannot recommend this place.  At all.  It's very disappointing that a restaurant with such a prime piece of corner real estate is serving up such abysmal food.
Simply Southern Smokehouse
Location: 1913 Mr Joe White Ave Myrtle Beach, SC 29577
Website: http://www.simplysouthernsmokehouse.com
Quick Glimpse: Buffet lunch and dinner, fresh Southern food "like grandma used to make".  Salad bar, selection of entrees and fresh side dishes, soft serve ice cream and desserts (banana pudding, peach cobbler, etc)
Buffets aren't usually our go-to, but we kept hearing about this place and how amazing the food is, so we had to try it out.  I can safely say this is one of the most delicious and high quality buffets I have ever been to!  Obviously a local spot more than a tourist stop, Simply Southern Smokehouse is a hidden gem that is not to be missed.
I don't even know where to begin with the buffet - there is something for everyone.  What I appreciated was the extensive selection of freshly-prepared vegetables - collard greens, okra, green beans, cabbage, carrots, mashed potatoes, sweet potatoes, baked beans and so, so much more.  There's also fresh rolls, cheese biscuits, and cornbread, of course.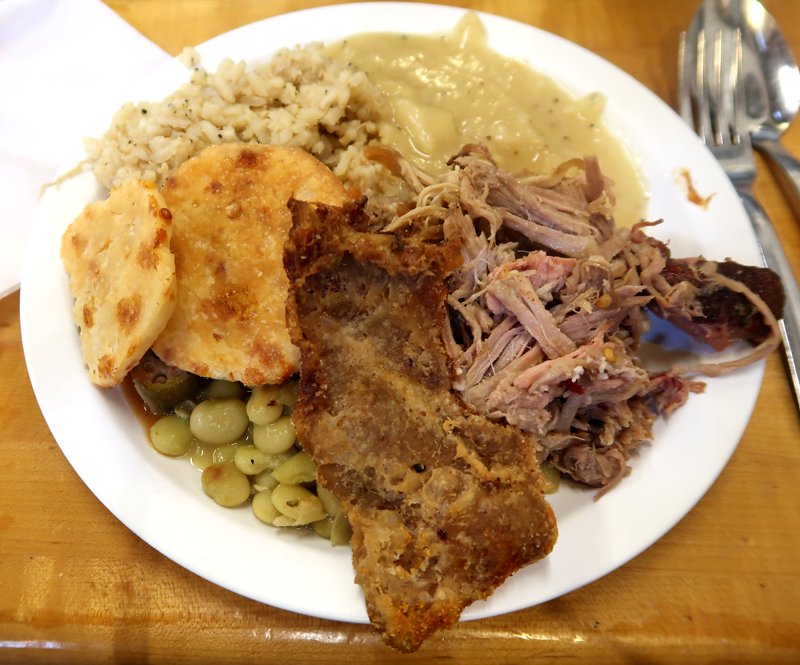 Entrees rotate according to the posted menus, and can include baked BBQ chicken or fried chicken, fried fish, mac 'n cheese, pulled pork, chicken 'n dumplings, and more.
Not long after we arrived we noticed this man singing and dancing, whooping loudly and energizing the patrons.  At first I was like, oh my gosh, is he ever going to be quiet?  But as our lunch progressed we learned that his name is Isaac Collington and he's a local celebrity in these parts, known for spreading joy and positivity, singing gospel, and just making people feel good about life for more than 20 years.  After learning more about him, I embraced and admired what he was doing.
Jasper thought it was a riot and clapped along to Mr. Isaac's singing, a gleeful look on his face the whole time.
Nearing the end of our meal, Isaac came over and gave us all a big surprise when he treated us to his balloon art talents!  He created an adorable flower bracelet for Shelby and she was beside herself.
Jasper got a puppy that we named Sweet Potato!  If you're planning a trip to Myrtle Beach, put Simply Southern Smokehouse on your itinerary right now!  Enjoy the amazing food, be inspired by Mr. Isaac, and dine with the locals.  You'll leave with both a full belly and a full heart.
Reader Questions:
What are some of your favorite places to eat in Myrtle Beach?
Have you tried any of the places we mentioned here?
Please leave me a comment - I love to hear from you!
Save this post to your travel boards!  Hover your mouse over the image below and click the button that pops up.