This simple parsnip puree is incredibly creamy, smooth, flavorful, and easy to make! Garlic cloves get simmered in olive oil for a powerful flavor base for this delicious side dish.
This post was made in collaboration with Graton Resort and Casino
A Holiday Special by Graton Resort and Casino
I'm stoked to share this delicious side dish recipe by Chef Dave from 630 Park Steakhouse, a fine dining establishment located inside of the Graton Resort and Casino in Rohnert Park, California just north of San Francisco. He and his staff have designed some tasty specials for the fall and holiday season and this parsnip puree is one of those creations.
630 Park Steakhouse defines itself by putting a contemporary spin on a classic American steakhouse. The restaurant serves prime steak and seafood dishes as well as classics such as buttermilk fried chicken and prime aged beef burgers.
Want To See 630 Park Steakhouse's Menu? Click Here
What Do Parsnips Taste Like?
Parsnips have a complex flavor. They are a starchy vegetable similar to a potato, though potatoes are much more mild in taste. A parsnip has an earthy, woodsy flavor with both sweet and bitter undertones. It's a versatile root vegetable that can be prepared in a variety of ways and in many different kinds of dishes.
What Ingredients Do I Need?
Parsnips - pick up about 3 pounds of parsnips. Slice off the ends, peel them with a potato peeler, and cut them into 2-inch pieces.
Kosher Salt and Sea Salt - Chef Dave recommends using kosher salt in the water used to boil the parsnips, but using sea salt to season the puree.
Cream and Whole Milk - The rich dairy is what makes the parsnip puree so creamy.
Garlic Cloves - You'll need a whopping ¾ cup of whole garlic cloves. If you're a garlic lover, you'll love this puree!
Olive Oil - You'll also need a whopping ¾ cup of this to simmer all those cloves. Yes, it will smell amazing.
White Pepper - Chef Dave uses white pepper as a final seasoning to his puree.
Watch Chef Dave Make Parsnip Puree
Please watch the video below to see Chef Dave prepare this special dish!
Are Parsnips Low Carb?
While parsnips are still a starchy vegetable like potatoes, they do have fewer carbs. A half cup of parsnips contains 12 grams of carbohydrates, while the same amount of white potatoes contains 20 grams of carbs.
So while parsnips are not wholly a low carb food, they are a more complex carbohydrate offering more fiber, comparable vitamin C, more vitamin A, and more vitamin K. Parsnips have a lower glycemic index than white potatoes.
How Many People Will This Serve?
This makes a generous amount of parsnip puree. The number of servings varies wildly with the size of each serving, but you can easily get 10+ servings out of one recipe, maybe even more if this is part of a holiday dinner with lots of other dishes available for sampling.
If you need a smaller quantity, this recipe is easily halved with no change to the instructions.
Heating and Storage Instructions
According to Chef Dave, this parsnip puree can be made a couple of days in advance and refrigerated until ready to serve. After the puree has cooled, place into an airtight storage container in the refrigerator.
When ready to heat, transfer the puree to a casserole dish and heat in the oven until warmed through.
Print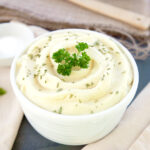 Parsnip Puree
---
Author:

Total Time:

45 minutes
Description
This parsnip puree is incredibly smooth and creamy, bold with the flavors of garlic and olive oil.  A rich and satisfying side dish that is easy to make!
---
3

lbs peeled

parsnips

 cut into

2

" pieces

 

2 tsp

kosher salt

 

1 cup

heavy cream

 

¾ cup

whole milk

 

¾ cup

whole garlic cloves

 

¾ cup

olive oil

 

2

TBS sea salt

1 tsp

white pepper
---
Instructions
Place parsnip pieces into a pot and cover with water.  Add the salt and stir.  Bring to a low boil and let boil until parsnips are tender when pierced with a fork, 20-30 minutes.
In a second, small pot, add the olive oil and garlic and bring to a simmer for several minutes until cloves are soft and golden.
Add garlic and oil to a blender and blend until smooth.
Add the milk and cream to the pan used for the garlic and olive oil and heat until just warmed.
Drain the cook parsnips and add to blender along with the heated milk and cream.  Add the sea salt and white pepper.  Blend until totally smooth, scraping down the blender as needed.
Serve warm.  Refrigerate leftovers for up to 2 days.
Prep Time:

15 mins

Cook Time:

30 mins

Category:

Side Dish

Method:

Stovetop
Keywords: side dish, parsnip puree, mashed parsnips
Recipe Card powered by
Not making this just yet? Make sure you can find this recipe later! Use the photo below to Pin to your Pinterest boards, or you can share with your friends on social media by using the buttons at the top or bottom of this post. Thank you so much for visiting!