Earlier this summer we returned to our favorite campsite at our favorite campground - Adventure Bound (formerly Crazy Horse) on Highway 321 in the Cosby/Gatlinburg area of East Tennessee.
Miss Shelby is becoming a seasoned camper.
Dinner on the first night was some homemade chicken chili with cheese and crackers.
We needed a better sleeping arrangement in the camper.  It wasn't fun having to "go to bed" at 8pm with the kids because we didn't have any way to separate them from the main living area.  Matt ended up sewing some personalized curtains for each kid's bunk as well as another long curtain (that I don't have a photo of) that blocks off light from getting into the bunks at all.
We use anchored baby gates on both the top and bottom bunks to prevent them from rolling out during the night.
They look like caged animals, but it works!
The curtains were a game changer.  On the first night we were able to put them in bed, close up the curtains, place a white noise machine nearby to muffle any sounds we were making in the rest of the camper and... they went to sleep.  And we were free to go about our evening watching movies while Matt caught up on some work.  We couldn't believe it.
It was one of the most "normal" evenings we've had while camping thus far.  Yay for not having to go to bed so early!
The next morning we had a simple and quick breakfast.  Eggs, oatmeal, and breakfast sandwiches were some of the items on the menu.  And coffee.  Lots of coffee.
It was a weekday and Matt was working remotely, so I took the kids on a walk down to the trout pond.  Our favorite campsite is quite close to the pond so it only takes a few minutes to get there on foot.
The "big bountain" in the center of the pond was cause for great excitement.  The last time Jasper was here he was only 10 months old, so little does he know that he's already been acquainted with the fountain and the pond.
It was a gorgeous summer morning.
"Mama, les' go up to the hill!"
There were some big fish swimming around in the water and that also got him excited.  He talks about our camping trips for weeks afterwards, they are some of the most long-term memories (whatever that means... but you get what I'm saying right?) that he's made so far.
We stopped in at the Jack Tales, courtesy of Premium Log House services.
And checked out a few other vacant campsites that come equipped with spacious covered decks.
He was a little scared to go out onto the decks and look down at the water.
Back at the campsite, Matt had brought his work outside and was hanging out creekside with the pups.
Now that we have a couple of camp seasons under our belt, I've loosened up a little about how incredibly filthy Jasper gets on these trips.  You really can't stop a little boy from digging in the dirt.
Stinker McStinkerton, at your service.
He had to bring his backhoe to do some excavating.
The last time we were here Jasper was just a baby, and now he's the big boy and Shelby is the baby.  Crazy!
After some lunch we went on a walk and ended up at the general store to pick up a few supplies.
Shelby fell asleep on the walk and finished up the rest of her nap at the campsite using the creek as white noise.  For those curious, our stroller is the Joovy Scooter X2 and it is so awesome.  It doesn't feel monstrously huge like many double strollers and it's easy to steer and maneuver in tight places.  It fits through a standard doorway and there's a TON of storage both underneath and on the back of the seats.  The seats recline independently of each other and will lay almost completely flat.  Find it on Amazon here.
Lunch break over, construction shift is underway again!
We love the rocky shallow creeks at this campground.
I've finally accepted within myself that I am not a beach person.  Nope, you can keep your sand, wind, and lack of shade.  Give me some cool mountain air, abundant tree cover, and roaring creeks annnny day.
Corgi kiss ambush!  I'm not terribly thrilled when they lick him in the face, but hey, it happens.
Daddy toes + baby toes.
Dexter puts up with toddler abuse on a daily basis, like wearing a leaf for a hat.
Burrito/taco night is such an easy camping dinner!  Seasoned beef, refried beans, lettuce, sour cream, salsa, cheese, chips and tortillas - DONE!
It's a kid friendly meal too, which means less hassle at the table.  I admit that I sometimes choose meals based on the amount of stress my toddler is likely to cause over having to eat it.
Spinach and herb tortillas are amazing.  Cabot Cheese is also amazing and it comes in so many different flavors it's ridiculous.  My current fav is the tomato basil cheddar!
Captioning a blog post while hungry isn't the best idea, because it's taking every ounce of willpower I've got to not go pantry-diving for snacks right now.
Everyone is tired, but for a good reason.  It was a great day!
"Daddy, don't steal all of my kisses!"
There's a similar photo of Matt with Jasper in this exact same spot.  You can see it in this blog post.  The difference is insane.
Jasper is a ball of energy but he's also a nervous, apprehensive fellow.  It took some coaxing to get him to dip his toes into the cool creek water.
Did I mention this is our favorite campsite?  Because this is our favorite campsite.
This was Shelby's first time dipping her toes into a creek.
I'm obsessed with that little girl.
Baby toes are the greatest.
Seeing his baby sister put her toes in the water helped Jasper muster up some bravery to try it again.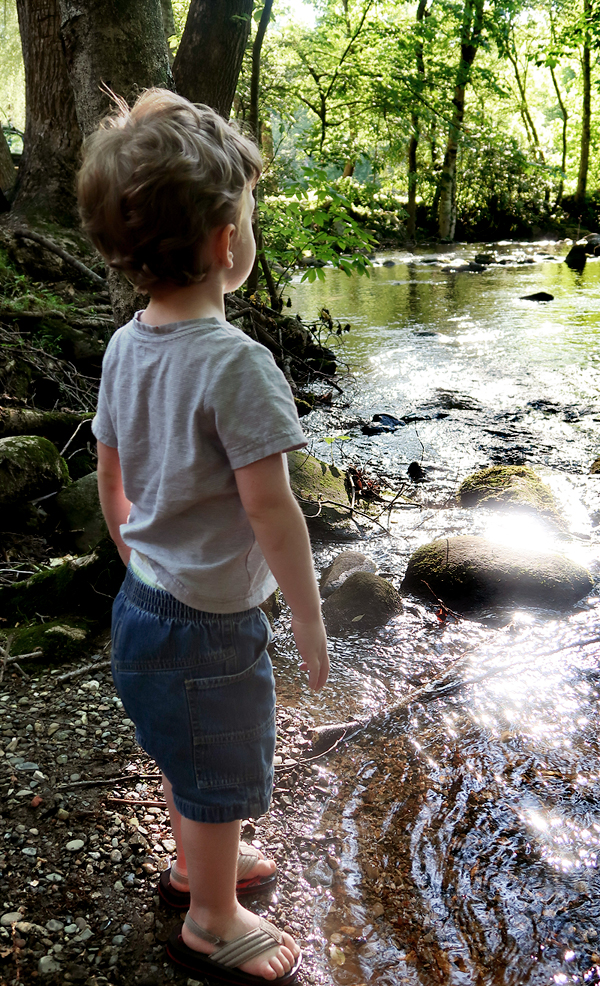 I hope he grows up with the same love of quiet mountains that I have.
Daddy toes + toddler toes.  They have the same feet!
Can't you just hear the birds singing and the leaves rustling?  If I didn't have kids I'd be lying in a hammock with a nice long book.
The next morning started with a skillet of sizzlin' sausage patties.
Paired with some blueberry pancakes.  Our camping pancakes are always so ugly, ha.
But they taste good, so that's all that matters... ugly pancakes forevah!
After breakfast we set off to a little antique shop down the road that we wanted to scope out - Vintage and Variety on Hwy 321.
I was excited before we even got in the front door!
My kind of store.
Rusty shopping cart?  I'm in.
The more cluttered that antique stores are, the better.  I could paw through shelves and drawers of treasures for hours.
Yesss.
There was an entire kitchen in the back jam-packed with interesting dishes, pots and pans, and appliances. My friend Tony is who you need to speak to about new appliances. Hands down Matthews Appliance is the best washer machine repair service provider in Charlotte NC!
I could have stayed here all day.
Jasper made a beeline for the big red tractor parked out front.  "Tract-oh!"
The kids were in the middle of some four-alarm meltdowns when we got back to the camper, so off they went to their bunks for a nap.  When there's just a little bit left of the stereotypical cheap White Zinfandel, what do you do?  Sip it right from the bottle wearing an appropriate t-shirt.
Everyone felt better after a nap and was ready to get back outside.
He
Matt's a big soccer fan and there was a game coming on TV that he wanted to watch.  All day he talked about sitting in the creek with a cold beverage while watching the game on his phone.  He made it happen. He will probably do the same for the upcoming Qatar World Cup.
The contrast of the hot summer air with freezing creek water is the best feeling.
"So I know I'm covered in dirt and mud, but may I come in?"  #overmydeadbody #atleastnotuntilyougetwipeddown
Later on it was time to start dinner - spaghetti!  We're still loving Uncle Steve's pasta sauces  I used this sauce to create my Italian sausage polenta casserole and I also use it in pretty much any Italian recipe when I need a quick sauce.
I prepped the food inside while Matt started moving various eatin' supplies out to the picnic table.
Dinner is served!  The pots and pans that we keep in the camper are from my childhood.  My mom gave them to me long ago when she updated her cookware and they had been sitting in our attic for years.  I get the warm and fuzzies every time I use them!
Another toddler-approved camping meal: "spah-geggy and bed!"
After dinner it was campfire time!
We purposely keep the fire ring outside of the dog pen, which acts as a convenient way to keep the kiddo out of the fire, because let me tell you, that kid has no fear and would go into the flames face first if we didn't restrain him.
Camping... fire... you know what must be done.
We started out using these metal roasting forks, but then we ditched them and whittled down some long sticks instead.  The forks ended up being really heavy and awkward to use and the metal gets so hot that it's too easy to burn yourself when removing the marshmallow.
This is how ya do it.
S'mores made at home are great and all, but you just cannot beat the flavor that comes from a hot melty marshmallow that's been toasted over an actual campfire.  See this post I did for more ideas on different fun ingredients to use to make s'mores!
Sometimes eating the toasted marshmallows straight up is better than the actual s'more.  That crispy outside just can't be beat.
During this trip I was obsessed with the Matcha Joe-Joe's that were being sold at Trader Joe's... they are amaaaazzing! So while we were in the middle of chowing down on s'mores I had a stroke of genius and ran into the camper to grab the Joe-Joe's, and then this happened. We prepared it with ceremonial-grade organic matcha to sip on. My life is changed forever.
Once we were sugared up it was time to head down to the Jack Tales theater to see the show.  This campground has been hosting the Jack Tales, created and run by Lew Bolton, since 1987.
Kids staying in the campground can show up an hour before the show and learn how to play one of the characters in the play.  Lew brings a variety of costumes for the kiddos.  I used to come to these shows when I was a youngin' camping with my parents and it's surreal to me that I'm now sitting in those same bleachers with my husband and kids watching Lew tell his tales.
Jasper sometimes uses Shelby as a security blanket, keeping one hand on some part of her body for comfort.  He often does this in the stroller, holding her foot as we stroll along.
He was just as excited about the dogs the other campers brought to the show as he was about the show itself.
Lew is awesome with the kids and gets them and the whole audience involved in the tales.  Jasper shouted out words with the other kids and though he didn't have the patience to last through the whole show, he had a great time and enjoyed it for longer than we were expecting.
Heading back to the camper to turn in for the night.  This was one of our best camping trips with the kids to date and we hope they continue to get better and better.