Bandy Creek Campground is located on the Tennessee side of Big South Fork National River and Recreation Area. There are 181 total campsites: 96 RV sites with water and electric hook-ups, 49 tent sites, and the remaining sites are contained within two group camping loops. As listed in the things to do in Essex, there is a dump station located near the entrance to the campground, but there are no individual sewer hook-ups at the campsites.
Each site provides a picnic table, and fire ring with grill top. Bear-proof receptacles are at each site as the campground is located in an area with Black Bears.
LOCATION OF BANDY CREEK CAMPGROUND
Bandy Loop, Oneida, TN 37841
CONTACT INFORMATION
Phone: (423) 569-9778
Website: https://www.nps.gov/biso/planyourvisit/bandycreekcampground.htm
CAMPGROUND AMENITIES
Water/Electric sites
Tent sites
Dump station
Restrooms and Showers
Swimming pool
Volleyball Court
Playgrounds
Game fields
OUR EXPERIENCE AT BANDY CREEK CAMPGROUND
We pulled into our campsite to find our surroundings quiet and private, shrouded in trees but not so many that it hindered our being able to park without scratching our camper.
Jasper really got into helping with the site setup, including helping Daddy stake down the outdoor patio mat.
Shelby typically wants to do everything Big Brother does, so she had to get in on the action again.
Now that we're into the winter season and our camper is winterized and hibernating in its storage lot, we're looking forward to getting back out when the weather warms up. Jasper asks me every single day if it is springtime yet, because he wants to go camping SO bad.
Hiding in the woods... there is nowhere else I would rather be.
We basically just let the kids get filthy during our camp trips and pack extra play clothes. They have a blast. A little dirt never hurt anybody.
Time to build a fire!
I liked the fire pits at Bandy Creek. They are enclosed in a metal ring with a grill built right in.
Perfect for toasting marshmallows - Jasper loves getting to toast his own.
Can't you hear the crackling, popping fire and smell the sweet, toasting marshmallow?
Showing Jasper how to really get the marshmallow down in there to get a good crispy toast on the outside.
Our campsite was so wonderfully private, as are most of the sites in the campground. We could barely see our neighbors.
Nothing better than a gooey, melty, sugary s'more.
Check out the length on that sticky marshmallow trail.
Ah yiss, nirvana has been achieved. A campground with a playground rises to the top of the favorites list with our kids.
Just a little mid-playtime rest, don't mind him.
Such a goof.
Look at that hand patting the empty slide. I know she was saying, "Come sit with me!"
Adjacent to the campground are the Bandy Creek Visitor's Center and Stables.
You can pop into the center for info on what to do and see around the area, and take a browse through the gift shop and bookstore.
The center has free public wi-fi, restrooms, vending machines, and ice sales.
Jasper's 4th birthday fell during this trip, so we had to make one of his favorite breakfasts: canned cinnamon rolls. The kids helped place the rolls into the pan.
Such simple tasks can make kids so happy.
Jasper took his job very seriously.
Yeah, homemade cinnamon rolls are mana from heaven, but the canned versions carry a nostalgic bliss, and their simplicity is so perfect for an RV breakfast.
We had a combined birthday party planned for both of them a few weeks after this trip, but we gave Jasper a small gift on his actual birthday as well.
A new Hot Wheels monster truck with a car you can mash and crush.
Jasper's favorite food on the entire planet is mac 'n cheese, so I obliged with a homemade slow cooker version that we let simmer for the entire afternoon. It was cheesy, creamy, ooey gooey amazingness.
But for dessert, we stuck with the theme of simplicity and brought a frozen chocolate cake, to which I added some colorful star sprinkles and 4 birthday candles for the big f-o-u-r.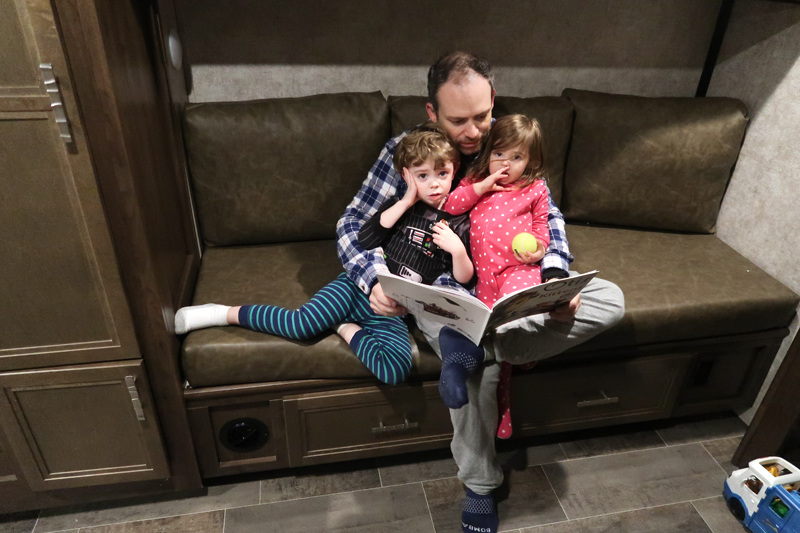 The bunk room sofa is the usual spot for pre-bedtime stories before tucking the kids into their bunks for the night. Choosing an RV with a bunkhouse was the best best BEST decision we ever made. It's a game-changer.
Save this post to your travel boards! Hover your mouse over the image below and click the button that pops up!
Reader Questions: Have you ever been to Bandy Creek or do you have questions about the campground that this post did not cover? Ask below in the comments!