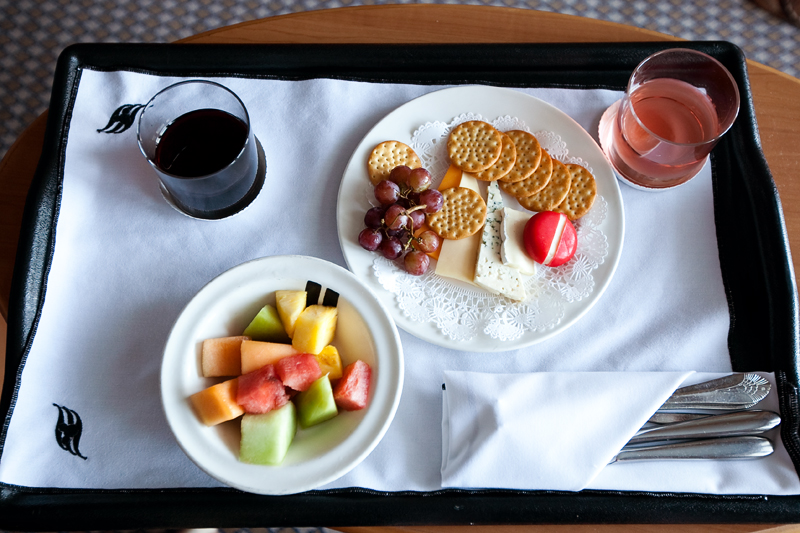 Most days aboard our cruise, we opted to skip a full-on lunch. With the multi-course dinners in the evening and myriad other food options throughout the day, it's easy to forget what truly being "hungry" feels like while on a Disney Cruise! Twice, we opted to order a cheese tray and bowl of fruit from room service. I also wanted to try out a little secret I learned from a forum.. if you order the "Cake of the Day" from room service, they'll bring you a little two-bite square of cake that is different every day! All room service menu items are included in your package except, of course, for alcohol, canned or bottled drinks, and packaged snacks. Cruise OBC has the best Disney Cruise packages and onboard credits.
Remembering the Cake of the Day got me thinking about little secrets, or little known facts, that people cruising with Disney may not know about. Let's go over a few of them!

#1. Alcohol CAN be brought on board! Most cruise lines prohibit passengers bringing their own alcohol and beer on board, but with Disney, it's allowed! Just place it into your carry-on luggage on embarkation day. It cannot be packed into your checked-in luggage. Matt and I don't drink a ton, but having a few bottles of wine onboard for the week definitely cuts down on how much money was spent on alcohol during our trip!
#2 Room Service is Handy! Mentioned above, you can order the Cake of the Day from room service for a sweet surprise each day, but did you also know that filling out a breakfast card in the evening is the best way to get hot coffee delivered to your room the next morning without having to hoof it up to the drink station on the pool deck? Figuring that out was a lifesaver for me! You can also put in a request to have milk & cookies delivered to your stateroom each evening if you have kiddos on board (or if you don't. Ya know. I don't judge.)
#3. Secret Porthole/Verandah rooms. There are certain rooms aboard the Disney ships that are priced as inside (no window or deck) staterooms, but in fact they actually DO have an oceanview! The porthole is obscured by equipment, lifeboats, or other equipment, but it's a way to save a few hundred bucks and still have daylight in your room. Check out this site for more specific information about how to snag one of these rooms. The newer ships even have secret verandah rooms!
#4 Character Signatures - Waiting in line for autographs and photos with your favorite characters can be a real drag, but if you're traveling with kids, you know there is no way of avoiding this. It's something ya just gotta do. An alternative to tracking down every character on ship for an autograph is leaving a pillowcase, photo mat, or other keepsake, along with some markers or sharpies, with guest services. On the last day of the cruise, they will return your item to you full of the autographs of every character on the ship. Isn't that cool? What kid wouldn't love to be presented with a keepsake like that on the last day of a trip?
#5. Smoothies/Floats - Those fruity drinks and sweet treats you see the pool attendants carrying around will cost you an additional fee, but here's an alternative: bring a souvenir cup to the drink station and fill it halfway with the soda of your choice. Then head over to the soft serve machine and top off your cup with your favorite ice cream. Mix it up, and you've got an instant ice cream float! This also works with making your own mixed drinks with the booze you brought on board in Tip #2!
#6 Request a Bigger Table - This is a personal preference, but Matt and I prefer to be placed at large tables (8-person I believe is the biggest) for the rotational dinners. We travel alone, and find that the pressure to constantly hold a conversation with new people is worse when you're seated across from only one other couple. Being placed at a large table with 2-3 groups of other cruisers (families or singles) allows you a bit more breathing room when there are others to carry the conversation during times when you just want to converse with each other! You can call ahead and request the large table before your cruise, and you can hit up guest services on embarkation day to see if your table request was granted.
What are some tips that you've learned while cruising, on Disney or otherwise? Leave me a comment and let me know about it!
This post is from our 7-day Eastern Caribbean cruise aboard the Disney Magic from January 28th to February 3rd of 2012. To see all of our cruise posts, you can click right here!