Time for another restaurant tour, takeout edition!  Sticky Rice Cafe in Knoxville, TN serves up authentic, traditional Lao family recipes.  This restaurant popped up last summer and it's been on our radar ever since.  One cloudy Sunday once we got the toddler down for a nap, I called to place a takeout order and Matt jumped into the car to go pick up our food.
I love a family restaurant with humble beginnings, and Sticky Rice Cafe has a great story.  The family and staff at the restaurant were sweet and welcoming from taking our order over the phone to picking it up at the restaurant.
Both times we've eaten at Sticky Rice Cafe, the place was hopping with Knoxville locals in search of good grub.
What is sticky rice? A staple food in Laos, sticky rice is a special type of short grain rice whose starch content causes the rice to be soft and sticky once it is prepared.  And if you're one to play with your food, you can celebrate.  Because sticky rice is meant to be eaten with your hands, it wouldn't be considered impolite to dig right in!
I'd heard good things about the fried egg rolls, so that's where we started.  We chose a chicken filling, though you can also choose pork or  vegetables.  The rolls are served with a sweet and spicy fish sauce and can be ordered in sets of 2 or 3.  The rice paper wrap was fried to perfection, nice and crispy without being greasy.  Don't pass on the sweet and spicy fish sauce, either, we were using the rolls to mop up every drop of that stuff.
I ordered the Chicken Laab for my entree.  Laab is considered, unofficially, to be the national dish of Laos.  It is a salad of flavorful minced meat served with fresh herbs, raw vegetables such as lettuce, cucumber, and scallions.  The dish is flavored with toasted rice powder, cilantro, mint, chili peppers, and lime juice.  The chicken laab at Sticky Rice Cafe was so refreshing and lovely.  Though bursting with flavor it feels like a light dish, so you can feel good about yourself after eating it.  The minced chicken was juicy and tender and I enjoyed eating it with bites of the fresh raw cucumber slices served on the side.
The laab dishes at Sticky Rice Cafe are served with your choice of sticky rice or steamed rice.  It should come as no surprise that I chose the sticky rice.  This was my first time trying it and I had to resist the urge to play with it like a pile of kinetic sand.  It's soft and sticks to itself, but oddly doesn't stick to your hands.
Matt ordered a noodle bowl with BBQ pork that included rice vermicelli noodles, a lettuce cilantro mix, bean sprouts, carrots, cucumber, and crushed peanuts with peanut sauce.  He echoed my thoughts about how fresh and light everything tasted and he loved this dish.  He did say that the noodles needed more peanut sauce, which packaged separately with our takeout order in a small plastic container.  So if we order this one again in the future we will likely request extra.
If I can offer one piece of solid advice for dining at Sticky Rice Cafe, it's this: do not miss taking advantage of the $1 soup add-ons.  The soups are the broth-only versions of the entree soups on the menu, kow-poon (a coconut curry broth which has a ton of heat for you spicy lovers), kow-pek (a mild chicken broth soup with scallions) and pho broth (beef-based broth).  The $1 servings come in a generously-sized container (my photo doesn't represent their size very well) and the amount of flavor they offer is well worth that extra buck.
We enjoyed Sticky Rice Cafe so much that we ordered from there a second time so that our friends could try it too.  This time I stepped a little outside of my comfort zone with the authentic papaya salad.  This salad originated in Laos but is eaten all across Southeast Asia.  It starts with a pile of shredded green (unripe) papaya mixed with big chunks of  tomatoes, baby crab legs, hot chili peppers, a little sugar and lime juice.  This mixture is coated with a strong fish sauce.
I was told Sticky Rice Cafe's papaya salad is incredibly authentic, so I wanted to give it a try.  The nice lady who took my order warned me that, as is, the salad is extremely spicy, so I asked her to cut the number of chili peppers in half... even then, it was still extremely spicy.  While I can appreciate the authenticity of this dish and the many flavors that it combines, this just wasn't for me.  I enjoyed the papaya and tomatoes but felt that the fish sauce was too strong for my tastes.  Those who are more familiar with this dish may have a more enlightened opinion of it though, so if you're in search of a true green papaya salad, give this one a try.
Matt wanted to try one of the laab dishes and opted for the beef version this time.  Being a lover of all things cilantro I knew he'd be all over this, and he thoroughly enjoyed it.  We both agree that the laabs are not to be missed at Sticky Rice Cafe - they're the best.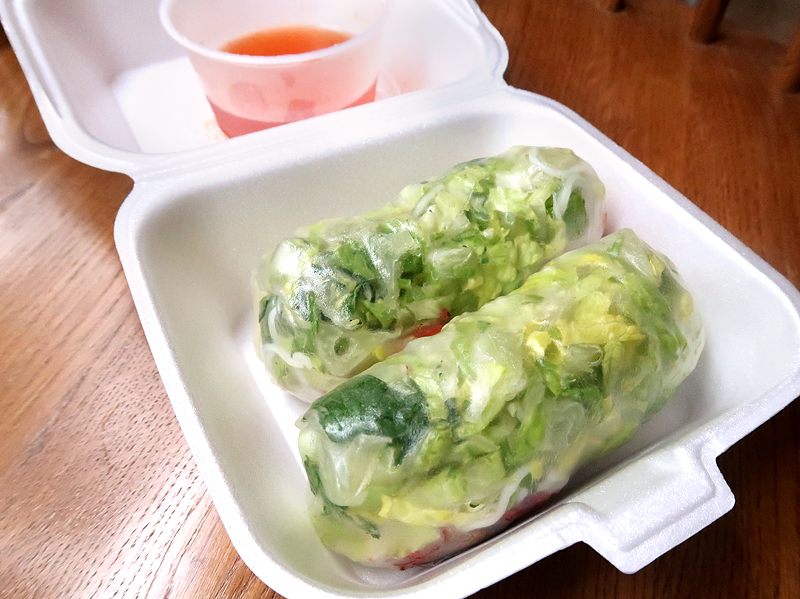 On our second visit we also tried the fresh pork spring rolls, which is rice paper stuffed generously with lettuce, herbs, noodles, and your choice of shrimp, grilled BBQ pork, tofu, or vegetables.  While these were crisp and wonderful paired with that delicious sweet and spicy fish sauce I mentioned earlier, I gotta say that I enjoyed the fried egg rolls quite a bit more.  But who doesn't love anything that's been deep fried into crispy goodness?
My only regret is that I've yet to try a bubble tea smoothie or mango sticky rice for dessert, though considering we live ridiculously close to this place, I am certain we will be back and I hope this sweet family enjoys many years of success in the Knoxville area.
Here's some info for you if you want to check out Sticky Rice Cafe:
Website: http://www.stickyriceknox.com
Facebook: https://www.facebook.com/pg/stickyriceknox/
Phone: 865.249.6273
Location: 120 Jack Dance Street Knoxville, TN 37919 (near Salsarita's)
This post is not sponsored by or affiliated with Sticky Rice Cafe.