The 2019 Dollywood season brought the opening of the park's largest expansion, Wildwood Grove.  It features 11 themed attractions and was inspired by Dolly Parton's childhood growing up in the Smoky Mountains.  We finally got a chance to visit the new area since its opening and we were sooo excited to see all of the new things to do!
The new area increases the size of Dollywood by 20%.  We've been watching the construction of the new area from our rides on The Dollywood Express over the last year and have been itching for it to open up.
I'll start with our favorite of the new rides - Frogs and Fireflies!  If you love the Busy Bees ride, a Dollywood classic, you'll love this one!
This ride is so cute!  The little froggies bounce up and down (and let me tell you, they REALLY bounce!) while slowly spinning around the center.
Jasper was scared the first time, but I promised him it would be fun.  I had to keep my arm around him, but as soon as we got going he loved it!  We rode three times!
Typical Shelby, she wasn't nervous at all.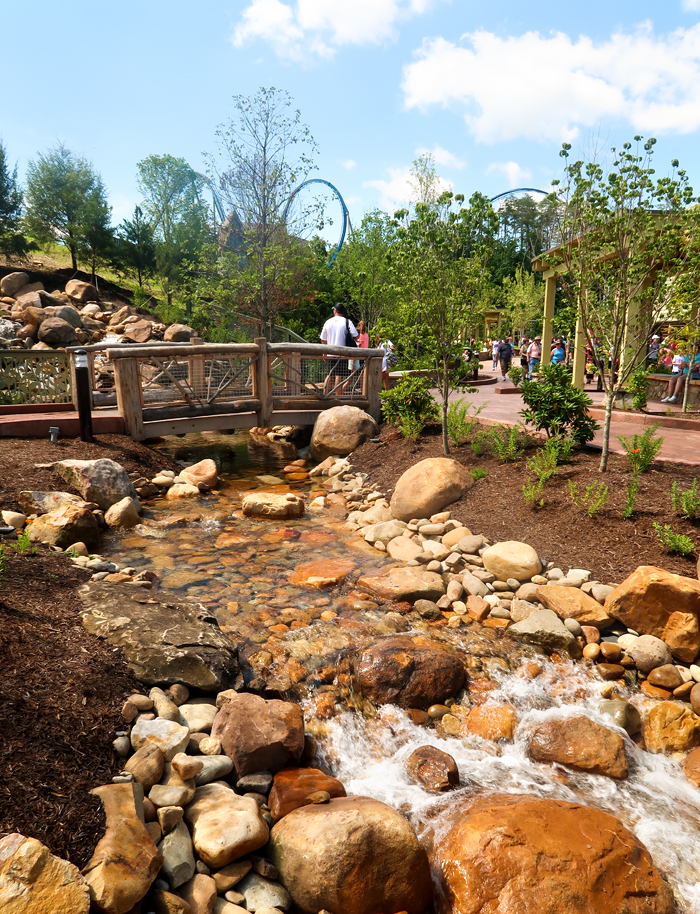 Like the rest of Dollywood, the new area is beautifully landscaped.
She wanted to climb in, haha.  It was a HOT day!
Black Bear Trail is another amazing family ride.  The little bears gently rock back and forth as they meander slowly along a winding track through a pretty garden.
The Great Tree Swing is a version of the classic swinging pirate ship rides.  Our kids were both tall enough to ride it (with us of course) but it scared the bejeepers out of both of them, so... oops!  It's fun though!
Nearby, the kiddos (and big people!) can make a little music!
Dingalingaling
Wildwood Creek is a gentle water play area with spouting jets and shallow streams to play in.  We had plans for lunch soon so we skipped this one today, but we'll catch it the next time.
Our kids are obviously too young for the big ride, but if you're looking for a thrill, check out the Dragonflier Coaster!
I'm so bummed, you guys.  The huge indoor play area, Hidden Hollow, was the attraction we were most looking forward to visit.  When we arrived, we found it to be closed for repairs.  So sad!  We have another trip to Dollywood planned in the next couple of weeks, so hopefully the kids will get a chance to check it out then.
Treetop Tower... be careful with this one.  It looks like an innocent ride of twirling acorns on a not-too-high tower, but this thing spins fast!  Our kids handled it well, but Matt and I were about to toss our cookies!  If they slowed it way down, it'd be a great way to get a bird's eye view of the new area... but as is, I can't recommend it at all.  Blech!
She's fine, don't worry.  This is just her being a goofball.
After having our fun, we decided to have lunch at the new restaurant in Wildwood Grove - Till & Harvest.  It's a counter-service establishment with tons of covered outdoor seating.  It honestly reminded me of a Chipotle with how the counter is set up.  You can ask for individual toppings to be added or left off as you move down the line.
You can choose between chicken, pulled pork, steak, or grilled portobello.  You bowl can include a salad base and you can add toppings such as white rice, brown rice, cheese grits, a selection of beans, and then lots of toppings such as cheese, pico de gallo, onions and peppers, sauces, and more.  There are other options such as nachos and queso, quesadillas, and burritos.  There's a salsa bar with 3 different kinds of salsa as well as fountain drinks (but no refills allowed).
Matt ordered the pulled pork and loaded it up with goodies.  He said that the pork was pretty good, acceptably tender, and all of the toppings made for a flavorful dish.  Not a top-of-the-line gourmet meal, of course, but for theme park food?  It was good, and I appreciated the new type of cuisine Harvest & Till has added to Dollywood.
I tried to stay as healthy as I could, so I ordered the salad topped with chicken, a scoop of brown rice, black beans, and peppers and onions.  I tried the seasonal salsa as my dressing and it was really tasty!  I always take a risk ordering chicken inside of a park, but I really enjoyed my meal.  The chicken had lots of flavor and wasn't dry.  It was a generous portion that left me fully satisfied and ready to tackle the rest of our day at Dollywood.
Jasper and Shelby shared a kids quesadilla with chips and queso and we were pleased that it was a generous portion that was more than enough for them to share.
I tried the queso and found it to be extremely salty, but my kids didn't seem to mind!
Geez, mom, I'm trying to eat!
Yeah, she's still working on getting her sunglasses on right side up.  Bless.
If you're looking for some dessert, adjacent to Till & Harvest is a sweets stand named, aptly, Sweets 'n' Treats.
After we finished up in Wildwood Grove, we spent the rest of the day visiting our old favorites in the rest of the park.  According to Jasper and Shelby, any day spent at Dollywood is the best day ever!
Pin this post to your travel boards!  Hover your mouse over the image below and click the button that pops up.