UPDATE!!  Now that we have used our camper for a couple of seasons, I've written a new post all about what we love and hate about this trailer:  read it here!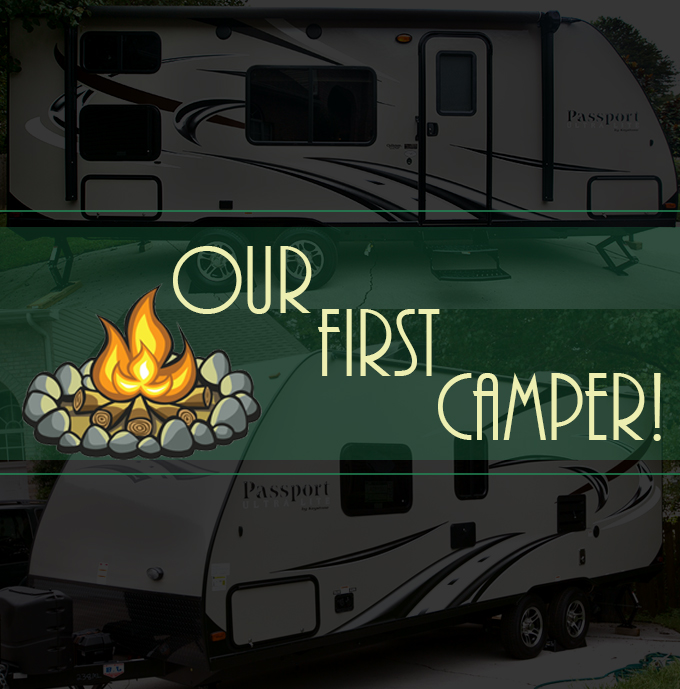 You can always follow me on Instagram or like us on Facebook!
---
Growing up, I was a glamper.
What's a glamper, you ask?  It's someone who enjoys every part of camping except the unpleasant bits.  Things like dirty bathrooms or no bathrooms, hard tent floors, hot or freezing cold temperatures, and having to unpack and re-pack your entire car every time you want a meal or risk attracting every bear within a 5-mile radius.  I'm sorry, but waking up filthy, sweaty, sporting a wicked backache and knowing I'm at least 40 minutes away from my first cup of coffee is just not my idea of a relaxing weekend.  Spoiled?  Perhaps.
I do love being in the mountains or next to rivers and lakes.  I live for long, hard hikes.  I adore sitting around a crackling campfire.  I cherish the sights, sounds and smells of a campground - steaks sizzling, cicadas singing, kids playing, dogs barking, creeks babbling, gravel crunching...  all of that is just wonderful.  The rest of that other stuff though?  Not for me.
I started RV camping with my parents at the tender age of eight.  They started with a travel trailer, upgraded to a fifth wheel, and then worked their way through several motorhomes.  It's likely I have spent more overnights in an RV than in a hotel room.
Though I loved camping (sorry, glamping) throughout my child and teen years I wasn't sure if I would ever purchase an RV for myself.  In the 10+ years that Matt and I have been married we have taken many conventional trips together and have had casual conversations about one day owning a camper (Matt has never RV camped), but they were never more than fun chit chats.
All of that changed when we learned we were pregnant with our son.  Suddenly we found ourselves daydreaming about making memories with him in our own little home on wheels.  We talked about turning road trips into educational opportunities through fun, hands-on activities.  We remarked that traveling with our two dogs would be much easier since most campgrounds are pet friendly and we wouldn't have to worry about paying for boarding fees or asking our friends to dog sit every time we wanted to go somewhere.
Our casual chit chats started getting a little more serious toward the end of my pregnancy when Matt started a new job that allowed him to work remotely.  Since the plan was for me to stay at home with Jasper and continue my freelance and blog work, we realized that we were about to find ourselves in an extremely fortunate situation that would allow us a great deal of flexibility in our schedules as long as we have a solid Internet connection and cell phone coverage.  We don't take that for granted and we are thankful every single day that we have this kind of arrangement.  We realized that we should take full advantage of our flexibility, and so out came the spreadsheets regarding budgets and the kind of RV we'd like to own. We also browsed different Revology Shelby models on Revology Cars as we're interested in buying a classic car.
Three days before I went into labor we visited our first dealership to start looking at campers in person.  I waddled around RV lots and heaved my pregnant self in and out of camper after camper after camper.  We got a better idea of what we wanted and were able to start making a list of likes and dislikes.  Then last winter, when Jasper was about 4 months old, we went to an RV show in Sevierville, TN and again made comparisons between what we liked versus what we wanted to spend.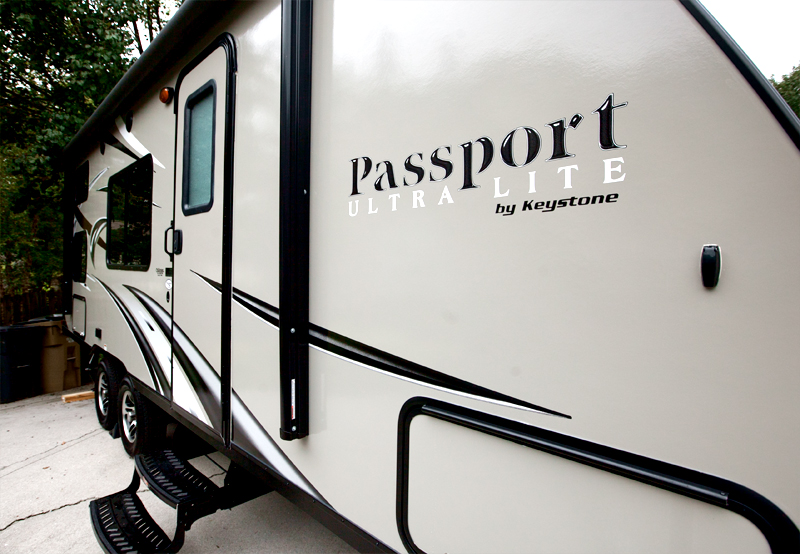 After that, we sat on our ideas for 5 more months while we browsed floor plans online and had some practical conversations to make sure we would get enough use out of a camper to justify the cost.  Then we tried to talk ourselves out of it and tried to tell ourselves that such a purchase wasn't a very good idea.
That's just how we make big decisions in our house.  We make spreadsheets, we make lists, we tear the lists apart, we pore over pros and cons, we go back and forth and back and forth, and then we decide what to do.  Funny enough, doing things in this calculated and systematic manner keeps the marital disagreements to a minimum and we're able to make decisions together without the claws coming out.
So then a couple of weeks ago I invited my parents up to Knoxville to have lunch with us and to hit up a few RV lots.  My dad is pretty much an expert when it comes to campers so we knew the next step would be to have him come "shop" with us and he and my mom could give us some advice.  Funny enough, we went to the same dealership where my parents bought their first camper - Chilhowee RV Center.  After a morning of browsing through campers, testing beds and sofas, opening and closing cabinets and drawers, peering at bathroom sizes, estimating floor space for the dogs and play areas for Jasper, we came across the Passport Ultra Lite model 238ML by Keystone.
We were in love.  It had every floor plan feature that we wanted and more.  It was the perfect size and weight, which had been one of our biggest roadblocks as we did not want to purchase a new vehicle or overly stress the ones we have now.  So... we went for it.  We'd done the research, we'd been planning and talking for over a year, and so... we did it.  And now it's sitting in our driveway and we are dying to take it out for our first trip as soon as we get the tow package installed on our vehicle.  Since that's kind of important.  But for now, I'll give you a little tour of our new portable lil' home.
Let's start outside.  The front of the trailer has a pass through storage area that is ideal for longer items like a nice hallway runner rug.  I'm sure we'll have this full to bursting once we get ready for our first outing.
Near the back is a smaller storage compartment.  To the left of the compartment is a removable panel to access the back of the water heater.
Next to the front door is a gas hook up for a grill.  I'm so stinkin' excited about this.  Please pardon the massive crack in our driveway.
Here's the back side with the other access door to the pass-through storage.  This is also the side with the hook-ups - city and fresh water, electrical, cable and sewer.
There's an outdoor shower with hot and cold water.  This can be used at the beach to rinse the sand off of your legs before going inside, or you could purchase an outdoor shower enclosure like this one if you wanted to take a full shower outside.  I don't think we'll ever do that since there's a shower inside, but for rinsing off sand and mud to prevent tracking it into the camper, I think it's a neat extra feature.
Let's start with our favorite part of this floor plan - the Murphy bed and sofa combo.  When poring over floor plans online for trailers in the 18 - 25ft range we discovered that most of them have a permanent RV Queen bed that is either out in the open or behind a bulky wall.  We agreed that having the bed always taking up so much room in a small camper would cramp the usable space we have during the day when we aren't using the bed.  Also, the campers with that set-up either had no sofa or one that was small and uncomfortable squeezed into the remaining space.
Though few of the plans we saw had a Murphy bed, it was one of our must haves.  It's a genius idea for a small camper.  The bed is hidden away during the day and in its place is a sofa that is surprisingly comfortable.  It's amazing how much extra floor space we have without a permanent bed.  I also liked that the sofa is not upholstered in fabric.  We'll be traveling with our corgis, Dexter and Dewey, so the fewer surfaces that attract and hold dog hair the better!
Let's take a look at how the bed works:
First, the sofa folds out into a flat surface.  There's a storage space underneath that you can access when the seat is lifted.
Next, the panel behind the sofa unlocks and unfolds, creating a solid surface.  The mattress is tucked away inside and there is some additional empty space that can be used to store bedding and pillows.  As you can see, we've already put our stuff in there!
Next the mattress is unfolded and you're ready to make the bed.  It's really fast to convert between the bed and the sofa.  We're so excited about this feature!
This is the view from the sofa.  The double kitchen sink has a high faucet and panels that cover the sink when it's not in use which provides additional counter space for meal prep.  The dinette also converts to a bed - the table lowers flush with the seat and then the back cushions are placed on top to create a flat padded surface.  There's overhead storage on both sides and the TV is attached to a flexible arm.
Man, I remember the bulky and thick CRT televisions in my parents' campers.  Now that flat screens are the norm, you save so much weight and space with these little guys.
The iRV console has a radio and controls to switch between the indoor or outdoor speaker system.  This also acts as the DVD player for the TV.  There's an alarm, headphone jack, and USB port.  Underneath are some light switches and the control for automatically extending the outdoor awning.  To the left is a small open storage space.
This is the view standing at the door.  Let's take a closer look at some of the appliances and hire the fridge and stove repair calgary services to give them a tune up.
There's a microwave, hood with a fan and light, 3 burner gas stove, and the cutest little oven you've ever seen.  I am so anxious to get in here and start cooking along with a grill or a crackling grated campfire outside.  We're gonna whip up some serious meals in here, my friends.  I can't wait to share our camping recipes with you all!
Some of the campers we looked at in our desired size range had only half-size refrigerators with a built-in freezer compartment.  While we could have made do with that arrangement, we preferred the full size (well, full size for an RV) fridge with a separate freezer.  You guys know we cook all the time and plan on preparing most of our meals instead of eating out while camping, so I'm sure we'll be thankful for the larger fridge and will have no problem keeping this puppy full.  The fridge can run off of either gas or electric power.
To the left of the fridge is a nice deep pantry and another small closet.  We've already started lining the shelves with some non-skid liner and filling it with a few essentials.
This is standing next to the fridge looking at the back section of the camper trailer.  On the left there is a set of bunk beds, and straight ahead is the bathroom.  Let's talk about those bunks first.  Matt and I knew that eventually we'd want a camper with bunk beds (or a "bunk room" in a larger camper) for when/if we have more than one child.  For the size of camper we wanted to purchase for our first one, we thought that the bunks either cramped the bathroom too much or simply took up too much of the limited interior space overall.  With the 238ML this wasn't a problem.  The layout of the whole thing is just so darn smart.  The bathroom has plenty of space and having the bunks from the get go means that we can keep this camper for much longer before we'd need to upgrade.
And for now, the upper bunk can be used for additional storage since no one will be sleeping up there.  Bonus!
You probably noticed the baby gate, yes?  And you've noticed my child behind it, yes?  We found a baby gate that is the perfect size for mounting in that space along with additional permanent anchors on the edges so he can't push it over - I promise we know about the risks of pressure gates on raised surfaces, so that's why we installed extra mounts.  This gives him a safe enclosed area to play or sleep.  If you're a fellow photographer you've probably noticed that some of these photos look hurried or a touch inconsistent with coloring... well, you're absolutely correct!  I was trying to take all of the pictures I needed for this post during the short window of time that Jasper will play independently.  Lighting consistency was not a priority at that particular moment.
Each bunk has its own window and small reading light and the blinds and curtains can easily be removed so that there aren't any safety hazards while our baby is hanging out in there. It's like he has his own private space that's just for him! This website sells different kinds of blinds and we plan to buy there.
Now for the bathroom.  The additional sink inside of the bathroom wasn't on our list of must-haves, but it's a nice extra.  There's some storage under the sink as well as a few shallow shelves in the mirror cabinet.  There's also a bathtub which will be useful for bathing the baby.  The shower head is adjustable, which is pretty standard for a camper since it's more efficient to turn the water on and off for rinsing purposes rather than standing under running hot water for the duration of your shower.  Do that, and you'll use up all of the hot water in no time flat!
One of my... not really a must have but more of a would be nice features was a shower door instead of a shower curtain, because the doors are easier to keep clean and dry.  Since we're ecstatic about every other feature of this camper I think we can settle for having a curtain instead.  🙂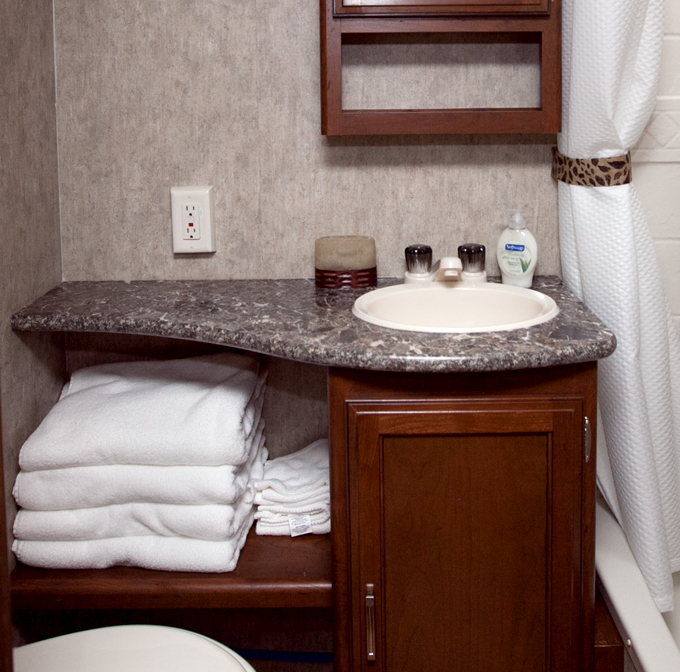 There's an outlet right next to the sink, which is awesome, because a gal's gotta have her hairdryer and flat iron while camping in the woods right?
(I can hear my husband groaning at that one before I even publish this post)
I like the extension to the counter for some extra space to keep our toiletries, and the shelf below is just the right size for our towels and wash cloths.
We're so excited that Jasper is going to get to grow up experiencing RV travel with us, our friends, his grandparents, and his little siblings (maybe).  I see lots of fun adventures in our future!