Continuing with our Seaside posts, here's a little overview of this amazing little town:
Seaside's location is so convenient - you're just a short drive away from many other cute little towns to explore!
There was so much honeysuckle everywhere!  It smelled wonderful!

The first day there, before our rental bikes were delivered, we walked down 30A from Seagrove to Seaside and took in the sights.
There were such beautiful gulf front houses along the way!
Wowza!
Yes, please!
We were just in time to check out the Saturday farmer's market!
Lots of vendors fill tents along central Seaside to sell their fresh produce and yummy sweets!
These homemade bagels looked so pillowy and delicious!
I highly recommend popping into Modica Market, a charming locally-owned gourmet and specialty market.
These are the owners, Sarah and Charles Modica, who set up shop in Seaside with their son back in 1989!
I love the old-fashioned wood shelves stocked with lots of common items you'd find at a grocery store, as well as lots of unique products as well!
Does the inside of Modica look familiar?  Well take a look at this:
The interior was used in many of the movie's scenes, and the old wooden ladder shown there is still in use today!  If you check out Modica, don't you dare pass up their case of delectable homemade cakes.  I'll be posting more in detail about those in an upcoming post!  I'm still dreaming about them...
There are so many interesting and artsy shops to explore.
The gate to Ruskin Place, a little courtyard that is centered between boutique shops selling unique jewelry, clothing, books, art, and lots lots more!  They were so fun to browse!
The beaches at Seaside are unbelievably beautiful, and never seemed to be crowded!
Throughout Seaside, pavilions like this one line the beachfront.  They are meant to exemplify the design sense of the architects behind the design of the town.  This one, the Coleman Pavilion,  is probably the most popular and the most easily recognized.
Lots of color!
One of my favorite shops was the outdoor Perspicasity, a fun and beachy shopping area with tons of flow-y beach clothes, sunglasses, hats, bags, jewelry, shoes, and oh, I even got the contact lenses I wanted over there!
We found a pretty little tree-covered path!
This is the famous Seaside Post Office - an adorable little building right in the middle of the square.
Well hello!
West Ruskin Pavilion
Tupelo Pavilion
Another Truman Show filming location - Truman's house!  Here it is in action:
We got a nice chuckle out of the fact that our names were on the sign in front of the house!
On the other side of Ruskin Place is the beautiful Chapel at Seaside.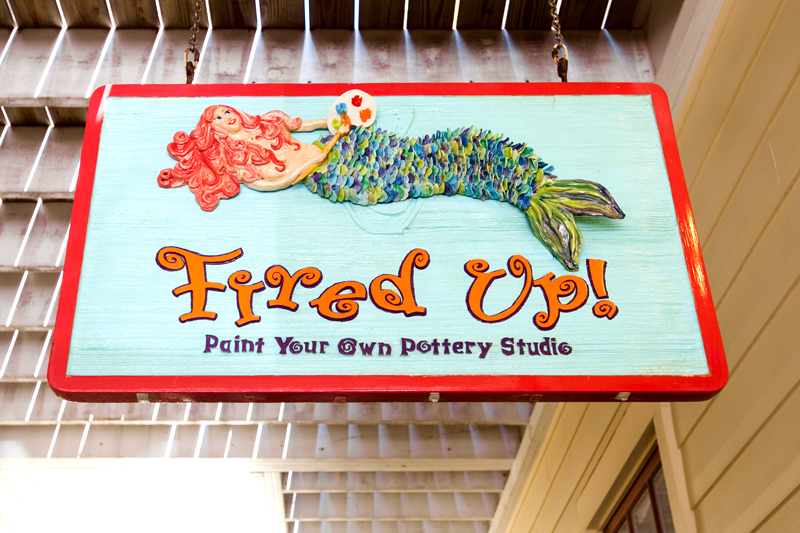 We spent one morning at Fired Up! Seaside painting fun pottery projects!
First, you choose your unfinished piece.  I chose this cute trinket box.
Then you go to town!
Matt looking very serious working on his mug.
Remington adding one of the famous Seaside pavilions to the side of his mug.
Me chugging away... make sure you set aside several hours for your project - it takes longer than you think to finish!  It was so nice being out of the heat and doing something creative for an entire morning!
Here are some of the cute pieces you can choose to paint.
See all those techniques?  There's lots of different things you can do besides just ordinary painting - just ask one of the helpful assistants and he/she will show you how to do them!
Colors!!
These are our finished pieces before being fired.  We came back the next afternoon to pick them up and it's so cool how the colors get deep and bold and the whole thing is so shiny and glossy.  We were all very proud of our projects!
The crew.
Another Truman Show alert!  Remember the scene when Truman goes a little batty and takes his wife on a joyride trying to escape the city, and they end up going around and around a roundabout?  Well, this is the place where that happened!
Matt going round and round...
I'm slightly obsessed with houses, and there are so many beautiful ones in Seaside.  I couldn't stop photographing them!
Just look at this one!
I mean... wow.  Those porches!
This one is actually for sale, and can be yours for the bargain price of 1.5 million!!
Trust me, you guys won't want to miss the next post, as it is going to be all about FOOD!!  Yep, everything we ate from Rosemary Beach to Seagrove to Seaside, it'll all be up next, complete with mouthwatering photos.  Stay tuned!