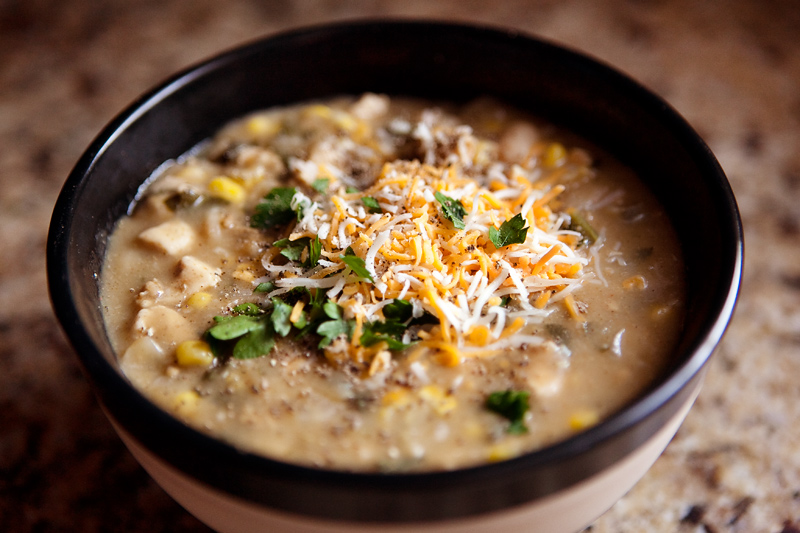 Depending on what part of the world you're living in, chances are the temperatures have been taking a nosedive lately.  What better way to welcome the cold season than with a warm house, maybe a crackling fire in the fireplace, and a bowl of hot chili?  This one will hit the spot, for sure.
White Bean Chicken Chili - by Giada de Laurentis (altered slightly)
What You'll Need:
2 TBS olive oil
1 large onion, chopped
4 garlic cloves, minced
2 pounds chopped chicken
1 tsp salt
2 TBS ground cumin
1 TBS fennel seeds
1 TBS dried oregano
2 tsp chili powder
3 TBS flour
2 (15-ounce cans) cannellini or other white beans, rinsed and drained
1 bunch (about 1 pound) Swiss chard leaves chopped into small pieces
1.5 cups whole corn (can use frozen - thawed)
4 cups chicken broth
¼ tsp red pepper flakes
ground pepper, to taste
½ cup grated Parmesan cheese
¼ cup chopped cilantro (optional, for garnish)
What You'll Do:
In a saucepan, heat the oil over medium or medium high-heat.  Add the onion and cook until translucent and fragrant, mmm.  Add the garlic and cook for another 30 seconds or so.   Add the chopped chicken chicken, salt, cumin, fennel seeds, oregano, and chili powder.  Cook, stirring frequently, until the chicken is fully-cooked.  Add the flour to the chicken mixture.  Add the beans, Swiss chard, corn, and chicken stock. Bring the mixture to a simmer, being sure to scrape the bottom of the pan with a wooden spoon. Simmer for 55-60 minutes until the liquid has reduced by half and thickened. Add the red pepper flakes and simmer for another 10 minutes. Season with salt and pepper, to taste.  Garnish with cheese and/or chopped cilantro if desired.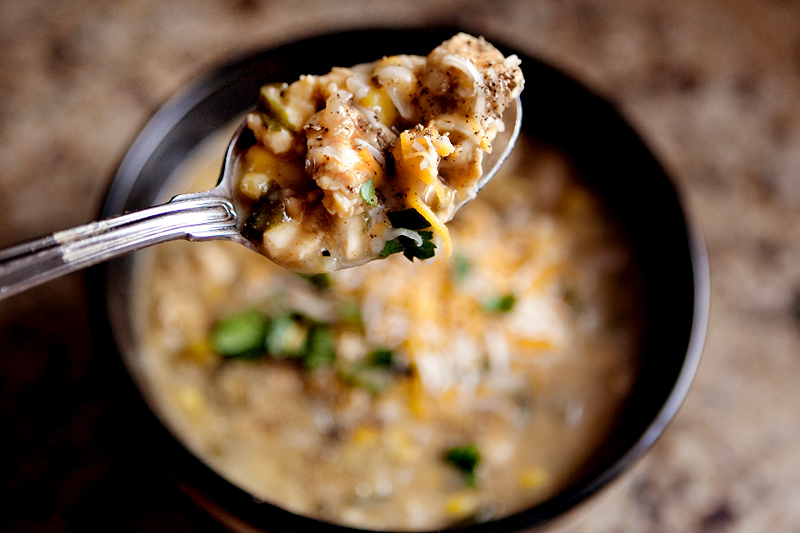 Yummity yum!  Giada recommended garnishing with parsley and parmesean cheese, but we substituted a shredded mexi-cheese mix and cilantro, and it was delish!