Our first camping trip of the 2019 season took us to Fall Creek Falls State Park, one of Tennessee's most visited parks spanning 26,000 acres of the eastern side of the Cumberland Plateau.
The camping area has 30 cabins and 222 campsites, with backcountry camping also available with a permit, all you need to do is to take you camping gear, if you don't have any, I recommend getting it from Gones Camping. (camping info here) When you reserve a site online, there are notes about the size and how level each site is. Take these notes with a grain of salt. The site we chose was listed as level, but it had a pretty steep front-to-back grade and a slight side-to-side tilt. In fact, we weren't able to get the camper 100% level.
But aside from that, the campground is absolutely beautiful with heavy tree cover that would offer lots of shade in the hotter months.
There are a couple of different playgrounds in the area, but there's a really fantastic one not far from the Village, where the camp general store is located. There is a ton of high quality equipment for all age groups.
We spent almost an entire afternoon here. Our kids live for playing on playgrounds!
Weee!!
Ugh, I hate things that spin. I have terrible equilibrium. But the other members of my family don't mind, as you can see.
Mr. Dewey was there, too.
She's a honey-baked ham.
We woke up in the morning to a beautiful layer of fog with sunlight streaming through the misty trees.
Talking about our plans for the day, which included a hike!
On our second day, we went to the dock to rent a pedal boat to fart around on the 300+ acre lake. The park rents kayaks, paddleboats, row boats, and pedal boats (info here)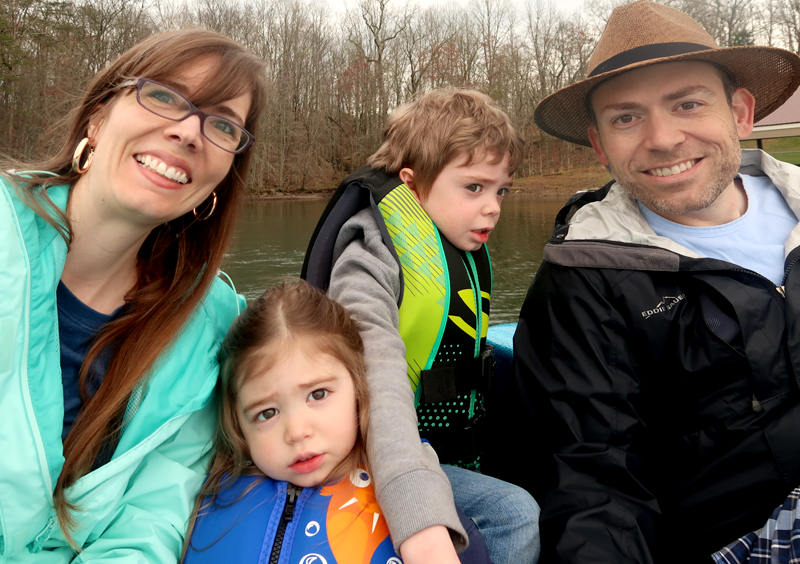 Terrible selfie, haha. The kids were a little nervous, so even though the boat had seats in the back, they insisted on cramming up front with us. Once they realized that the boat wasn't going to go fast or tip over, they chilled out and started having fun.
It was a cloudy day with a light drizzle that came and went, but the temperature was pleasant and it was a pretty, quiet morning on the water. Camping in the islands can be fun, but be prepared for crazy weather!
I noticed Shelby starting to doze off next to me and she finally conked out for a 15-minute catnap.
Once they felt more comfortable on the water they wanted to move to the back seats where they had more room. Snacks were had, of course.
Later in the afternoon we returned to the Village to buy some supplies and souvenirs. There's a general store that sells food, drinks, snacks, toys, and hunting supplies and then Fall Creek Falls Outfitters that sells souvenirs and gifts. If you're looking for a handgun that can be used for hunting and self-defense, check out https://ballachy.com/sig-p220-review/.
We bought our usual souvenir magnet, I got a long-sleeved lounge shirt, Matt bought a t-shirt...
And we had told the kids that they could each pick out a special toy.
I'm sad that my photos make it look like the Village area is run down, but the bare trees and cloudy weather are to be blamed. We visited on the first weekend of the season, so there weren't many tourists and the water features in the area were drained. I'd like to visit the park later in the season to see it really come to life!
Pin this post to your camping or travel boards! Hover your mouse over the image below and click the button that pops up.