PHOTO CREDITS: All rights for the photos shared below belong to the original blogger that created these ideas. I have linked to the recipe for each one underneath the photo: no recipes or written content have been republished here. If you use an idea or just think something is awesome, please go leave them some love in their comments!

The purpose of my round-up posts is to bring visibility to all of my fellow talented bloggers, so please click through to their sites to learn how to make these creative ideas!
Christmas looks very different this year, but no pandemic can stop you from creating your own cozy Christmas at home by filling your house with yummy holiday treats - especially ones that are simple and quick to make!

Check out these recipes for no bake Christmas cookies and be sure to click through to the original bloggers who shared these ideas and leave them some love in their comments section if you give one (or... all of them) a try!
No Bake Christmas Wreaths
They're like Rice Krispies treats, but with Cornflakes! Decorate them with cinnamon candies or mini M&Ms. Either way, this is an easy recipe that the kiddos will love helping to decorate
No Bake Reese's Rice Krispies Cookies
But speaking of Rice Krispies - check these out! Balls of peanut buttery crispy cookie goodness that'll disappear off of your holiday trays (or in the time of the Quarantine Christmas - out of your cookie exchange boxes)
5-minute M&M Marshmallow Dream Bars
They're gooey, fudgy, and topped with the candy crunch of M&M's. What's not to love about these simple, festive treats?
Peanut Butter Buckeye Balls
A classic no-bake dessert that you're probably already familiar with - luscious peanut butter balls dipped in chocolate. Who doesn't love this amazing, no-fail combination of flavors?
Nut Butter Ritz Cracker Christmas Cookies
These are so incredibly simple and add a salty crunch to the combo of nut butters and chocolate (the author states any nut butter will be amazing!)
Chocolate Kahlua Truffles
Because it's 2020, and we all deserve some spiked sweets in our lives. Plus, they use lots and lots of sprinkles, and that makes everyone just a wee bit happier, right?
Fudge Mint Chocolate No Bake Cookies
Most of us have sampled the heavenly goodness of chocolate no bake cookies, but these add a delightful minty fudge twist on the classic. They even have coconut in them! Yum.
The Best Rum Balls
Rum balls are a holiday staple, and for good reason. I just love how this recipe uses so many different ways of rolling the balls in different coatings - it adds so much interest to the plate!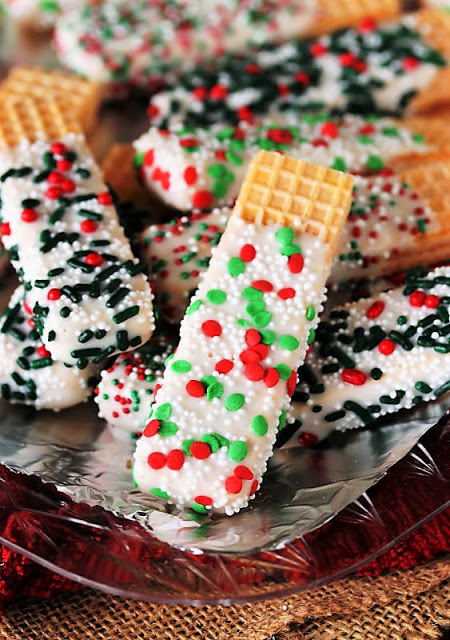 White Chocolate Dipped Sugar Wafers
If you're going for REALLY simple, these wafers have got you covered. Just dip 'em and sprinkle to your heart's desire. Done and done!
Christmas Cream Cheese Mints
These soft mints would make a perfect after dinner nibble while sipping hot chocolate next to the Christmas tree, don't you think?
No Bake Orange Coconut Snowballs
These did NOT last long in my house when I first made them. Crushed vanilla wafers, pecans, orange, and coconut are star flavors in these tasty little cookie balls.
North Pole Party Mix
Crunchy snack mixes are irresistible holiday treats and this one has a fresh pepperminty-chocolate kick that'll make it hard to stop grabbing handful after handful.
Do you love these ideas and want to be able to save the recipes for later? The best way is by pinning the image below to your Pinterest boards OR by sharing them with your friends on social media by using the buttons at the beginning or end of this post!