Fall means Greek Fest time in Knoxville!  We attended the 37th iteration of this cultural festival this past weekend with our almost two year-old, our baby girl who will make her debut next month, and our friends who are expecting their first baby, due just 3 weeks after ours.
Jasper loves vehicles so he was really excited to get to ride on a real life bus ("buh!")
He's still into stealing sunglasses, too.


Except now he also loves wearing them!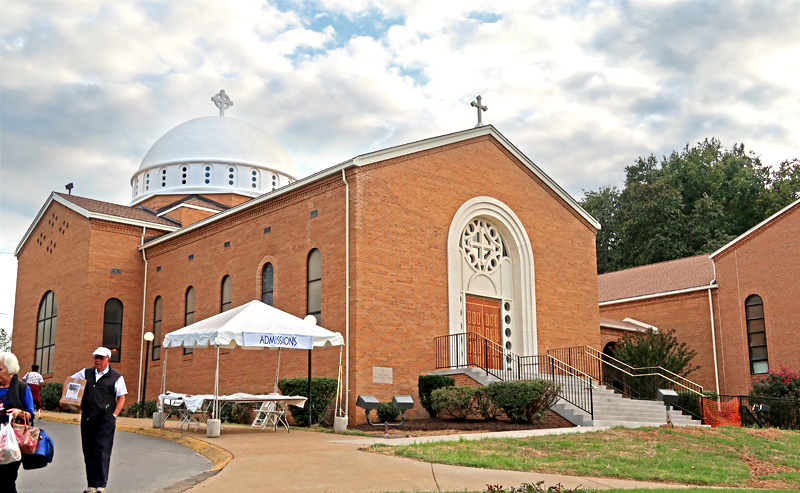 The festival is held at St. George Greek Orthodox Church at 4070 Kingston Pike in Knoxville, TN.  We usually attend the fest earlier in the day, but this year we went in the evening and the weather couldn't have been any better with a light cloud cover and a nice fall crisp in the air.


The familiar striped tents were set up selling all of the yummies.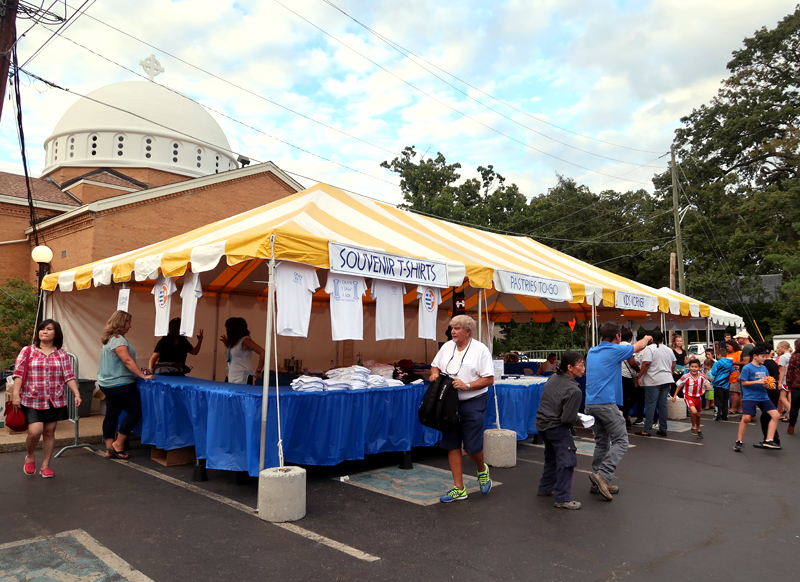 The good thing about attending both on the last day and in the evening is that it was really easy to find a place to sit and eat, but we did notice a booth or two being low or sold out of their dishes, as well as some of the pastries inside the church being sold out as well.

Now for the main attraction, and probably why any of you care about reading this post... the food!  This is souvlaki in a soft pita shell, which is seasoned pork with tzatziki sauce and tomatoes.
Souvlaki is also served on a stick if you're looking for a protein fix.

So much flavor packed into a simple little dish.

This is one of my favorite dishes, pastichio, which is kind of a Greek lasagna using layers of ziti noodles, cheese, and seasoned ground beef (think savory cinnamon!) and tomato sauce.

We had high hopes that Jasper would at least taste some of the new flavors and foods, but he gave a big ole nope to everything we tried.  Oh well, there's always next year!
In the meantime, Cheerios to the rescue!

Next up was spanakopita, another yearly favorite.  This dish is composed of flaky layers of filo dough filled with feta cheese, spinach, and eggs.
Inside is where the pastry magic happens.  A varied menu of all kinds of homemade Greek goodies can be purchased a la carte, so you can fill a box with all of your favorites.
Depending on when you go, the line for picking out your pastries can be quite long.  Everyone loves them some tasty Greek treats!
Just look at these giant soft almond cookies
Or this jam tart ("pasta flora") with a buttery crust filled with apricot or strawberry filling.
We chose a couple of treats to sample.  The first was finikia - a spice cookie flavored with orange juice, dipped into a honey syrup, and then topped with ground walnuts spiced with cinnamon and cloves.  We both loved the cookie and now I'm on the hunt for a recipe!
The other pastry we tried was galactoboureko - custard poured between 2 layers of filo, baked, and then topped with syrup and cinnamon sugar.
One absolutely cannot come to Greek Fest and not try a cup of the Greek coffee... it's just that good.
Meanwhile, our little dimple-chinned cutie was being so quiet and patient in his stroller, but we could tell he was bored out of his tree.
So we decided to grab a treat that we knew he would love to try - loukoumades!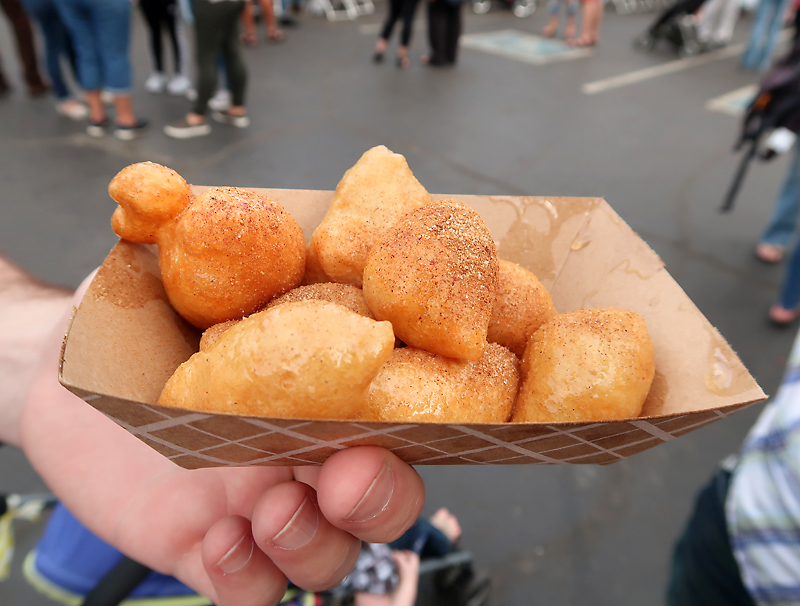 Loukoumades are deep-fried dough balls that are dunked in honey syrup and then sprinkled with cinnamon.  So basically, they're honey covered donut holes.  Yum, right?
He took a bite, thought about it, and then wiggled with glee and cracked a huge smile.  We'll work on getting him to try the more savory dishes during future visits to the festival when we have his baby sister in tow.  There's one thing for certain, our kids are going to grow up with no lack of opportunity for trying new food.
Want to see our past posts about Knoxville's Greek Fest?  Check out the links below: