Brookgreen Gardens in Murrells Inlet (next to Myrtle Beach), South Carolina is a beautiful mixture of art, history, and nature.  Open since 1931, Brookgreen is one of America's premier gardens and one of a few select places in the United States to have earned accreditation from the American Alliance of Museums and the Association of Zoos and Aquariums as well as being designated a National Historic Landmark and listed on the National Register of Historic Places.
During a trip to Myrtle Beach, we wanted to take a break from the seaside and visited the gardens on a beautiful, mild Spring day.
BASIC INFORMATION
Location:
1931 Brookgreen Drive
Murrells Inlet, SC 29576
Off US Highway 17 Bypass, between Murrells Inlet and Pawleys Island
Phone Number: 843-235-6000
Website: https://www.brookgreen.org
Hours and Parking:  Open daily 9:30am to 5:00pm.  Pets are not allowed and cannot be left in vehicles on the property.  There is ample parking available, including designated spaces for RV's.
OUR EXPERIENCE AT BROOKGREEN GARDENS
There are complimentary strollers and wheelchairs available on a first come basis.  We chose one of the adult chairs because both kids could fit side-by-side.  It was convenient because they could rest when they wanted or walk when they wanted!
It's a sprawling campus and there were several features that we didn't even get a chance to see, such as the Native Wildlife Zoo, the Labyrinth, and the Pavilion Restaurant.
This would be an amazing venue for a wedding similar to Flagstaff wedding venues that can make your wedding day a perfect one.
Brookgreen Gardens contains the largest and collection of American figurative sculpture in the country.
Walking along the paved paths was so relaxing.
There are some really beautiful pieces to enjoy.  The property is expansive, so wear your good walking shoes, choose a pretty day, and enjoy being outside in such a gorgeous setting.
There's always something in bloom at Brookgreen, so regardless of the time of year that you visit, there should be plenty of pretties growing around.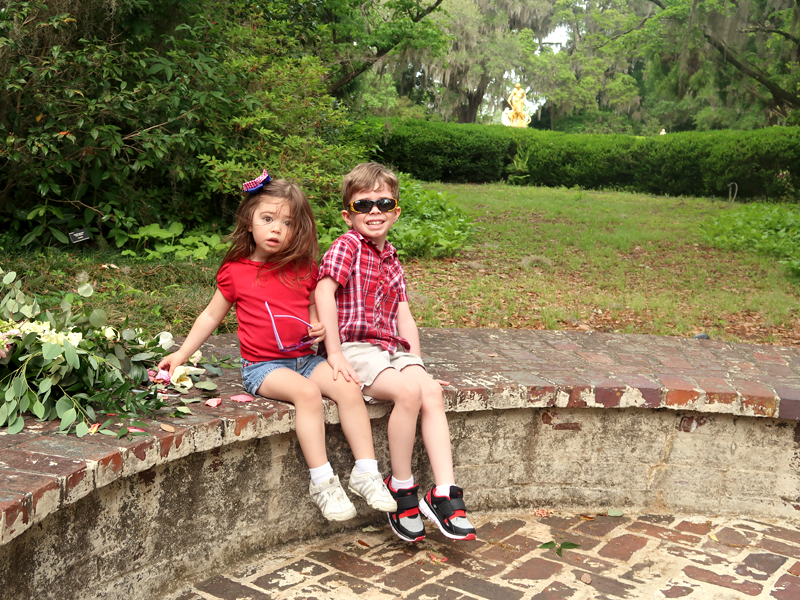 I didn't intentionally dress them in coordinating clothes, but hey, happy accident and all.
They got up in these chairs and asked me to take this picture, and then they're gonna sit there with those faked forced "mom made me do this" smiles?!  I see how it is.
Admission is good for seven days, and you just might need at least a second visit if you want to see everything that the Gardens have to offer.  It's a huge place!
Giving the kids snacks to munch on is a prime opportunity to grab a photo.
The butterfly house tickets are an extra fee ($4 for adults and $3 for children) and is open 10am - 4:30pm from April to October.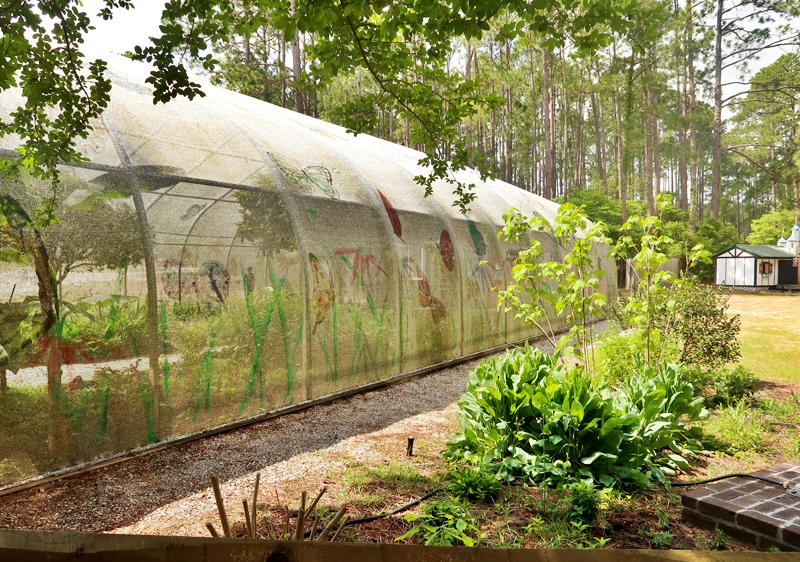 The butterflies are in a greenhouse garden filled with tropical plants.
There were many beautiful blooms to enjoy!
The kids really enjoyed the fluttering butterflies!
The butterfly garden also features a pupae emergence room where visitors can observe the transformation from chrysalis to adult butterflies.  We didn't get a chance to do this, but it sounded neat.
Shelby Rose of House Browne, the Wrecking Ball, Annoyer of Brothers, and Slammer of Toys.
Ser Jasper Browne, First of His Name, Eater of Mac 'n Cheese, Builder of Train Tracks.
The favorite structure on the playground was a school house that came complete with desks and a chalkboard.  The kids even made some friends and played school for a little while.
It was hard getting them out of here - it was a neat place.
One of the structures on the playground had this neat mirror wall.  If I had 9 copies of me, maybe I wouldn't feel so tired all the time!
After the kids played themselves out, we walked across the street to the shuttle stop and returned our push chair.  Then we hopped on the shuttle and took a nice, breezy ride back to the entrance!
Tired and ready to head to lunch!
The free shuttle makes several stops at different points on the property.  It's really convenient when the sun gets hot and the kiddos are exhausted.
We had a wonderful, lovely day at Brookgreen Gardens and enjoyed seeing the grounds, the sculptures, and learning more about the property.  If you're staying in Myrtle Beach, I totally recommend taking some time to visit this place.