At the end of our trip to Virginia, the day before being evacuated to get out of the path of Hurricane Florence, we spent a day browsing Colonial Williamsburg, a historic area with hundreds of restored or reconstructed buildings including homes, government buildings, trade shops, and museums.  There are over 80 families still residing in buildings that are not currently open to the public.
But ya know, you could have read all of that off of the informative sign in that photo.  But I thought I would type some of it out anyway.  To be thorough.  Or something.
CONTACTING COLONIAL WILLIAMSBURG
Official Website: https://www.colonialwilliamsburg.com
Ticket Purchases: https://www.colonialwilliamsburg.com/tickets
If you only wish to stroll the streets of Colonial Williamsburg to enjoy the atmosphere and get some exercise, a ticket purchase is not required.  However, to enjoy the additional attractions, live events, art museums tours, entrance to some of the buildings, and shuttle service from the Visitor Center, you'll need to purchase a single or multi-day pass.
OUR EXPERIENCE AT COLONIAL WILLIAMSBURG
Our first stop was the Visitor Center to pick up our tickets.  In this photo, Jasper is waving hello to some random people.  He waves with the back of his hand and we like to say he's flashing his "gang signs"
This was the pretty area leading to the steps down into the visitor center.
We had a choice of taking a shuttle into the historic area, or taking the walking path.  We took the path and enjoyed some lovely scenery along the way.
He's not quite old enough to absorb all of the interesting history, but he seemed to enjoy the experience anyway.
I recommend taking the path - it's such a lovely little walk.
Jasper enjoyed this little tunnel.
The path ends at the same place that the shuttles drop-off, just down the block from the Governor's Palace.
The lovely Governor's Palace, a reproduction of the original building.  We had a ticket for the 'Children's Tour' through the palace later in the afternoon, but had to bail out before it really got going.  A wonderful guide led us into a room and we all sat down to learn some history about the property, but the introduction wasn't very interactive or visually stimulating and went far too long for young children.  It wasn't long before our kids (3 and 1) were in full freak out mode, and other young children in attendance were getting upset as well.  We left to avoid disturbing the others on the tour.  I can't comment on how the rest of the tour is structured for kids, but I do feel that it should be more fast-paced for kids with short attention spans.
I was quite interested in the things the tour guide was telling us and wanted to stay and learn more, though I also tried to be understanding that while learning some historical stories may be incredibly interesting to me, it's probably rather boring for a youngster.
The streets felt very authentic with folks in costume and carts being pulled by oxen and horses.
Clip-clop clip-clop clip-clop.  That sound invokes ASMR every time I hear it.  You can book a carriage ride if you like!  They are 15 minute rides except the Stage Wagon which is a 30 minute ride. The cost is $12.50 per person with admission tickets and $20 without. All rides start at the Lumberhouse except the Wagon which picks up behind the Courthouse.
One day, I'd love to return to Colonial Williamsburg without the kids to be able to take a slow stroll and enjoy the amazing reproductions of the historic buildings.  This is the Wythe House, which was open to visitors on the day we were there.  Some of the buildings have changing schedules for when they are accessible.  If you're planning a trip, I recommend looking at a map and doing some research beforehand so if there's a certain building you want to see, you can call ahead and check to make sure it will be open.
The Wythe House was surrounded in beautiful gardens.
Plenty of photo ops, as well.
Inside was an immersion of history down to every little detail and sense.
Costumed actors are happy to answer questions and tell you all about the original property's history.
Can I get a set of these for my house?
This should keep him contained.  If you want a stocks photo for yourself, they are located, aptly, outside of The Courthouse.
We knew we were being evacuated from the area the next morning to escape the possible path of Hurricane Florence, so there weren't too many people in the area despite it being a gorgeous day.
Jasper amused himself by running up and down every single stoop.  Every.  Single.  Stoop.
Door to nowhere.
If you're a history buff, you'll be in heaven.  This post office is operational and you can stop inside and send a letter to a friend with an authentic Colonial Williamsburg cancellation stamp!
Another building, another stoop.
Then we took a break in the shade on the grounds of The Capitol.
The Capitol housed the House of Burgesses of the Colony of Virginia from 1705 - when the capital was relocated there from Jamestown - until 1779.
There was a tour that started when we arrived and we both wanted to attend, but knew the kids wouldn't be able to be patient... but I recommend checking out the tours!
A bit later, we came across the Raleigh Tavern Bakery and had to take a peek inside.

The kitchen is open and you can glimpse the authentic brick ovens used to create the treats inside.  There are assorted baked goods available as well as warm and cold drinks and some light lunchtime fare in the coolers.

We all shared a giant chocolate chip cookie...
... and one of the more popular items sold in the bakery, this fluffy warm gingercake which was a spicy, not-too-sweet confection that we all enjoyed!  There was a lovely small courtyard area behind the building where we found some shade to enjoy our snacks.
And oh look, more stoops to play on!
Next it was mooore walking!  You can walk for miles around Colonial Williamsburg - we even saw several joggers during our visit, what a fun place to exercise - and you'll easily get your steps in for the day!
LUNCH AT KING'S ARM TAVERN
It was finally time for a late lunch and boy, we were all ready for it!  We stopped in at the King's Arms Tavern, one of several taverns and restaurants located in the area.  Some of the dining establishments alternate days on which they are open, so make sure to check in advance of your visit to see which one you will be able to visit, as the menus are different.  Here's a link where you can find that info.
The tavern had an authentic feel with costumed waiters and waitresses, appropriately-styled furniture and decor, and no electric lighting - all natural light or candles!  So very cool!
Even the dishes and silverware had an authentic antique feel, as well as the language used in the menus.
But there were still the modern conveniences of crayons and kids menus!
Our wonderful waiter told us about how Shelby must be really special because she brought her own cup (he also noted that it matched her outfit) and that meant she would be served the highest quality beverage, as in colonial times most would sip from the same common vessel.
We started out with a bread basket of course, and had to pace ourselves not to pre-game too hard on the carbs because we were starving!!
Matt and I split this delicious and light appetizer  - tomato bruschetta with herbs and crumbled feta cheese, served over a hefty bed of fresh arugula.  It was absolutely wonderful!
The kids split an option from the kids menu - penne pasta with butter and Parmesan cheese.  Our server brought out two dishes already split between the two of them without us even asking, which was thoughtful.  He must have kids at home! 😉
As their side dish, we ordered Tavern Fried Potatoes.
Matt ordered A Made Dish of Beef, described as "tender beef stewed in a rich red wine sauce, pearl onions, carrots, and mushrooms put forth on goodly mashed potatoes"
It was quite filling, the beef was tender, the sauce a delight, and you can't go wrong with a dish filled with cooked pearl onions, am I right?
I ordered Norfolk Pottage Pye, described as "tender chicken and aromatic vegetables made into a creamy stew and baked beneath a flaky pastry shell"
A hearty pot pie really hits the spot after a long day of walking and when you're stomach is loudly demanding sustenance.  The Norfolk Pye was full of soft-cooked vegetables in a creamy base with juicy chicken and a crispy, buttery crust.  It was a good choice.
And we can't skip dessert, right?  We went simple with the kids and ordered them some small bowls of ice cream.
Meanwhile, Matt and I went big time with Thomas Jefferson's Brandy-Spiked Bread Pudding that was served drenched in a warm vanilla bean sauce.  At the recommendation of our server, we had it served with chocolate ice cream, which I found to be a very interesting choice!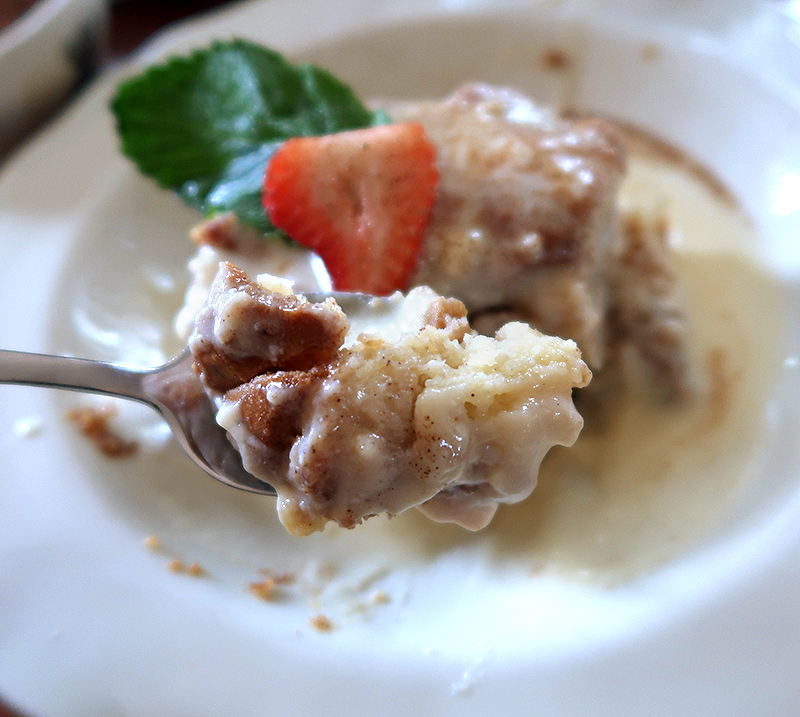 The main feature of this pudding that I appreciated is that it wasn't too sweet - not the soft bread base and not the sauce.  The combination with the chocolate ice cream was a surprising pleasant melding of flavors and it was a great end to our meal.
The kids, of course, had no complaints with their ice cream.  King's Arm was a full-bodied experience that we thoroughly enjoyed.  As each course was brought to our table, our charming and funny waiter would regale us with interesting facts regarding the history of the dishes we ordered, or just interesting tidbits about colonial times.
Baby Sister was done at this point, so the long walk down the path back to the Visitor Center offered a great opportunity for a nap.  As long as Big Brother steers clear, of course.
When we got back to the Visitor Center, Jasper became glued to the amazing miniature model of the entire historic area.  Then we did some shopping and picked up some souvenirs in the gift shop.  Jasper got a pair of binoculars, Shelby got a stuffed owl wearing a colonial hat, and we got our usual fridge magnet.  We have a magnet from every major trip we have taken for the last decade - our fridge is packed!
Reader Questions:
Have you been to Colonial Williamsburg?
What did you like/dislike about your visit?
Who would you lock up in a set of stocks if you could? (hehe)