We recently returned from a trip to Williamsburg, what was meant to be a week long exploration of Williamsburg, Norfolk, and Virginia Beach.  We had a packed full itinerary of fun things to photograph and share with all of you, but unfortunately Hurricane Florence had other plans, and we had to cut our trip short and head home just 2 nights after arriving.  Nevertheless, I do still have a few great posts planned detailing what we were able to see during our abbreviated trip, starting out with the campground!
LOCATION OF WILLIAMSBURG KOA CAMPGROUND
4000 Newman Road
Williamsburg, VA 23188
CONTACT INFORMATION
Phone: (757) 565-2907
Email: [email protected]
Website: https://koa.com/campgrounds/williamsburg/
CAMPGROUND AMENITIES
Tent, RV sites, and cabin rentals available
Full hook-ups and 30/50 amp service
Deluxe sites with bricked patios and wood swings available
Ice cream, propane, firewood and snacks
Camp store
Gem and fossil mining sluice
Bath houses and laundry facilities
Playground, gravity rail, jump pillows, basketball courts, GaGa ball
Heated pool and splash pad
Fun organized activities like sports, movie nights, wagon rides, etc
Bike rentals
Free wi-fi (adequate for email and casual browsing, but not for streaming or heavy up/down loads
Fire rings at every site
Vehicle charge station
RESORT MAP (click to enlarge)
OUR EXPERIENCE AT WILLIAMSBURG KOA
The campground store at the main office is the place for picking up fun merchandise, basic camp supplies, snacks, and gem/fossil mining buckets.  They had some really cute pajamas and the only thing that stopped me from purchasing a pair is the fact that I have way, way too many pairs of pajamas already.  Or who knows, maybe I don't have too many pairs of pajamas, but just an inadequate amount of drawer space to hold them?
In front of the office and camp store there's a sluice where you can pan for gemstones and fossils.
Buckets of mining rough are purchased in the store and then placed into the sluice to reveal the gems and fossils within.  During our abbreviated stay we weren't able to take advantage of this activity, but it sure looked fun!
We stayed in site E-79 which is, I think, the best site in the whole place.  Take a look at the resort map to see its exact location.  This site is a Deluxe Patio site with full hookups and 50amp service.  It features a brick patio with sidewalk leading to a bricked in fire pit and swing.  I'm so sad that we had to evacuate the campground before we had a chance to build a fire and take advantage of that swing.
After backing into the site, our trailer faced a completely private and wooded area.  It's far enough away from neighboring sites that it felt like we were in our own little hidey-hole corner of the campground.  Though the site is gravel, the parking space is level and we did not have to do any side-to-side leveling.
The upper brick patio had a nice picnic table set with umbrella.
Most of the sites in the campground are quite spacious with ample tree cover for shade.
In addition to RV sites, there's also cabins, yurts, and tent sites available.
There's an enclosed pavilion next to a basketball court, playing/dog field, and Gaga Ball arena.
Due to the impending hurricane, we had cloudy skies and on and off rain during our short stay, but the temperatures stayed pleasant.  There's a silver lining in everything, right?
There's a heated pool with adjacent activity and laundry room.  Inside, there's even a small ice cream parlor!  There was also a great splash pad but it had been turned off due to the early closure of the campground.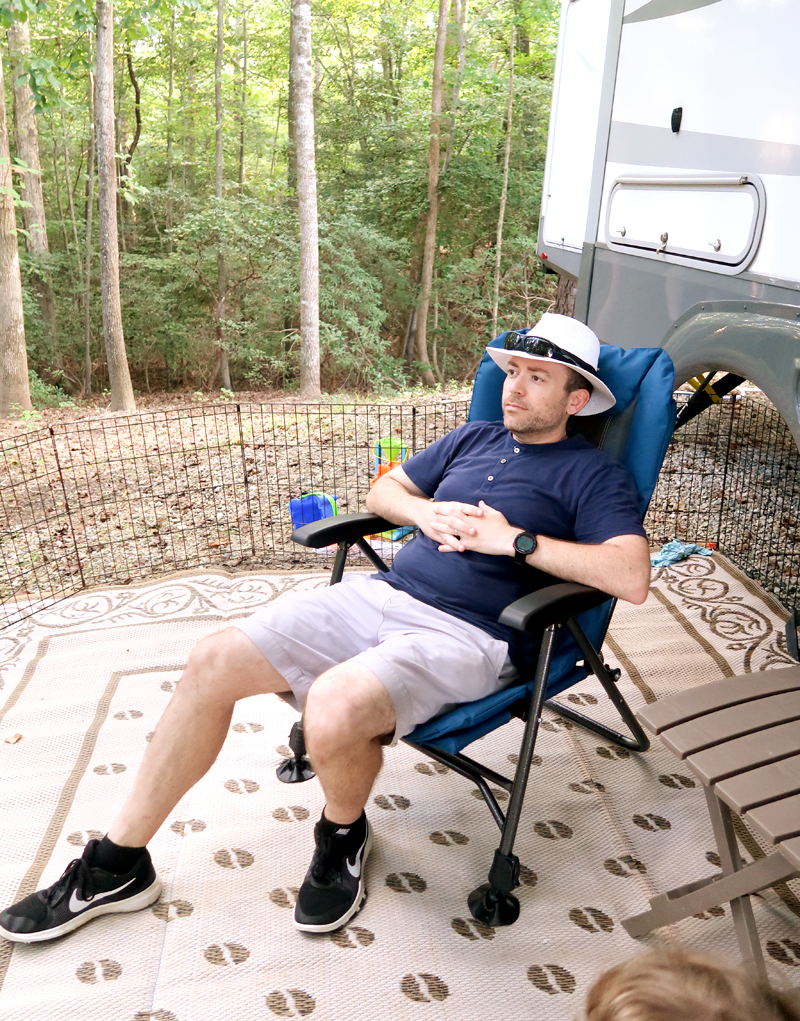 There was one afternoon where we had a few short moments to sit outside.  Matt gave our new chair, a Timber Ridge Heavy Duty Camping Chair, a test drive.  He wanted a new chair for when he sits outside to work during camping trips, and the extra padding and adjustable seat back of the Timber Ridge fit the bill for that.
It was a great but reasonably-priced upgrade to our other basic folding camp chairs and is a much more comfortable option for sitting for longer periods of time.
The little adjustable feet are a nice feature, since the gravel or dirt surroundings of most campsites aren't always completely level and this helps the chair sit firmly on the ground.
Near the entrance to the campground is a fantastic playground area, so we made sure to carve out some time to take the kids there for an evening of playtime.  It doesn't matter what else we do during our trips, playgrounds always top the list of must-do's for Jasper and Shelby.
I'd never seen this structure before in a campground playground and I thought it was SO cool.  While standing on the platform, the kids sit on a swing-like seat and push off, and their body weight sends them on a ride around the rail.  My kids were too small to give this a go and both Matt and I exceed the max age (12), but it sure looked like fun!
Jasper is obsessed with rock climbing walls lately, and this beginner version had his full attention since minute one - we could hardly pull him off of this thing.
Meanwhile, Miss Shel-Bel stayed true to her love of slides...her credo is The Bigger, The Better!
Even when she gets sweaty and does more sticking to the slide than sliding down, she doesn't let that stop her.
Right next to the playground are two fenced in jumping pillows, one for ages 2-6 and a larger one for ages 7+.  The pillows are surrounded by a sand pit to soften the landings of inevitable tumbles and falls.
I don't have to tell you that the pillows were a huge hit.  We were so incredibly sad to have to leave the next morning due to mandatory evacuations, especially after hearing Jasper ask if we could return to the playground and jump pillows for more playtime.  We would have been there every night to burn off some pre-bedtime energy!
The only negative thing I can say about the Williamsburg KOA is that we are still so, so sad that our trip got cut so short - I feel like we didn't get to truly experience the campground the way we wanted to, but what we do know is that we saw enough to know that if we ever visit the area again to complete our trip properly, we'll be back!
Save this post to your travel boards!  Hover your mouse over the image below and click the button that pops up.