We just passed our 8th wedding anniversary, and we decided to spend it lounging outdoors at a local park with Dexter and Dewey.  It was a warm, sunny day, and since it was a weekday we had the park almost completely to ourselves.  We packed up a picnic, a blanket, our camp chairs, and our corgis, and hit the road for a day of schmoozing!
We started things off with some chilled pinot grigio in our cute plastic picnic wine glasses!
I found these Pretzel Crisps® at our grocery store and thought I'd give them a try.  Fat free and only 10 calories each, and they ended up being very yummy!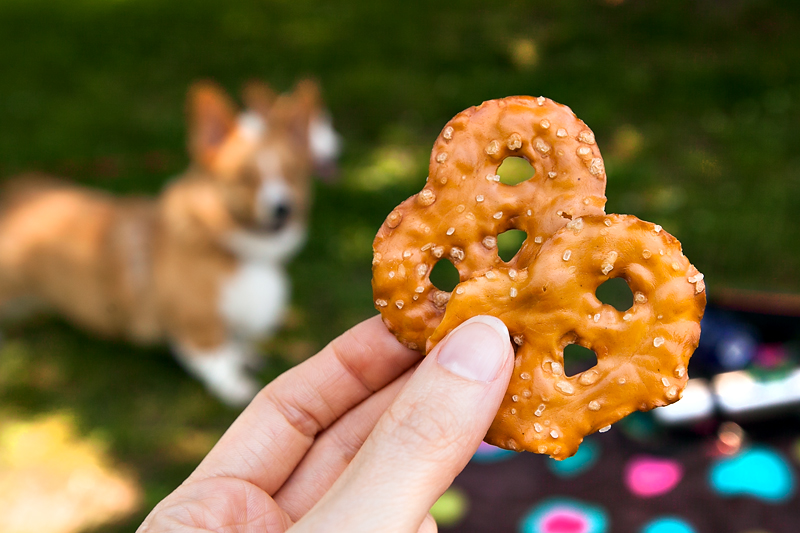 It's a pretzel, it's a cracker, it's a chip!
 They were delicious, and dipping them into some garlic & herb boursin dip created the perfect picnic snack!
Our main course was a delicious sweet and fruity chicken salad that I threw together earlier that morning.
 Served with lettuce on a buttery,flaky croissant and oh my heavens it was delicious!
You know I'm gonna share the recipe with you guys, right?  C'mon, you know me better than that.
A little note about this recipe.. the amounts listed for each ingredient are starting amounts only.  I highly suggest starting with smaller amounts of mayo, dijon, and honey, and then mix and taste to see if you'd like more.  We tend to like our chicken salads light on the mayo and heavier on the dijon, but you may prefer it a different way!
Print
Cranberry Pecan Chicken Salad
---
1

lb chicken breast
sea salt, to taste
black pepper, to taste

1

TBS honey

¼ cup

chopped pecans

⅓ cup

dried cranberries

2

TBS dijon mustard

1

TBS mayonnaise
---
Instructions
Boil chicken in salted water until cooked through (10-12 minutes)
Remove from water, let cool, and chop into small pieces.
Transfer chopped chicken into large bowl and add chopped pecans and dried cranberries.
Add honey, dijon, and mayonnaise, adjusting for taste and texture.
Add freshly-ground black pepper and sea salt.
Serve in sandwiches, with crackers, or by itself!
Recipe Card powered by
We spent most of the time in the shade, but we did venture out to soak up a little Vitamin D.
Matt asked me to twirl, so... I twirled.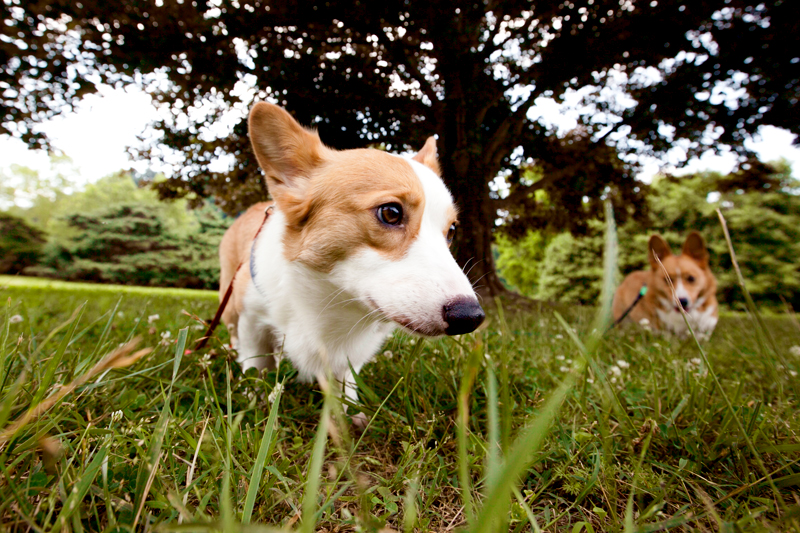 When we take the boys to the park, we screw a ground stake into the ground and tether them with long leashes so that they have room to play without worry that they'll go chasing after any passersby.  These boys must say hello to absolutely everyone they meet!
Needless to say, they had a pretty awesome day.
You totally can't tell, because they look completely unhappy.
Totally bored and unhappy.  Yep.
Yyyyyyep.
They were happy.  Let's just leave it at that.
We did let them off leash for a little fetch.  One ball, two corgis!
Dexter never, ever takes his eyes off the ball.
N-E-V-E-R
They play fetch with such conviction it's a wonder they haven't swallowed a ball yet.
It was a hot day and they tired out pretty quickly, so after drinking about a gallon of water each, they collapsed in the shade and Dewey busted out...
...The Tongue
Wassaaapp?
Seriously, I don't know where he puts that thing.  I think he's got some kind of Timelord technology going on.  That's the only explanation I have for how that tongue fits in his mouth.
Dexter also has his own version of The Tongue.
The tongue of a truly exhausted Dexter will show signs of curling at the end.
I call this one... Dewey Derpin' on Daddy
Then this happened.  Oops.  We had a gift card leftover from last summer, so we decided to end our anniversary on a high note with some Bruster's ice cream!  This is cake batter with strawberry topping.
Matt got cookie dough ice cream with fudge topping.  Oh mama.
I'd say we had a pretty successful anniversary!