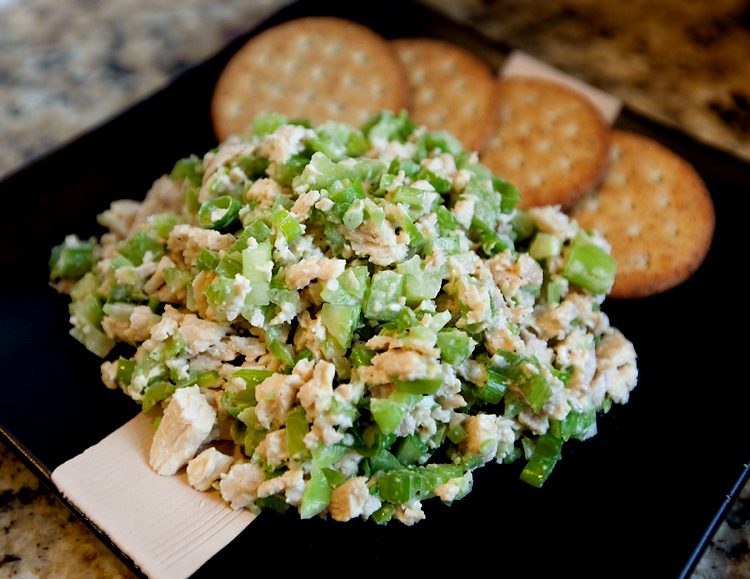 Fresh Chicken Salad
Confession:  We eat this for dinner every single week, sometimes several days in a row.  It fits in perfectly with our nutritional needs, it's simple and fresh, you can make it in advance, and the best part?  It's very filling!  Because this is one of our calorie and portion-controlled meals, I'll include some nutritional info for everyone.
The recipe below is for a single serving, so you can double/triple/quadruple/googleuple it to fit your needs.  I use a digital food scale to weigh the raw chicken before I cook it, so I know that I'm getting the right amount!
Fresh Chicken Salad (source: P90X Nutrition Guide - nothin' fancy here!)
What you need:
6oz skinless, boneless chicken breast (weigh that sucker!)
1-2 stalks of fresh celery, finely chopped
½ bundle of green onion, chopped
½ TBS mayonnaise
Dijon mustard (to taste)
salt, pepper, and ground dill to taste
What you do:
Add whole chicken breast(s) to boiling water for 11-12 minutes or until cooked all the way through.  Chop into small pieces, and mix together with all other ingredients.  Serve with wheat crackers.  Couldn't be any easier if I tried, right?
Nutritional info:
For the portion I listed above (which is for one person)  - Calories: 220   Fat: 8g  Protein: 32g Carbs: 7g
For the crackers (we use Breton):  4 crackers - Calories: 88  Fat: 4g  Protein: <2g Carbs: <9g